One thing I love about Android TVs is that I can control them right from my phone using an app. However, recently I noticed this particular app stopped working for many people, including mine. I thought it was some issues with my WiFi, still, I did a series of troubleshooting steps.
Here are the best fixes for the Android TV Remote app not working on the phone. It is likely that your issue may get solved at some point in the troubleshooting, and some need to wait a little longer and go through the rest of the steps below.
Fix Android TV Remote App Not Working
One day it is working and by the evening your Android TV remote app does not work. Generally, the issue is that the app cannot connect to the TV anymore. Fortunately, there are some quick and easy potential fixes. Make sure that the issue is not related to your Wi-Fi, but is an issue with the app.
Restart Your Android TV
Since this is a pairing-related issue, restarting your TV might fix some issues. Once your TV is back on, it will try to pair with your phone and it must work in most cases.
Even after restarting your TV, if your phone is not able to connect with it from the Android TV Remote app, go through the below troubleshooting steps one by one.
Related: How to Install Apps and APKs on Your Android TV
Reinstall Android TV Remote App
Sometimes, the issue can be with the app version or installed app on your phone. In such cases, the best way is to reinstall the app and see. Since we cannot be sure what is causing the Android TV Remote app not working issue, we advise you to uninstall the app and install it again.
To uninstall the Android TV Remote app, long-press the app icon from the drawer and choose "Uninstall" from the popup menu. Alternatively, go to Settings > Apps > Android TV Remote > Uninstall to delete the remote app from your phone. Once done, you can head over to the Google Play Store and install the same app again.
Try Pairing from Third-Party Apps
We found that the Android TV Remote app stops working mostly because it fails to generate a pairing code. Assuming that might be causing the trouble, you can try to pair your Android TV with a third-party remote service app.
When you try to connect from a third-party app, the pairing code is generated again and makes the way back to the original Android TV Remote app. While trying to pair the third-party app, try to connect to your TV from the Android TV Remote app on your phone itself and it should work now.
Uninstall Remote Service Updates
If you do not want to install any additional apps on your phone, you can try uninstalling any updates for the TV Remote service on your Android TV. This has fixed the issue for many users. Let's see how to uninstall remote service updates in Your Android TV.
Go to the Android TV settings.
Select Apps.
Next, click on See all apps.
Scroll to the bottom and select Show system apps.
Under System apps, click on Android TV Remote Service.
On the next page, click Uninstall updates.
Fire up the Android TV Remote app on your smartphone, and it should be able to connect to your TV now.
Related: 10 Best Android TV Remotes with WiFi Keyboard & Mouse Connectivity.
Use Google TV App
A rather easy and straightforward solution is to use a different app. There are many Android TV apps on the Play Store. Even Google has another app that can now act as a remote for your Android TV. The Google TV app, previously called Google Play Movies & TV, now has a built-in Android TV remote.
Download: Google TV app from Play Store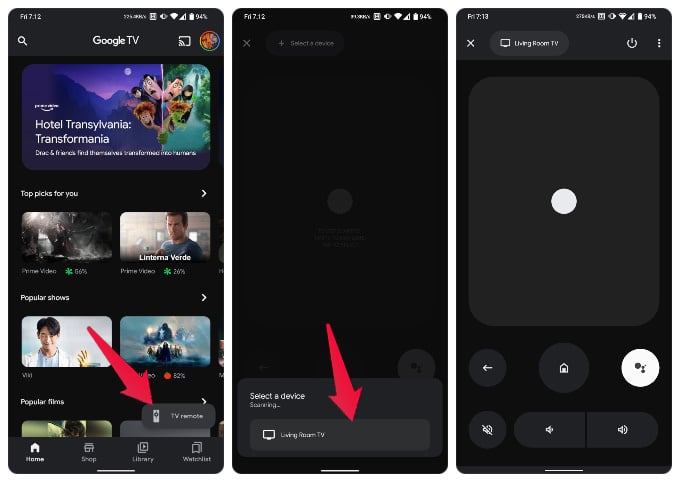 Launch the Google TV app.
Tap on the TV Remote button at the bottom.
Allow the app to find nearby devices.
Select your TV from the list of devices.
Enter the code displayed on your TV to connect.
The pairing process is the same as that of the Android TV remote app. But when you have your Android TV remote app not working, this app just might.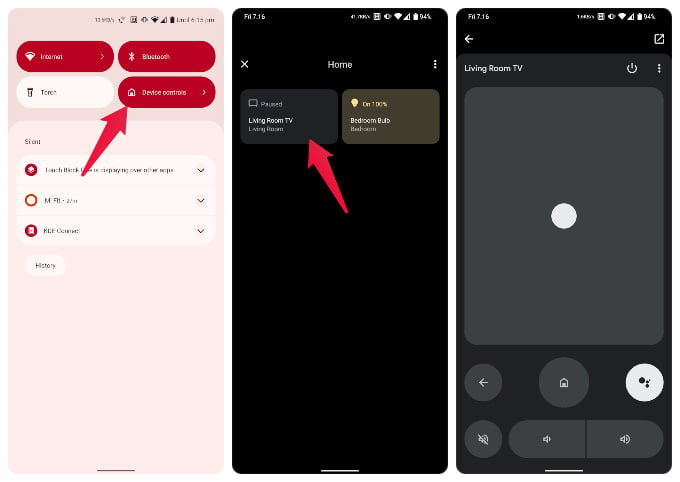 You can also just add your Android TV to your Google Home, and then control it from the Device controls page in Android quick settings.
Related: Most Useful Google Apps You Probably Didn't Know About
One of the advantages of having smart devices, apart from automation, is that your smartphone becomes a remote control for all of them. Instead of having a separate remote for your TV, thermostat, lights, or sound system, you can simply use your phone.
But unlike a simple TV remote, your phone, as well as your smart TV, has a lot of components, not just hardware but also software. There are more chances for things to go wrong for a number of reasons. If you find yourself in a situation where your Android TV remote app is not working, hopefully, you now have a fix.