Are you seeing all your photos from WhatsApp in your iPhone Photos app? You must be really unhappy to see random images from a WhatsApp group among your camera roll. Well, there is a way to stop this from happening. A simple setting will stop WhatsApp from saving photos on your iPhone.
Let's see how we can stop WhatsApp photos from getting saved to the camera roll on any iPhone.
Stop WhatsApp From Saving All Photos on iPhone
Generally, iPhone does not keep a distinction between your actual camera roll and photos saved from WhatsApp. If you do want to keep your camera roll only with the photos you take, you can stop WhatsApp from saving any photos at all.
To do that, open WhatsApp from your iPhone and go to the "Settings" tab.

Tap on the Chats option.

On the next screen, toggle off the option "Save to Camera Roll."

If this is already off, that means your WhatsApp is not saving any photos to the camera roll. You will not see any photos you downloaded on WhatsApp among other photos in the Recents album once you turn it off. You will still find the photos that are already saved in the "Photos" app; they will not be removed automatically.
Related: How to Send Photos on WhatsApp Without Losing Quality
Stop Saving Photos from Individual WhatsApp Chats
Are you seeing images from a WhatsApp chat within the Photos app which you particularly don't want to see? There are options to stop saving photos from individual chats on WhatsApp. Here is how.
Open WhatsApp on your iPhone and select a chat from which you do not want any photos getting saved. Once you are in the chat, tap the contact name at the top.

You will find certain chat settings and among them, tap on "Save to Camera Roll."

A menu will pop up now on your iPhone screen. On that, choose "Never" as your option. Now you can go back to the chat.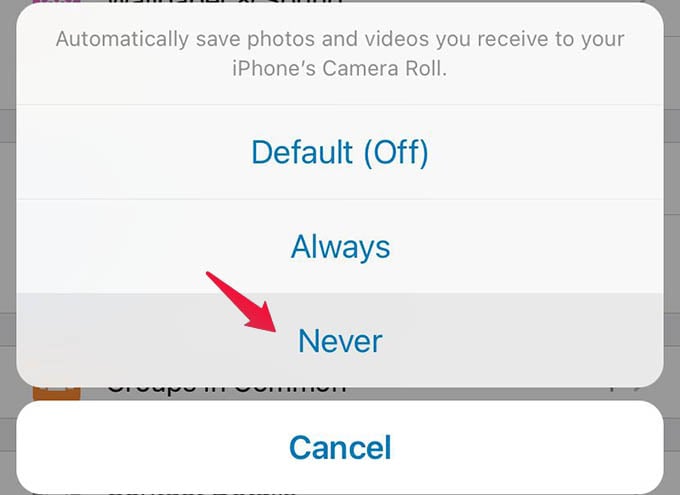 This will stop saving any photos or videos from the particular chat in your iPhone Photos app. You will not find them anymore among the camera roll. To see any photos you received from, the person, you can open the WhatsApp chat and look for any media files.
Related: How to Hide WhatsApp Chats Permanently Without Deleting Them
It is always better to turn off the "Save to Camera Roll" option in WhatsApp. This will prevent any unsolicited images you got from WhatsApp from getting saved among other photos in your camera roll. Also, you can save your storage since the iPhone will not create another copy of the WhatsApp photos and videos.