Smart TVs are a great way to stream your favorite shows and content. Most of the smart TVs out there run on Google's Android OS. Newer smart Tvs run on Google TV. Apart from just watching your favorite content, do you know that you can also use Android TV to browse the internet? Yes you can, however, there is no web browser that comes pre-installed with Android TV out there.
O, if you plan to browse the internet on your Android smart TV, here is a list of the best web browsers you need to try if you plan to browse the internet on your Android TV.
Open TV Browser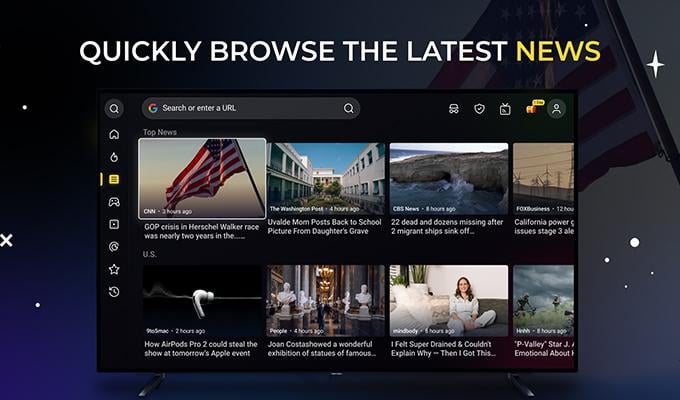 When you browse the internet and visit a number of websites, you are bound to stumble upon numerous advertisements out there. White is good for the website itself, as someone who browses the internet, it can be annoying to be bombarded with ads. So, when you install Open TV Browser, this browser will help you to remove as well as block any type of ads that you come across while browsing the internet.
The browser has everything you can expect. The option to block cookies, add and create new bookmarks, and popular website quick links, Apart from just browsing the internet, the browser has a section for you to check out the latest news headlines without having to visit any particular news website. If your Android TV is being used by kids, you can easily set up parental controls to ensure that your kid browses safely via the internet.
Pros:
Blocks Ads Right Out Of The Box
Stay UpTo Date With News In A Single CLock
Access Free Anime and Movie Streaming Services
Easily Add Your Favorite Channels via IPTV Streamer
Supports Multiple Brands of Android TVs
Cons:
Loaded With Sections People Don't Care About
Key Features: Block All Ads | Disable Trackers |Incognito Search Mode | Parental Controls | Free Anime and Movies To Stream | Daily Browser Rewards | View Browser History Easily | Supports All Android TVs Running Android 9+ | No Ads | No-In App Purchases | Completely Free
Open Tv Browser: PlayStore (Free)
Puffin TV Browser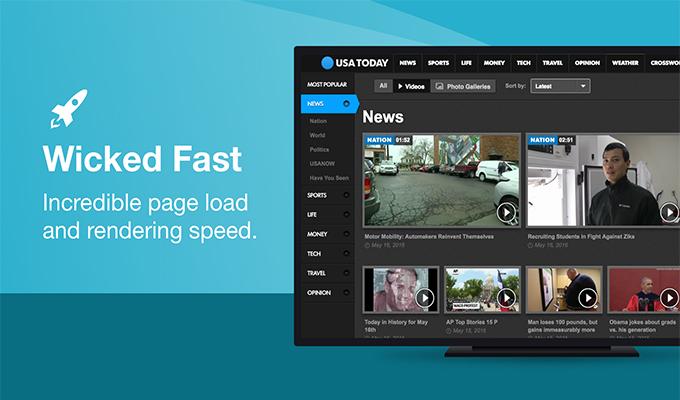 Puffin is a very popular web browser that has been available on a number of different platforms out there. Since this browser has had a good reputation on other platforms, one would expect it to be as good when it comes to Android TVs. While it has good features such as the option to easily adjust video playback, a great user interface, and above all being responsive, the problem here lies behind a paywall. You see, you will have to pay for a monthly or a yearly subscription in order to access and use all the features of the web browser.
The browser is quite optimized, especially for an app that has to run on an Android TV device. Puffin TV Browser lets you easily access any website when you use your phone to share a link to the TV web browser. While this is a great web browser, a lot of people will shy away from it considering the fact that you need to pay in order to use the basic functions and features of a web browser for your Android TV. However, if you feel it's fine to pay for such access this is a great TV web browser.
Pros:
Easily Navigable User interface
Very Responsive Web Browser
Optimized Loading Times
Control Web Browser With Puffin TV Remote App For Android
Cons:
Basic Features Locked Behind Paywall
Key Features: Great Interface | Superfast Loading | Optimized Web Page Loading | Adjustable Playback Speeds for Music and Video | Best Web Experience | Control with Puffin TV Remote App | Easily Share URLs | Secure Server Locations For Data Storing
Puffin TV-Browser: PlayStore (Paid)
TV Bro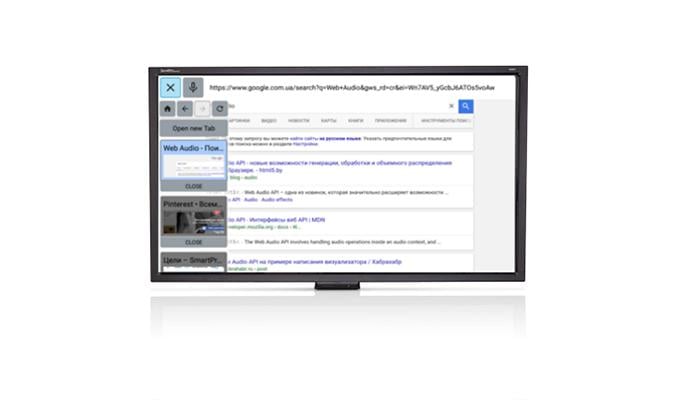 TV Bro is a very popular TV web browser among Android TV users. This is a very basic web browser that comes with the bare minimum. If all you want to do is browse the internet and not do anything else, this is the best browser for your Android TV. You can simply install and be browsing right away. It lets you switch tabs and add web pages to your bookmarks easily.
Apart from being a basic browser, it has support for voice search. This means you can easily make use of the Android TV remote to issue voice commands to the web browser. Also, there is a download manager built into the browser itself. This can be useful when you might be interested in sideloading your Android apps or maybe downloading something to your TV that you might want to stream later on. The anger can also help to pause and resume the downloads.
Pros:
Free From Fancy Features
Smooth browsing
Download manager Support
Cons:
Misses Out on Ad Blockers
Can Be Updated With Some Modern Design Touches
Key Features: Open Source | Free | Download Manager | Voice Commands Support | Open Multiple Tabs | Bookmark Manager | Supports Shortcuts | View Browsing History
TV Bro: PlayStore (Free)
Internet Web Browser- ZEUS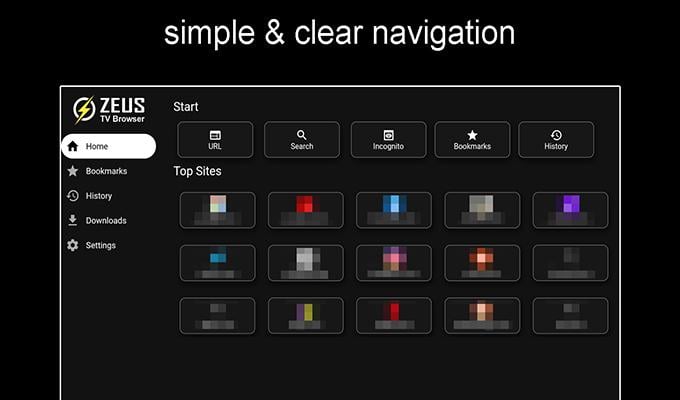 Looking for a web browser that is no-nonsense? Here's the ZEUS TV Web Browser. This is a free web browser that lets you use all the functions and features without having to shell out a single cent. It has a very user-friendly interface that can be easily navigated by using your Android TV remote. The simple user interface makes it easy for anyone, including those users who have never used a web browser on an Android TV.
Zeus TV Browser has all the basic features that you need in a web browser. It has an incognito mode for private browsing, easily adds bookmarks, browse through your browsing history, uses the search engine of your choice, and has easy media playback controls. Best of all, if you lose your Android TV remote, you can easily control the ZEUS web browser by using your smartphone itself.
Pros:
Completely Free Browser
Incognito Mode Support
Easy Navigable Interface
Cons:
Misses Out On Download ManagerNo Dark Mode ThemeAHs Some Ads In Between
Key Features: Free | History Browser | Manage Bookmarks | Easily Stream Video Content | Simple Playback Controls | Use Tv Remote To Navigate Easily | Private Browsing Mode | Control Browser Using Smartphone
Internet Web Browser- ZEUS: PlayStore (Free)
Simple TV Browser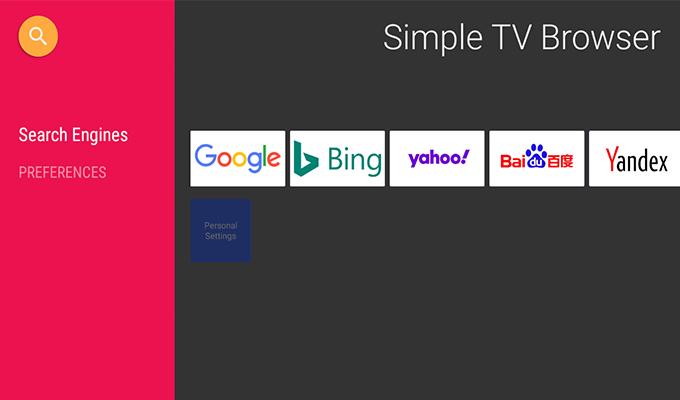 Want a browser that has no frills? Simple TV Browser is the perfect web browser for your Android TV. It does the bare minimum that you would want from a web browser. Whether you want to surf the internet or simply just watch a video online, Simple TV-Browser does exactly that. With minimum settings or customization options, the best you can do is choose the search engine from a list of available options.
Pros:
Very Basic Browser
No Ads
No fancy Unwanted Features or Bloat
Cons:
Desperately Needs a User Interface Upgrade
Could Have Additional Basic Features To Make It A Daily Driver
Key Features: Free| No Ads | No In-App Purchases | Navigate Using D Pad On TV Remote | Lightweight Browser
Simple TV Browser PlayStore (Free)
These are the best web browsers out there that you can install on your Android TV. The other browsers that are usually available for your Android mobile device can be easily installed only if you plan to risk sideloading the app to your Android TV. If you were to ask me to choose the browser that I would install on my Android TV, I would pick between TV Bro and Simple TV-Browser simply because they are free from any frills and let you browse with ease of mind. However, it would be even better if the Simple TV Browser could be updated to get some more basic features and a UI overhaul.