Even though there are built-in system protection features available, third-party antivirus software is providing more effective protection for PCS and Smartphones. We can find several outstanding products on the market such as Avast, Avira, Norton, etc. Among these, Panda Dome (previously known as Panda security) is offering comprehensive security for Individual and Business users. As the name suggests, Panda is well known for providing complete protection to the user.
The certifications well approve the performance of Panda Dome. In Real-World Protection Test 2017, independent laboratory AV-Comparatives awarded Panda Dome the GOLD seal of Approval for smart detection technology.
Minimum System Requirements
Before moving further, we will look at the minimum system requirements. Panda Dome installation must meet minimum system requirements, as follows:
RAM- 256MB
Hard disk free space- 240MB
Browser- IE 6 or later
OS-

Windows XP (32-bit SP3 or later)
Andriod 4 or later
iOS 7 or later
Mac OS X 10.0 or later
It is a prerequisite that the .Net framework 4.0 or later is installed in the Windows system.
Installation Process and Setup
Panda Dome Protection suite comes with four standard plans as Essential, Advance, Complete and Premium. All of these plans are available for 1-month free trial to test on your system before paying them. Once you like it, you can navigate to Panda Dome, and you can select any plan according to the requirement. Select any payment method from the given options, Activate the private key. Now you are all set to start downloading the installation file.
During the Installation process, necessary files were downloaded from the server, and it will take only less than a minute. After the installation completed, it will take some time to check everything is working fine only during the set-up phase activity.
After this, you can review the settings from the home screen. The  Panda Home Screen consists of the super-smooth UI that is better than previous versions. There is no drawer, and you can find all the features presented on the home screen itself. You can open popups for additional settings, integrated with the badge notifications.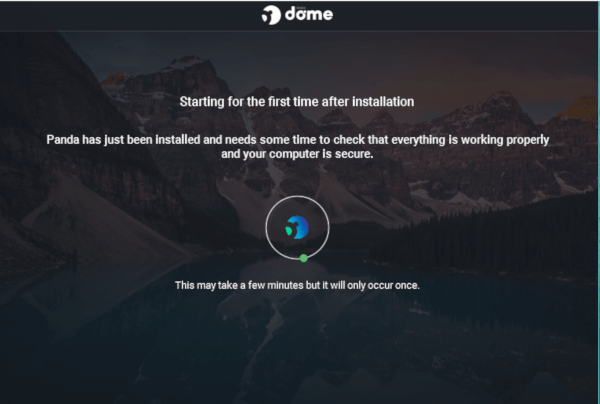 By default, it enabled the essential features like Antivirus, USB Protection, Personal Firewall, Safe browsing and Progress monitor. Moreover, it allows changing the settings of other available features based on plan availability and the requirement.
Panda Dome Features
Panda Dome Premium plan comes with a number of features and provides most of the security features apart from standard ones. The premium plan packed many useful options for the day to day operations which includes:
Real-time virus monitoring
Malware protection
USB protection
Personal Firewall
Application Control
Parental control
Data shield
Wi-Fi Protection
VPN
Apart from these features, the premium plan also offers some other features, that makes this premium version more unique and worth for the money.
Panda Cloud Drive
Rescue Kit
Anti-theft
Password Manager
PC Cleanup
Process Monitor
Virtual Keyboard
Online Backup and few more.
We have tried and tested most of the above features and gave ample time to check to most of them. With respect to that and in comparison with other AV suites available on the market, we are presenting some of the points for you. Let's have a look.
Antivirus Protection
Panda Dome boasts 100% virus detection rate for Windows devices and already received many awards from AV testing organizations and critically acclaimed for focusing on Big Data and Artificial Intelligence.
Dome provides three different scanning options such as Critical areas, Full scan, and Custom Scan. The Critical area scan includes memory, currently running processes, cookies, etc. for any possible active viruses, malware or even ransomware. Full scan carries out an in-depth scan which may take several hours to complete depends upon the system configuration. We performed testing with Custom Scan mostly and scanned a few drives. System timing may vary for other users as it all depends on Processer used, Memory utilized and other system factors.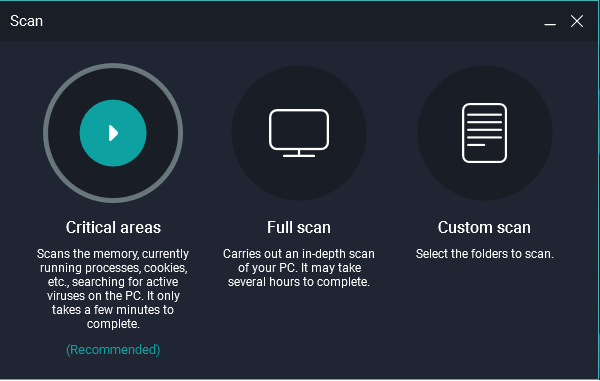 We have also tested how Dome's virus engine reacts when it finds any virus, which may already present in the system or downloaded from the Internet. As expected, it detected them instantly and processed with a usual block and quarantine methods.
Many Individual testers also reported that it detects the EICAR type test files and blocks and quarantine them within seconds. However, some reports are also pointing towards it's struggle with some of the malware threats and only able to detect them when full scan mode is opened. But, that doesn't mean it allowed those intruders to spread in locations, as its deep scanning ability is effective to handle those incidents immediately.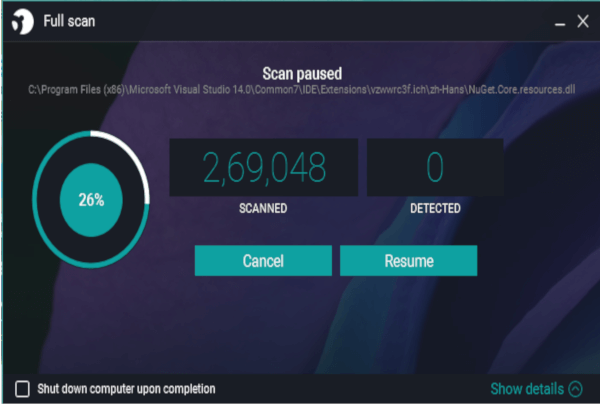 In-depth customization not only grants the ability to detect different types of cyber threats as well as it permits how differently one can able to stop them. Inside Settings, there are Permanent Protection, On-demand scan, and Quarantine options. Here, you can tell the antivirus engine to detect PUPs (potentially unwanted programs) or ask before neutralizing the virus found during the scan.
Editor's note: One notable thing we came across was Malwarebytes detects it's toolbar cleaner utility as PUP and notified with options. It may be a technical glitch (false alarm) and may not be a serious issue that you can ignore.
USB Protection
Apart from the Internet, viruses or other types of cyber-threats are mostly spread from USB. If you are using any USB, that was previously attached to any other infected system; there are high chances that you may end up infecting your system.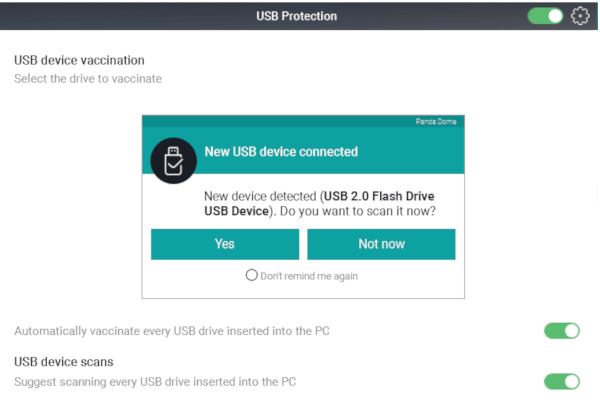 There must be a provision to detect and sandbox the files or programs as soon as the USB is connected with the system.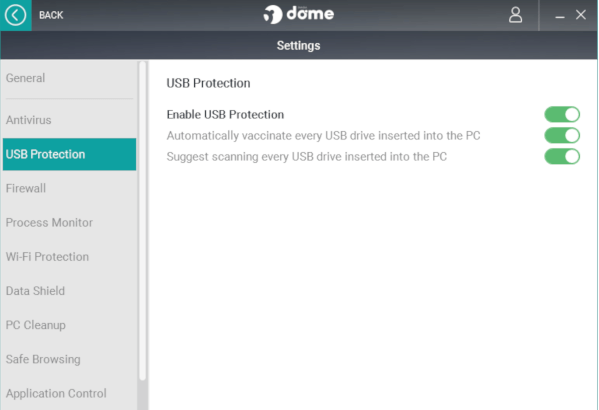 During our testing, this feature worked well as they were able to block suspicious files and programs before opening the drive.
Firewall Protection
Dome Premium also have an option of Personal Firewall which blocks certain types of network traffics based on the user rules. All we need here is to select the type of place where our device is connected to the Internet.
The program does allow users to change the rules for Intrusion prevention which can be found in settings option of the same menu.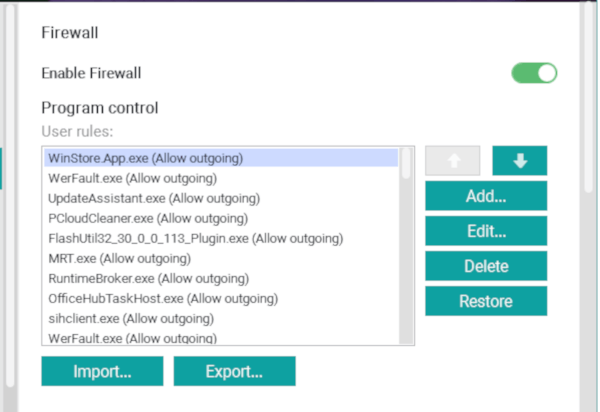 You can edit these users rules right from the Panda Dome UI screen to provide more customized control on your Firewall settings. To make sure everything on the right path,  we have an option to View a detailed report in the end.
Application Control
With Panda Dome, Application Controlling is easier. Again, all we need to set the action to take whenever an unknown program attempts to run. Based on the configuration, the programs will either run or get blocked from auto-running.
Wi-Fi Protection
Our testing performed at Home Wi-Fi locations where another five different devices connected. When we tested the Wi-Fi security with Dome Premium Wi-Fi Protection, it started scanning the network based on different parameters such as:
Authentication and Encryption
Connection mode
Ad-hoc networks
Change in the network's usual signal strength
Network name
Channel strength
The scanning was very fast and shared several recommendations to improve the security of the Wi-Fi network. We felt that this is a background option performed by the engine and only when we connected our devices to the unprotected network such as a public network (public libraries/railway stations/airports WiFi) then it started giving alerts.
The lock option shown in front of device IP address allows us to lock down that device from accessing another device, connected to the same network.
Process Monitor
We have also tested the Process Monitor as a part of the services provided to our premium plan and also compared with Windows own process monitor. The dashboard gave us a fair amount of details about each process that is running in the background. That includes Number of Processes executed, Accessing the Internet, Medium/High threat level, and Blocked processes. Moreover, the process monitor shows the number of HTTP connections of a single process despite it is not similar to Windows own process monitor.
Data Shield
Premium plan also includes Data Shield module, which monitors the programs that try to access personal data and protects it against cyber threats. This option is not Enabled as default so we need to enable it to let the program finds any such threats. By default, it protects the OS system drive (In Our case C:) but very smooth in terms of adding or removing folders. Data Shield also gives the option to protect by File extension and one can customize and define which extensions need to protect.
In recent days, we have seen ransomware attacks which first locks the data and ask users a ransom to recover them. So, we think this is one of the best options available in Panda Dome products to block such ransomware attacks.
Safe Browsing
Safe browsing option is another useful utility that we found in Panda Dome's Kitty. Similar to Process Monitor, this module shows details like URL's Blocked, Malware, Phishing Fraud and URLs allowed by the user.
It also helps us to keep our privacy intact by detecting and blocking trackers while we are surfing on the web. Moreover, search results are included with security levels that tell us about the website's authenticity. Most of the Panda websafe features work best with Chrome, Firefox or internet explorer browser which may force the other browser users to install any one of the above.
VPN
One of the most striking features that we came across is VPN in Panda's kitty. While VPN keeps you away from prying eyes, it also ensures that it lasts long enough. Panda Dome suite provides VPN services to all its plans. However, not all plans are including unlimited data access except Premium. Where other plans having 150Mb/day limit, the premium plan now allows unlimited data with 22+ country server locations to select.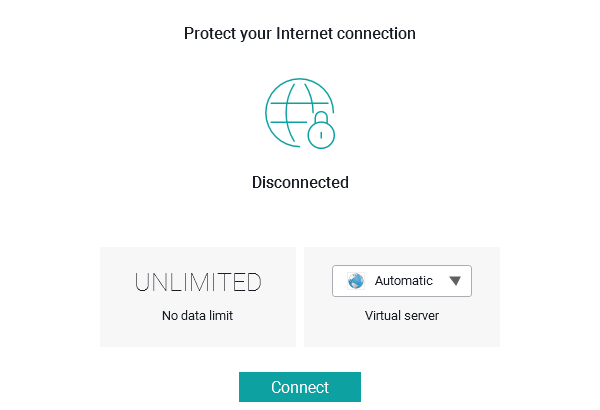 Tap Connect from Menu and you are all set to surf the web anonymously. It will automatically select the Virtual server from the given list. If you want to customize the virtual server, it is also possible. Let us see a few advantages of using VPN:
Secure Wi-Fi connection, even on public networks (such as railway station or Airports).
Anonymous navigation so that your privacy remains protected.
No geographical limitation on Internet content.
Masked device IP address.
Ad-free browsing.
Editor's Note: In order to use VPN services, your system must have the latest version of .Net framework installed. In the free version, it is allowing only to consume 150 MB/day and when the limit is about to exceed, it will notify you to choose Premium plan for uninterrupted usage.
Parental Control
Panda Dome also limiting access to inappropriate Internet content for teenagers or children. The summarized view of Most visited websites, Most visited categories, Website denied, Categories denied are visible under Daily, Weekly, and Monthly views visible for the account owner. Though any filters are not 100% correct, here we are well satisfied with Panda's performance in this area too and especially when you consider this as a bonus feature.
PC Cleanup
With Panda Dome Premium, we never felt any slowdown behavior of our system. The premium version is featured with PC Cleanup utility. This cleanup utility enables cleaning Junk files, browsing history, cookies as well as removing deleted files from Recycle bin. The settings are pretty clear and we were able to free-up around 1024 MB memory space in one go. Please note that the restored amount of space may vary from system to system.
Boot Manager
Dome premium protection also includes the Boot manager option, similar to Window's own boot manager with some extra details. This includes Signed/Unsigned option, Added On date, location and booted from (location).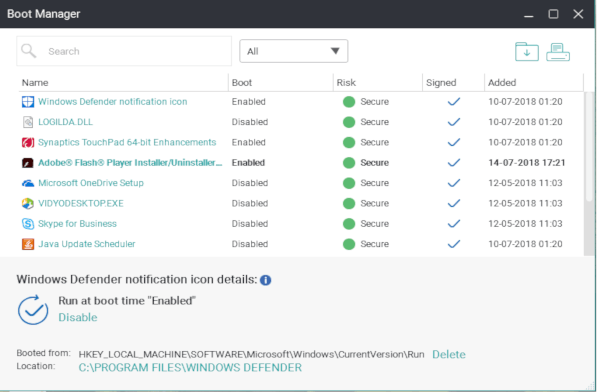 Other notable services we found here are Scheduled cleanup and Defragmenter that is to automate the cleanup process by scheduling tasks.
Anti-Theft
Data and devices are two important things in the digital world. Panda Premium product provides the Anti-Theft feature which allows keeping the devices under own surveillance. First, we tried this on the Windows devices which it was able to locate. However, the result on the map was not so accurate but location provided almost nearby.
We were also able to locate Android devices using this service but this time we were able to find more accurate locations. However, for iOS devices, this feature is not much applicable and we could only see the Remote location options.
Bonus Utilities
In addition to these primary features, there are additional features that are pretty good and worth to mention in this review.
Panda Cloud drive
Panda cloud drive lets you sync your files across multiple devices. It automatically saves different versions of documents and protects from accidental failures. You have to activate the cloud drive, see the relevant steps below.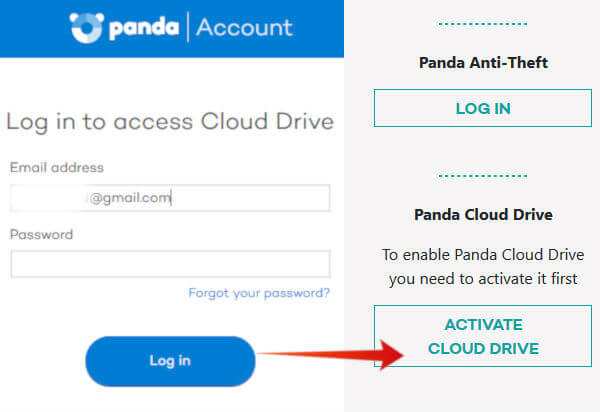 Click on Panda Cloud Drive from the application menu.
Select Access a Panda Cloud Drive, which will open Account in the browser where we need to log in.
Select the Activate Panda Cloud Drive button. It will take some time and ask you to come back and check. (It doesn't pop any notification which should be a good way to notify the user).
Now Tap on Access Your Backup service cloud drive, which opens a new tab with file upload view.
You can start creating folders or just upload files here. You can either download and delete files from here itself.
In Premium plan you will get up to 20GB of cloud space for files that will be enough to sync the files between devices or save important docs on the cloud.
Rescue Kit
Rescue Kit helps to clean infected PCs where all you need to boot it with a created rescue USB drive.

First, create a rescue USB drive, plug into an infected PC, and Panda Cloud Cleaner will do the rest. You can also detect most advanced viruses and threats using this service.

This is very helpful when you want to disconnect the infected PC from the home network and still want to clean up the PC. Also, the advanced cleaning process allows you to disconnect the PC from the internet, to block any further malware activity and clean up the system with the USB Rescue Drive.
Online Backup
We are amazed to see the Online Backup option as Panda already providing cloud services. However, we learned that this uses a third-party service called as Mozy which provide two GB online Backup absolutely free. All these available without using any credit card, no setup fee, and no monthly payment.
Virtual Keyboard
Keyloggers are another kind of important threat that you will agree with it if you ever heard about them. They reside into victim system, snaps key logs for sites and send them to intruders. As mentioned above, Panda dome provides Virtual keyboard feature to fight against them. It is accessible from the application menu.
Support&  Premium Services
Panda Dome does have an active support forum, where you will get answers to most of the generic queries. The Premium Service offers technician as well as phone support  24Hours, 365days and resolves issues on priority basis. Not only AV related, Panda premium plan covers any technical or IT related issues.
Gaming/Multimedia mode
Panda Dome also provides Gaming/Multimedia mode which changes the system behavior and makes it optimal for Gaming. This results in a high-quality audio and video frame rate. Dome automatically detects whether the user viewing multimedia or not and enables the mode based on that. The interactive notification doesn't show up during Gaming mode and does all tasks automatically. Additionally, one can customize these behavior settings manually.

Final Verdict
Based on our testing, we found that Panda Dome Premium can protect our system to a greater extent. However, it also faces slight difficulty during blocking some malware before it downloads to the system. Despite this, they do blocking and quarantine those threats once found. Pand Dome also impressed us with the bouns services like VPN, Wi-Fi Protection and many more. Worth mentioning, it allows the customization in-depth which is making it a serious contender in the AV suite lineup.