There is no way to contact the emergency personnal if you stuck in a service blind spot. Even the emergency service will be out of reach if you don't have the the carrier signal or the Wifi connection. What will you do if there is an emergency and you are in a location with no cellular or Wi-Fi network?
Apple comes to your rescue with its new feature emergency satellite via SOS to contact emergency services.
What is Emergency SOS via Satellite
This new feature on iOS 16 allows you to send emergency SOS messages from the Messages app when there is no Wi-Fi or Cellular connectivity. i.e., when you cannot call or text emergency services because you're outside the range of cellular and Wi-Fi coverage, then your iPhone will try to connect you to the emergency services via satellite.
Which Devices Support Emergency SOS via Satellite
The feature introduced with the latest iOS 16 and and the iPhone 14 onwards. The satellite connection needs the hardware in your iPhone too. The Emergency SOS via Satellite will work on the following devices running iOS 16:
iPhone 14
iPhone 14 Plus
iPhone 14 Pro
iPhone 14 Pro Max
Probably this will be a standard feature in future models, and Apple start the momentum from iPhone 14.
How to Use Emergency SOS via Satellite
To use Emergency SOS via Satellite, first, you need to connect your iPhone to a satellite. Then, you can send the Emergency SOS message using the satellite connection.
Connect iPhone to Satellite
Hold your iPhone casually and stand in a location with a clear view of the sky and horizon. According to Apple, trees with foliage, hills, mountains, canyons, or tall structures will slow down or completely block the connection.
If there is any interference, your iPhone will guide you to turn left or right; you just need to follow those instructions to get a proper signal.
Once your device is connected to the satellite, you will see the satellite in the top right corner. Remember that the connection will be maintained even if your device is locked.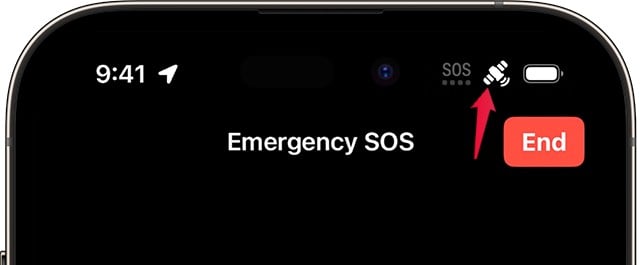 Send Emergency SOS Message from iPhone
In general, you should be able to make a call to 911 even if your cellular network is not available. However, if the call is not connected, you can see the message icon with the text Emergency Text via Satellite below the keypad on your Phone app.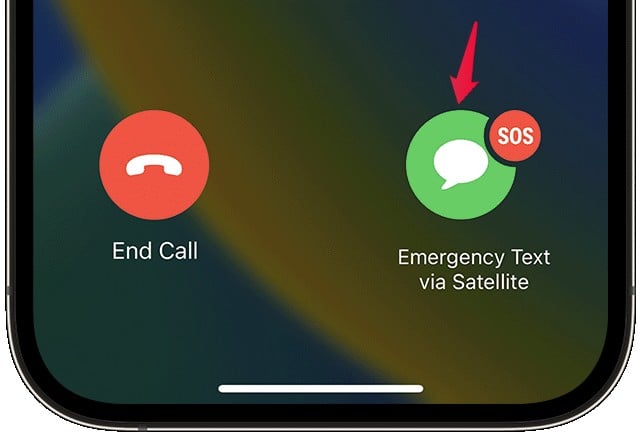 After tapping on the Message icon, follow the on-screen instructions to describe your situation to the emergency services. Alternatively, you can also go to the Messages app to text 911 or SOS and tap Emergency Services.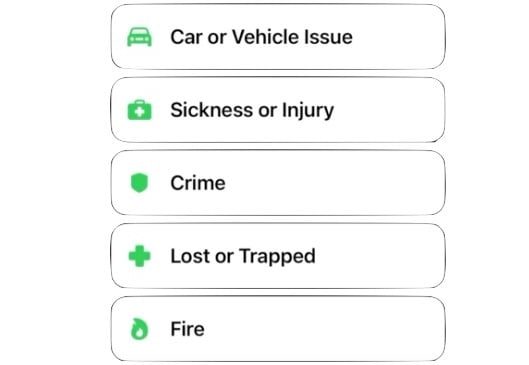 You can send messages to your emergency contacts and share your location with them using the satellite connection.
Limitations of Emergency SOS via Satellite
This feature will work only in the US and Canada. "International travelers visiting US and Canada can avail of this feature, provided their iPhones are not purchased in China, Hong Kong, or Macao."
If you have a clear view of the sky, then it might take about 15 seconds to send a message using the satellite connection. If there are trees with foliage, it will take a minute or more to send messages. Emergency SOS via satellite feature will not work in places above 62° latitude.
Can iPhone be used as a satellite phone?
You can connect your iPhone to a satellite and send an emergency SOS message when you are in a location with no cellular and Wi-Fi network.
What does SOS on iPhone do?
With Emergency SOS, your iPhone will automatically call the local emergency number like police, fire, or ambulance. SOS also allows you to send messages to your emergency contacts along with your location. 
Can you cancel Emergency SOS?
Yes. If you have called the Emergency SOS by mistake, you can tap the End Call button to cancel the call. Or, if you have pressed the Side and Volume buttons to trigger SOS, you can release the buttons to cancel SOS.

The emergency SOS through the satttelite is limited to the US and Canada at this moment. As we said erleir, this feature can also be used for the international visitors who visit the USA and Canada. The Sattellite SOS is not free all the time. Apple offer this Emergency Satellite SOS feature free for two years. After this period you may have to pay subscription fee.