Visual Voicemail on iPhone lets you quickly look at all the messages left by the callers with a single tap. This is a handy feature that helps to save time as you don't need to type your mailbox number to check voicemail messages.
Let's take a detailed look at how to use visual voicemail on your iPhone and play each of your voicemails individually.
How to Set Up Visual Voicemail on iPhone
Voicemails help us to avoid spam calls as we can skip attending calls from unknown numbers. Also, you get to listen to the voicemessages left your friends or family when you were unreachable.
Before setting up the visual voicemail on your iPhone, check if your mobile carrier supports visual voicemail and whether it is included in your service plan. Mostly it does if you live in the States.
Open Phone app on your iPhone and tap Voicemail icon on the bottom right. Next, tap Set Up Now. (When you are setting up the Voicemail for the first time, you need to create a voice mail password and record your voicemail greeting).
Then, add a 4 or 6-digit voicemail passcode and tap Done. For the greeting message, you can tap Default or Custom. If you select Custom, tap Record to record your greeting message. By selecting Default, the system-generated message will be played to your caller. Finally, tap Save to save the greeting message.
That's it. The visual voicemail has been successfully set up. You can test that by calling your number and leaving a message.
Related: 10 Best Google Voice Alternatives to Get Free Second Phone Number on Any Device
How to Use Visual Voicemail on iPhone
Visual Voicemail allows you to view the list of all your voicemail messages at once and then you can select which ones to play first and so on. If you don't wish to hear some messages, you can simply delete them.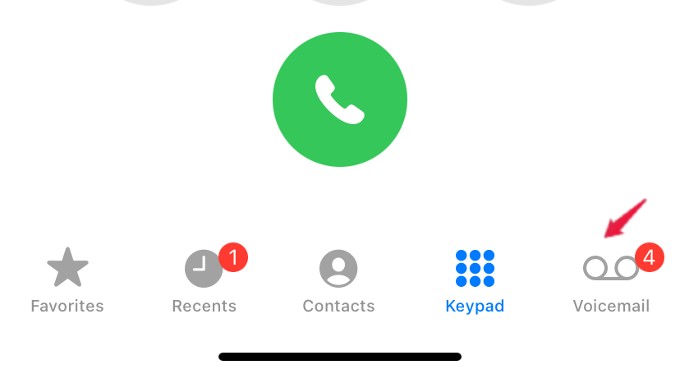 Launch Phone app on your iPhone. A small red badge on the Voicemail icon will indicate the number of unheard messages on your device. Go ahead and tap Voicemail icon.
Listen to Voicemails
From the Voicemail screen on your iPhone's Phone app, you will see the list of callers with their phone numbers, location, date, and duration of the voice message.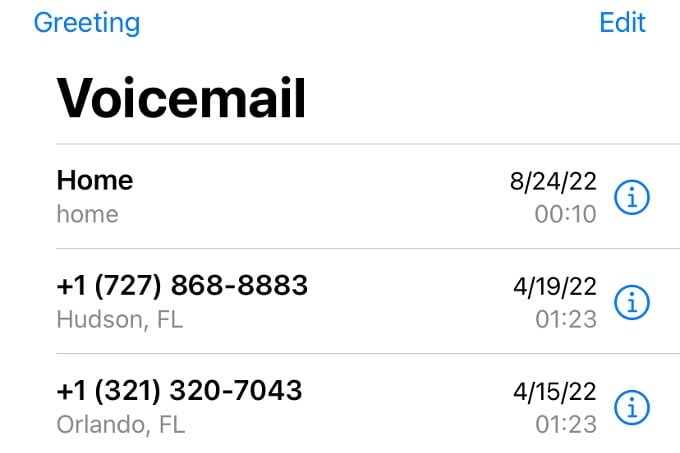 To listen to a message, tap on the message and then tap the Play icon. You can pause the message by tapping the Pause icon and rewind/forward by dragging the slider. You can also tap the Speaker icon to hear the message in the speaker.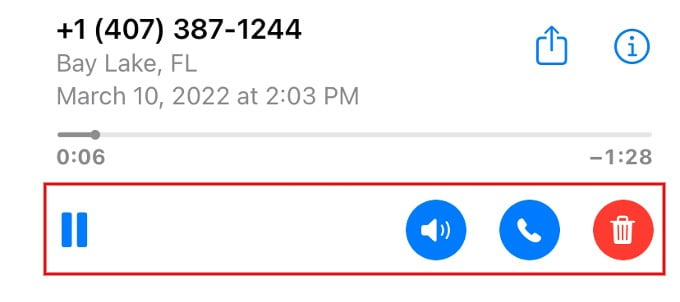 Once the message starts playing, you can see the transcript of the message in English, as you see below.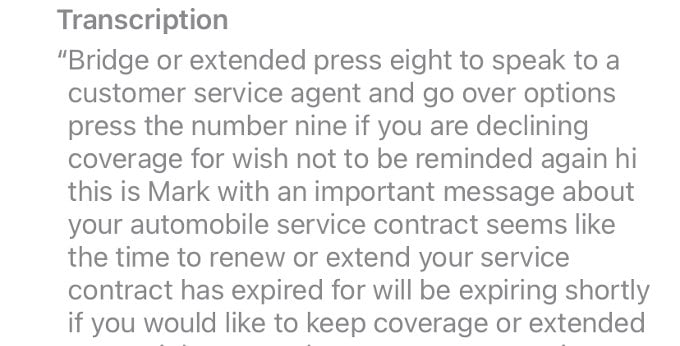 Delete Voicemails
To delete a single message or voicemail, you do not need to clear your entire voicemail inbox. With visual voicemail enabled, swipe it left or tap Delete icon on that message.
For deleting multiple messages, tap Edit on the top right and select all the messages you want to delete. Then, tap Delete in the bottom right.
Related: iPhone Storage Full, How to Free up Storage on iPhone?
Sharing and Saving Voicemails
You can save the voicemail messages either as a text on the Notes app or as a recording on the Voice Memos app. You can also send the voicemail message to anyone by Mail, Message, WhatsApp, or other sharing options. For sharing a voicemail with someone, tap Sharing icon on the message to save or share the message.

How to Change Voicemail Password on iPhone
Do you wish to modify your voicemail password to protect your privacy? You can change your voicemail password anytime on your iPhone by navigating to Settings > Phone.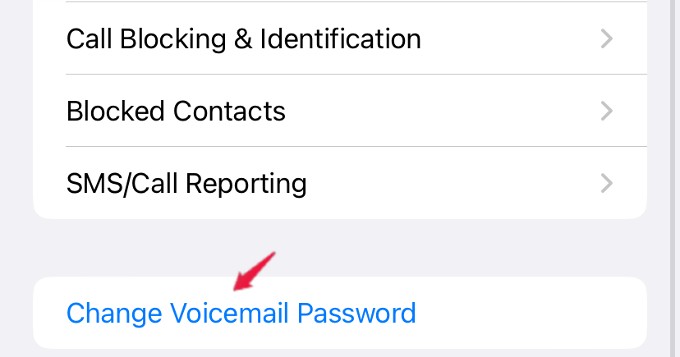 Then, scroll down and tap Change Voice Password and enter a new voicemail password of 4 or 6 digits.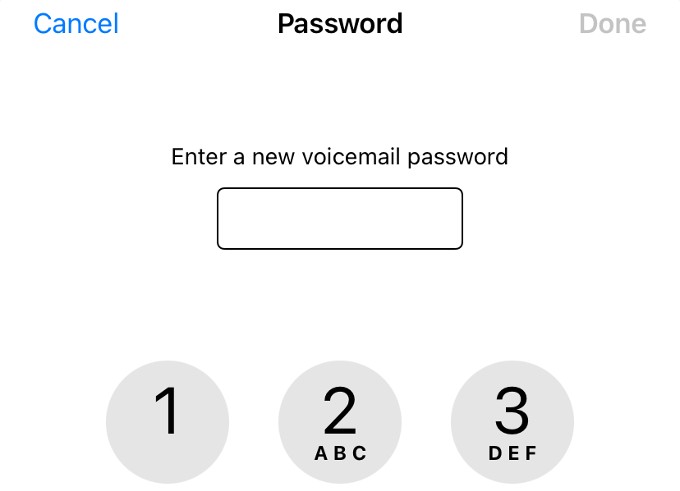 Once you finish entering the password, tap Done on the top right to save your new password.
Related: How to Speed Up Voice Memos on iPhone
Why Is Visual Voicemail Not Working on My iPhone?
Has your visual voicemail stopped working suddenly on your iPhone? If you tried restarting your phone, putting it into flight mode, and back online, and it still does not work, we have the solution. It might be due the one or more reasons listed below.
Roaming:
Visual voicemail might not work if you are traveling to another country or a different location where your service provider is not available.
Network coverage:
Is your cellular network coverage good? If you can see only one bar at the top right of your screen, then the signal quality is not good and you will face issues in playing voicemails. The issue will resolve automatically when the signal strength is good.
Voicemail Box Storage:
Is your voicemail storage box full? Then, your callers will not be able to leave a voicemail. To avoid that, delete your voicemail messages regularly. In case you want to keep some, save them as voice recording into the Voice Memo app.
Service provider change:
Have you recently changed your mobile service provider but using the same phone number? Then, check if your new provider supports visual voicemail.
Call forwarding
Did you set up call forwarding and all your incoming calls are redirected to another number? Then, voicemail won't work till you disable call forwarding.
Besides the above steps, check if you have installed the latest software update on your iPhone and try restarting your iPhone to see if that helps. Visual voicemail is a helpful feature as you no longer have to spend time hearing spam messages anymore. Choose one from the screen and play, and avoid unnecessary ones.