Voice Memos app on iPhone lets us record a voice note, reminder note, or an audio message that we can share with anyone. You might not want to waste a lot of time listening to the long voice notes you recorded. In such cases, you need to speed up voice memos on your iPhone to finish listening in half the time or lesser.
Voice Memos on iPhone had no such option to let you control the playback speed on recordings. Well, now you have it with the latest iOS update. Let's see how.
Adjust Playback Speed of Voice Memos Recordings
Do you feel that the tempo of your audio recording is a bit slow or the voice memo is too long? With iOS 15, you can easily change the playback speed of your recording. i.e you can either speed up or slow down the playback. Let's begin.
Open Voice Memos from the Home screen. (Voice Memos will be located on the Utilities folder on your iPhone Apps Library).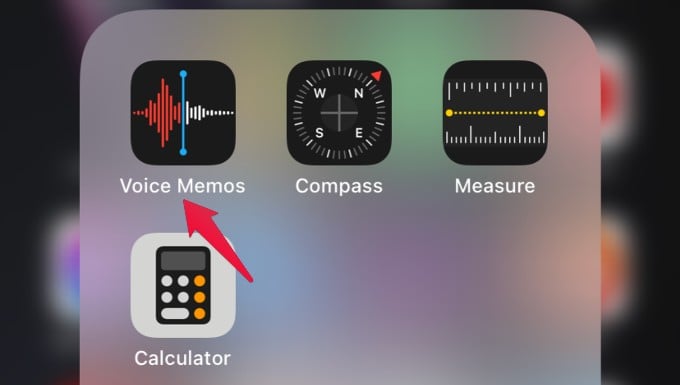 From the list of audio recordings shown on your screen, tap on the audio file you need to speed up. Here, you will see a three-line equalizer icon with small circles on the left. Tap on that.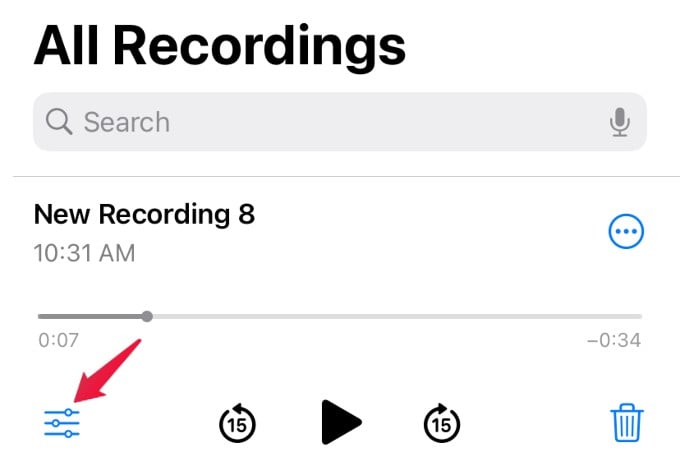 In the new pop-up menu that opens, you will see a field titled PLAYBACK SPEED. Below that, you will see a horizontal line with a slider on it. Also, you will see a turtle icon on the left and a rabbit icon on the right.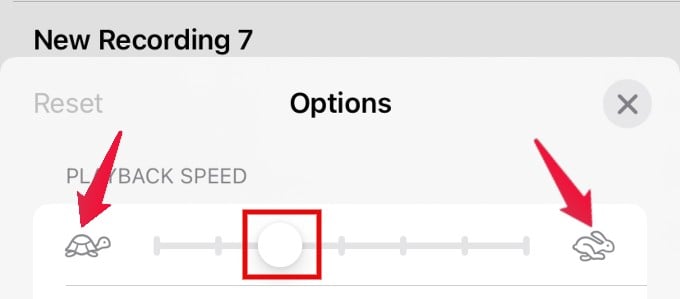 To increase the playback speed, move the slider towards the right (or to the rabbit icon). If you wish to slow down or decrease the playback speed of your audio, then move the slider towards the left (or to the turtle icon).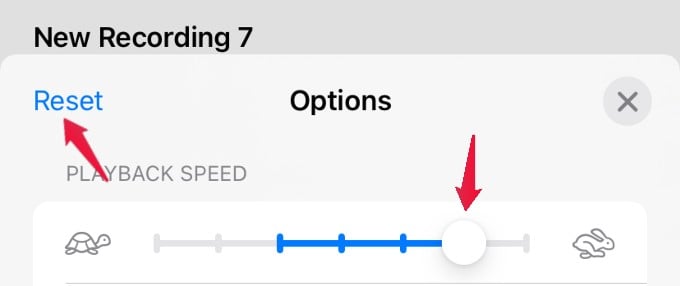 If you want to undo the changes and revert back to the original playback speed, then tap Reset on the left.
After adjusting the slider to the desired position, close the menu by tapping the X icon. Now, tap on the Play icon to play the recording. Do you feel the difference in the playback speed?
Related: Best Apps to Record iOS Voice Memos into Dropbox
By repeating the above steps, try adjusting the slider and keep it in different positions to observe the difference in playback speed.
Related: How to Reduce Background Noise on iPhone Video Calls
As of now, you can change the voice memo playback speed while playing in the app only. If you share the voice recording, it will send the audio file with the original speed. However, you can speed up voice memos on your iPhone whenever you want.