There are voice recording apps, capable of sending voice memos automatically to cloud drives once you stop recording. This is easy and convenient when you depend on your voice memos in your school or work. You need only a DropBox account in addition to your iOS device to get it done while you use these apps. You can come back from work and listen to these memos from your computer or any other device where you have a Dropbox application (get free 2GB Dropbox space) installed with the same account. These apps are capable of naming your voice memos with current date and time, and you don't need to worry about renaming your voice memos every time once you finish recording.
We have listed the best apps that can automatically save your voice memos to Dropbox or other cloud drives direct from the iPhone.
Voice Record Pro
Voice Record Pro is a professional voice recorder. This Voice Record app allows you to record voice memos and on-site sounds at unlimited length with configurable quality. Recorded voices are in standard AAC/MP4/M4A format. Voice Record Pro can record directly in MP4 (AAC), MP3 (MPEG), and WAV (PCM) formats plus convert function for all supported formats.
Voice Record Pro can export to and import records from Google Drive, DropBox, OneDrive, Box Cloud, SoundCloud, and even FTP server in addition to email and SMS/iMessage. You can convert the records to other formats, trim the records, duplicate the records, append records, and protect the app with a passcode.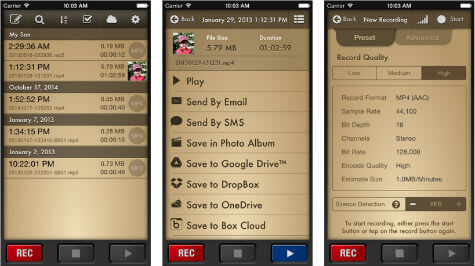 Recorder for Dropbox is a full-featured Dropbox voice and audio recorder offering full Dropbox Sync capabilities, with Recorder there's no need for the usual complicated import/export processes.
Recorder for Dropbox can organize, rename, move, create Dropbox folders, and manage all your recordings directly from within the app. The Recorder for Dropbox takes care of automatically synchronizing your records across all your devices (iPhones, iPads, Macs, and PCs) it's easy, simple, secure, and fully automated.
Key features: Recorded in AAC/MP4/M4A/MP3 format | Support Google Drive, DropBox, OneDrive, Box Cloud, iCloud Drive | Export to SoundCloud, FTP server, etc. | Add notes to records | Supports Echo/Volume/Gain/Trim the records | Protect the app with a passcode | Download from iTunes
Related: How to Transfer Voice Memos from iPhone to Computer?
RecUp
RecUp makes it is easy to record and send voice memos from iPhone to Dropbox easily. Once you stop recording your voice memos on the iOS device, DropVox will automatically upload the file to Dropbox in mp3 format.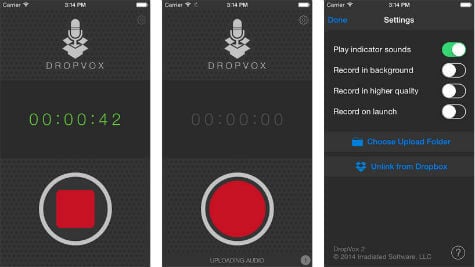 RecUp is streamlined to record and upload voice memos to Dropbox, and there's no need to name files or choose where to send them.
Key features: Simple and Elegant | Save in MP3 | Download from iTunes
SimpleMic
SimpleMic is the fast audio recorder that makes capture sound on your iOS device and sync with iCloud Drive sync or other cloud services like Dropbox. The SimpleMic app offer "Sound Activated" recording mode.
This will quietly wait until the microphone picks up enough sound, then will quickly start recording, even capturing audio from a few seconds before making sure you get a perfect recording every time. This app makes every record gets tagged by date and geolocation.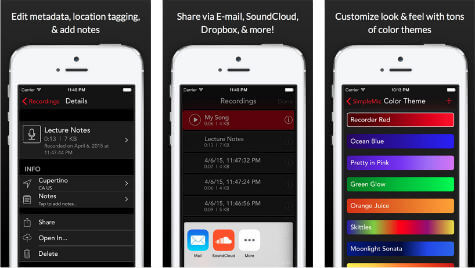 After you complete recording all of the recordings will be available on your Mac running OS X Yosemite in iCloud Drive or can upload/open the audio files directly to Email, SoundCloud, Dropbox, Evernote, or any other app on your device that supports opening audio files.
Key features: Gesture-based UI | "Record on Start" option | Automatic Geotagging | iCloud Drive syncing | Upload directly to Email, SoundCloud or Dropbox | Download from iTunes
Also read: Best Cycling Apps for Android and iPhone
Additional Apps to Record Voice Memos to Cloud Drives
We have listed the best apps to record voice memos and keep in cloud drives as a backup. With the above apps, you can do the recording and also uploading into the cloud drives easily. However, we would like to expand this list of apps with few additional iOS apps, those can save voice memos to cloud drives as a backup direct form iPhone.
Voice Recorder & Audio Editor
Record audio for long-duration numerous times as you prefer with Voice Recorder. Start and pause the recording from your home screen of the device without any trouble. Attach notes to the individual recordings to profile them in a better manner.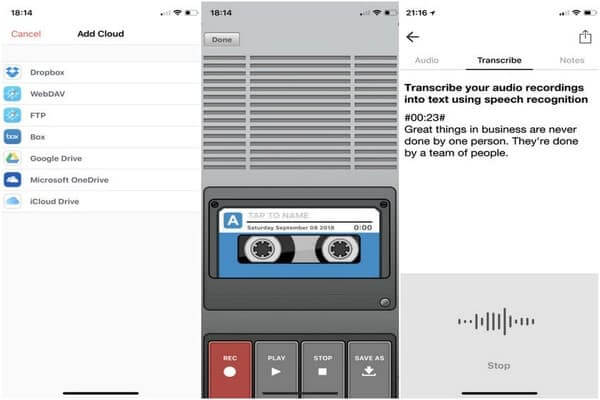 You can easily upload the recordings to iCloud Drive, Dropbox, Google Drive, OneDrive, Box, and other cloud storage platforms. Coming with multiple audio formats, it also allows the passcode protection of the recordings. Perform loop recordings and trim the recordings as well over the app and mark important recordings as favorites for easy access.
Download Voice Recorder & Audio Editor on iTunes
Voice Recorder Lite
Enjoy recording with some added features on Voice Recorder Lite. Record almost anything audible within the range 10-100m range around your position. Edit the recording as per your needs for saving it for future access. The multiple playback options aid you in deciding the end resultant recording.
Select the perfect quality as well as format among the available options to get the perfect control over the recording process. The app comes with background recording support and allows recording through an external input device support. You can easily mail the recordings and upload them to Dropbox, iCloud as well as import it to other locations.
Download Voice Recorder Lite on iTunes
Microsoft OneNote
Capture your thoughts, discoveries as well as ideas in notes via recording, writing and clicking them. OneNote is a great app to plan your moments and record something new instantly. Organize the notes in the perfect manner that suits you best and make them available to you almost anywhere. Share notes with your friends and colleagues as well as secure them with a password or Touch ID to access them.
Create a to-do list for tracking the details of your daily errands as well as daily shopping. Work together in the best form with the help of the features of OneNote.
Download Microsoft OneNote on iTunes
Recorder Plus
Turn your iOS device into a real audio recorder with Recorder Plus. Coming with one-touch recording, the simple user interface of the app allows you to record audio for seconds and hours without any issue. Pause, resume recordings as per your preference, and ensure great as well as high-quality audio recording over the app.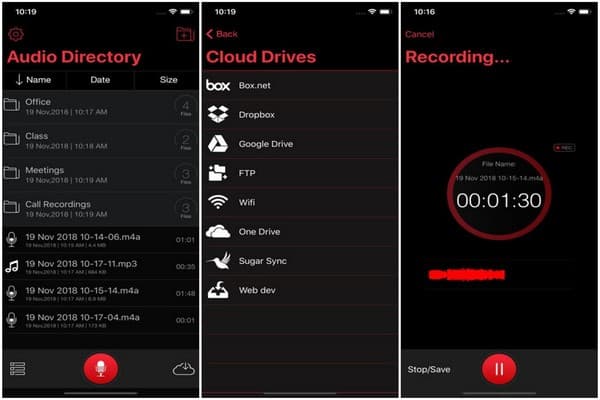 Record and playback in the background while accessing your device. Supporting multiple audio formats from MP3 to M4A, it allows you to determine the sound quality of recording from low, medium to high. Upload the recording to numerous cloud drives as well as import them to your device with minimal trouble.
Download Recorder Plus on iTunes
MP3 Voice Recorder
Use your iOS device with the utmost efficiency with the help of MP3 Voice Recorder. Choose the perfect bitrate to get efficient recording in the most proper manner over the app. With available input channel modes ranging from Mono & Stereo, you can easily record audio in the most suitable manner over your iOS device.
It comes with support for diverse cloud drives from Box.Net, Dropbox, My disk, Sugar Sync, Skydrive, WebDAV, and FTP. Import the recording from cloud storage and export it to different cloud drives without any issue. Select the perfect MP3 audio recording output settings to get the perfect result.
Download MP3 Voice Recorder on App Store 
Audio Recorder HD & Voice Memo
Record audio seamlessly with the easy to use and smart interface of Audio Recorder HD & Voice Memo. With the highly professional recorder app, you can easily record and playback in the background for quick recording. Record in the perfect audio quality from high, low to a medium through the recorder app.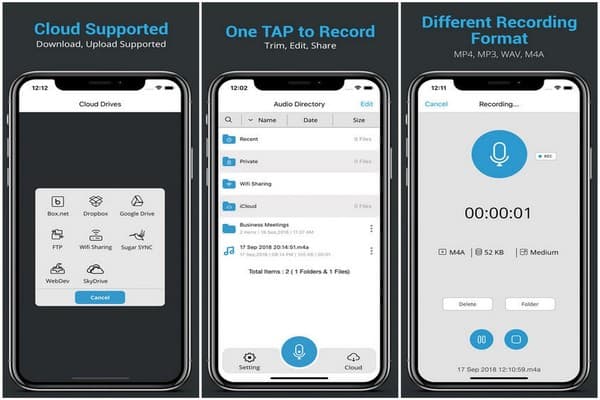 Upload the recordings to different cloud drives as well as import it from the cloud. The adjustable audio trim controls allow you to maximize as well as minimize the audio volume with ease. Play in the manner you want from Fast, Medium to Slow playback of audio.
Download Audio Recorder HD & Voice Memo on iTunes
How to Enable Location-Based Naming for Voice Memo on iPhone
Just Press Record
Access the ultimate mobile recording app that brings one tap recording, transcription, and iCloud synchronizing with the Just Record app. Start the recording by making a Siri Shortcut and use the one-tap feature to start, stop, pause, and resume recording anytime. Coming with unlimited recording time, it also allows you to record discretely in the background. Select to recording with the built-in mic, AirPods, or any external microphone.
Record independently through the help of Apple Watch and synchronize later to your device. Coming with support for more than 30 languages, it allows you to use it independently regardless of your device's setting. Browse your library as per the time and date to view the recent recordings and access them.
Download Just Press Record on iTunes
Smart Record
Known as the world's most innovative app for recording audio, Smart Record covers all the requirements of an ordinary as well as for a professional user. Highlight the important sections of the recording during the recording process or playback of an earlier recording. The app comes with interruption protection that continues the recording after answering a phone call.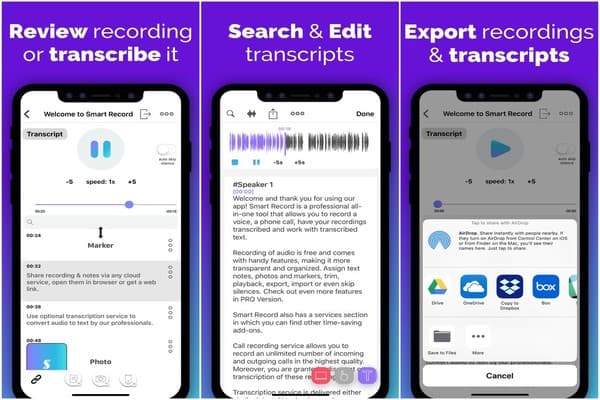 You can easily adjust the sampling rates that range from lower to 48 kHz as well as choose the perfect recording formats from M4A, CAF & WAV. Choose whether you want to the transcription through machine or human over the app as per your preference.
Download Smart Record on iTunes
Evernote
Focus on what matters most and manage it in the form of photos, images, web pages, or audio easily. Get the tools that allow you to make your work organized in an effortless manner. Makeup notes in a variety of formats that ranges from text to audio over your iOS device. Synchronize the data automatically across your computer, phone or tablet without any trouble.
Limited space is available on Evernote and for expansion in storage, one needs to purchase Evernote Premium. Add a passcode to your mobile app for giving more privacy to the information present on it. Your information is always with you regardless of your location and time.
Download Evernote on iTunes
Record Voice Memos to Cloud Drives
iPhone voice memos is a simple UI app built for iOS devices that can be used to record your class notes, speeches, or executive notes. You can share these notes by email or message to your contacts.
The sharing options for voice memos limited depend on the length and size of the voice memo file, and you have to manually do this process every time once you complete the voice recording. There are a few apps in iTunes that you can depend on to do this task automatically and send voice records to cloud drives.
These voice memos apps backup and synchronize iPhone voice memos with time-stamped file names and organize in a systematic way in cloud drives that makes to access the data from any device at any time.