Robot Vacuums have eased our house chores, and it will be even nicer to have a vacuum and a mop combo that does both sweeping and mopping. The robot vacuum and mop combo can handle all this and save the space and money you need to buy two robots. Amazon has tons of value-for-money Robot Vacuums, and we handpicked the best of them for you.
When you look for a vacuum robot mop combo, always compare the mopping power measured in Pa. Now, let's take a detailed look at each robot combo. On that note, here are some of the best robot vacuum and mop combo cleaners for you.
Roborock S7 Robot Vacuum and Mop
Key Features: 2500PA Suction | 300ml Water Tank | 600g Mop Pressure | Ultrasonic Carpet Detection | Sonic Mopping Technology | Intelligent Mop Lifting | High Power Suction | Sound-based cleaning
Roborock S7 comes with Sonic Mopping Technology. The Roborock S7 robot vacuum uses scrub up to 3,000 times per minute. Stains, such as coffee, mud, and others, can be removed thoroughly and effectively using a cleaner that has an electronic water tank that holds 300ml.
Intelligent Mop Lifting. Carpet detection in S7's VibraRise mop allows you to mop hard surfaces and vacuum carpets in the same cleaning process. When the cleaning process is complete, S7 vacuum rises to prevent the spread of filth, and when it's docked, it elevates to eliminate the need for ugly plastic matting and dirty streaks.
The Roborock S7 is equipped with 600g of mop pressure and 2500PA of HyperForce suction, allowing it to effortlessly remove dust and debris from floors and draw it deep into carpets.
Related: 12 Best Self-Emptying Robot Vacuums in 2022
EcoVacs Deebot X1 Omni Vacuum and Mop Combo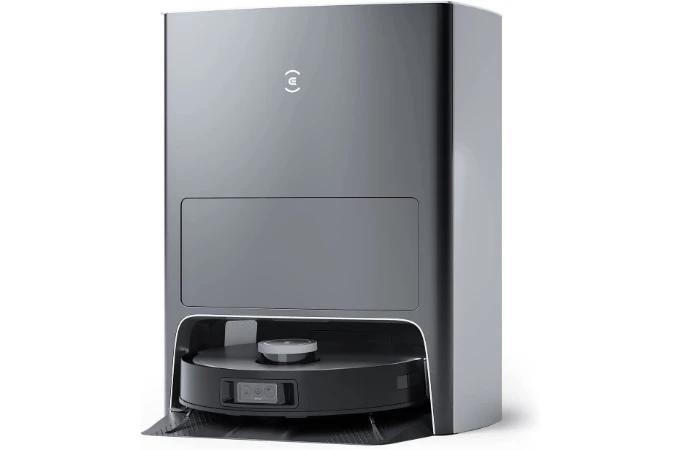 Key Features: 5000Pa Suction | 3L Dust Bag | 6N Down Pressure | AIVI 3D Obstacle Avoid Technology | OZMO Turbo Cleaning | Voice Command Support | Ultra Powerful Suction |5200 max Battery
The DEEBOT has an enhanced suction power of 5,000 PA, allowing it to pick up debris more easily from hard floors and carpets. For tough stains and debris, the OZMO Turbo rotating mopping technology works twice as hard, leaving the floor sparkling clean.
Using AIVI 3D Technology, the vacuum robot can autonomously identify, recognize, and avoid objects at least 2 inches high, even in the dark. Deebot can do the auto mop washing for you without user input. The auto Hot Air Drying and the Auto Tank filling are the additional top features of this model. The Moping can apply up to 6N downward pressure to clean your floor.
Cleaning your home is as simple as telling the voice command system, "Ok, YIKO, vacuum under the sofa in the living room." YIKO is a voice control assistant that makes cleaning the floor even simpler than pressing a button would.
Roborock S7+ Robot Vacuum and Sonic Mop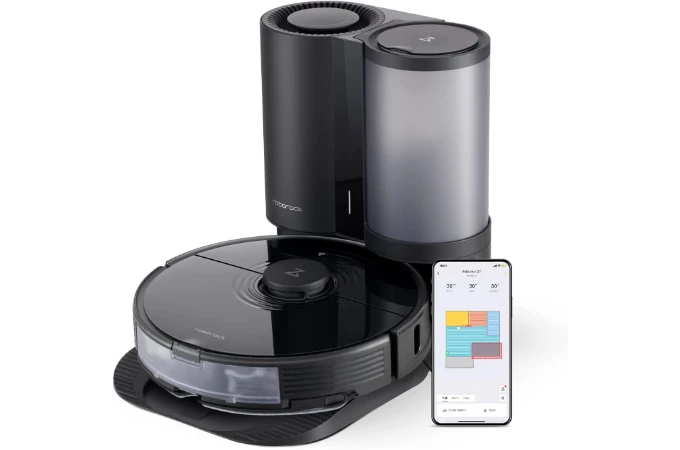 Key Features: 2500Pa Suction | 600g Mopping Pressure | 300ml Water Tank | 400ml Dust Bin | LiDAR Navigation | High Capacity Dustbin | Complete Cleaning | HyperForce Technology
The Self-Empty Dock is a docking station that automatically empties the robot after cleaning, allowing you to clean without emptying the robot's bin for up to 120 days.
Using an onboard filtration system, the robot vacuum and mop combo can capture 99.99 percent of particles as small as 0.3 microns, preventing dirt from getting inside the dock. The dust bag may be quickly sealed by just pulling on its string, making it ready for immediate disposal.
The 2500Pa of suction power from HyperForce takes dirt out of carpets, lifts it from fissures on the floor, and draws it up from the floor itself. A mop with a constant pressure of 600g provides thorough cleaning when used consistently.
Accurate maps of your home can be generated using precision LiDAR navigation, which also successfully follows cleaning paths. Adaptive Route Algorithms are always working to improve these routes to be as effective as possible.
Related: Trifo Ollie AI Robot Vacuum: Built for Pet Owners with Pet Camera Monitor
Roborock S6 Pure Robot Vacuum and Mop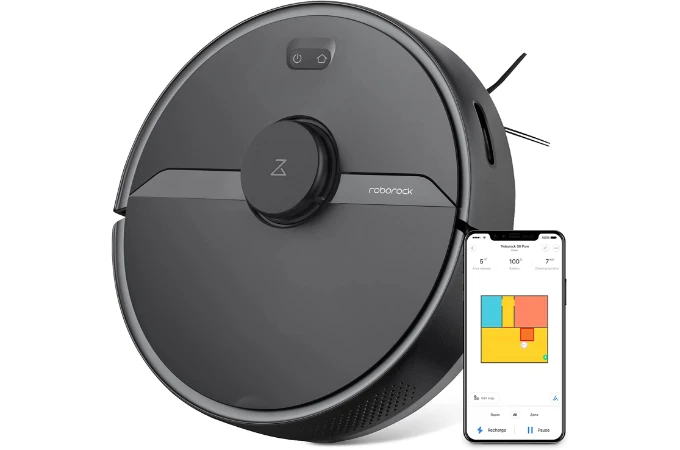 Key Features: 200pz Pressure | 600g Mopping Pressure | 300ml Water Tank | 400ml Dust Bin | Amazon Alexa Support | Adjustable Water Tank | Carpet Boost enabled Variable Suction | Z-Shaped Cleaning
Roborock App, Siri, and Alexa voice commands allow you to manage your robot from anywhere, at any time, with several floors of maps and no-go zones. Effective, complete home mapping and all-encompassing cleaning are provided by the precision LiDAR navigation and Z-shape cleaning route.
The suction power of 2000 Pa combined with an automatic carpet boost makes it easy to take dust from floors. The automated carpet boost increases the power when it detects carpets, allowing for a more thorough cleaning.
Long-Range 180ml Adjustable water tank designed for houses up to 1610 square feet in size, this mop's water tank can be adjusted to accommodate various flooring types.
Related: Eufy RoboVac 15c Max: Best Budget Robotic Vacuum Cleaner
iHome AutoVac Eclipse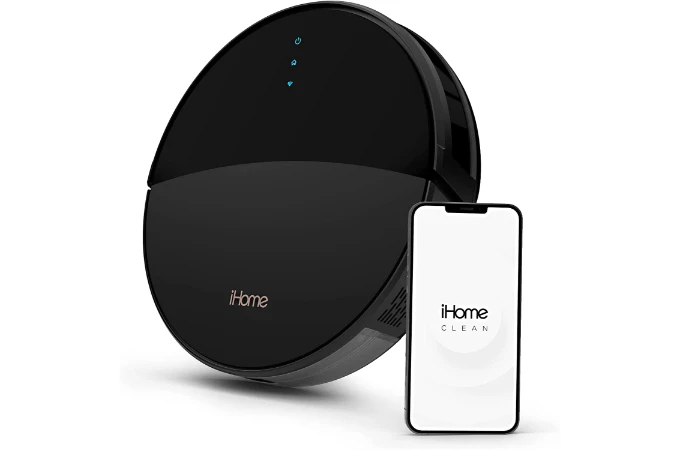 Key Features: 2000Pa Suction | 600ml Dust Bin | 120Mins Run Time | Hyper-boost for Carpets | Scheduled Cleaning | iHome App Control | Auto Return to Charging Dock
The AutoVac can identify the surface type and will automatically alter its cleaning settings accordingly. Appropriate for use with Low Pile Carpet, Tile Flooring, Wood Flooring, and Laminate Flooring. When the carpet is detected, the amount of power applied to the suction increases by 20%.
Take care of your housework and other daily responsibilities using the iHome App's "Set A Schedule" feature. Three different power settings are at your disposal. Hyperdrive Technology provides a powerful suction increase of 2000PA to ensure that all the dirt, bits of food, grime, and pet hair is collected.
The vacuum can return to its base and automatically charge itself for a runtime of 120 minutes, thanks to self-charging technology.
Ultenic D5s Pro Robot Vacuum and Mop Combo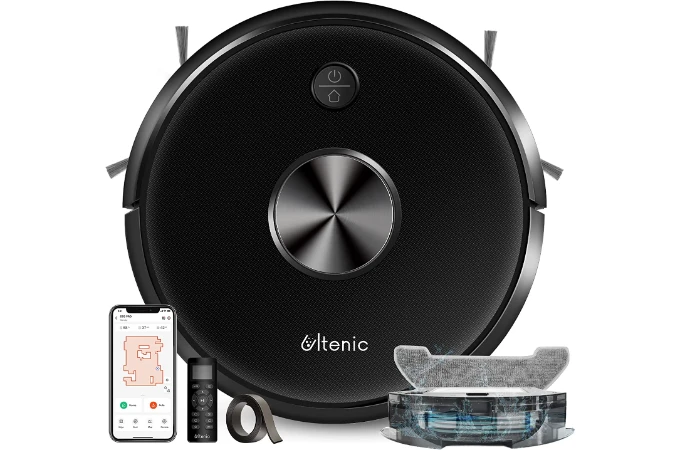 Key Features: 3000Pa High Suction | 400ml Dust Bin | 150 Mins Run Time | Multipurpose Water Storage | Auto Return to Dock
The D5s Pro robotic vacuum cleaner can vacuum and mop at the same time thanks to its additional dustbin that is a 2-in-1 and a water tank. The D5s Pro Robot can effortlessly pick up dust and pet hair because of its powerful suction capacity of 3000Pa and three-stage cleaning method.
Its 2600mAh battery allows a runtime of up to 150 minutes of cleaning, during which any collected dust is safely kept in a huge 400ml dustbin. When the battery gets low, it goes back to the charging dock to get charged so that it can continue cleaning wherever it is left off.
Related: 10 Best Rechargeable Cordless Stick Vacuum Cleaners
NOISZ by ILIFE S8 Pro Robot Vacuum and Mop 2-in-1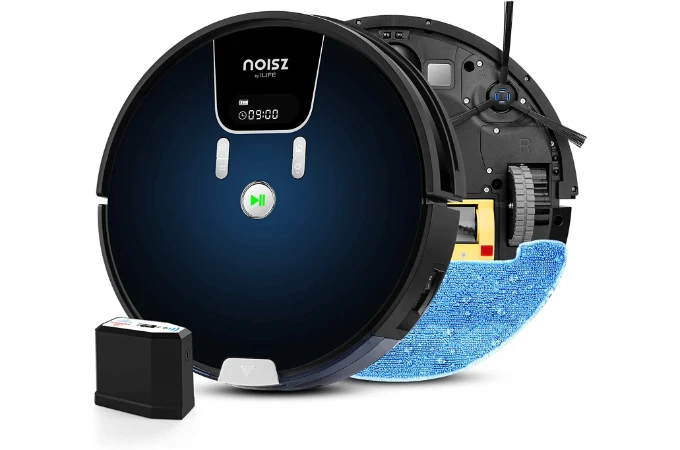 Key Features: 200Pa Suction | 300ml Water Tank | Row-by-row cleaning |ElectroWall-based boundary detection
The S8 Pro uses a row-by-row cleaning technique with gyroscope navigation, maximizing coverage and decreasing the amount of missed space. The ElectroWall is a piece of equipment that can section off the region where you do not want the robot to go.
It features a powerful suction of 2000Pa in sport mode, which may be used to enhance vacuuming in a particular area that has extreme clutter.
The innovative design of the cellular dustbin not only achieves four filtration levels, which trap fine dust and release fresh air, but it also has a water tank that holds 300ml for use as mopping assistance.
ILIFE V80 Max Mopping Robot Vacuum Cleaner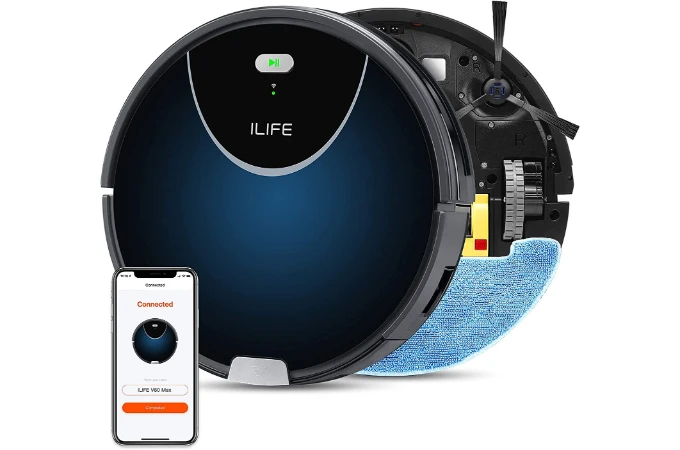 Key Features: 200Pa Suction Power | 750ml Dust Bin | 300ml Water Tank | Variable Suction Power | Alexa Supported | High Capacity Dustbin | 3 Modes of Operation
With iLIfe's 750ml dustbin and 300ml water tank, the V80 Max mopping robot vacuum is suitable for vacuuming and mopping wood, tile, and stone surfaces.
The Max Mode provides improved suction of up to 1400Pa, while the Path Mode (Auto Mode) is suitable for cleaning vast spaces (700Pa). Sport Mode cleans a specified area by applying powerful suction of up to 2000Pa, whereas Edge Mode is designed specifically for cleaning corners and edges.
Using the ILIFEHOME app, you can specify a weekly cleaning schedule the robot should follow. The robot vacuum is compatible with Amazon Alexa, allowing you to start and stop the cleaning process by simply speaking to it.
Related: iLife V9e Robot Vacuum Review: Powerful Vacuum with Easy Controls
ILIFE V5s Pro 2: 2-in-1 Robot Vacuum and Mop Combo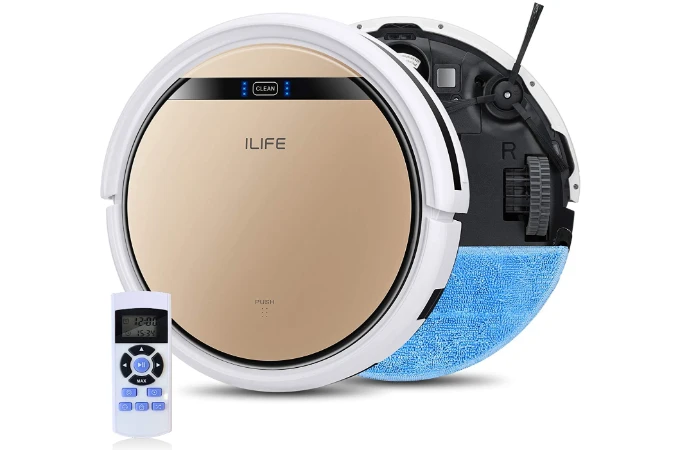 Key Features: 120Mins Battery Life | Redesigned Product of 2020 | Intelligent Water Tank | Tangle-free Vacuum
The V5s Pro has a battery life of up to 120 minutes, and it will look for the charging dock on its own if the power begins to run low. This ensures that it is always ready to clean your floor.
With its tangle-free suction port, the V5S Pro 2 is a great choice for pet owners because it can quickly vacuum up pet hair and debris. The vacuum robot has strong suction in the vacuum mode, and the mopping system includes an intelligently managed water tank.
Re-engineered from the famous V5s pro, this new 2021 product is equipped with clever gyro navigation that enables the robot to avoid missing or repeating locations.
Tikom G8000 Robot Vacuum Cleaner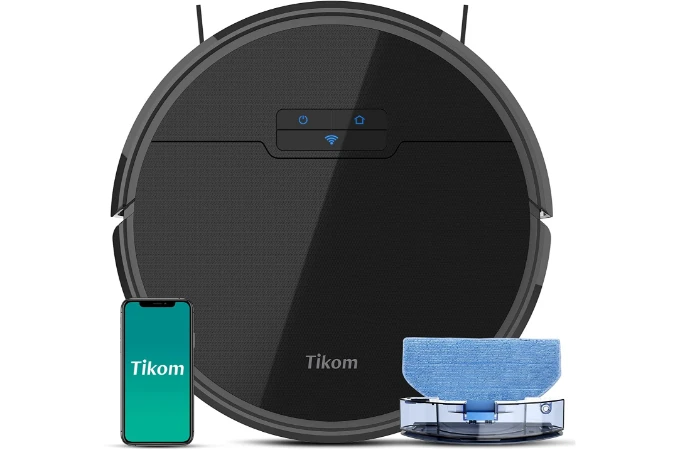 Key Features: 2700Pa Suction | 120 Min Run Time Zig-zag path | Boundary Strips supported | Intelligent Performance Optimization
The strong suction of 2700Pa of Tikom G8000 can easily handle dust and pet hair, providing an excellent cleaning performance on hardwood floors. when the battery becomes low, it will go back to the charging station on its own.
Compared to robotic vacuums that follow a random course, the G8000 Robotic Vacuum will provide more complete and effective cleaning of your home by following a Zig-zag path. This specific type of intelligent navigation results in a 30% increase in cleaning productivity.
When it detects carpets, it will automatically boost the suction power by a factor of three to ensure a more thorough cleaning. You can use Boundary Strips to categorize restricted sections on the floor.
Related: 8 Best Indoor WiFi Air Quality Monitors to Track Air Pollution Inside Your House
Roborock E4 Mop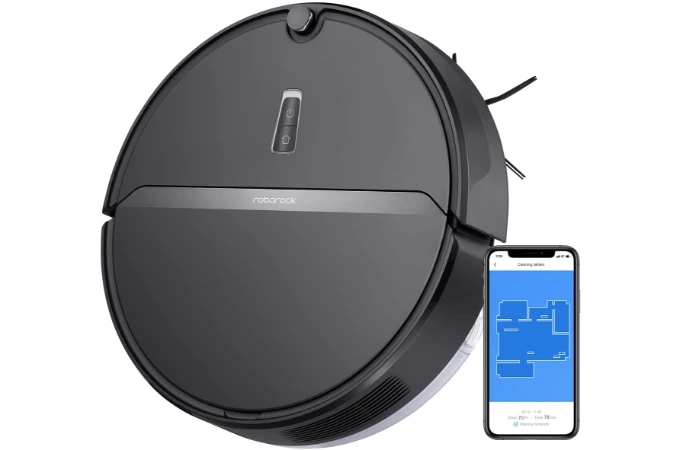 Key Features: 2000Pa Suction | 200Minutes Run Time | Z-shaped cleaning pattern | Dual-Gyro Sensors | Auto Recharge
Roborock E4 has a powerful 2000Pa suction and can effortlessly pick up hair, cereal, paper scraps, and soybeans from floors, and it runs smoothly on wood, tile, and carpet. The battery can run up to 200 minutes of cleaning with a single charge, or about 2152 square feet of space. If the battery dies while cleaning, it will return to the charging dock and continue where it left off once charged.
Roborock E4 is designed to clean your floors in a Z-shaped, efficient and rapid pattern. It comes equipped with Optic Eye, two gyroscopes, and accurate internal mapping.
Dreametech D9 Vacuum Robot and Mop Cleaner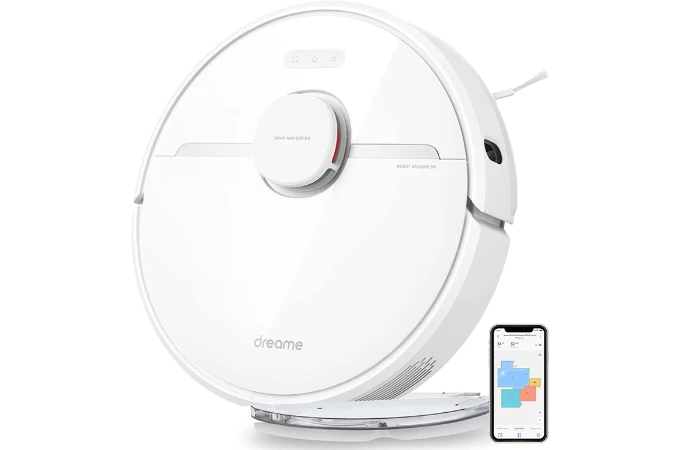 Dirt and stains are quickly removed from the surface and deep beneath the carpet, thanks to the powerful 3000Pa suction of Dreametech D9. The robot vacuum has a powerful suctioning ability, enabling it to remove hair and dust effectively.
At a low power setting, the 5200mAh battery can last up to 150 minutes, enough time to clean an area of 2153 square feet. With the app remote control, you can regulate the suction power, change how the water is distributed, and check the level of the battery. Once you link to Alexa, the robot will also listen to your voice commands through Amazon Echo speakers.
Key Features: 3000PA Suction Power | 5200mAh Battery |Amazon Alexa Support | Mobile App-based Control
Roborock E5 Mop Robotic Vacuum Cleaner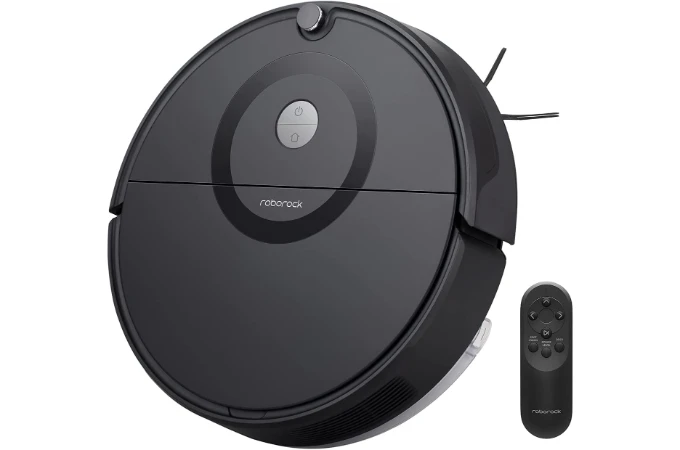 Using the Roborock E5 robot vacuum and 180ml SnapMop system to mop up to 1600 square feet at the same time, you can remove tiny dirt that vacuuming alone could miss. Roborock E5 Mop's 2500PA HyperForce suction lifts dust and hair from floors and carpets. Carpet Boost guarantees every carpet gets maximum power.
On a single charge, the Roborock E5 Mop can continuously clean for up to 200 minutes, allowing you to clean more of your home in less time.
Key Features: 200Pa Suction | 200 Mins Run Time | SnapMop Intelligent Mopping system | 200Min battery life | 2500PA Suction Power
ECOVACS Deebot N8 Pro+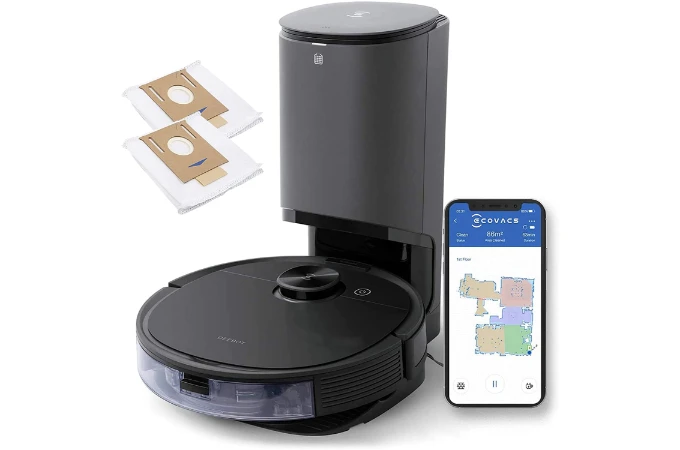 Key Features: 200Pa Suction | Laser Guided Cleaning | Silent Operation | 2600PA Suction Power | Auto Emptying Trash
The Deebot N8 Pro+ has a 2600Pa suction that removes dirt and dust from hard surfaces and carpets while maximizing energy efficiency and minimizing noise.
By using laser-based 3D technology, the N8 Pro+ can better avoid obstacles like cords, slippers, and pet hair. In addition to that, once the cleaning is complete, the trash can will automatically empty itself. The disposable dust bag at the station may hold up to one month's worth of dirt and debris.
FAQ: Robot Vacuum Mop Combo
These robotic vacuum cleaners, which are circular, zip around our houses, performing tedious yet necessary cleaning jobs. When shopping for a robot vacuum or mop, you should be aware that there are a variety of models available, each with its own set of advantages and disadvantages.