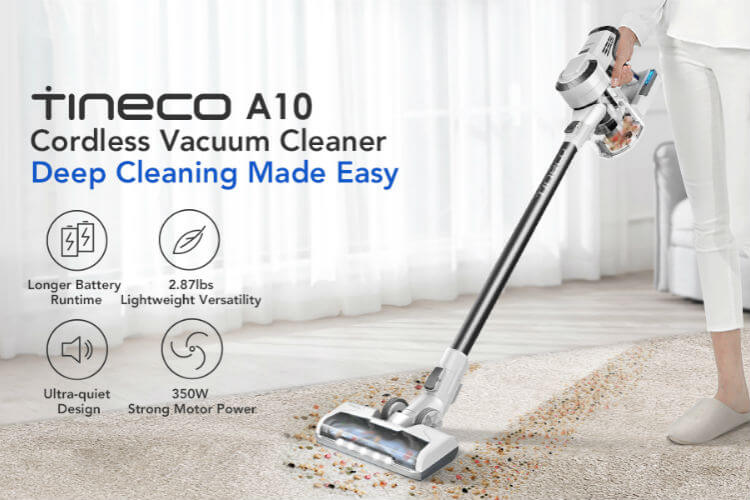 The cordless vacuum cleaners are coming handy, lightweight and easy to move around. These stick vacuum cleaners are not built for a long time, but for convenience. You can have this handheld vacuum for spot cleaning, AC filter cleaning or sucking the dust from the ceiling fan. No more cable fall offs from the sockets when you move around.
Let's bring the list of best cordless stick vacuum cleaners for 2019, suitable for every need and work well with any type of surfaces.
MashTips' Best Picks:
Dyson Cyclone V10
The Dyson Cyclone is the no 1 in our list as its one of those which made a revolutionary impact on the field of cordless vacuums. Cyclone V10 is the most powerful cordless stick vacuum cleaner you could ever get. Its lightweight and takes only a minimal amount of space to keep it safe. The versatile design and instant suction module make it's a game changer in this field.
The rechargeable batteries present on the Cycle V10 gives you up to 60 minutes of runtime when using a nonmotorized tool. The Li-Ion battery has seven cell units along with LED system and altitude sensors.
Dyson Cyclone is optimized to give power to the head unit without power fading. The torque drive cleaning head is the most powerful head unit from Dyson yet. This handheld vacuum can suck up dust and dirt from any surface, be it your floor and carpets without even leaving a trace of debris. The DC motor inside the brush bar produces rapid torque action and digs up deep into carpets. These are then sucked up dust into its 77-liter vacuum bin.
The presence of an antistatic fiber filament inside the head makes dust filtration much easier. A utility features worth mentioning is that you can transform the long unit into a handheld suction pump. You need to place the vacuum cleaner into its wall-mounted docking unit to recharge. Keep in mind that you need to charge it quite often as cordless vacuum cleaners eat a lot of battery for working for even a couple of minutes. You should at least charge it for 3.5 hours before your initial use.
Dyson V10 is the most powerful cordless vacuum, that you can get if you don't care about your wallet.
Buy from Amazon: Dyson Cyclone V10
Tineco A10 Master
The Tineco A10 Master is a cordless stick vacuum cleaner that can make deep cleaning easy. It's lightweight and you can carry it anywhere with ease. The full sized LED power brush protects your floor from dirt and dust and sucks them up with its powerful motor.
This stick vacuum cleaner has a 350W powerful motor that quiet in sound but destructive when it comes to performance. This cordless vacuum cleaner can provide suction force up to 110W in the max mode for 30 mins with its two powerful batteries. The max suction force is 4 times of that your normal cord vacuum offers.
The Tineco A10 comes with two Lithium-ion batteries that provide double runtime up to 50 mins. The regular mode does a decent job without expending a lot of battery. The main head unit can suck up minute dirt and dust particles through its powerful motor.
The dust so sucked goes up into a 4 stage sealed filtration system that locks in small particles without any leakage. The filter is rinse-free and you don't need to to clean it every time you use. The recharging process can be done by placing it in the docking slot. The special handle design also prevents the accumulation of static electricity.
Tineco A10 Master is your best bet if you are looking for the best stick vacuum, for the money you spend.
Buy from Amazon: Tineco A10 Master | Discount Code
Deenkee Cordless Vacuum Cleaner
The Deenkee Cordless vacuum cleaner comes with a 200W suction motor that provides 17Kpa suction rates. Its cordless design makes it easy to carry it from one room to another and avoids unwanted tangled wires. This Cordless Vacuum Cleaner is a compact and lightweight vacuum stick that works like a breeze.
This handheld stick vacuum cleaner has an efficient suction motor along with a good filtration system. This system includes a HEPA filter, a metal filter, and a pre-filter. The pre-filter sorts out considerable objects of average size.
The other filters can capture fine dust particles, hair and other things and stores them in the vacuum bin. The vacuum cleaner features a 2200mAh internal battery. This stick vacuum cleaner offers up 50 mins of usage time before running out. You can charge it from its own charging dock as it can be fixed to your wall socket.
The main issue that you can encounter is the time delay for charging. It takes up to 3-5 hours to get completely charged. A thing to keep in mind is that you can remove and wash the filters when the suction action starts decreasing. You can also detach and clean the floor brush which traps bigger dust particles on the floor.
Deenkee Cordless vacuum cleaner is the best budget-friendly stick vacuum, that you can buy less than 200 bucks.
Buy from Amazon: Deenkee Cordless Vacuum Cleaner | Discount Code
Eureka NEC222 HyperClean
The Eureka HyperClean is a 220W powerful cordless stick vacuum that comes with the new digital motor technology. Eureka Cordless Stick Vacuum Cleaner can generate enough power to suck out dirt and dust from your floors, carpets, cars, etc with ease.
The lightweight design and the ability to convert into a handheld suction pump makes it easy to clean dirt from your sofas, cars and much more. Unlike the ones mentioned above, this cordless vacuum cleaner only provides a total of 30 mins runtime.
The HyperClean vacuum cleaner comes with LED headlights. It helps you to see dust and clean them where it's not physically possible. Moreover, the wand or the top stick can be detached by stepping on the latch without even touching the brush. The large rubber wheels under the brush also increase the fluency on carpets and help you clean them easily. Also, the batteries, as well as the filters, are detachable.
Buy from Amazon: Eureka NEC222 HyperClean
Related: 7 Best WiFi Mesh Routers to Ensure Maximum WiFi Range
Hoover Linx Cordless Stick Vacuum
The Hoover Linx is yet another rechargeable cordless stick vacuum cleaner useful for your home. It has a rechargeable battery system that can be detached and changed if needed. Unlike most cordless vacuum cleaners, the Hoover Linx has its suction and vacuum bin near its neck portion.
The handle has all intuitive power controls so that you can have easy access to power and adjustments. The lightweight design makes it easy to carry around your home. Hoover Linx has all sorts of filtration systems that filter out dirt and works well with all types of floors.
This stick vacuum cleaner comes with the new wind tunnel technology. It creates a channel of suction links to lift and take out debris from your floor. The sucked up dirt and dust goes into the bin and this bin can be removed and reinserted with just a push of a button.
A small issue which we found out was that the battery is not as efficient as those on this list. It can only give around 20 mins of runtime and hence, it requires charging after each use.
Buy from Amazon: Hoover Linx Cordless Stick Vacuum
Puppyoo T10
The Puppyoo T10 features a 250W high precision brushless motor that provides a decent suction force. This handheld vacuum gives out 17500Pa suction force to take out dirt and dust particles from your hardwood or tiled floors. This stick vacuum cleaner is by far the thinnest and compact cordless vacuum you can ever get.
Puppyoo lightweight vacuum comes with a 2500mAh internal rechargeable battery that offers 45 mins of runtime in normal mode. The T10 has a normal as well as a max mode. The max mode intensifies the suction rates and cleans your room very well, but it can run only less than 15mins of use.
Also, you need to charge it for 3 hours to get it full. The presence of the docking station helps you to recharge the vacuum cleaner once it's drained out. Coming to the filtration systems, this cordless stick vacuum cleaner has a sealed 2 level filtration process.
This system can filter out and seal dust and dirt inside its dust cup. Its capacity is fixed at 600mL. All the filtering components are detachable and can be cleaned whenever required. Also, the flexible brush head comes with a small LED light that works as a light source to detect dirt and dust under tables and sofas.
Buy from Amazon: Puppyoo T10
Moosoo Cordless Vacuum Cleaner
The Moosoo vacuum cleaner is yet another cordless and portable device that falls on the list of smart home essentials. It is a lightweight stick vacuum cleaner that far more silent than the normal corded vacuum systems.
Moosoo cordless vacuum has a dual power mode, the standard and max modes. The normal mode works with optimum battery usage and provides a suction rate of 10kPa while the max mode delivers around 17kPa suction rates. The max mode does eat a lot of battery power and only give you around 15 mins usage time before running out.
This vacuum stick comes with a 4 stage high-efficiency filtration technology. This makes a totally sealed filtration of dust and dirt debris that lie on your floor. The high-density HEPA filter captures almost 100% of the dust and stores them in its vacuum duct.
You can also detach and clean the filters as well as the brushes and wash them when they get dusty. The battery present in this cordless vacuum cleaner can give around 60 mins of runtime. You need to charge it for around 3 hours to fill it up once it's done.
Buy from Amazon: Moosoo Cordless Vacuum Cleaner
Black+Decker Cordless Vacuum Stick
The Black+Decker cordless vacuum stick isn't one of those premium vacuum cleaners that we mentioned earlier. It's on our list because of the fact that it's a bit affordable than the others on our list.
Also, it has all the essential features required for a cordless vacuum cleaner. It can be your day to day cleaning companion and a one-step cleaning solution to all your floors and other regions that are dusty. It is lightweight and compact. The brush at the bottom is capable of maneuvering to areas where you cant easily reach.
Being a cordless stick vacuum cleaner, it provides around 35 mins of usage time from its initial charging. The run time differs according to the suction rates or the mode at which you are using.
The Black+Decker vacuum stick can also be transformed into a handheld suction pump. The tube or the pole is detachable and can reinsert as per your need. Unlike the other ones we described earlier, this vacuum stick doesn't have a docking station or charging station. It can be charged from your wall socket with the power adapter only.
Buy from Amazon: Black+decker Cordless Vacuum Cleaner
Dibea D18 Pro
The Dibea D18 pro works with the latest digital motor technology and has two modes that make cleaning your home easy. The normal mode provides 10kPa suction force while the mac mode gives you 17KPa suction rates.
The inbuilt battery gives you around 30 mins of usage time in the max mode. It also requires you to keep it charging for 4-5 hours at least. Coming to the design and build quality, this cordless stick vacuum cleaner is lightweight and flexible.
It can get to places that yo/ur mop doesn't really get and sucks out a hell lot of dust and dirt. The handheld vacuum can be turned around 90° with its swivel steering. It comes with a 2 in 1 stick vacuum, 5 versatile brushes with a hose and an extra roller bar. With the removable filter and brush systems, you can remove and clean and reinstall them with ease. The detachable long hose and tube let you convert the vacuum cleaner into a handheld pump.
Buy from Amazon: Dibea D18 Pro
Onson C17
The Onson C17 cordless vacuum cleaner is a powerful handheld vacuum cleaner that's lightweight and compact. It takes minimal storage space and can be used to dig up even the smallest bit of dust particles in your home.
The presence of a 100 W suction mount sucks ups dust and dirt particles from any corner of your home. It is a good option to consider if your planning to clean your hardwood floors, tiles, sofas, and car interiors. The wireless design helps you take it anywhere around your home. It also provides an impressive 7kPa of suction force altogether.
You can also convert the device into a handheld suction pump that allows you to clean your car interiors and so on. Besides from general loudness, the Onson C17 vacuum cleaner can work at lesser frequencies and hence, less or apparently no sound at all. The complete package includes some of the essential brushes and crevice tools that come handy.
Buy from Amazon: Onson C17
That's our best cordless stick vacuum cleaner you could get online. These include some of the best performers when it comes to suction rates, brush types, quality, and portability. A flaw that we felt in all these portable vacuum cleaners is that the battery was running out quite so fast. You need to keep it charged for hours to fully buff it up. But yet, we believe there would be much better portable vacuum cleaners with extended usage time, still waiting to roll out.