Everyone loves road trips. Whether you belong to the category of seasoned riders or wanderers, there is no doubt you could encounter issues with your vehicle. Be it a car or a bike, most of us might have stumbled on issues varying from road accidents to route mishaps. If you admire car rides, then there are many cool gadgets on the market today that can help to prepare for unexpected.
From the innovative car HUD to smart car monitors, we present to you the best car gadgets that are capable of giving a secure atmosphere when you are on the roads.
Falcon Zero F360+ Dual Dash Cam
Dashcams became more useful on the roads to record the live footage while driving.  Sometimes, these live video footage may be the evidence in case you become a victim of an accident. Let's suggest one of the best dash cams that won't take much effort to wire in your car.

The falcon zero f360+ comes to fit on top of your rearview mirror. This dashcam comes with an extra camera and falls into the category of the new dual improved dash cams. Both the dashcams, the front, and rear camera are fixed in the same body. This cool car gadget can replace the central rearview mirror and display videos on the 3.5″ TFT LCD Screen.  You can use the remaining area as a rearview mirror for the vehicle.
This dashcam is suitable for taxis, cab drivers, and limos, to record inside the vehicle while driving. Both cameras can be turned to the desired degree without moving the dashcam.
The nice thing about this camera is, there is no need to wire a separate rear dashcam in the vehicle. This dual dashcam records footages in HD quality(1080p) in 120 degrees and allows them to rotate up to 180 degrees. The night vision feature favors auto enthusiast who does a lot of night driving.
Buy from: Amazon
TOPDON JS3000 12V 3000A Battery Booster Jump Starter Pack
The TOPDON JS3000 car battery jumpstarter is a unique product for the situations mentioned above when your car fails to start because of a dead battery. Just plug it in, crank up your ignition, and voila!! Your car is up and running in less than 2 seconds. The JS3000 can jumpstart any vehicle with a 12V battery up to 45 times on a single charge.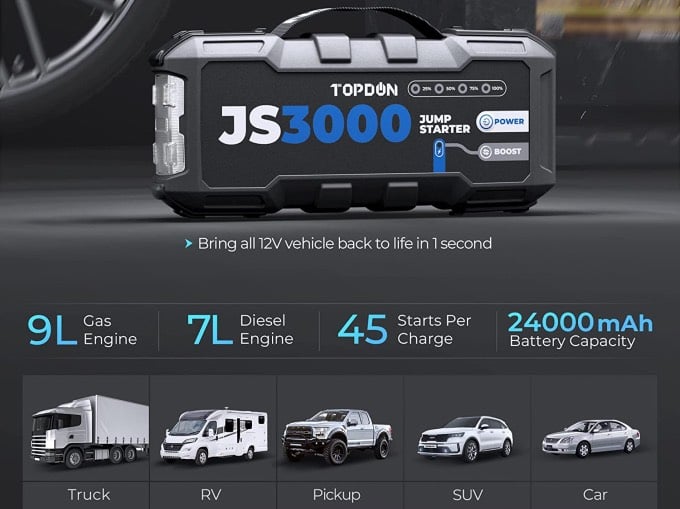 The JS3000 is among the most advanced and feature-rich jumpstarters in the market. It is designed for jump-starting any vehicle with a 12V lead-acid battery (SUVs, large sedans, why, even boats!). In addition, its quick-charging capabilities ensure that your battery is back "alive" in just one second! The JS3000's 24000mAH battery is enough to jumpstart any battery multiple times. TOPDON guarantees you can revive up to 9L petrol and 7L diesel vehicles with the JS3000. Additionally, its "boost" function ensures that even dead or damaged batteries won't keep you hanging in the middle of the road.
The JS3000 also doubles up as a power bank with its USB 3.0 port and Type-C bidirectional charging for devices supporting the PD (Power Delivery) protocol, like cellphones, laptops, and other similar devices.
Buy from Amazon
Navdy – Heads-Up Display & GPS Navigation
The HUD, is a digital transparent screen or projection that can project onto the windshield of a car. It displays all vehicle-related information that is seen on the dashboard. The HUDs can reduce the amount of time that people spent on looking around the car for their phones or checking the radio.
Navdy HUD is an innovative alternative for those vehicles that don't come with an inbuilt heads-up display. The Navdy heads-up display projects maps, messages, and all car-related info into its classy 6' wide glass screen with its augmented reality technology.
Downloading and installing the Navdy Android/IOS app takes you into the business. Navdy Dash also lets you customize your dashboard with key driver info like the speed limit, MPG, fuel range, RPM, compass, and more.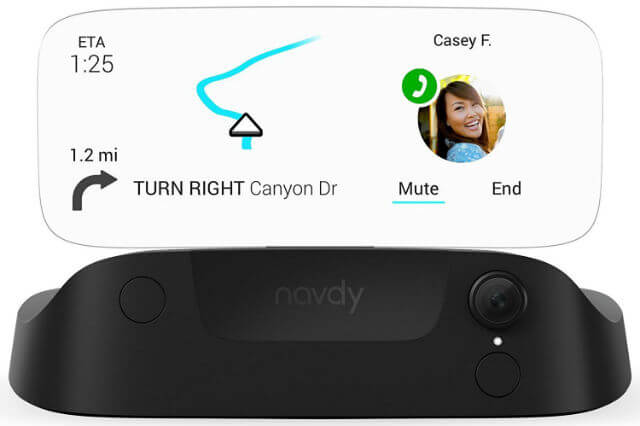 The display doesn't hinder sunlight and hence produces a bright and clear display. The display doesn't obstruct the driver's line of vision. This HUD also supports hand gestures. A simple hand wave, lets you take calls, reject them, and read messages. The navigation facility is powered with Google Maps.
This hud up display gives prior route redirecting according to the on-road traffic. Navdy also allows you to pick and choose what you want to see. For instance, if you want navigation, you can turn off messages or app notifications. Apart from these, this HUD can also be used for playing high-quality music from online music stations such as Pandora, Spotify, etc. The Navdy HUD is suitable for all extreme weather conditions too.
Buy from: Amazon
7 Best Head Up Display for Car with Smartphone& OBD2 Support
iDudu Wireless Charger Car Mount
This is the time to have a wireless charger on your car if you have the latest flagships from Apple or Samsung. The iDudo wireless charger is a new futurist mobile wireless charger. It comes with the new improved fast charging feature that charges your device with lightning speed. This cool car gadget is equipped with dual USB ports. It also comes with the latest Qualcomm Quick Charge 3.0 version and hence gives you 4X faster-charging speed.
The dual or split USB ports help you charge two devices, not only mobiles but also iPads and tablets. The fast charging mode is compatible only with Samsung Galaxy S8, S8 Plus, S7 Edge, S7, S6 Edge Plus, and Note 5. Also, the latest one is compatible with iPhone X, iPhone 8, iPhone 8 Plus, and other Qi-enabled devices(no fast charging mode yet).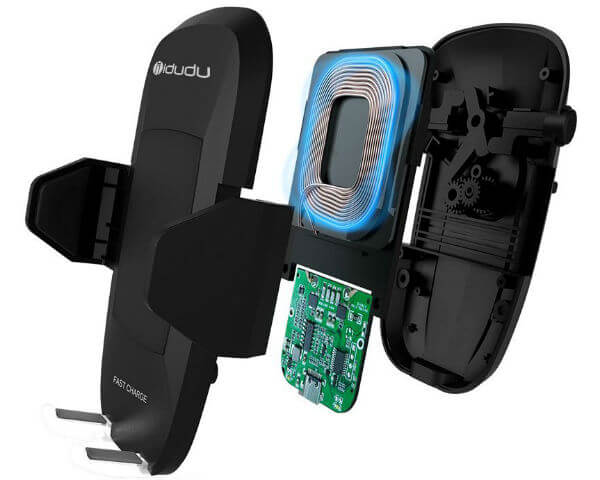 The wireless fast charging comes with 9V/1.8A, and the standard charging mode does its job with 5V/2A. The iDudu wireless charger also functions as a phone holder. It helps you hold your phone intact to your car air vent so that you can use the phone for navigation and entertainment. It can also rotate 360 degrees to hold the phone at a perfect view angle while driving.
The inbuilt temperature control helps you protect your device when it heats up( heating is quite normal when a device is plugged in). At high temperature(Approximately above 45 degrees), the charging process snaps and protects your mobile from damage. This cool car gadget goes well with all air vents and is easy to hook on horizontal and vertical blades.
Editor's Note: Those phones without qi-function need an additional qi wireless receiver. Using hard phone cases can snap wireless charging. Hence it is advised to remove hard phone cover before mounting the device. This wireless charger cannot be mounted for the round air vents and cycle outlet.
Buy from: Amazon
Nonda ZUS Smart Charger
The next one on our list is the Nonda ZUS smart charger. Well, to be precise, this device cannot be tagged into the class of mere mobile chargers. It is something more. This cool car gadget has a USB car charger as well as a connected smart car monitoring device. As a smart charger, the ZUS Qualcomm Quick Charge 2.0 Car Charger uses smart device technology to identify what mobile device it's charging.
A minor drawback is that Apple iPhones don't support the Quick Charge technology. The charger can only charge your iPhone at the same speed as the regular ZUS charger. This smart charger with car monitor functions with the help of the ZUS car app suite. Connecting the device to its own Android/iOS app lets you find where you parked your car, help monitor car battery performance and even record mileage.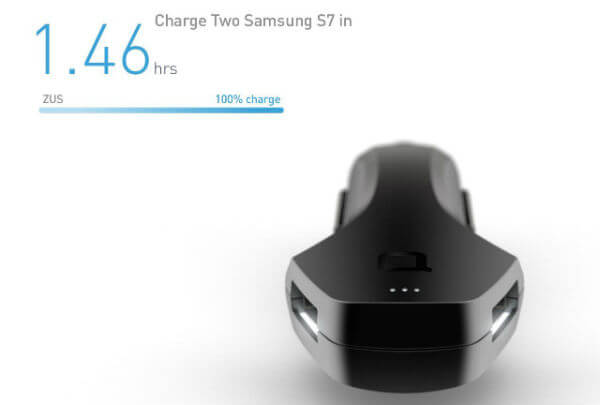 The ZUS app ZUS utilizes your device's built-in features such as GPS and compass to save the parking location. Nonda Car Charger also features location sharing so that you can share your location details with friends and family. Also, the running time and other factors also help produced GPS data giving prior mileage details without additional OBD ports.
This cool car gadget also monitors the vehicle's battery performance. The app can alert the driver about battery draining issues. The Nonda ZUS smart car charger with the vehicle monitor does not take a large power from the car battery. It consumes 0.02A and works well within its standards. Both ZUS standard edition and ZUS Qualcomm Edition have reversible ports, allows you to use the 90-degree ZUS USB cable in a much more compatible way.
Buy from: Amazon
AINOPE Tire Inflator
AINOPE Tire Inflator is more than just an air compressor. It is equipped with a lot of useful features. Option to set up the desired pressure value is one of them. Military-grade chip-set ensures accuracy in the pressure readings. So there is no need to worry about over-inflating or low tire pressure. AINOPE Tire Inflator features quieter working, faster inflation, and longer service life.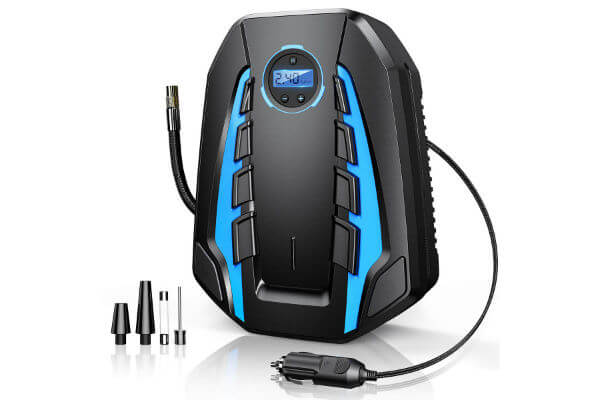 Strong power makes it possible to inflate the car tire from 0 to 35PSI in under 3 min and has maximum pressure up to 250PSI. Bright and long-lasting LED lights make it possible to inflate tires in dark conditions. The Tire inflator has Red and Blue warning lights. This is going to be helpful when you park the car to inflate the tire. You can switch the warning lights on to avoid any potential hazards.
Buy from: Amazon
CHGeek Bluetooth FM Transmitter
A Bluetooth FM transistor is a device that works like a bridge between FM and Bluetooth technologies. This cool car gadget can convert any outdated car audio into a Bluetooth Car Audio System without any additional wiring. Connecting this Car Bluetooth Gadget to your car's 12V lighter outlet takes you into the game.
The device comes with a small LED display that shows the playing FM frequency. The all in one button near the LED display help you answer calls, play and pause music and turn up/down the volume. This cool car gadget is also a mini mobile charger with music streaming device.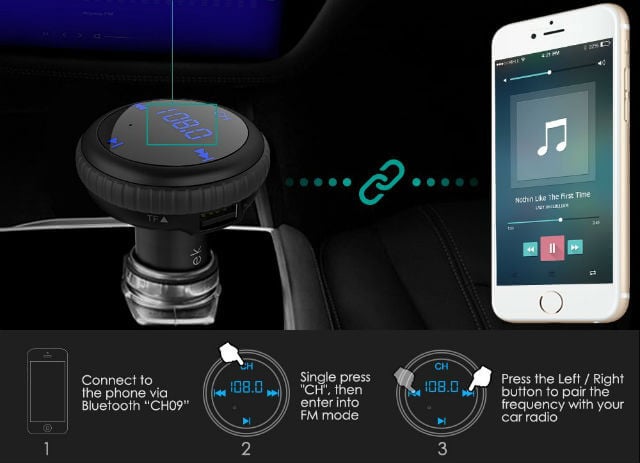 CHGeek device has a dual USB port (port A and port B), which supports USB flash drive reading and mobile charging. The port A recognizes your device and charges it with optimal speed. Please note that the port A works as the charging port only and port B as the USB flash reader. It would be better to tune this kit to FM 106.0~108.0 frequency to avoid the interference while charging your phone.
The CHGeek Bluetooth FM transmitter has the futuristic noise cancellation technology, which produces high-quality audio streaming with less signal interference. This cool car gadget works well with all mobile devices with an inbuilt Bluetooth feature. The list of compatible devices includes iPhone 7 Plus 7 6S 6 Plus iPad iPod, Android Samsung Galaxy S7, S6 edge, Blackberry, Sony, Nexus 5X 6P, Moto, MP3 MP4 Player, etc.
Buy from: Amazon
HoLife Car Vacuum Cleaner
The HoLife cordless vacuum cleaner is another great automotive, as well as utility gadget available online. With 90W Motor and Multi-layer Filter, this cool car gadget can clean your car. What makes it a useful device is that it is lightweight and cordless.
The improved lithium-ion battery(14.8V) sees that it works in all conditions. The quiet suction process of this device makes its usage rather easy. It is cordless, allowing you free movement from place to place. It can clean off dust and dirt from your car floors and in between car seats. This vacuum has a Li-ion battery that gives you around 30 minutes of continuous operation.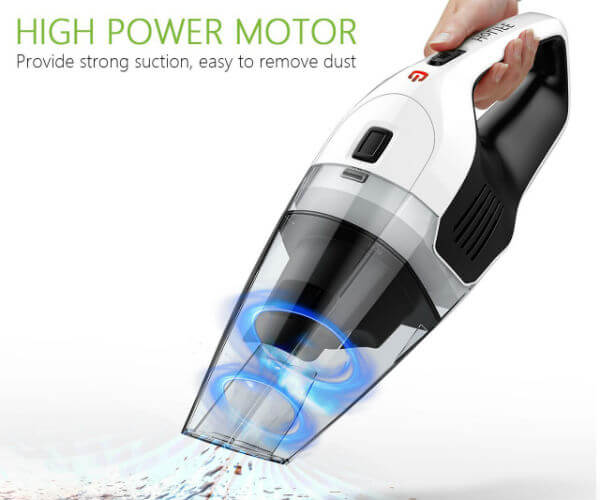 This handheld vacuum cleaner comes with two more nozzles that ensure efficient clean-ups in the narrowest places. Also, there's a small brush on the tip of the nozzle. Therefore, this small cordless handheld vacuum cleaner ensures the efficient cleaning of literally any dusty or wet particles.
The multilayer filter is washable, and hence, you don't always need to change it after each use. In addition to the cordless vacuum cleaner, there are three more attachments, one crevice tool, one brush, and one upholstery tool. This automotive utility gadget works on the 110V power supply (for recharging).
Buy from: Amazon
Spy Tec Vehicle GPS Tracker
The spy Tec GL300 is a mini GPS tracker that can help you track vehicles, cargo, and even people. The inbuilt GPS satellite technology combined with Google mapping services help you locate anyone and anything within the blink of an eye. The cutting-edge GPS satellite technology combined with The three axis accelerometer and motion detector improves accuracy and can tracks locations.
This utility gadget maps location and sends updated data every 5 seconds and notifies you of the current location data. It uses a satellite connection to determine it's location and uses the Mobile data connection to transmit the location updates to the tracking platform. Logging into the location data platform gives you access to your tracked location lists.
This device also alerts you by giving notification as text or emails when the item or person you are tracking leaves a specific area and can store these data for more than a year. The device operates with basic lithium-ion batteries. Being compact and solid help, you use the device everywhere.
There is a magnetic case with industrial-strength magnets that can be used in rough conditions. In addition, the GL300 also has an SOS button. It can be configured to call the police or to call multiple contacts if an emergency situation occurs. The best part is that this device can monitor anything over large distances. Be it another territory or another country, it does its job pretty well.
Buy from: Amazon
CARCHET TPMS Tire Pressure Monitoring System
The next one we give out is the CARCHET TPMS Tire Pressure Monitoring System.  This cool automotive gadget can be a good companion when you hit the roads. This tire monitor monitors various tire-related factors such as tire pressure and tire temperature with its sensors.
This innovative device aid you in preventing puncture and other tire-related issues. This cool car gadget also helps you improve fuel efficiency, prolong tire life, and avoid abnormal wear of automotive parts. The package comes with a small led display combined with four tire pressure and temperature sensors. The measurable pressure range varies from 0~116PSI.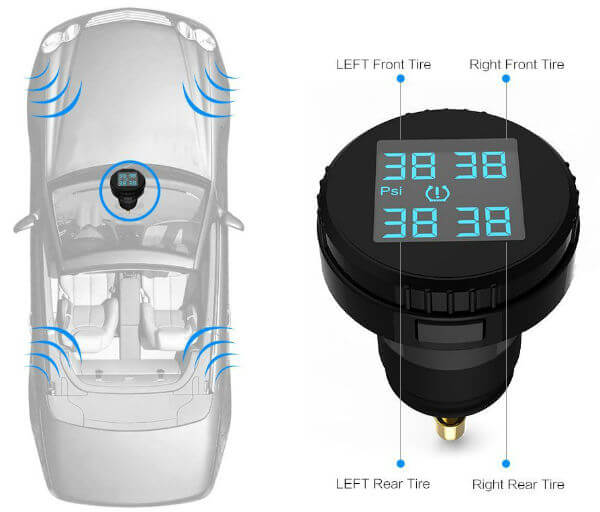 The sensors can operate and update data within 26ft, and beyond this, the data can become unstable(not so efficient with trucks and trailers). The installation is simple as the four sensors are designed for the tire valves. All the batteries of sensors are replaceable with CR1632 batteries, and additionally, the monitor needs to be connected electrical power supply through the 12V lighter socket.
The sensors come with anti-theft clips. In addition, this tire monitor system comes with features like pressure warning alarm signals and inbuilt battery saver. Each sensor is controlled by individual chip and will shut down to save battery. The tire pressure indicator alarm values can be customized according to the terrains (default alarm value is 29-40PSI).
Buy from: Amazon
NOCO Genius Boost Plus Jump Starter
The next one in our list of the best car gadget is the Boost Plus Car Jump Starter, going to help you when you stuck in the parking lot with a faulty car battery. This gadget is a solid built and compact jump starter kit now available online.
This cool car jump starter rated at 1000Amps (7,000 Joules3S) for maximum performance. You can get up to 20 jump starts per charge. This jump starter features an innovative low-profile design for easy storage in your vehicle or garage. With the integrated reverse polarity protection, you will never have issues with wrong wiring and connections at all.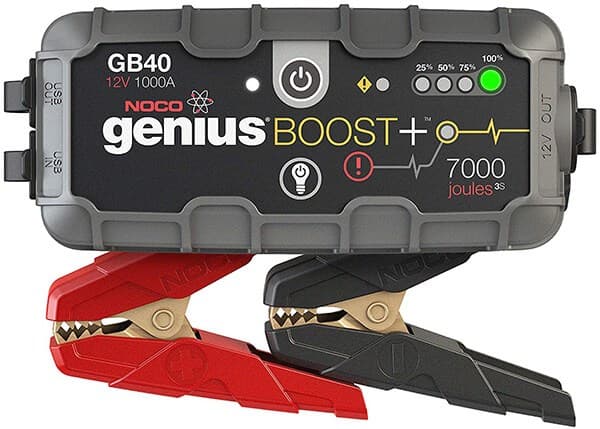 This automotive gadget also comes equipped with an ultra-bright 100 lumens LED flashlight for easy use at night. The LED Flashlight also includes SOS and Emergency Strobe. The extra USB chargers allow you to recharge smartphones, tablets, etc. This 1000Amps rated jump starter is Designed for gas engines up to 6 liters and diesel engines up to 3 liters. The higher capacity models 2000Amps, 4000Amps, and 20,000Amps are also available.
Buy from: Amazon
Wsiiroon WIFI OBD Scanner
The next top car gadget we introduce is the Wsiiroon WIFI OBD scanner. This device helps you track your vehicles on road conditions. It is compatible with almost all car types that are manufactured after 1996. All cars rolled after 1996 supports OBD-II(on-board diagnostics).
The Wsiiroon WIFI OBD scanner is a good auto diagnostic scanner that can read trouble codes. This cool car gadget lets you know your car's health status and helps you maintain the vehicle.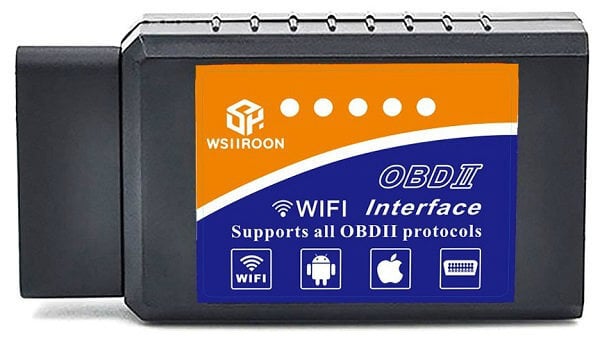 The product requires an app to take you right into the real business. The best app that suits this process is the Torque pro for Android and dash command app for iOS. After the successful connection between the app and the car health scanner, you can get accurate car related issues.
The smart scanning helps you get data of Engine RPM, Calculated Load Value, Coolant Temperature, Fuel System Status, Vehicle Speed, etc. A minor flaw that can haunt you is that it cannot support heavy vehicles. You cant use it with trucks and other hybrid or electric cars.
Editor's Note: certain vehicles may not support full features. The features vary depending on the manufacturer's implementation. For your vehicle to be OBD II compliant, it must have a 16-pin DLC (Data Link Connector) under the dash.
Buy from: Amazon
Ampper Blind Spot Mirror
The last one in our list of the top car gadget is the Ampper blindspot mirror. This small and compact mirror comes in a round shape. With these blindfold mirrors, you can change lanes or see traffic. This blindfold mirror is a convex lens combined with a tiny adjustable joining column for easy installation.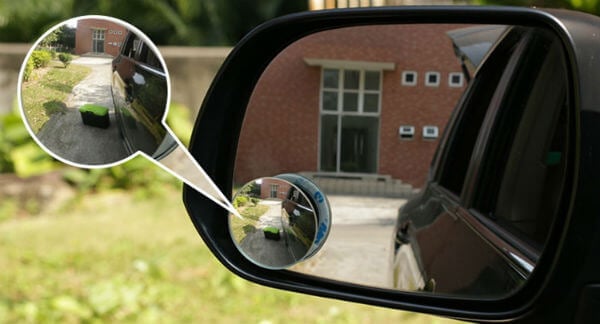 It can rotate 360 degrees and produce clear images at any angle. Being compact and small, it doesn't hinder the main mirror vision. The Flexible convex shape of the blind spot mirror helps you to see the nearby surroundings. The cleaning process is simple, and after installation, it doesn't wobble and go off.
Buy from: Amazon
Better to be safe and cautious before we end up on the road with a flat tire or dead battery. We listed a couple of car gadgets that help you to take precautions while you drive. These car accessories like jump starter, OBD Scanner are essential while you are planning a long trip. Be careful, and enjoy your trip with these auto accessories.