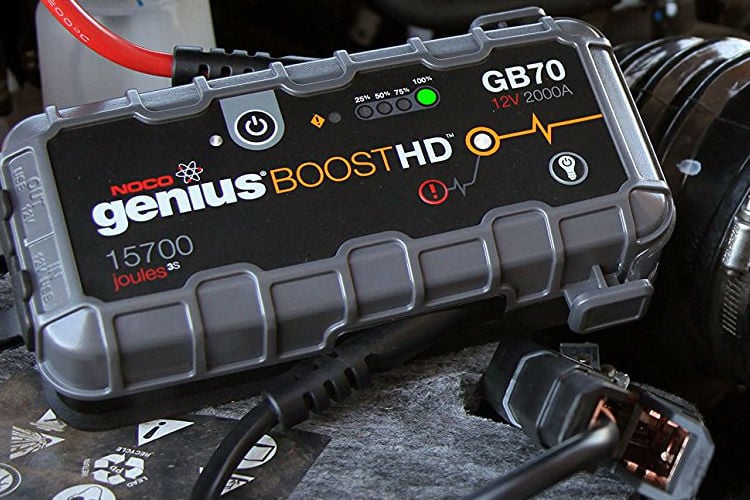 Disclosure: This post may contain affiliate links. We receive a small commission at no extra cost to you when you make a purchase using some of our links.
The portable car battery charger is a must-have gadget to tackle emergency situations. Imagine a situation where your car stops due to a dead battery and you get stranded. That's when you realize things went wrong. The portable battery charger comes into play when your car stuck with a dead battery. The car battery charger can make your car breath again. When the car battery is dead and you're far from home, this portable gadget will be your lifesaver. To keep your battery juiced up and ready, it's important to equip a battery charger always with you.
We've made a list of best portable car battery chargers that are affordable and convenient.
MashTips's Best Picks:
Schumacher Battery Charger (SE-4022)
The Schumacher battery charger is a manual portable car battery charger. This is one of the best car battery chargers with an inbuilt tester. The attached wheels make this car battery booster portable. The cooling fan works for the long life of the internal circuitry. The heavy-duty transformer gives a wide range of charging rates. Being ideal for 6 to 12 volts batteries makes SE-4022 popular. The SE-4022 is coming with an ability to analyze electrical and ignition systems.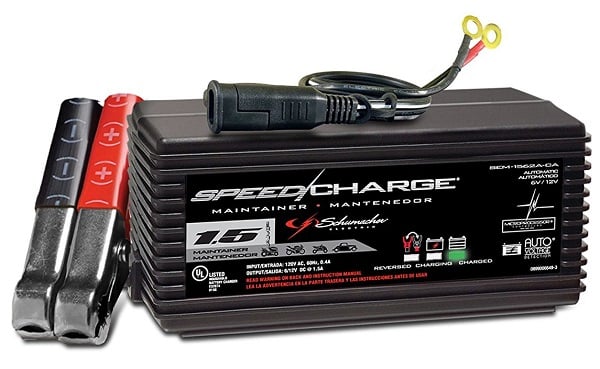 Related: 7 Best Head-Up Display for Car with Smartphone& OBD2 Support
The 200-amps jump starter is made for emergency starting. The 40-amp fast charger can charge a battery in one to three hours. The Schumacher battery charger is coming with a multi-functional tester, two rotary switches, and a voltmeter. This voltmeter and the multi-functional tester is useful to check the dead battery. In fact, the temperature control combined with a coolant fan makes this portable charger safe. Talking about the cables, the cables are quite decent in quality. You receive a 6ft power cord and a 12ft output cable with the package.
Capacity: 200 Amps jump starter | 40 Amps fast charger | Buy Schumacher Battery Charger (SE-4022) from Amazon
Clore Jump-N-Carry JNC660
The Clore Jump-N-Start is one of the most powerful portable car battery chargers. JNC660 is a reliable jump starter to deliver exceptional cranking power. The 1700Amps peak and 425 cranking Amps are more than enough to perform jump-starts. It is better to recharge the gadget every day. The Peak Amp pumping and high cranking power make it easy to start the dead vehicle.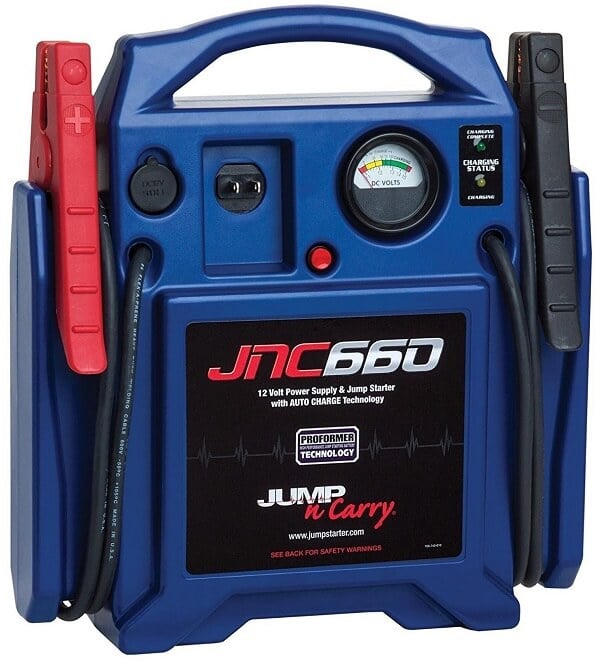 The Jump-N-Carry jump starters feature high performance, Clore Proformer batteries. These batteries are popular for their power density and durability. Its 46-inch cable enables to reach the battery terminals of the vehicles of all shapes and sizes. Apart from that, this car battery charger also features a voltmeter and 12 volt DC output supply.
Capacity: Supports 1700 Amps peak | 425 cranking Amps | Buy Clore Jump-N-Carry JNC660 from Amazon
Stanley Jump Starter (J5C09)
The Stanley J5C09 is a portable jump starter kit available at a reasonable price. This car battery booster offers 500 instant starting Amps with a peak of 1000 Amps. This peak current is good enough for light to medium cars and trucks, to start a dead car or even a truck.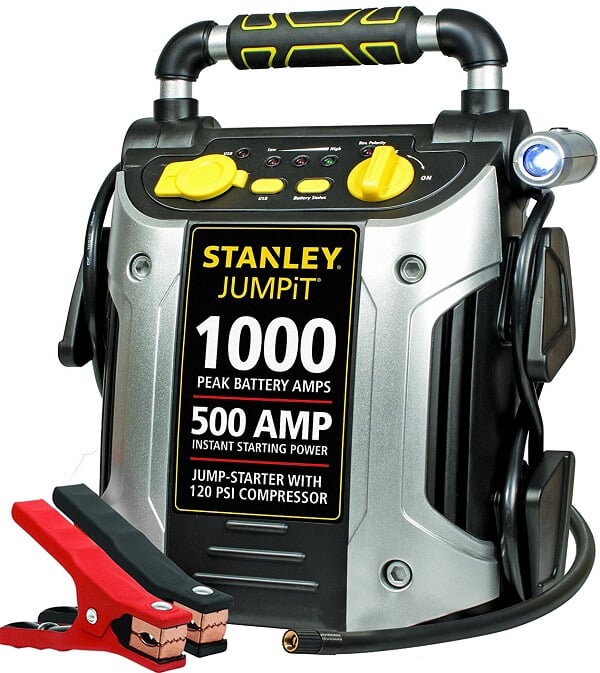 Related: 8 Best Wireless Car Chargers for iPhone and Android
Apart from the inbuilt alarms, this car jump starter kit features an inbuilt USB port and a 120 psi inflator. A point worth mentioning is that you won't get extensions cords with the package. The J5C09 has a reverse polarity alarm to alert if you have an improper battery connection. You should charge the unit every 30 days if it is not used often.
Capacity: Supports 1000 Amps peak | 500 instant starting Amps | Buy STANLEY J5C09 from Amazon
NOCO Genius Boost Jump Starter
NOCO Jump Starter is a solid built and portable jump starter kit now available online. This cool car jump starter rated at 1000Amps (7,000 Joules3S) for the best performance. You can get up to 20 jump starts per charge. This jump starter features an innovative design for easy storage inside your vehicle. With the reverse polarity protection, you will never have issues with wrong connections any more.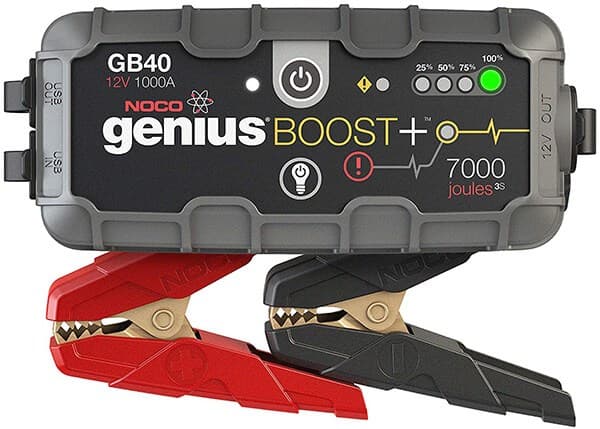 It also comes equipped with a 100 lumens LED flashlight for easy use at night. The LED Flashlight also includes SOS and Emergency Strobe. The USB charger allows you to recharge smartphones and tablets. This 1000Amps rated jump starter is good for gas engines up to 6 liters and diesel engines up to 3 liters. The higher capacity models 2000Amps, 4000Amps and 20,000Amps are also available.
Capacity: Supports 20000/4000/2000/1000 Amps peak models | 20 jump starts per charge | Buy NOCO Genius Boost Jump Starter from Amazon
DBPOWER Portable Car Jump Starter
DBPOWER Portable Car Jump Starter comes with a 18000mAh battery. This car starter can jump start 6.5L gas or 5.2L diesel engine. DBPower can jump starter can supply up to 600A peak and 20 times per charge. This compact jump starter can fit into your car glovebox.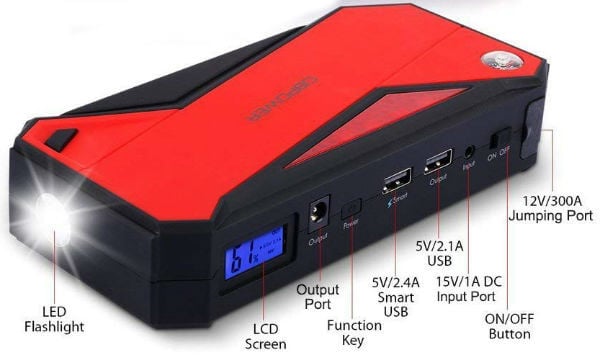 The device LCD screen can display device status, like remaining battery power, and the compass. The options include 12V Wall Charger and 12V Car Charger.
Capacity: Supports 600 Amps peak models | 20 jump starts per charge | Buy DBPOWER Portable Car Jump Starter from Amazon
Stanley BC25BS
The Stanley BC25BS is a 25 amp car battery charger that's useful when you ran out of juice. Stanley Car Charger has a 75 amp engine jump-starter circuit useful to jump-start a dead battery. Compared with other devices, the charging is easy and includes a three-stage process. First, the all-out quick charging, then the top off mode and the trickle charge in the last stage.
You receive an LCD display that notifies the charging status as well as the battery status. This battery charger has easy to understand icons, to recognize each status. In fact, this car battery charger eliminates the need to input settings like battery type. This portable battery charger charges up to 40 percent faster than other conventional chargers. Also, the cord, as well as the clamp storage, makes it easy to use.
Capacity: Supports 75 Amps peak models | Buy Stanley BC25BS from Amazon
Related: Smart Car Chargers with Best Additional Features.
Schumacher Battery Charger (SEM-1562A-CA)
The Schumacher battery charger (model SEM-1562A-CA) is a 1.5 Amp battery charger. This Schumacher Battery Charger can charge car batteries of the range 6 to 12 Volts. This battery charger has smart charge options such as the float charge mode and trickles charge. The charger will check the battery charging levels. When the battery gets a full charge, this battery charger will switch to float-mode.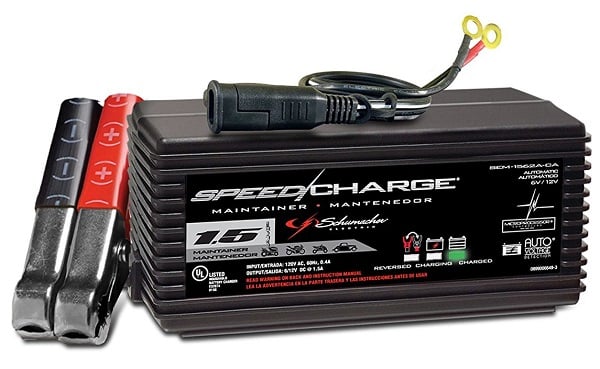 It features a quick disconnect harness for easy removal. In case you clamp it to the wrong terminals, the reverse hookup protection gives out alert signals.
Buy Schumacher SEM-1562A-CA from Schumacher Battery Charger (SEM-1562A-CA)
Battery Tender Plus 021-0128
The Battery Tender Plus is a smart charger. This car battery charger meets all your vehicle power needs at all times. This portable car battery charger is efficient to keep your battery buffed up always. The inbuilt temperature system ensures the best charging voltages during ambient temperatures. Battery Tender Plus is maintaining a proper storage voltage and keep your battery safe from trickle chargers.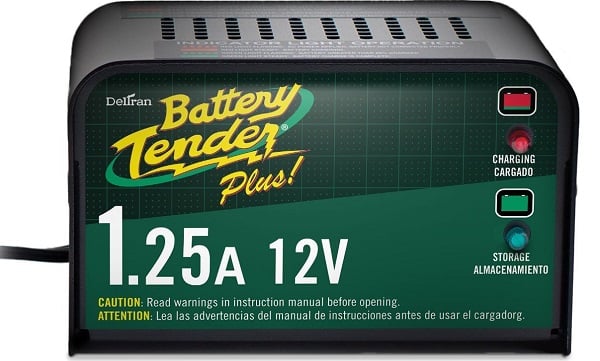 The battery tender offers a charging output range of 1.2A-3A for fast charging. Battery Tender Plus can switch to float charging mode when the battery charged. Apart from that, this car battery charger has a polarity indicator with overheat warning signals. It takes around 6 hours to charge a battery. Also, you get durable alligator clips as well as terminal ring ports. It could be better if you go for an extension cord.
Buy Battery Tender Plus 021-0128 from Amazon
Black Decker Battery Charger (BC15BD)
The Black Decker BC15BD is a 15 Amp portable battery charger. This Black Decker car charger is light and more compact than its competitors. This portable battery charger is capable to charge your dead battery within 10 hours. You can use the 40 Amp engine-start feature to start a dead car within 90 seconds. Like most of the car battery chargers, the BC15DD also features a three-stage charging process.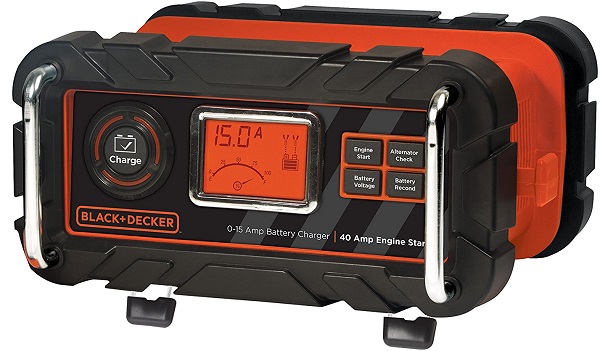 Black Decker charger comes with a digital LCD screen. It displays charging as well as battery status with easy to understand icons. The features include the critical voltage checker and a polarity alert. The complete delivery includes cord, cable wrap, and clamp storage.
Buy Black Decker BC15BD from Amazon
DBPOWER Battery Charger
The DBpower is one of the best car battery chargers available online, thanks to some extraordinary specs and features. Most of the time, users treat it more as a convenient traveling aid rather than a simple battery charger. The DBpower battery charger has a compass, hazard lights, LED flashlights and an LCD screen. This portable jump starter is more useful for 6.5L gas or 5.2L diesel engines.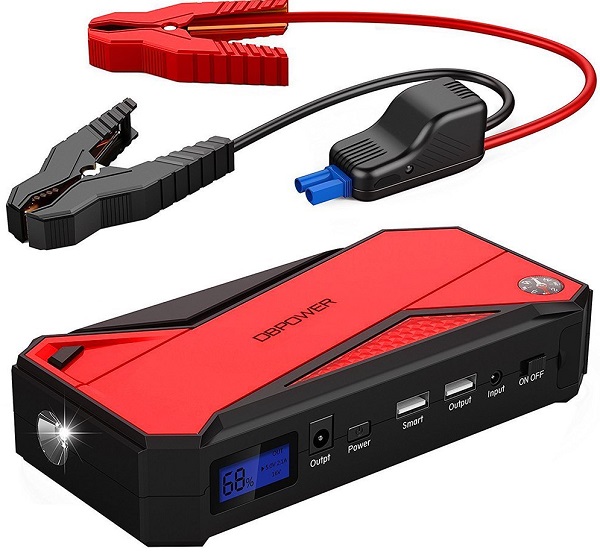 Being capable to emit a charge up to 30 times on a single run with its peak of 600 Amp makes it a favorite among the pros. Apart from that, it comes with a smart charging port with an 18 Ah capacity. This battery charger includes an 8-in-1 laptop adapter unit. This car battery charger features cable clamps are perfect for intense charging. The issues like the short circuit and overload are taken care of by the protection circuits. In short, this is a portable jump starter built with safety in mind.
Buy DBPOWER battery charger from Amazon
DEWALT DXAEC80
The DEWALT DXAEC80 is a professional dual battery bench charger. The Dewalt battery charger includes a new three-stage battery charging. This portable car battery charger is automatic. This battery charger is capable of delivering max 30 Amps current throughout. In fact, this current rate is capable of charging two batteries at once (12-volt max). Dewalt car battery charger features battery voltage checking and battery recondition mechanism.
The DXAEC80 features a reverse polarity alarm. This makes sure, you have the clamps hooked to the correct battery terminals. Coming to the cables, you get a good pair of connecting cables with powder-coated metal clamps. No matter how cold it is, the clamps are durable and will not break.
Editor's Note: The charging time varies when you connect a second battery for charging. Also, no extra cables for the second battery, and you need to equip your own.
Buy DEWALT DXAEC80 from Amazon
You can use these car battery chargers and for different vehicles and models. These gadgets come with different price tags based on the features and battery current capacities. They are more expensive because they come with a portable battery designed to jump a dead battery.
How to Select Best Car Battery Charger/Jump Starter:
Before you go through the list, you have to check the features of the Car Battery Charger to get the right one for you. These features include:
Maximum Jump Starter Current Support: This depends on your vehicle. The Peak Current Support varies from 200Amps to 20,000Amps. The jump starter maximum peak current required is determined by engine capacity. A 1000Amps Jump Starter can start gas engines up to 6 liters and diesel engines up to 3 liters. For gas engines up to 4 Liters, a 400Amps jump starter would be fine.
Car Battery Charging Current: The Charging current is designed to charge the battery in a slow phase. This is not good to Jump Start a car with a dead battery. These battery charger units can bring up the battery charge level within 2-6 hours.
Car Battery Charger Portability: The small jump starters always limit the battery capacity and low jump starts per charge. But these are portable and easy to fit in your car.
Control Buttons & LCD Display: The LCD display with the chargers can display the battery condition. This is a convenient way to interact with the device.
Extra Features: The car battery chargers come with bells and whistles like a dead battery test. They also feature USB ports to charge the phone and have tire inflators, LED flashlights, etc.
A portable car battery charger works as a power source. Choosing between the best among the good ones comes down to your level of safety measures. Our list includes some of the best car battery chargers as well as jump starters that have exceptional cranking power. It's time to get a good battery charger to keep with your car to save in emergency situations.