Nowadays, smart Car chargers are demanded product that can charge your smart devices while you drive your car. Most of the Android phone models and iPhones are hardly survive 24 hours without recharging. The biggest issue arises while driving and when you notice your battery is getting low. These chargers are lifesavers for your smart devices if you are the one driving a lot for business or personal purpose. There are tons of Chargers are available in the market, but those are just meet the purpose of charging smartphone battery. Here we listed a couple of smart car chargers those have some bonus functions.
These car chargers are coming with car finder app, Bluetooth FM transmitter, SD Card support, MP3 Player etc. Please select the charger with the best feature that matches your requirement.
Nonda Smart Car Charger with Car Finder
Nonda brings this ZUS smart charger that charges your device at a max current rate with 2 reversible USB ports. This Nonda Car Charger automatically remembers your car's location when your engine turns off. The dedicated smartphone app for iOS and Android is coming with this car charger that helps to find your car. You can use this free app to find where you parked your car at shopping malls, stadiums, outdoor events and more. This app also includes a bonus Parking Meter Alert to protect from expensive parking tickets in ticketed areas.
Related: 7 Free Android Apps Help You to Locate Your Parked Car & Parking Garages Near You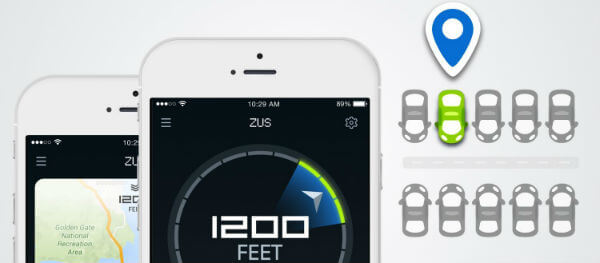 Thanks to the smart device technology, devices get charged at max speeds possible by identifying the device. Be it your iPad, iPhone, Nexus 5X or any non-QC mobile device, max speed charge is guaranteed. Specially designed in Germany, the design is smoothly functional. In fact, it is the only design that meets the US Military MIL-STD 810G High-Temperature Standard and can hold its structure in temperatures exceeding 100°C due to being built with premium German Bayer PC with Titanium coating.
Features: Smart Charger | Reversible USB Port | Parking Meter Alert | Car Finder App | Battery Meter | buy from Amazon
Car Charger with Bluetooth FM
This Charger is coming with Wireless Bluetooth FM Transmitter that can convert your Speaker System to a Bluetooth Audio System. This FM Transmitter is built with crystal clear voice technology due to the inbuilt CRS echo technology and the DSP noise suppression software enhancing the audio quality. The PCBA optimizes the FM frequency, giving you a stable signal and the design comes with an adjustable neck so it can adapt to any car interior. The detachable design makes it ideal for taking from one car to another.
Related: Bluetooth Device Buying Guide that Wirelessly Connects Smart Phone to Car Audio System.

The Bluetooth feature also allows you to receive calls hands-free even when you are driving. The indicator light is soft, so it does not hinder your driving. The car charger is compatible with tablets, Android devices, and Apple and you can easily customize it as well.
Features: Hi-Fi FM | Bluetooth to Connect Smartphone Audio | Flexible Goose Pipe | Superb Audio Quality | buy from Amazon
Related: 8 Best Portable Car Battery Chargers & Jump Starters.
Car Charger with SD Card Player
This car charger is the best solution for those who don't have a built-in memory card player on the Car Speaker System. This charger let you stream music from SD Card to your Car Audio Speaker System through Bluetooth and FM Audio system. The car charger comes inbuilt with an MP2/WMA decoding chip, streaming files from USB to car stereo wirelessly. You can also answer calls hands-free, MP3 resumes on call. The car charger has a LED display and an in-built FM transmitter. The car charger supports LINE audio input and plays music formats like MP3/WMA from USB disk.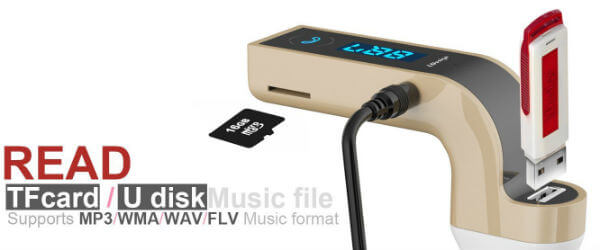 The charger has an independent button to turn on and turn off Bluetooth. You can receive/ hold/ redial or reject calls via Bluetooth. The charger supports Call Echo Cancellation and has the Noise Reduction feature. With the Dual USB output voltage, this charger can supply power to devices up to 5V/2.5A with onboard battery voltage display. The frequency response is 20Hz-15 kHz and Bluetooth version used is 2.1+ EDR. The charger uses sound processing A2DP functional support and has a transmission distance of 10M.  The charger is compatible with most iPhone, iPods, Galaxy, Samsung, and tablets.
Features: Hands-Free Calling | MP3 Player | Micro SD Card Player | buy from Amazon
Car Charger with Life Harmer
This is going to be a life saver device when somebody wants to escape from a sinking vehicle. One end of this metal body charger is sharp enough to break your windshield in case of emergency. The COSOOS Aluminium Alloy Saftery Hammer with 2.4A USB charger is compatible with Apple iPhone 5/5S/5C/6/6S/7, iPad mini, iPad, iPad Air Tab 3, Google Nexus 7, Samsung Galaxy S5/S4/S3 among other devices. Functions with Input: DC 15-24V; the output of DC 12V/2.4A retaining a simple and elegant style.
The design protects the charger against overheating, over-charging and over-current rate. The charger automatically turns off on a full battery charge. With the 2.4A USB Port, you can charge devices along like HTC, Blackberry, MP3 Players, Digital Cameras, PDAs, iPhone, iPad and mobile devices.
Features: Stainless Steel Body | Life Harmer | Dual USB Port | buy from Amazon
Charger with Bluetooth Earbuds
Tesla brings the perfect combo of Headset and Charger Kit. The charger kit included mini wireless Bluetooth earbud comes with three extra different size soft buds which ensure a great comfort when wearing in your ear and the magnetic charging port keeps your earbud charged and right in the place. The design is ergonomically designed making it comfortable to wear and gives an ultimate high definition experience of listening to music and allows you to attend calls hand free. Quick Bluetooth pairing with a short press MFB1 second to pairing mode and you just have to select "TCB-01" to pair along with your Smartphone device. Ability to connect two Smartphone devices at one go and you can answer the call on either device.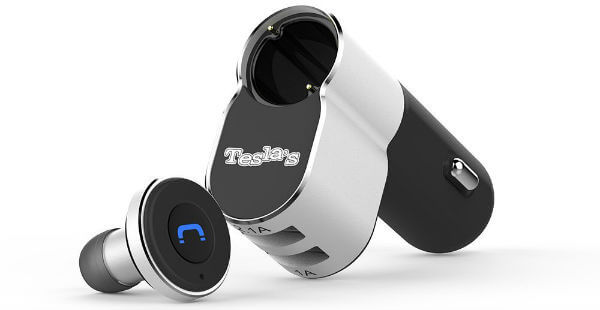 The magnetic charging makes sure your earbuds are charged always giving you a full experience. Dual USB Port enables you to charge your mobile or tablet along. Bluetooth supports CRS 4.0 chip and has a profile support of HSP/HFP/A2DP and AVRCP. The Bluetooth distance covered is 10M with a -92dBm sensitivity. The transmission range is 2.40 GHz-2.48Ghzs. The battery type is Li-polymer and size is 37V; 24mAh. The battery takes 1-1.5 hours for charging and offers 1.5 of Music and Talk time.
Features: Wireless Earbuds | Dual USP Port | Auto Charging | Hands-Free Calling | buy from Amazon
Smart Car Chargers with Additional Features.
Unfortunately, there is no single product built with all these features. It is wise to select the Charger with at least a couple of features mentioned above. Please make sure to select the device designed to charge your smart device quickly, and supply enough current and voltage compatible with all the required device.