You may have struggled to find out a proking lot when you drive to a city or busy place. Most of us are familiar with the available parking spots in our hometown. However, when you drive for a business trip to the entirely new area, it is a tedious job to find out public parking lot near to your destination. If you are not familiar with the place, it is going to pretty tough to find out a parking spot. The same applies to find out a parked car spot in a busy location.
They have huge demand as a lot of time gets wasted looking for a suitable parking space for your vehicle and these applications help you do just that. Take a look at some of the most used Android parking space apps that are popular in the Google Play Store.
Google Map
There is no further introduction required for Google Map. With Google Maps powerful navigation capability makes this Android app as one of the essential apps. There are tons of features coming with this Google Android Map App including the Google Map Offline Feature.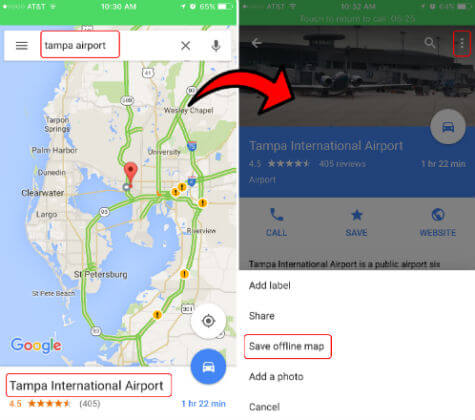 Google Map Can Offer you to remember the parked car spot on Location Card. The details are described on Google page See where you parked using the Google app.
Feature: Locate Parked Car | GPS Based location reminder | Navigation | Offline Map Saving | Play Store Link
Waze – GPS, Maps & Traffic
Waze is a real-time traffic navigation app recently teamed up INRIX to find out the best parking spot for the drivers.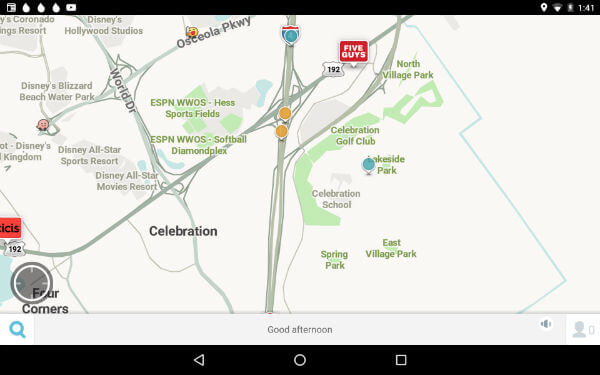 There are no additional apps required other than Waze navigation app, and that can find out the parking spot near to you while you reach the destination.
Feature: Parking Lot Finder | Community Navigation App | Play Store Link
Related: How to Get Waze and Google Map Offline to Save Mobile Data
My Car Locator Free
My Car Locator one of the best parking app to use free as far as looking for a car locator app in the Google Play Store is concerned.  It is suited with all essential information about parking and car locations which is displayed at all times. The app makes use of GPS to remember where you have parked your car simply with the push of just one button.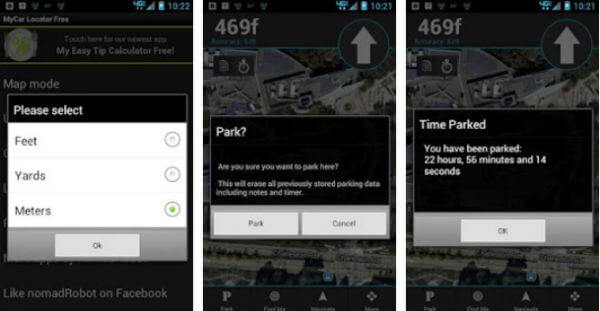 The Parked Car Finder App also guides you back to your car quickly. Thus, this minimizes all your parking woes. If you are unable to find any parking spot, this Android Car Park app could be simply great for remembering the location of your rented place, hotel, a camping spot, some trailhead, railway station, bus stop or any other place you may like to get back to later. A parked car locator app is one of the most suited Android apps to locate a parked car.
Feature: Locate Parked Car | GPS Based location reminder | Play Store Link
Best Parking – Find Parking
The name says this the best park lot finder app. The application of Best Parking lets your driver or your steer toward the cheapest and the most convenient private or public parking garages available and lots in maybe 105 cities & 115 airports throughout North America.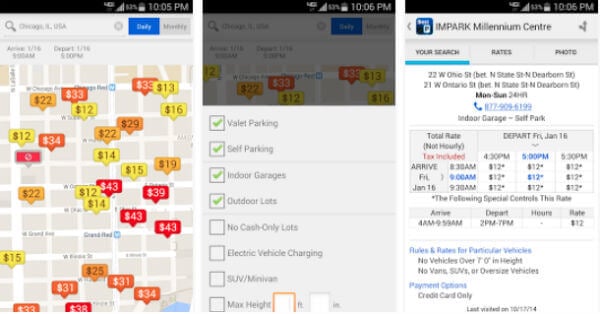 Instead of wasting your fuel and time searching for all the places, one can make use of this parking Finder app to locate the best park spot. The app has the most accurate data of parking details near you. This parking app even backs up its offer by letting you earn $5 Starbucks eGift if you report inaccurate information.
Feature: Parking Lot Finder | Public Parking Finder | Database of 105 Cities and 115 Airports | Play Store Link
Related: 8 Best Indoor Navigation Apps for Android to use in Airports & Museum.
Parkopedia Parking
The name Parkopedia stands for an encyclopedia of parking. It sure is one of the best car parking apps to work as a park space finder. Parkopedia today covers over 38 million parking spaces in around 75 countries that are around the world.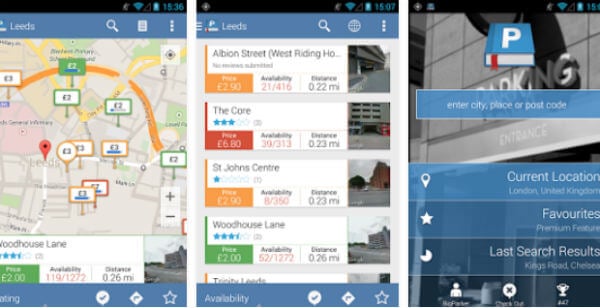 This Android Parking Lot Finder application lets you find your parking space by making use of your current location after you have entered your address.  It aids you in getting directions which are straight to space or linked to an entrance. This parking space wizard also lets you see parking space availability in actual, real-time and also quickly narrows down your parking choices with the selection of filters such as street parking, whether free or not, credit cards accepted, covered and much more.
Feature: Parking Spot Finder | Public Parking Finder | Report Parking Space Availability in Realtime | Search Filter for Street Parking | Covers 38 million Parking Space in 75 Countries | Play Store Link
Find My Car
With this Find Parked Car Android app, all your efforts to locate the car you parked. This is a lightweight but genius Car park App allows you to remember the GPS position of the car you have parked or your location where you are. As it is well-fitted with Google navigation, your other friends are also able to see your current positions. This brilliant Android Car Locator App even allows you to take a picture of your given parking.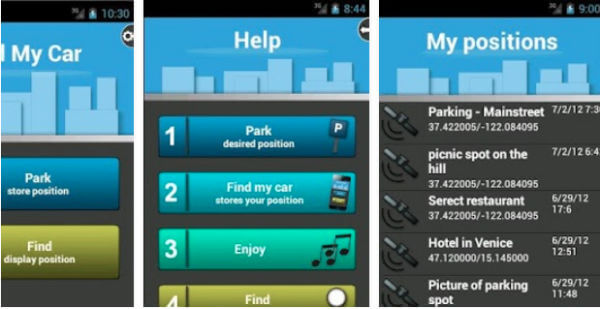 Find my Car, also has an emergency button that lets you send a pre-configured SMS fitted with your current position to a family member which would find them about your whereabouts with just two clicks It is well-suited to be the most used car locator app.
Feature: Locate Parked Car | Play Store Link | GPS Based location reminder | Share location with friends | take a picture of Parked Spot | SMS Location Share | Play Store Link
Car Locator
Car Locator is a great app as far as understanding the locations of vehicles is concerned. This is a fantastic Car Park Location app as far as saving your location is concerned when you park. This Android Car Locator App has features like reading a Radar/Map/Split-Screen view, or a Parking timer which allows you to beam your current or even your saved location to maybe another phone/email.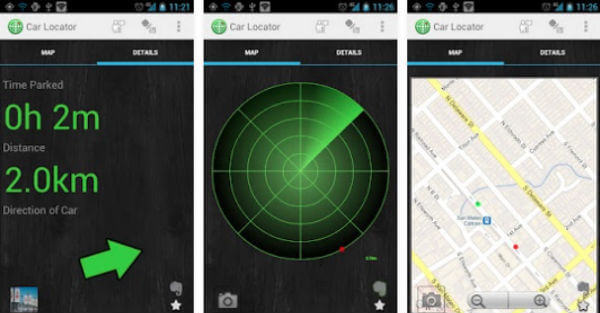 This Car Parking App has the quick Home screen widget for quick save, it could also shake to save. There are options for a location history or manual coordinate entry which could be used. One is also able to view current and even car coordinates which can also aid you in some driving directions.
Feature: Locate Parked Car | GPS Based location reminder | Parking timer | Quick Save Home Widget | Location History | Play Store Link
Find My Car – GPS Navigation
From the makers of Polaris Navigation GPS, Find My Car is a powerful find-your-way-back car locator app that does not require maps or even a great network connection. You would be able to make use of your phone's GPS capabilities which allow you to navigate back to your parked car or any other location that has been previously visited.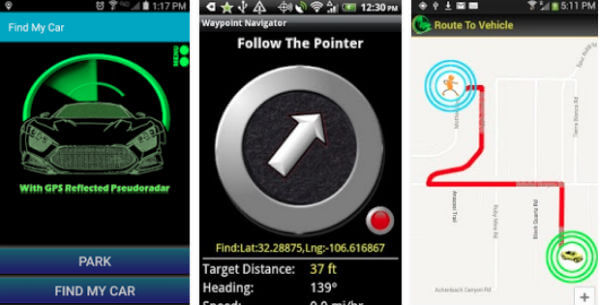 It is also fitted with the GPS Reflected Pseudoradar which can be kept at the center of the radar screen. This is a great Car Park App to aid you on your whereabouts.
Feature: Locate Parked Car | GPS Based Navigation | Quick Save Home Widget | Location History | Play Store Link
Spot Hero – Parking Deals
In the list of many other park space finder apps, there is Spot Hero. It helps you find parking, also compare rates, and you are even able to book your parking spot with Spot Hero.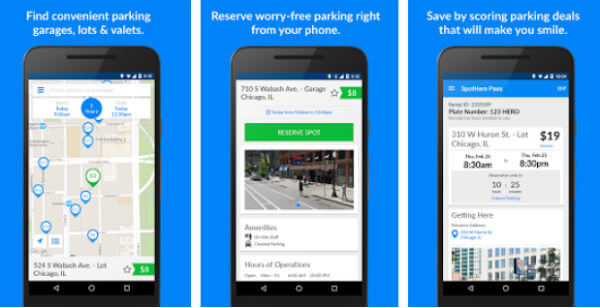 When you tend to reserve a parking space by making use of the Spot Hero parking app, you can save up to 50%. SpotHero Parking App offers features like daily parking, or even night & weekend parking deals and also affordable airport parking. This is the app that makes parking simple and a convenient job.
Feature: Park Space Finder | Public Parking Finder | Compare Park Rates | Book a Parking Spot | Offering Parking Deals& Discounts | Play Store Link
Android Parking Apps Locate Public Parking Lots & Parked Car
There are best parking apps and parking lots finder tools available in the smartphone to help you out when you hunt for the best parking spot. These are dedicated Android Parking Apps, and those can trace the available free and public parking spots. Remember, it is always easy to find some Public Parking Lots and park your car. But with these best Parking Apps, not only finding an entrance to the parking becomes easy but also getting deals on daily parking. It is through these smart Car parking app that one can say, "Hey, Now I can easily find a parking garage near me?" Try them!