The navigation apps like Waze or Googe Map work well with an internet connection. Waze is not built to work offline, and Waze Map solution may not perform without a live internet connection. There are some workarounds to resolve this issue, and you can use Google and Waze offline. This offline map is ideal if you have a limited data plan or when you use the map in a place where you can't access the internet through your mobile data or WiFi.
Compare to Waze Map; Google (set Waze Default Map) is providing features to save the offline MAP for the cities or a particular area you like. Google lets you save up to 20 offline maps for 30 days period. However, for Waze users, we will show you a workaround to use Waze Offline for your next trip.
Editor's Note: We have published a detailed article describing How to Get Waze Offline on Android and iPhone.
How to Save Google Map Offline?
This workaround is common for both Android and iOS devices. To save your data, (see how to save battery while using Google Map) you have to do this within your WiFi network if you are worried about your data plan. First, open the Google Map app from your Android or iOS device. Please make sure you are signed into your Google Account within your Google Map Applications. Search the zip code or city you want to save the offline map.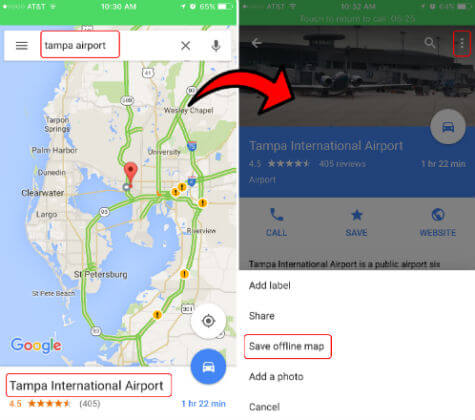 Now tap on the bottom bar of the Google map app where it shows the name of the place you searched. The Google map app will open a new window in this Google Map App itself. In this new window, top right corner, you see a touch menu as mentioned in the picture.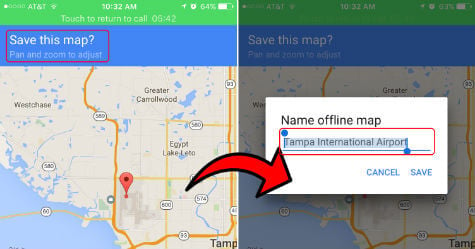 This touch menu will bring you a window to save the map offline, and you can pan and zoom the map before you save. The biggest size for an offline map is around 30miles x 30miles.
See More Google Map Tips: 10 Best Google Maps Navigation Tips you Must Know
You can name your offline map and save to your device for future use. Please keep in mind, after 30 days, this offline map will be automatically deleted from your Google account.
Related: As long as you have a smartphone with any of the map apps like Google Map, Waze or Apple Map app, you can easily share the accurate location just by a few taps on your phone. Please see the instruction to Share your Exact Location from Google Map/Waze/Apple Maps.
How to View Saved Google Offline Map?
Open your Google Map application within your Android or iOS device and make sure you log in to the app with the same account that you save the offline map before.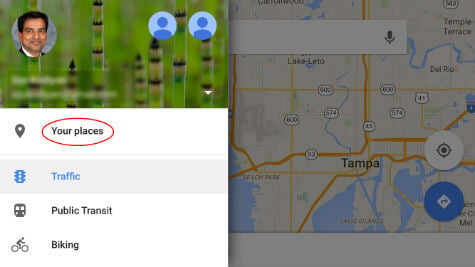 Now tap on the Google App menu and tap on Your places. Scroll down all the way down until you see Offline maps tap View all and manage. Now you can see all the saved offline maps over there.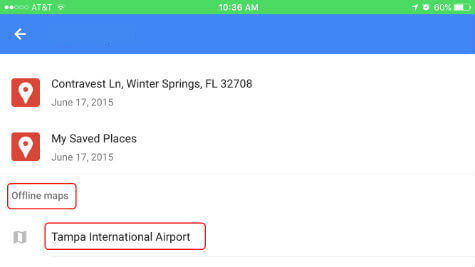 You can tap any one of these maps to get an additional menu where you can Rename, Update or Delete the saved maps.
Related: Compare to the GPS device, Mobile-based GPS can immediately start to use with any MAP (offline or online) apps. If you have a built-in GPS tablet, you can replace your GPS with this tablet and Offline map. Even if you want to get a dedicated tablet for GPS, there are several low priced tablets available with built-in GPS.
How to Save Waze Map Offline?
Waze is a community-based, feature-rich, powerful app that featured with real-time traffic, road alert, accidents, etc. Unfortunately, Waze is not offering any built-in feature to save the Waze map offline. Theoretically, Waze needs an internet connection to work fully functional. But there is some workaround to get an offline copy of the Map on Waze app.
If you want to get a Waze map offline, you have to open Waze application on your smartphone ahead with your WiFi or data connection and enter the address you want to go. Once the routing is completed, Waze will keep this map details in the cache (offline). You can use this Offline Waze version to drive later. Let's see how to save a Waze Offline map for your next trip.
Open Waze App on Android or iPhone.
Make sure you have connected to WiFi.

This applies only for a new address.

Type the address in the search bar and tap on Serach
Pick the right address from the populated result.
Tap on GO
Wait until Waze calculate the route
Tap on GO NOW button to get the route.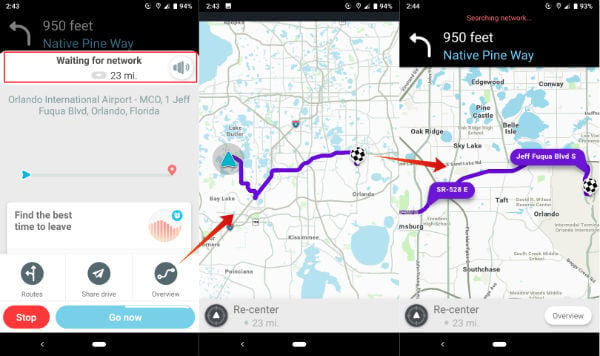 That's all. Waze will calculate the best possible route and cache the address details on your phone memory. Now you can turn off data plan on your mobile. Waze will be still in action and able to route you from the cache memory.
Editor's Note: We have published a detailed article describing How to Get Waze Offline on Android and iPhone.
Get Waze Offline from History
We have noticed that Waze Offline feature will also work even you quit the app. Waze is saving the calculated route information in App cache and reuse if you don't have internet. You can see the addressed you have traveled before.
Open Waze App
For test-purpose make sure your data plan is off and no WiFi.
Tap on the Search icon to open the previous route history.
See travel history under Favorites.
Select any location that you visited before.
Waze will show you the route to that location without data.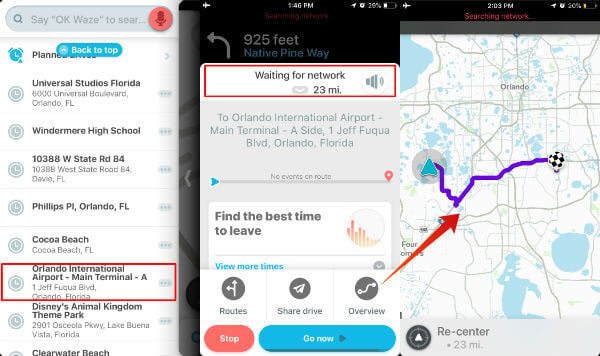 You can use this cached map for your trip without an internet connection. Please be aware that while you offline with Waze, you won't get any map updates or traffic updates on Waze until you connect your mobile device to an internet connection.
Related: How to Use Android & Waze as a Standalone GPS Device
How to Download Waze Traffic Info?
You can ask Waze to download the traffic information on the Android phone before you start your trip. Waze can download an offline copy of the current traffic information while you perform this. Before you start, make sure your device connected to the Internet.
Open Waze App and type the location you want to go to.
Let Waze calculate the routes to your destination and display on the app.
Tap on the Waze icon to get the menu.
Tap on a 'tiny setting' icon in the new pop-up window.
Go to Waze Settings > Advanced Settings > Data transfer.
Turn on  Download traffic info.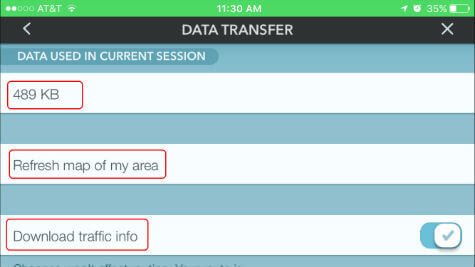 Update: The above steps are obsolete. The Data Transfer options are removed from teh updated versions on the Waze App. No Android or iPhone apps are supporting the Data Transfer feature now.
This will save the current traffic information. Be aware, without the internet; you may not get the updated traffic alert in Waze. In addition to this traffic info, this window will show you how much data already cached by Waze app, and you can update your map information from this window.
Google MAP and WAZE Map (community-based) apps are the best online maps available for mobile devices with amazing features for free of cost. Recently Microsoft also implements the offline map feature in the latest Windows10 OS.
Technology is gradually replacing traditional GPS device from the market with Smartphone GPS and online map. You don't need to carry a separate GPS device when you use your Smartphone as a GPS device, and you can enjoy almost real-time traffic updates on your phone.
Mobile GPS App also provides some other useful information in addition to traffic updates. This Smartphone Map app includes road hazard warning, accident reports, red light camera notifications, etc. Real-time gas price, store reviews are few of the other features you can get with your Smartphone map apps.
Don't have time to convert your required maps to offline? You can buy the dedicated offline maps that can purchase for your Android phone or tablet. These free Offline Android Maps can convert your phone or tablet into a dedicated GPS device without spending money on the data plan.
When you deal with the mobile online app, and if you don't want to invest in any paid offline map, go with Google Offline Map feature. If you have a data connection all the time with your mobile device, Waze will be the best bet with its real-time data update like traffic, road hazard, speed cams, accidents and all other necessary updates and social sharing feature.