Offline Map app is a must when you travel abroad to avoid any roaming charges and save on data roaming costs. Offline Map is fast and reliable and works without any interruption just like a dedicated GPS device on your iPhone or iPad.
Offline Maps work everywhere, anytime even when no Internet connection is available, and there is no expensive roaming data need when you travel abroad. Before you plan your next vacation, buy any one of this offline map and download before you start. You can use this offline map and see your location on the map, find streets, addresses and POIs without an internet connection.
These apps can create offline lists of places you want to visit, pin existing places to the map, add own pins to the map and add notes to places. Most of these apps can backup and sync your personal pins, notes, etc., between devices or sync them to the cloud. Here is the list of best offline Map for iPhone.
City Maps 2Go
City Maps 2Go Off Line Map Pro version gives unlimited access to maps and travel content covering all available destinations worldwide with life long update. The free version of City Maps 2Go is limited to five destinations of your choice. This app offers detailed offline maps, in-depth travel content, popular places, and insider tips.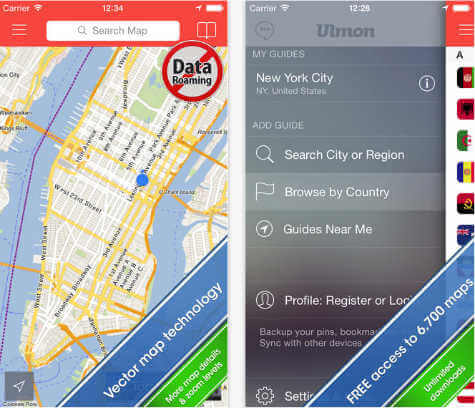 You can search and find the best restaurants, shops, attractions, hotels, bars, etc. Search by name, browse by category or discover nearby places using your device's GPS – even without an internet connection.

 This map apps can use share your favorite places, create your reviews and ratings of your favorite places, share tips and recommendations with friends and other travelers.
Download from iTunes
Galileo Offline Maps
Galileo Offline Maps for iOS offers you offline vector maps and offline search. There is no limit on the number of countries/regions you can download for pro version. Galileo map provides monthly updates with less space and works fast. This app offers multiple languages support and offline search.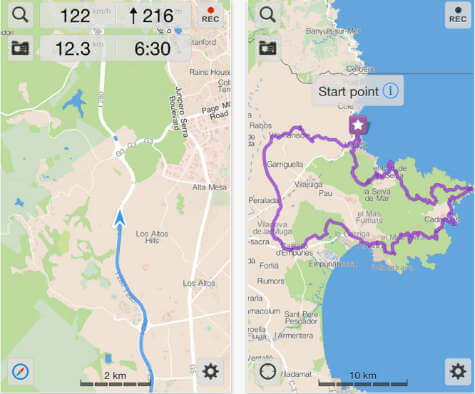 Pro version can record your trips and export them as KML/GPX files, mark your favorite places on your maps and set points of interest for your next trip. You can share your itineraries from the app via Mail, Facebook, and Twitter
 or export them in the most common formats like KML & GPX. Galileo can monitor your real-time speed, distance and time traveled, as well as altitude right on the map during the trip. You can back up and transfer Map data to another iOS device or app

.
Download from iTunes
OpenMaps Pro
OpenStreetMap allows to download Map for iOS offline use, edit the maps, find out where you are, search for addresses, get directions and scan the map for tweets with OpenMaps for iPhone, iPad and iPod touch.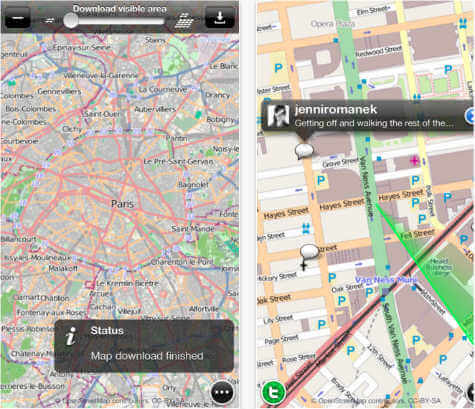 Advanced users can add custom map types that they can browse and view your friends' tweets and mentions of you on the map. OpenMaps can calculate the car, bike or pedestrian route with directions between any two locations with the help of online route providers.
Download from iTunes
MAPS.ME
Maps.me iPhone offline maps offers a high level of details, millions of points-of-interests like restaurants, gas stations, tourist destinations. Maps.me keep up to date, which is added daily by map users worldwide.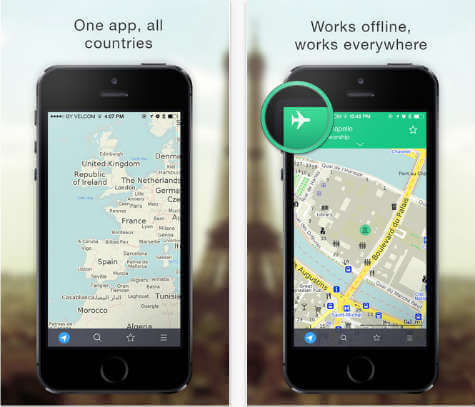 Offline Maps are impressively small in size and can download any country map for free. This app offers offline search to find everything you need for all the objects available on the map.
 You can add any place to the bookmarks list, export and import of bookmarks and add bookmarks and tracks from other maps to MAPS.ME.
Download from iTunes
Pocket Earth Offline Maps
Pocket Earth Map app works entirely offline with GPS. This iOS Offline Map app offers detailed and interactive worldwide maps with more than 100,000 places. You can personalize the maps to show the info you want, save your multi-stop itineraries for offline navigation.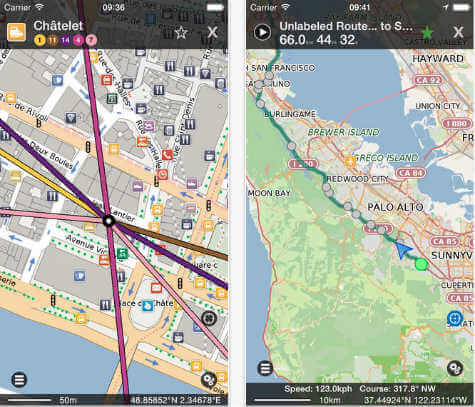 Pocket Earth Offline Maps App can find out about thousands of interesting places like hotels, restaurants, bars, tourist sites, even get the metro and public transit info. You can search the info with more than 50,000 detailed Wikivoyage Travel Guides and more than 1 million Wikipedia articles in 7 languages.
Download from iTunes
Please see Best Offline Free Maps to Convert Android Tablet and Phone to GPS for Android users. Please refer here for Top 4 Free Map Apps for Android. If you are planning to buy a tablet for your offline GPS, check here for Best built in GPS Tablets To Replace Your Old GPS Device.