The latest MacBook has only one type of ports to connect other devices, USB-C port. The new Samsung and Pixel phones, iPads, and the most recent laptops also come with USB C ports. This creates a few problems for the user since the world is not completely USB C just yet. As a result, your old HDMI cable won't work, for instance. This is why you'll either need to buy new USB C converters (connectors) or buy a USB C hub.
Here is the list of USB C adapters and converters (connectors) you can use with your new MacBooks or any other devices you may have with only USB C ports.
USB C to HDMI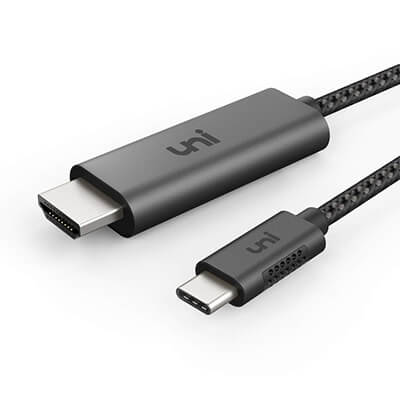 With this HDMI converter, you can stream videos directly from Macx or phone to TV. The uni USB Type-C to HDMI Cable is Thunderbolt 3 compatible. There is no additional app to software required for this USB C to HDMI adapter.
This is simply a plug and plays a USB C adapter to play video on a large TV screen. The adapter can support up to 4K@60Hz resolution and compatible with HDMI-enabled TVs/Monitors/Projectors. USB C to HDMI works for nearly all devices with a USB C port including the MacBook Pro, MacBook Air, and the iPad Pro.
Non-Apple devices are also compatible such as the Surface Book, Dell XPS, Chromebooks, or any Android phone with a USB Type C charging port. The cable is available in three different sizes. Naturally the price increases with the length.
Alternative: Buy from Amazon: USB C to HDMI
USB C to Dual HDMI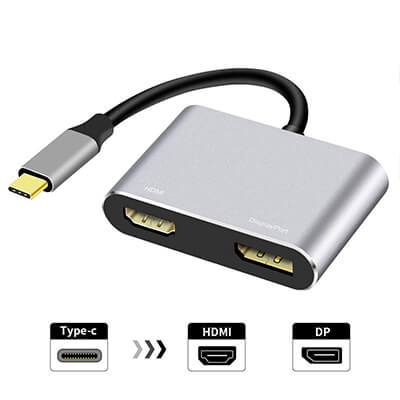 This USB C to Dual HDMI adapter from LC-Dolida lets you attach either an HDMI cable or a DisplayPort cable, or both, to your USB C port. This works for converting your Mac screen to a dual-screen output. This USB to Dual HDMI adapter can split the screen into two monitors.
This HDMI converter can support up to 4k2k@60Hz. The display port resolution or the HDMI resolution is up to 4k2k@30Hz. With this HDMI adapter for USB C, you can extend the computer screen to a large screen display or projector. The highest resolution of HDMI output is 1080P only while the two output ports working at the same time.
A usual, it's compatible with any USB C device including the newer MacBooks, Microsoft Surface Book, any other Windows laptops, or Android smartphones. The cable can output video up to 4K at 60fps.
Alternative: Buy from Amazon: USB C to Dual HDMI
Related: 10 Best USB C Car Chargers for MacBook, iPads & Phones
USB C to USB Adapter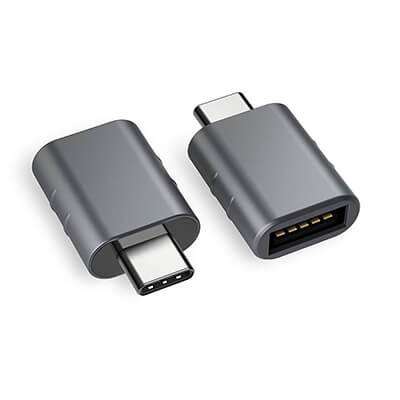 If you have an accessory that plugs into the traditional USB (or USB A) port, the USB C port on your laptop will need a USB C to USB Adapter. Syntech USB C to USB Adapter comes in a pack of 2. It is compatible with USB 3.0 and offers up to 5Gb/s data speed.
Moreover, the company promises a "no-question-asked" lifetime warranty for the product. This will cost you just below ten bucks if you opt for the Space grey variant.
Alternative: Buy from Amazon: USB C to USB Adapter
USB C to USB 3.0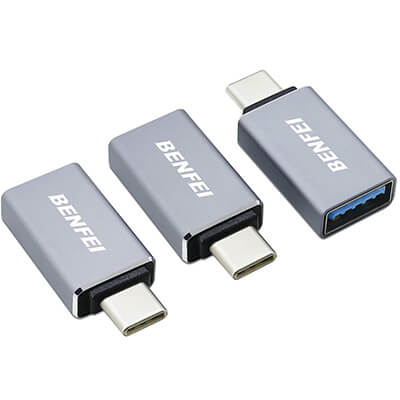 Benfei USB C to A Male to Female Adapter is pretty much the same thing as the one above in terms of functionality. That is, it converts your USB C port into a traditional USB 3.0 port.
The difference lies in the more boxy design. And you only get one unit, not two but you also pay less just below 7 dollars. Benfei offers an 18-month unconditional warranty with the product.
Alternative: Buy from Amazon: USB C to USB 3.0
Magnetic USB-C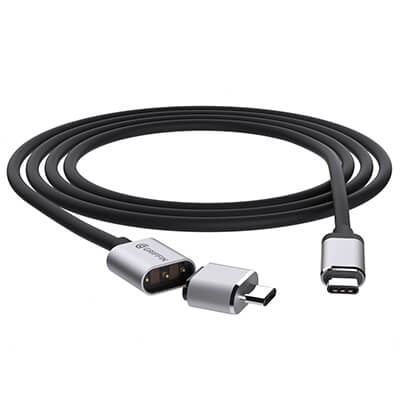 Missing MagSafe? Apple had a brilliant solution to people tripping over wires. And then they ditched it. TLDR; consumers still love it. The Griffin BreakSafe Magnetic USB-C Breakaway Power Cable can provide up to 60Watts of power at 20 volts and 3 amps.
The cable does not support any kind of data transfer since it's meant to deliver power. In the package, you get a cable with USB C on one end and a detachable magnetic USB C connector on the other.
If you accidentally pull at the cable, the connector breaks away instead of making you fall over, breaking the cable or damaging your device or its port. Check here for more MagSafe (Magnetic) USB-C Adapters for MacBooks and Magnetic Phone Charger Cables for Android & iPhone.
Alternative: Buy from Amazon: Magnetic USB-C
Related: 12 Best USB C Flash Drives for Android, MacBooks & iPads
USB C to Lightning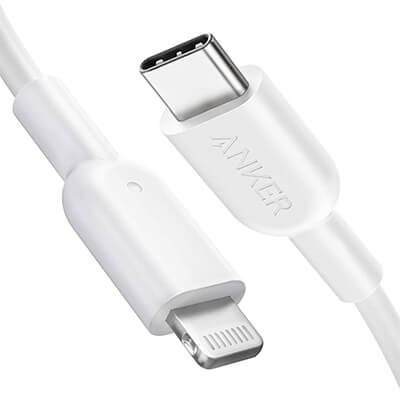 Apple devices are known to be super compatible with each other. But now with USB C on MacBooks and newer iPads and Lightning ports on iPhones and older iPads, things are a bit of a mess. Anker's USB C to Lightning Cable will let you connect your iOS devices to your MacBook pretty easily.
When you use this cable for charging the iPhone, you can use the USB-C Power Delivery charger (including Apple 18W 29W, 30W, 61W, or 87W USB-C Power Adapter) to charge your iOS device.
This USB C to lightning cable support data transfer. This cable is suitable to transfer data between the iPhone and Mac. Needless to say this will also work with any Windows laptops that have USB C ports. The cable is 3ft long and supports power delivery for iPhones.
Alternative: Buy from Amazon: USB C to Lightning
USB-C to Ethernet Adapter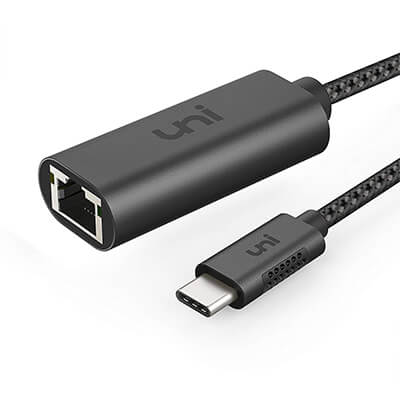 While WiFi is the most suitable way to connect a mobile device such as a laptop to the Internet, the Ethernet port is still pretty useful to many. This is where uni USB Thunderbolt 3/Type-C to RJ45 Gigabit Ethernet LAN Network Adapter can help.
This USB C to Ethernet adapter is plug and play and provides gigabit ethernet connectivity. This Ethernet RJ45 Network Adapter for Mac can obtain stable connection speeds up to 1 Gbps. The adapter is downward compatible and works with 100Mbps/10Mbps/1Mbps.
The Ethernet is compatible with USB-C devices like MacBook Pro, iPad Pro, Dell XPS Pixelbook, Chromebook, and other USB-C laptops. Almost every detail you may want to know is already in the name except for the price.
Alternative: Buy from Amazon: USB-C to Ethernet Adapter
USB C to Micro USB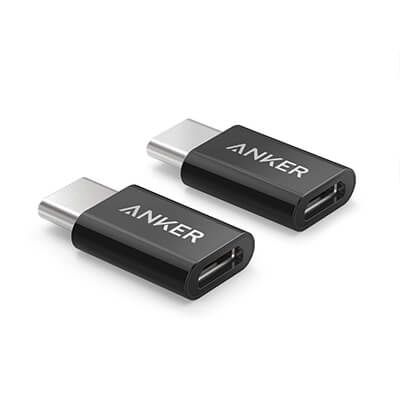 Apple may have been a little too quick to ditch all ports in favor of USB C, but the rest of the world hasn't caught up yet. There are still plenty of budget Android phones with micro USB ports. There are even more accessories out there both budget and premium with micro USB ports.
The Anker USB-C to Micro USB Adapter can come in handy. It's meant for data transfer but can also deliver power. This micro USB adapter works as usual USB adapter and supports transfer speeds up to 480 Mbps. This Type C to micro USB can use to charge your mobile device and supports fast-charging including Qualcomm Quick Charge. You get two adapters in the pack for a price less than 7 bucks.
Alternative: Buy from Amazon: USB C to Micro USB
USB C to VGA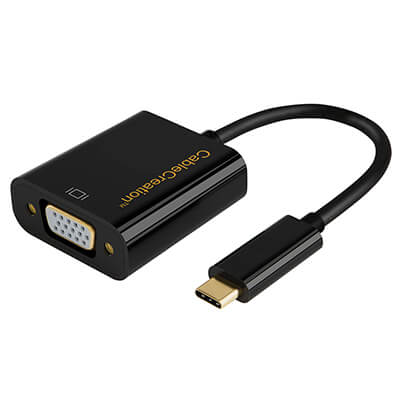 CableCreation USB Type C to VGA Converter is compatible with any USB C device including MacBooks, Chromebooks, Surface Books, and other Windows laptops. The converter can also be used with USB C Android devices, including the Samsung Galaxy S10 or Note 10.
This USB C to VGA adapter can supports video resolutions up to 1920*1200@60Hz. This VGA adapter comes with a 24-month warranty too. So if you have an old VGA-equipped display, monitor, or projector lying around, this will come in handy.
Alternative: Buy from Amazon: USB C to VGA
USB-C to Mini DisplayPort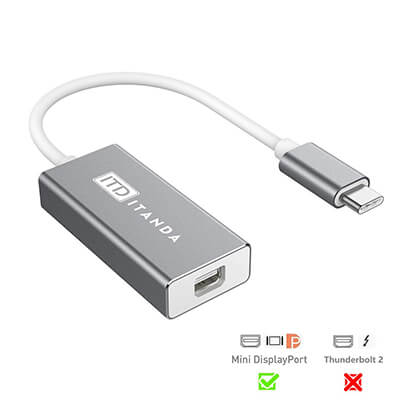 ITD ITANDA USB-C to Mini DisplayPort adapter connects a computer host with a USB Type-C port to a monitor or projector with Mini DisplayPort input. The adapter supports resolutions up to 4K2K (38402160), and transfer both video and audio.
USB-C to mini display port adapter can work with Macbook, Chromebook and other USB C based devices. This adapter does not work with the Apple Thunderbolt Cinema Display nor does it work in combination with DVI adapters.
This USB C Mini display port not compatible with other in-line adapters so you'll have to directly plug the USB C connector to your USB C device. It does support 4K video.
Alternative: Buy from Amazon: USB-C to Mini DisplayPort
USB C Memory Card Reader (2-in-1)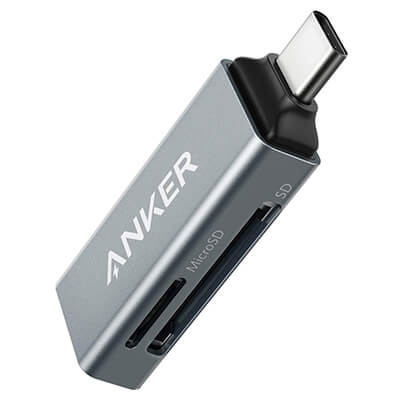 Anker SD Card Reader is a 2-in-1 USB C memory card reader with support for a variety of different memory cards. It is a 2-in-1 USB C card reader, that accepts two sizes of memory cards: microSD and SD.
This includes SDXC, SDHC, SD, MMC, RS-MMC, Micro SDXC, Micro SD, Micro SDHC Card, and UHS-I Cards. This memory card reader comes with an 18-month warranty from Anker.
Alternative: Buy from Amazon: USB C Memory Card Reader
USB C Memory Card Reader (3-in-1)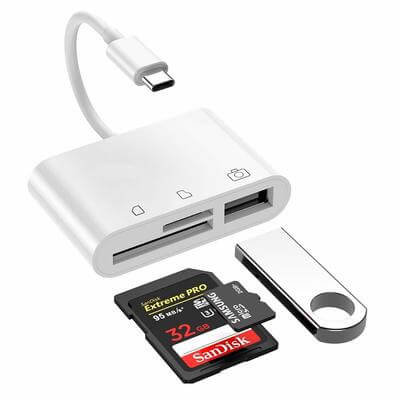 This is a 3-in-1 adapter which can be a USB C to SD Card Reader and a USB C to USB OTG Adapter. For some reason, the product has no branding whatsoever. Apart from the usual microSD and SD card reading slots, it also houses a full-size USB port to connect your flash drive, camera, keyboard, mouse, phone, etc.
The USB C Memory Card Reader accepts all kinds of memory cards, including Compatible with SD, SDHC, SDXC, MicroSD, MicroSDHC, and MicroSDXC cards. However, the maximum capacity of a memory card it supports is only 64GB and transfer data at 5Gbps.
Alternative: Buy from Amazon: USB C Memory Card Reader
Related: 10 Best MagSafe (Magnetic) USB-C Adapters for MacBooks & iPads
USB C Hub (5 in 1)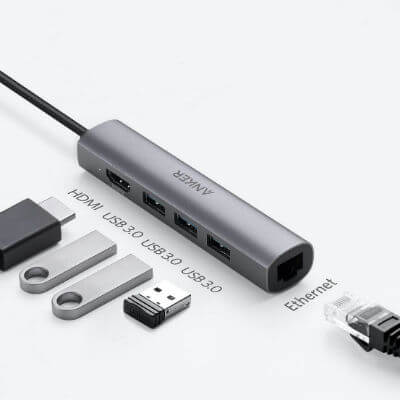 Anker USB C Hub Adapter is a 5-in-1 adapter with 1 HDMI, 1 Ethernet Port, and 3 USB 3.0 Ports. The HDMI port supports videos up to 4K resolution. Like any other USB C converter on this list, it supports all MacBooks with USB C and all iPads with USB C.
Similarly, it also supports any Windows laptops or tablets with USB C as well as Android smartphones and tablets. This 5-in-1 USB hub transforms 1 USB-C port into three standard USB 3.0, 1 HDMI, and 1 Ethernet port. It supports up to 5 Gbps data transfer speeds through the USB ports and a 1Gbps Internet speed via the Ethernet port.
You'll get the Anker Premium USB-C Hub along with a travel pouch, welcome guide, and an 18-month warranty.
Alternative: Buy from Amazon: USB C Hub, 5-in-1
USB C Hub (12 in 1)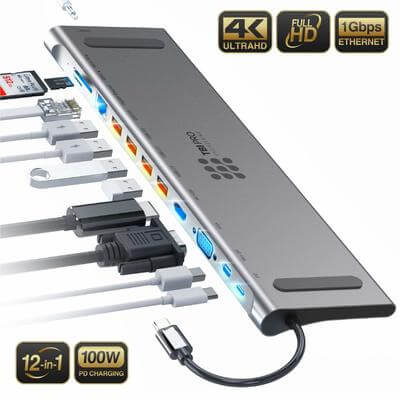 If those five ports aren't enough for your needs, you can get the TBI Pro Upgraded 12-in-1 USB-C Hub. It packs in a USB C to 4K HDMI & Mini DisplayPort, VGA port, a microSD and SD card reader with support for up to 512GB, an RJ45 Ethernet port, 4 High-Speed 3.0 USB Ports, and even a 3.5mm headphone jack.
It's also capable of delivering 100Watts of power so you can also charge a few devices. The USB ports support a data transfer speed of 5Gbps whereas the Ethernet port can provide internet at a 1Gbps rate. The company promises to refund the full payment should you choose to return the product.  Please check for more USB-C iPad Hubs with USB & Media Ports.
Alternative: Buy from Amazon: USB C Hub (12 in 1)
USB C or USB Type C is a relatively new USB standard for charging and data transfer. It can be found in a lot of devices ranging from laptops and smartphones to Bluetooth earphones. It can also deliver more power and data transfer speeds than the traditional USB. Where the latest USB 3.0 can only deliver data transfer speeds of 5Gbps, a USB C port can provide double the speed at 10Gbps.
Using "alternate modes," USB Type C can also support a variety of different protocols. This allows you to have adapters that can output HDMI, VGA, DisplayPort, etc. Therefore, it is also quickly replacing non-USB ports. The USB C connector is smaller than the traditional USB, HDMI, or any other port, so it fits in well with ultra-thin laptops and smartphones. It's about a third the size of an old USB Type-A plug.
The USB Type C connector is also designed to be reversible. This means you don't have to flip the connector around to find the correct orientation. The listed adapters will work for you to convert the USB-C port to any other ports and connect to your Mac or Phone.