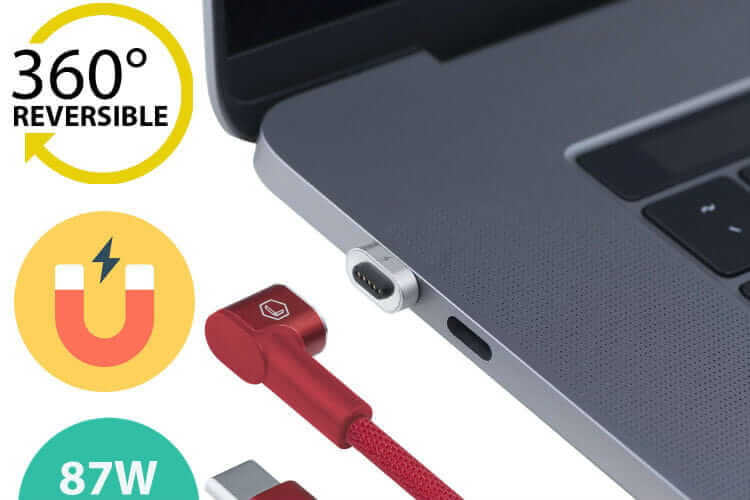 Are you looking for a Magsafe replacement for new MacBook? Apple recently replaced the unique MagSafe connector for New MacBook Pros and MacBook Air. Most smartphones are also moving onto the USB C and ditching the basic USB connectors. There are a few third-party cables available to replace Apple's Magsafe connector with a magnetic snap USB-C port. We have compiled a list of best USB C Magnetic charging adapters to replace Apple's Magsafe.
Here, our list includes some of the best magnetic USB C charging cases you'll ever find online.
Leonis Magnetic USB-C Power Adapter
The Leonis Magnetic adapter is an affordable charging set that meets all standards for USB C. This Magnetic USB C adapter is designed to meet users who use the Mac and USB C based smartphones. This magnetic connector has a fully reversible connector like the old Apple MagSafe adapter. The glossy design makes stylish and durable. The build material makes charging much more safe and secure.
This MagPlug support fast charging up to 87W with 20V.4.3A. This USB C MagPlug is suitable for charging your MacBook Pro, Google Pixel, etc. For best performance, it is better to use the OEM power adapters. This MagPlug works only with your USB-C gadgets to charge the device. You cannot use this cable to transfer data in any manner, and just a Magsafe USB-C cable.
Buy from Amazon: Leonis Magnetic USB-C Power Adapter
Basevs Magnetic USB C Power Adapter
The Basevs magnetic USB adapter is a Magsafe USB-C adapter works with C port devices and laptops. This magnetic USB C coming with a 6.6 Ft cable along with a USB C to USB C connector. The maximum power output rated to 87 W or 4.3 A at 20 V. The product has a strong magnetic connector, and easy to connect back to charge the device. This USB cable featured with a great level of workmanship as well as robust materials.
The outer covering is built with an aluminum alloy and the cable is secured with a 2m braided nylon cord. This Basevs magnetic adapter is durable and can withstand harsh climates and temperatures. The voltage protection circuit maintains a steady output voltage through the charging process. This USB C adapter is compatible with Samsung Galaxy, Google Pixel, etc. The USB C adapter will work with MacBook Pro, Yoga 900, Nintendo Switch, etc.
Buy from Amazon: Basevs Magnetic USB C Power Adapter
Magnetic Phone Charger 3 in 1 Cable
This magnetic phone charger cable is coming with a universal port and 3 connectors than you can attach to this universal port. There are Type C, Lightning and micro USB connectors are coming with the cable. The cable and connector support maximum 2.4A.
The strong magnet will keep your device connected to the charging cable. You can rotate the Magsafe connector 360 degrees and the magnetic connector rotate along with the device. You have to simply place the cable near to the connector and the strong magnet will attach the device to the cable. The inbuilt blue light helps you to locate the cable in the dark.
Buy from Amazon: Magnetic Phone Charger 3 in 1 Cable
Elecjet Magjet Magnetic USB Adapter
The Elecjet's MagJet is one of the best reversible magnetic USB available online. The 6 pin design provides greater protection and prevents short circuits. It's more efficient than the 5 pin ones. Also, it is completely reversible, like that of Apple's MagSafe chargers. The Magjet supports up to 87 W fast charging with voltage stabilization. The strong magnetic forces of the cable make it easy to attach the cable to your mobile or PC ports.
The aluminum alloy design and gold plated connectors make it durable and strong. This magnetic USB cable comes with another technology that reduces the charging temperatures. We don't give a pleasant opinion on this as temperature and heating depend on other factors too. Coming to the compatibility part, the MagJet works well with all smartphones that have the USB C. This magnetic USB C supports the MacBook Air, the MacBook Pro, and other USB C enabled laptops, to wrok as a Magsafe USB-C.
LiooTech USB C Power Adapter
LiooTech Charger cable has a powerful magnetic connector to help the cable to stay when you plugged it. The magnetic USB C is one of the top-selling ones we've got online. This charging cable is 6.6 Ft in length and has a durable nylon outer covering. The nylon braided design makes it safe to bend and fold. Also, it comes with intelligent design and with the smallest magnetic connectors, you can ever get.
The strong MagPlug makes your cable easy to connect to your PCs. The LiooTech charging cable delivers up to 87 W of power and works well with all major smartphones. The compatibility ranges from the Pixels, Samsung S series, etc. The USB magnetic connector builds for Mac. It works well with all Type C port laptops including the MacBook Air, Dell series Thunderbolt 3 devices, etc.
DISDIM Magnetic USB C Adapter
The DisDim magnetic Adapter is a C type charging adapter. This Magnetic USB C is ideal for MacBooks. The Magnetic adapter offers a max output current of 4.3 A. It is one of those magnetic adapters that ensure faster and stable charging. This magnetic C connector has a 90-degree magnetic adapter with an "L shaped" design, favors easy plugin.
The DisDim magnetic adapter is designed for the MacBook and MacBook Pro. It can charge your MacBook in around 1.5 hours and is compatible with almost all USB C smartphones. You can plug them with the Galaxy Note 8, S8, Google Pixel, Nexus 5X and many more. The charging rates for smartphones depend upon your phone thou. The magnetic adapter doesn't come with extra USB cables and cannot be used for transferring data.
Bank Of Innovation Magnetic USB cable/ adapter
The BOI's own magnetic USB type C cable is designed for the MacBooks and Smartphones. It is capable of charging your MacBook at a maximum output of 4.3 A. This is the highest charging speed that Apple guarantees for its Mac-based devices. This USB C cable can charge your Mac in around 1.5 hours. It offers the same charge ratio of the 87 W Apple Generic adapter.
This magnetic USB is 1.5 M in length build with Aramid fiber outer covering. This gives the adapter more durability and lasts longer than normal USB cables. The design favors a detachable magnetic connector. The Magnetic USB extends the lifespan of both your USB cable and computer port. The BOI magnetic USB cable is compatible with both MacBook Pro 2017 and 2016. Besides this, the Magnetic USB is compatible for Type C Port smartphones.
Buy from Amazon: Bank Of Innovation Magnetic USB cable/adapter
AirsFish Magnetic USB cable/ Adapter
The AirsFish Magnetic cable is a generic C type cable. This Magnetic USB C based cable supports 4.3 A rapid charging. The maximum power output of 86 W. This USB C connector has an L shaped design prevents the cable from damages and wear and tear. The Magnetic Connector helps to attach the adapter into the device's C port with more precision.
The rugged up outer covering and strong magnetic clip increase the lifespan of the cable. The AirsFish magnetic USB cable is designed for the MacBook and MacBook Pro. Moreover, the compatibility ranges from almost all smartphones having the USB C inbuilt.
Buy From Amazon: AirsFish Magnetic USB cable/ Adapter
As most of the smart devices are ditching the basic USB ports and turning towards USB C. And these magnetic connectors are Magsafe USB-C to charge your phone or MacBook. As you see, these USB C connectors have their own quality standards and yes, they aren't that expensive. These Magsafe USB-C connectors are ideal for those, who are looking for a replacement of Apple's Magsafe connectors.