Facebook is making its way to the top headlines for some grave issues regarding data theft and privacy issues. As the report says, Facebook is collecting user's private data without their consent and giving it to other research firms. In addition, the social media giant failed to mention that in their terms of conditions as well.
Consequent to this, the users might be interested in how to secure your Android from Facebook data collection. In this article, we are showing the vital steps which you must follow to revoke this superfluous data sharing.
Limit Facebook App Permissions on Android
For a social media application to run smoothly, you must provide it with the basic access to 'storage' as well as internet connection. In addition to this, the Facebook app asking for the permissions to Calendar, Contacts, Location, Microphone, SMS, and Telephone. Also, under miscellaneous permissions, it demands to start in background, change system settings, change Wi-Fi and Bluetooth connectivity which are quite questionable.
To check the permissions, go to Settings and scroll down to the Application Manager and search for the Facebook app.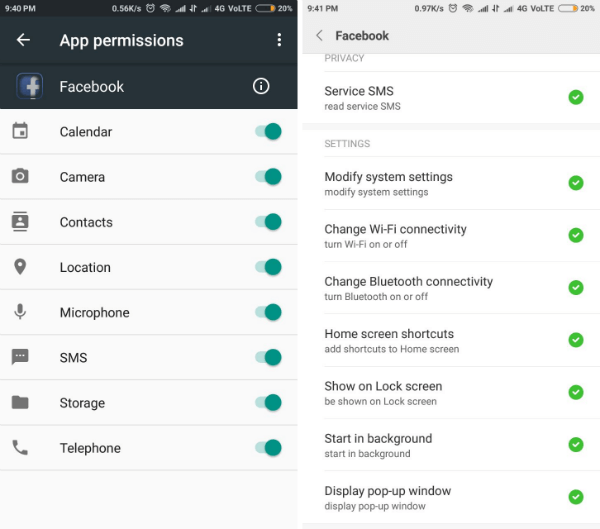 To make sure that Facebook app never tracks you again on Android, uncheck all the permissions except 'Storage'. Whenever you want to go live on Facebook, it will ask for permission to use camera and microphone. You must click on 'Allow once' there.
Clear Facebook Location History on Android
Facebook has a feature of 'Nearby Friends' that in case you wish to keep active then you should give 'Location' access.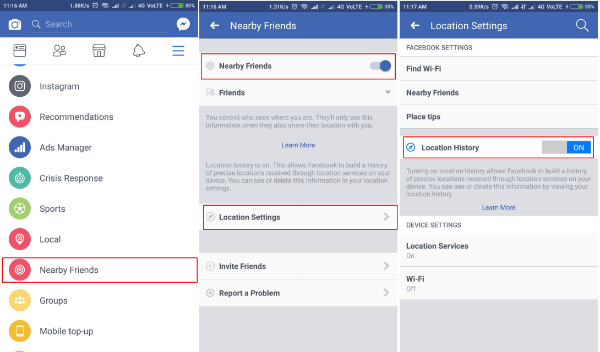 To completely disable it, head over to 'Nearby Friends' and toggle it OFF. Now select 'Location Settings' and toggle off the 'Location History' to disable location access.
To scrap the collected location data, go to your profile and tap on 'Activity logs'. Now click on 'filter' and scroll down to select the 'Location history'. Go ahead and select 'Clear Location History'.
Turn Off Contacts Upload from Android
To turn off contacts uploading from Facebook app, head over to the menu and scroll down to find 'App Settings' and select it.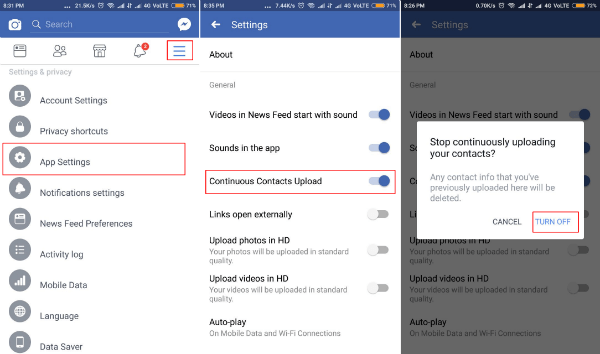 Now toggle off the option which states 'Continuous Contacts Upload'. A pop up stating "Any contacts info that you've previously uploaded here will be deleted" shows up and you have to choose 'TURN OFF'.
Facebook Lite App Contact Share
For the folks who use the Facebook Lite app can head over to the menu and then scroll down to find 'Settings' and select it. There are 3 things to do here. Firstly, toggle off the 'Contacts uploading' and then do the same for 'Call and text history uploading'. Now select 'Imported Contacts' and tap on 'Clear Imported Contacts' and tap 'OK'.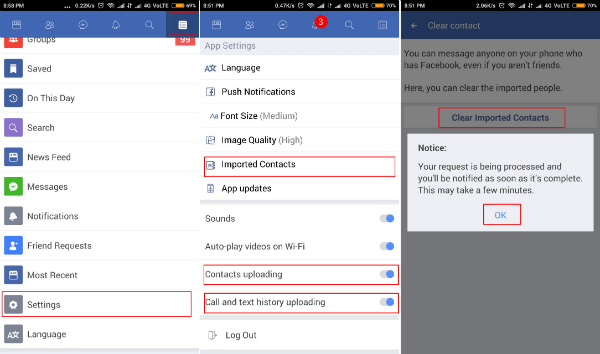 Sadly, there is no such feature of activity log in the Facebook lite app. Hence you cannot scrap the location data. To do it manually, open Facebook on any browser and follow the steps mentioned in the Facebook app on Android.
Check Messenger App Permissions on Android
The aim of this app is to manage all the chats and make video calls to your friends. It normally asks for permissions such as Calendar, Camera, Contacts, Location, Microphone, SMS, Storage as well as Telephone. In other consents, it wants to read your Service Messages and to Start in the background. Messenger app also provides the feature to replace your default messaging app. It also asks to sync all your contacts so that you can find friends who are on Messenger. You can chat with them via SMS, making this app as your default SMS delivery app.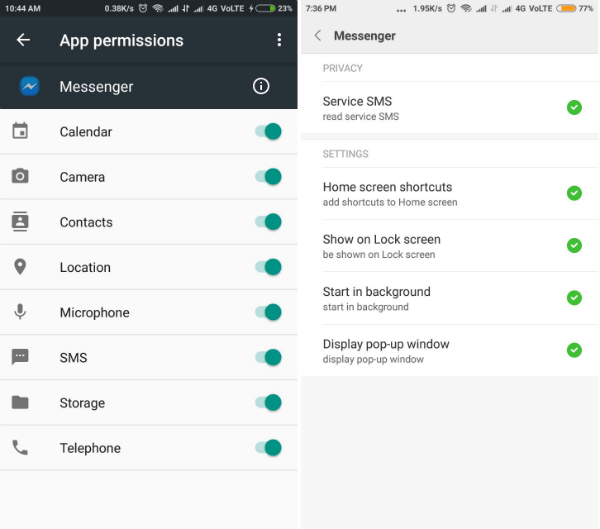 To check the permissions, go to Settings and scroll down to the Application manager and search for the Facebook Messenger app. Basic permissions which you must grant is 'Storage' here. You can toggle off all the other access permissions and select 'Allow Once' option while running. It will pop up on its own whenever the app needs any specific access. At times like when you want to share an image or video, or while starting a video call with a friend the app will ask for permission.
Stop Android SMS Integration
If you have set the default SMS app to Messenger instead of your Android message app, time to change back now.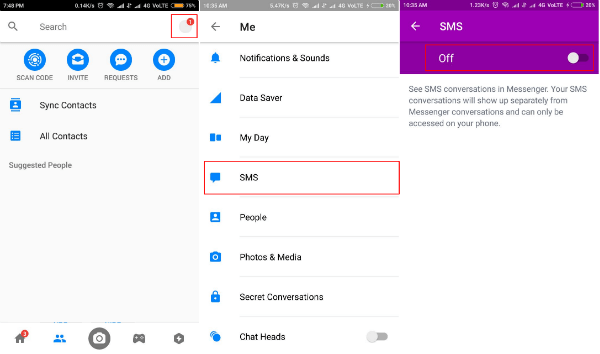 Head over to your profile, scroll down and tap on 'SMS'. Toggle it OFF to disable it as your default SMS app.
Turn off Contacts Sync with Facebook
To turn off the Sync for contacts, go to your profile and scroll down to reach 'People' and tap on it.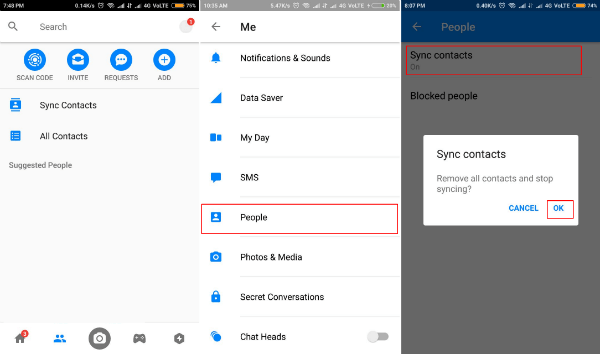 Now select 'Sync Contacts' and it will ask you about 'Removing all contacts and stop syncing?' tap on 'OK' for removing contacts and sync.
Stop Facebook Messenger Lite Contacts Sync
If you happen to use Messenger Lite app, follow this to remove all the contacts which are in sync with Facebook. Go to the profile tab and select 'People'.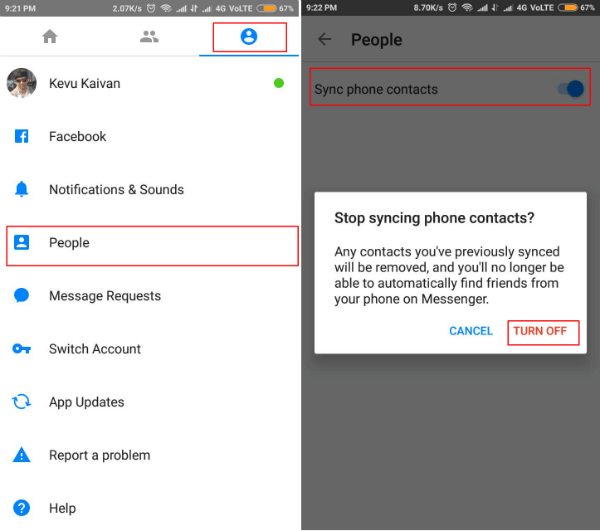 Now toggle off the 'Sync Phone Contacts'. A dialog box stating that 'all your previously synced contacts will be removed' will display and select 'TURN OFF' there.
Stop Facebook Data Collection on Android
Data mining and collection is a prime objective of all the apps and services out there. Some of them use the collected data to make their own services better while some may choose to sell out to other platforms for research and analysis. The data which we allow to collect or the data which we upload willingly on any platform might castoff itself in a negative way against the user. Take your actions now and secure all the stuff which may lead to the data theft and privacy violation of your Facebook Data.