iPhone cases and screen protectors are already available in the market for iPhone Xs and iPhone Xs Max. There is no doubt that iPhone Xs is expensive compared to iPhone XR and X, and you need to protect the device from accidental damages. Thee are wireless supported iPhone cases, iPhone screen protectors and other accessories are available for iPhone Xs and Xs Max.
We've listed the best iPhone Cases, Screen Protectors, Camera Screen Protectors, Wireless Car Chargers and other Accessories for iPhone Xs.
See More Related Articles:
iPhone Xs Wallet Cases
Dreem Fibonacci Wallet Case for iPhone is featured with magnetic detachable cover. The iPhone case is slim in design and built with luxury vegan leather. The flip folio design of the iPhone case makes sure the inside content from falling off. The extra strong magnetic attachment offers and secures stick-on wallet for your iPhone. The case works great with car mounts and selfie sticks.

The RFID theft protection is designed for three pockets and also have additional horizontal/vertical kick-stand for hands-free video calls or movie watching. The iPhone wallet case can comfortably carry 3-6 credit cards and 5-10 bills. The case handcrafted with high-quality faux leather with beautiful stitching looks luxurious.
Features: RFID Protection | Smart 2-Way Stand | No Wireless Charging | Carry 3-6 cards | Buy from Amazon
Silk iPhone XS Wallet Case has nice slim design and protective vault grip. You can keep up to three credit cards and carry cash with this iPhone Wallet Case. To offer additional protection, this case is built with air pocket corners that give additional cushion effect. Silk iPhone Xs case includes a free screen protector film.

Features: Wireless Charging Support | Air-pocket Corner Protection | Carry 3 Cards | Buy from Amazon
Related: 10 Best Apple Watch Chargers Straps & Accessories
iPhone Xs Bumper Cases
ESR Bumper Hoop Case is designed for iPhone Xs Max with heavy duty Armor and flexible cushion.  The flexible bumper offers effective protection for the iPhone and 2H transparent back cover prevents the back cover from clinging.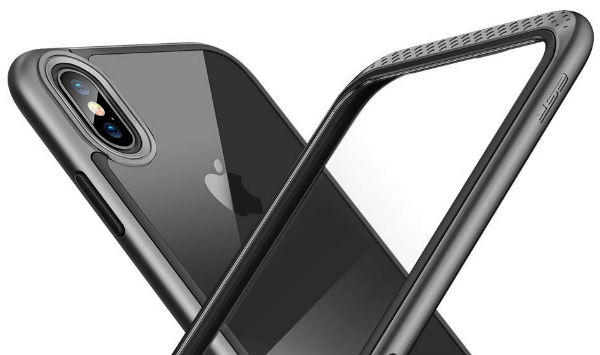 The special camera protection design giving added protection to the camera lens. The high-efficiency case supports Wireless Charging up to 98% efficiency.
Features: Reinforced Camera Protection | Glass-Back Safe | Wireless Charging | Buy from Amazon
iPhone Xs Heavy Duty Cases
Do you want a heavy duty case that protects your iPhone Xs all the time? The SUPCASE Unicorn Beetle Pro Series is the one you can buy. This Full Body Rugged Holster Case is coming with built-in Screen protector for your iPhone Xs.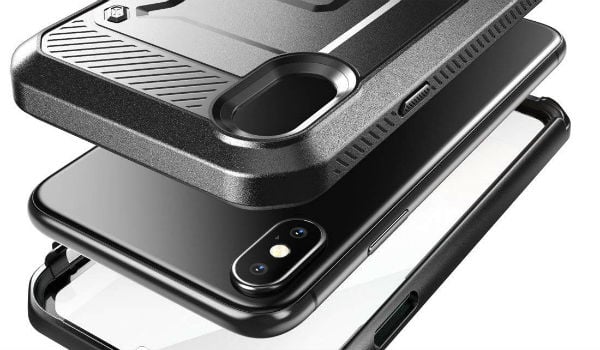 The case is designed with Multi-layered TPU and Polycarbonate materials to offer iPhone maximum drop protection. The case is already drop tested to 20 foot according to the manufacturer. The additional screen protector makes sure your iPhone is completely covered and protected.  The detachable rotating holster is user-friendly and designed for your convenience. The case is coming with a one-year limited warranty.
Features: Drop Protection |Built-in Screen Protector | Wireless Charging | Buy from Amazon
iPhone Xs Clear Cases
Clear cases are designed to protect your iPhone Xs from dust and scratches. The same time, you can expose all details of iPhone Xs with crystal clear design of the case material. The hybrid design made with a rigid back and flexible bumper make this case simple, but enough to protect your iPhone. The case is crystal clear, resistant to yellowing and coming with built-in Air Cushion Technology.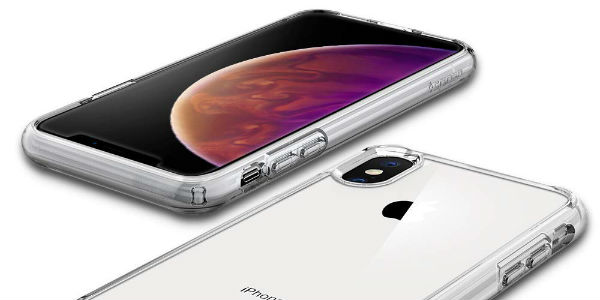 Features: Crystal Clear |Resistant to Yellowing | Air Cushion Technology| Wireless Charging | Buy from Amazon
iPhone Xs Leather Cases
iPulse Journal Series leather case is handmade with Italian full grain leather. The case is made for iPhone Xs and iPhone X. The built-in wallet is coming with I.D. slot, credit cards slots and a pocket for bills. The kickstand lets you set your iPhone handsfree while watching YouTube or making Video calls.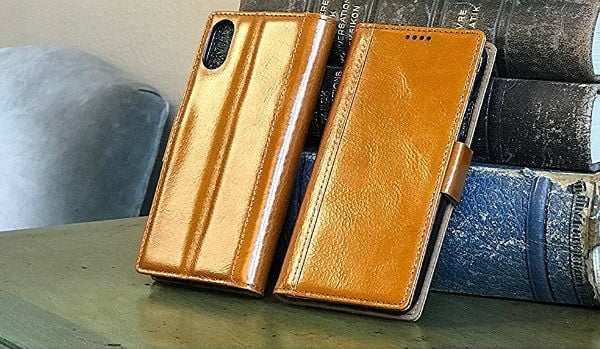 The magnetic closure secured with extra stitches, and make sure your stuff inside is safe. The leather case is compatible with Wireless Charging. The manufacturer recommends to make sure the wireless charger is of high quality and the size of the pad should be at least the same width as your phone. This leather case is coming with a lifetime warranty.
Features: Italian Full Grain Leather | Kickstand | Magnetic Closure | Lifetime Warranty| Wireless Charging | Buy from Amazon
LOHASIC Luxury Leather case is crafted from premium purely handmade soft PU leather without stitching. The leather iPhone case is stylish and luxury with a gold electroplated frame around the rear camera and buttons. The power button, flash, microphone, and camera are covered with soft TPU bumper and the gold electroplated side buttons are sensitive to press and feel.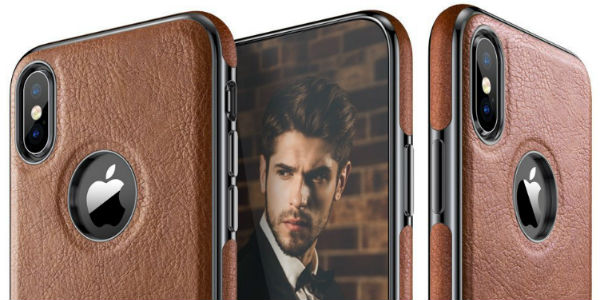 The anti-slip sides and luxury texture design with good grip protect iPhone from sliding from your hand accidentally. With a lightweight and slim design, you won't feel any bulkiness in your palm.
Features: Luxury Leather | Wireless Charging | Buy from Amazon
iPhone Xs Slim Cases
ESR TPU cases are soft and clear, compatible for iPhone Xs. The case is designed to protect your iPhone from dust and scratches. ESR case is just 1mm thin, and with crystal clear design, show off your iPhone's original style. The iPhone Xs case's camera and screen edges are raised to protect iPhone Xs camera and screen from scratching. The microdot pattern will prevent the case from clinging.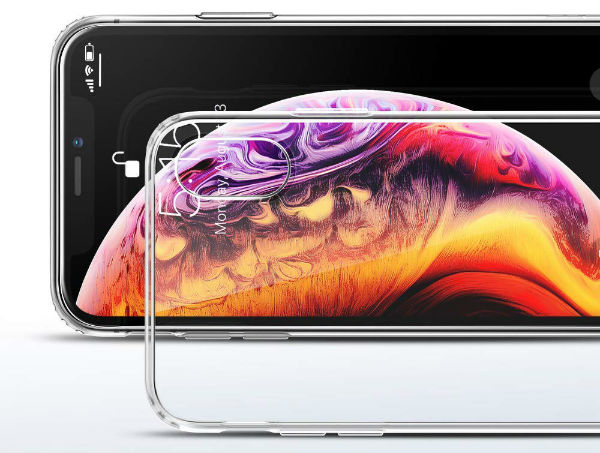 Features: 1mm Thickness | Crystal Clear |Micro Dot Pattern | Wireless Charging | Buy from Amazon
ESR Mimic Tempered Glass Case is built with 9H tempered glass back cover and soft silicone bumper for shock absorption. The back glass design mimics the smooth glass back while offering great grip. The 9H hard tempered glass is scratch resistant and tough enough to withstand with your everyday activities.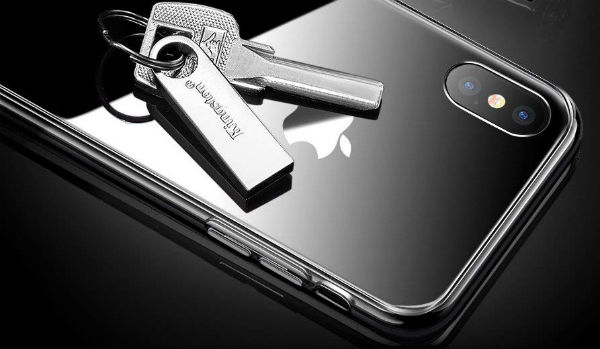 Features: 9H Tempered Glass Back Cover | Crystal Clear | Wireless Charging | Buy from Amazon
iPhone Xs Screen Protector
Maxboost Screen Protector is coming with 3 Packs and 0.25mm each to protect your iPhone Screen. The Tempered Screen Protector is designed with advanced clarity. This iPhone Xs screen protector supports 3D with 99% touch accuracy.
The Maxboost Glass Screen Protector fully covers the iPhone Xs' newest display, protects iPhone screen from scratches and impacts. The hydrophobic and oleophobic clear layers coating protects the screen from sweat and oil residue from fingerprints. The website provides online installation tutorials and lifetime warranty.
Features: 3 Packs | 0.25mm Thickness | 3D Touch support | Fingerprint&Sweat Protection | Buy from Amazon
ESR Tempered Glass Screen Protector is coming with 2 packs. This iPhone screen protector is force resistant up to 22 pounds. The screen protector provides the protection for the iPhone Xs flat touchscreen. The additional installation frame enables perfect alignment of the protector.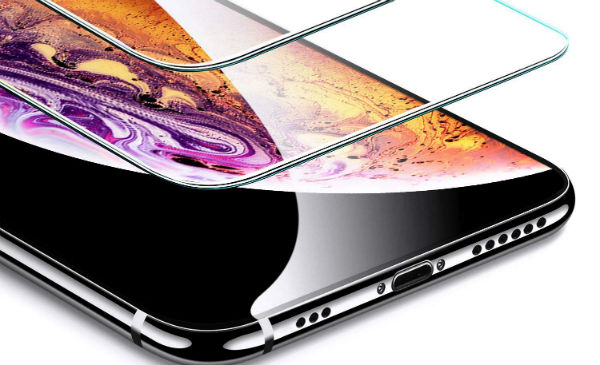 This tempered glass protector for iPhone is 5X stronger and can withstand 22 lbs. of force. This case will not make interference with Face ID and designed for iPhone Xs. ESR provides you with professional customer service and lifetime warranty.
Features: 2 Packs |  |Face ID support | Fingerprint Protection |22 lbs. Force Resistant | Buy from Amazon
iPhone Xs Camera Protector
ALife iPhone Xs Camera Lens Protector is coming with additional metal ring plating and 9H Hardness Anti-Scratch Explosion-proof Tempered Glass to protected iPhone Xs camera lens. The glass has Oleophobic coating to prevent fingerprints and other contaminants. The iPhone camera lens protector is waterproof, oil proof and explosion-proof, prevent iPhone from damages or scratches.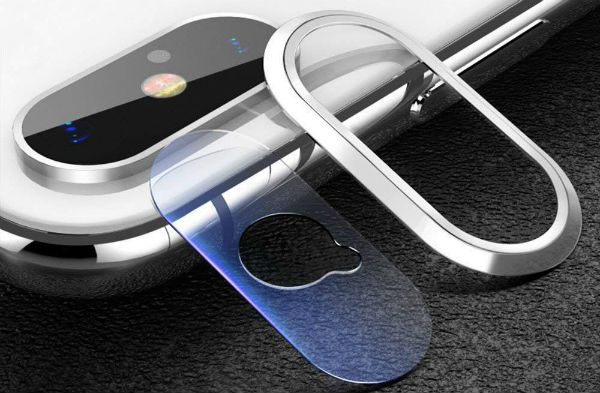 Features: Oleophobic Coating | Fingerprint Protection |22 lbs. Force Resistant | Buy from Amazon
This iPhone X Camera Lens Protector is ultra thin and made with 9H Hardness glass. The iPhone Xs camera protector is bubble free and offers scratch protection. The camera lens protector is cut precisely to fit for iPhone Xs Camera Lens and protects from scratches or accident drops.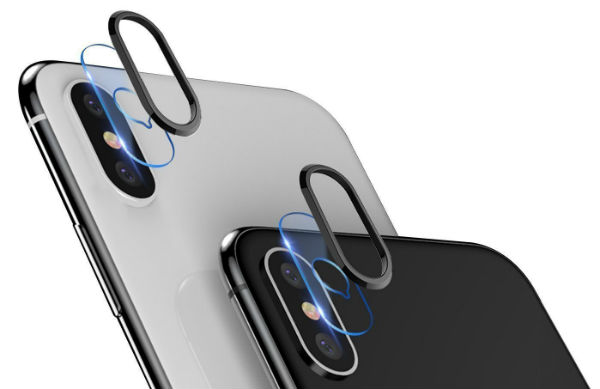 This chemically strengthened tempered glass is highly impacted proof and scratch resistant. The design itself is ultra-thin with 0.1mm thickness and easy to apply without air bubbles.
Features: 2 Pack of iPhone Xs Camera Ring &Camera Lens Glass Protector | Scratch Protection |9H Hardness Glass | 0.1mm Thickness | 22 lbs. Force Resistant | Buy from Amazon
iPhone Xs Wireless Charger
One of the best iPhone XS wireless charger from Ravpower that supports fast charging for iPhone Xs and iPhone X. The two modes of charging support fast and normal charging modes with this wireless charger. This charger will support all Qi-enabled smartphones like Samsung and LG phones.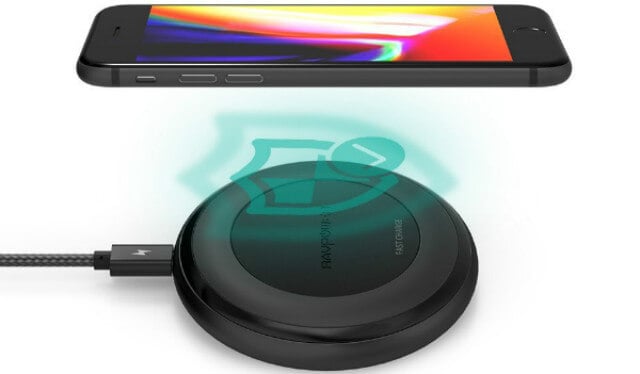 The silicone anti-skid layer on top of the charger prevents the phone from skidding from the charger pad. This smart charger has a smart battery indicator and additional protections like built-in over-current, over-voltage, and over-temperature protection.
Features: Compatible with iPhone 8, iPhone8 Plus, iPhone X | Power: 10W | Standard: Qi  | Smart battery Indicator | Over voltage/Over temperature protection | Buy from Amazon
Also Read: Best iPhone Wireless Chargers for iPhone Xs, XR, 10 & iPhone 8
iPhone Xs Wireless Car Charger
The CHOETECH is a Type C 7.5W Wireless Car Charging Mount compatible with iPhone XS/XS Max/XR/X/8/8 Plus. This, and provides 10W Fast Wireless Charging capability for Samsung Galaxy S9/S9+/S8/S8+/Note 9/8. The wireless car charger holder can be used as a wireless charger as well as a car mount.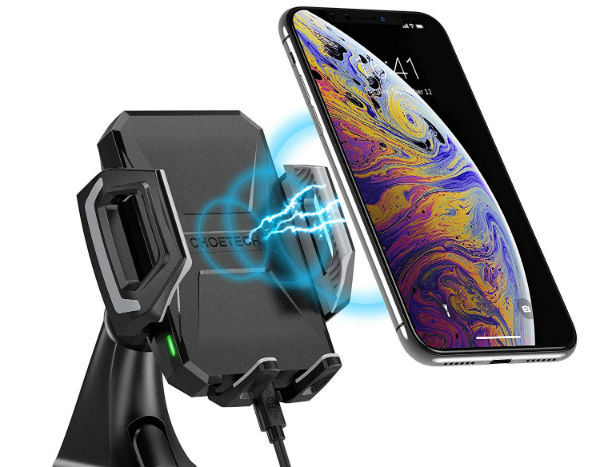 The phone holder has a width of 2.6-4 inch, compatible for most of the phones. work with most phones. The charger support 10W fast charging for Samsung, 7.5W wireless charging for iPhone and 5W standard wireless charge for all Qi-enabled Phones. The 360°rotating ball joint allows to place your phone in any angle and charge wirelessly even in vertical and horizontal direction. The charger has a built-in protection for overcurrent, overheat, over-voltage, and short circuit.
Support: iPhone XS/XS Max/XR/X/8/8 Plus | Key Features: Type C USB | 360° Rotating Ball Joint | 10W Fast Charging | Buy from Amazon
Also Read: 8 Best Wireless Car Chargers for iPhone Xs and Android
iPhone Xs Portable Wireless Charger
RAVPower Portable Wireless Charger comes with a 10400mAH internal battery that can charge devices multiple times. This power bank is capable of fully charging iPhone with fast-charging technology(7.5W) in lightning speeds, 50% faster than normal. In fact, the RAVpower battery pack works well with the iPhone X, iPhone8, 8plus, and Samsung Phione devices that support wireless charging.
With Wireless charging pad and USB port, this portable charger is capable of charging two devices simultaneously.  The power bank supports easy charging and, capable of charging fully in less than 6 hours with a 2A/2.4A AC charger. For non-Qi enabled phones, you can use the USB cable to charge the phone.
Buy from Amazon: RAVpower Portable Wireless Charger
iPhone Xs Lightning Headphones
The pioneer Rayz plus is an iconic noise-canceling headset with a lightning port. Rays headphone offers excellent compatibility and convenience. These stylish ear pods come with a lightning port. This headphone can recognize "Hey Siri" command to place calls, send messages, etc. This iPhone noise-canceling headphones support iOS 10.3 or higher versions. The exclusive Pioneer Rayz app can enhance audio capabilities and access software updates.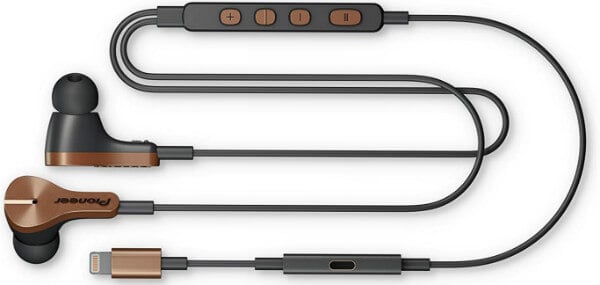 This cool ear pod allows you to talk and charge the device while being plugged into the lightning port. The remote button attached to the headphone is convenient to deal with volume adjustments and playback. Additionally, this lightning connector headphone comes with a Smart-mute feature. This automatically mutes the microphone when you are not speaking and unmute when you start talking. Yeah, Well, that's really modern!!
Buy from: Amazon
Also Read: 8 Best Headphones with Lightning Connector made for iPhone.
iPhone Xs EarBuds
When it comes to audio quality, most of us already know that Bose is the brand to beat. The company recently launched first truly wireless headphones called the SoundSport Free, and it certainly manages to live up to all the expectations. These earbuds have fins to make sure they remain intact while you're jogging or working out in the gym. SoundSport is water resistant as well, so you don't have to worry about your earbuds getting damaged when you sweat a lot.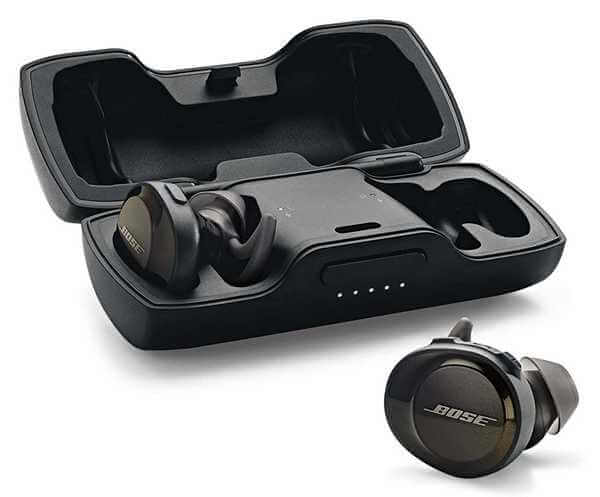 The sound quality, which is the most important part, is absolutely fantastic, and it's certainly better than most of the competition. The Bose SoundSport Free earbuds are able to provide a listening time of 5 hours, but thanks to the included carrying case, you'll be able to charge it a couple more times and extended the battery life by 10 hours. However, not everyone will be able to afford it, as it costs nearly 250 bucks at the moment.
Buy from Amazon
Also Read: 7 Best Truly Wireless Earbuds for iPhone and Android
Apple charges you $279.00 (out of warranty) just for iPhone Xs screen repair and iPhone Xs Max cost you $329.00 for the screen repair. It is recommended to use a protective case and screen protector to prevent any accidental damage. We have listed a bunch of iPhone Xs cases, that fall in the category or iPhone Xs wallet case, iPhone leather case, and even heavy duty case for iPhone Xs.