When you consider buying a new Apple Watch, you should also think about some accessories in order to protect your investment. Neither the Apple watch nor the repair cost is cheap. The best accessories list for Appel watch include the Apple watch straps, screen protectors, Apple watch charger stands and combo chargers that can charge Apple watch, iPhone and AirPods from a single power supply.
We are listing out the top Apple watch chargers, straps and other accessories that can enhance the features and protection of your Apple watch.
Apple Watch Chargers
Apple Watch from every generation comes with magnetic wireless charging cable which is t be placed on the table. There are many great looking Apple watches charging pods and stands are available online. You can insert the magnetic module into these watch charging stands. Check out some of the best Apple Watch Chargers.
Related: 8 Best Wireless Car Chargers for iPhone Xs and Android
3 in 1 Apple Watch Charger with iPhone & AirPods
Remember the fancy smartphone and watch stands you see at Apple stores? The whole stand comes with three compartments or section where you can place your iPhone, Apple Watch and the AirPods. This watch charger can be used as an Apple Watch Charger as well as for charging your iPhone with wireless charging. The AirPods charging pod can be placed on the lightning connector, on the same Apple watch charger stand.
The wireless charger is designed with 2 child design to give an additional boost to the charger. The additional Qi-enabled wireless charger with Apple watch charger stand can charge Samsung Phones like Galaxy S8, S7, iPhone X, and other Qi-enabled smartphones.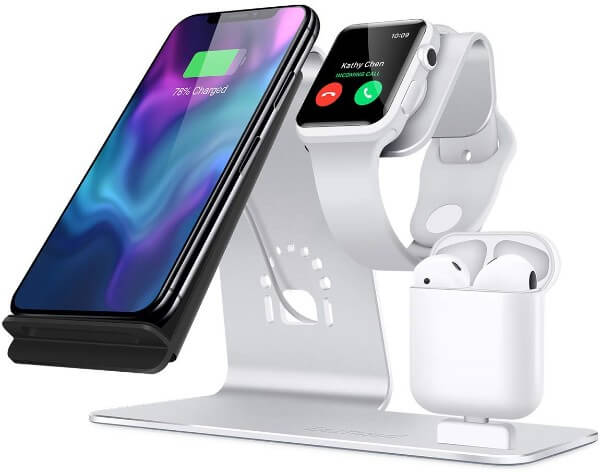 The 3-in-1 aluminum stand for the Apple Watch is such a model which looks so fancy, but simple. The aluminum body with an anti-skid material at the bottom to protect the device from skidding on the table.
Features: Fast wireless charging for iPhone | Supports wireless charging for Qi-enabled smartphones | Durable aluminum material | AirPods Charger | Buy from Amazon.
Apple Power Station & Wireless Speaker
Press Play ONE Dock Beat is an Apple certified power station and wireless speaker dock for Apple Watch and iPhone. This stand is built with Apple Watch Charger from all generations. In addition to this, this Apple watch charger is embedded with a high-quality wireless speaker.
The device can charge 4 devices at the same time from the same power source, with the two built-in USBs with 2.4Amps capacity. The built-in wireless charger with this Apple watch charger is built for fast charge your iPhone. With a single power source, you can boost up both an Apple Watch using the wireless charger and iPhone with a lightning connector. The Bluetooth wireless speaker comes with superior sound, deep bass and rich in the midrange.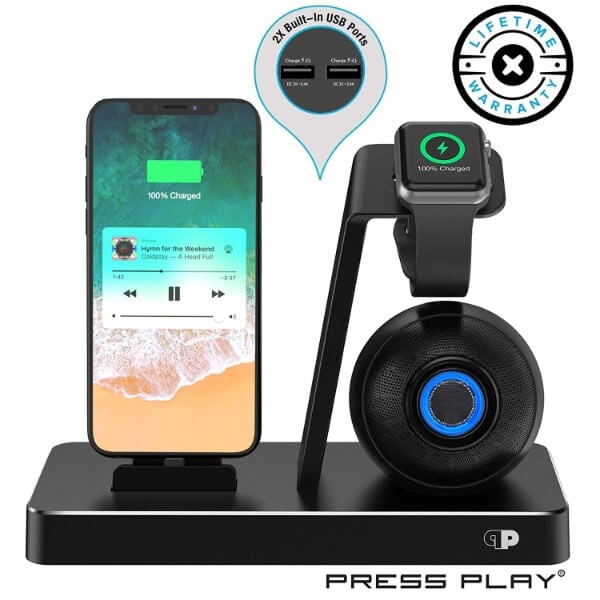 The Apple Power station with the wireless speaker is a metal stand, built with high-grade Aluminum metal with diamond cut edges. The grip pads are designed to keep the itch charger sturdy on the table when you tap Snooze in the nightstand.
Features: Built-in high-quality wireless speakers | Charging dock for iPhone and Apple Watch | Extra USB ports | Portability | Buy Amazon
Charging Stand for Apple Watch
The 3 in 1 bracket is replaceable for Appel watches, Fitbit Blaze or for iPhone. You can switch between the apple watch magnetic wireless charger and the lightning connector with a cable. The additional USB ports can be used to charge iPhones, Samsung or any other USB powered devices. The USB ports can charge the device with maximum 2.4Amps and a total 6Amps total for three USBs.
The Oittm Charging Stand features a cylindrical shape, sized enough to hold the apple watch on the top base. The compact charging stand for Apple Watch is lighter and compact than other third-party Apple watch chargers available for the Apple devices.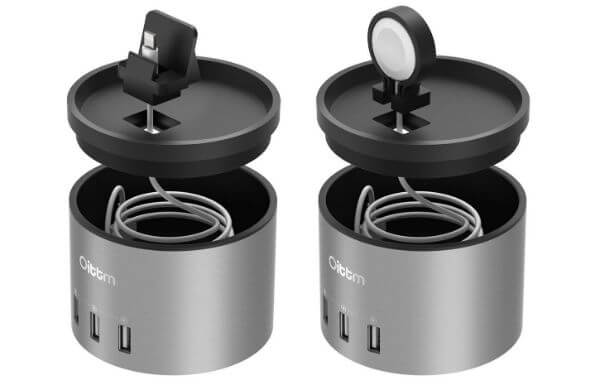 The inside space of this Apple watch charger is enough to keep your memory card reader, UCB cable chargers and other small gadgets. The Oittm Charging Stand features a cylindrical shape, sized enough to hold the Apple watch on the top base. With this Apple Watch Charger stand, the magnetic charger for apple watch needs to be inserted separately.
Features: Desk and Nightstand modes support | Supports all smartphones | Stylish compact design | Buy from Amazon
Compact Stand for Apple Watch
This is universal Apple watch charger stand that can fit most of the series of watches (series 4/3/2/1) and all the sizes (44mm/42mm/38mm). The watch stand is coming with a unique design can act as a nightstand or desk dock. Orzly Compact Stand could be one of the cheapest wireless charging docks for Apple watch with a stand. This device is designed to hold only one Apple Watch at a time, with a slot to insert the magnetic charger.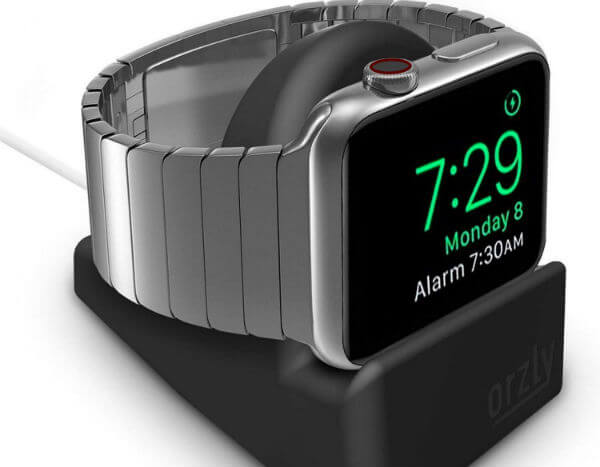 This a compact Apple watch charger with a stand, and the users can also carry the charging stand wherever the go. The material is durable TPU attached with a non-slip base. This Appel watch stand is lightweight and compact, making the device portable to carry anywhere.
Features: Cozy design | A wide variety of colors | Buy from Amazon at $7.97.
Apple Watch Straps
Apple sells watch straps for over $100 and $200 with premium or midlevel quality materials. It is not cost effective to buy genuine straps every time since you might end up with spending a large amount on straps more than the original watch price. Here are some low cost, excellent quality Apple Watch straps, that you can try every day with new designs.
Related: 12 Best iPhone Cases & Accessories for iPhone Xs and Xs Max
Apple Watch Genuine Leather Band
This genuine leather start for Apple Watch is coming to fit 6.3" to 7.9" wrist. The simple look and premium quality offers a professional look. You can avail the MARGE PLUS Genuine Leather Apple Watch strap in three color options – brown, light brown and black.
The new screws and connectors are made specifically to never fall off of your hands. The renewed screw depth offers a strong grip with the watch, make sure to hold your watch. The premium soft leather and amazing craftsmanship made this Appel watch strap excellent t in quality. The material is anti-slip and sweat absorbent.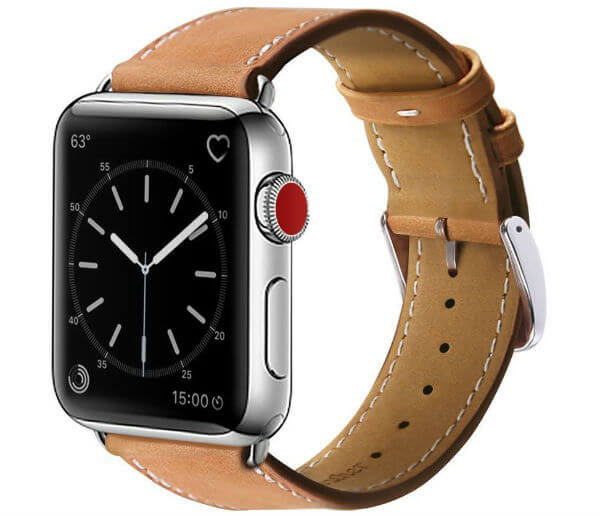 This genuine leather straps for the Apple Watch cost you only ten dollars or lesser and is unisex. The manufacturer also offers a warranty period of 18 months and friendly customer service.
Features: 100% genuine leather | Sweat absorbent | Coming for 42mm 44mm |buy from Amazon.
Apple Watch Soft Nylon Sport Band
The Soft Nylon sports band is a great choice if you are tired to fastening the leather and metal Apple Watch straps. The Yunsea Soft Nylon Sports band is an easy-to-use strap for every series of Apple Watch. The sports loop is coming with watch loops, that precisely fit on your Apple watch. The strap is made out of soft Nylon material and provides soft cushioning to the skin. You can wear the watch using a simple hook up fastener, which does not need to be locked separately.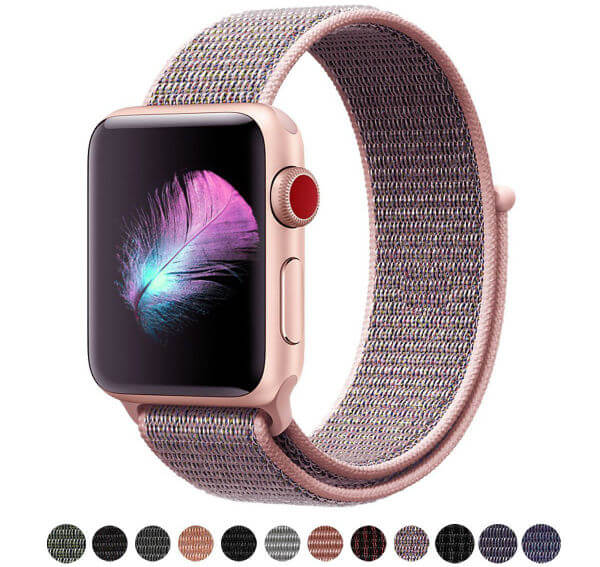 The Nylon band is coming for both 38mm and 42mm models. The Nylon Apple watch strap is also available in a wide range of color options, including rose gold and pink.
Features: Soft nylon material | Easy-to-use | Multiple color options | Durability | Buy from Amazon
Apple Watch Soft Silicone Band
The Soft Silicon band for Apple Watch is made of highly flexible silicon material with a simple, neat design. This sports bands for Appel watch made with durable pure silicon material The soft silicon offers good airflow and comfortable to wear. The metal parts are hypoallergenic nickel-free stainless steel. The watch lugs on both ends of the strap locks into the Apple watch precisely and secured from slipping out. The pin-and-tuck ensure a secure fit.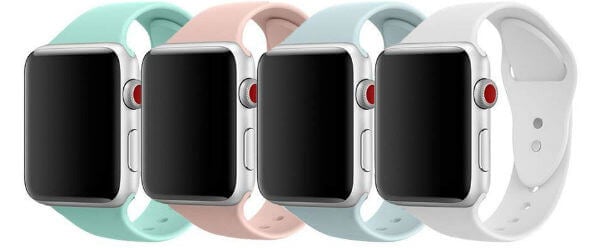 The seller on Amazon makes the strap available in multiple colors, which could match with various occasions. Also, the "pin-and-tuck" method of fastening makes the Apple Watch much easier to use.
Features: Durable material | Lightweight | Cheap in price Buy from Amazon
Apple Watch Metal Wristband
Among the metal straps mostly made for men, the Secbolt Bling Diamond Rhinestone Stainless Steel Metal Apple Watch Strap comes for women, specifically. The stylish design lets you stand unique in a crowd with its shining stone design and beautifully crafted chain links.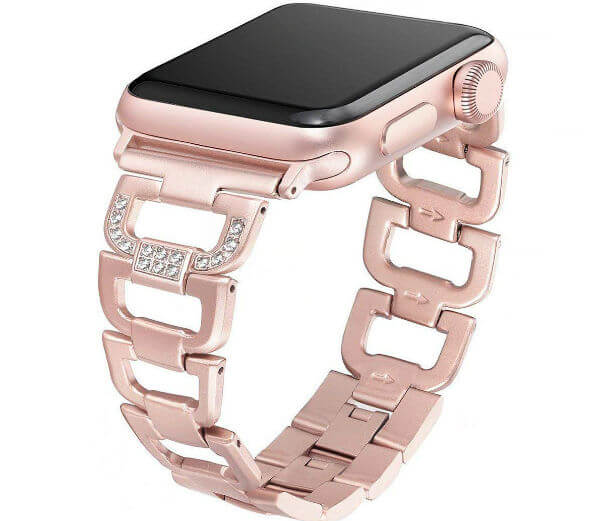 This Apple watch metal strap is available in four colors and available for 38mm and 40mm models. This fancy looking Apple Watch band is coming with six folding claps in each band. You can resize the band by removing one or two folding clasps.
Features: Suitable for women | Easily resizable | Buy from Amazon.
Apple Watch Screen Protector
Screen protectors are important to keep your Apple Watch free from scratches and cracks. These Apple watch screen protectors are made with TPU materials to handle the impact and to keep your Apple device secured. These watch protectors are thin and barely noticeable once you attach on Apple watch screen. Here we list out a couple of best screen protectors for your Apple Watch.
Related: 10 Best iPhone Cases & Accessories for iPhone XR
Apple Watch Screen Protector
The flexible TPU plastic transparent clear screen protector is available from Amazon. The Appel watch screen protector is available for all Apple watch series. The screen protector is offering 99% HD clear screen with a smooth glass surface. The watch protector is flexible in design, and laster cut, to cover the curved areas.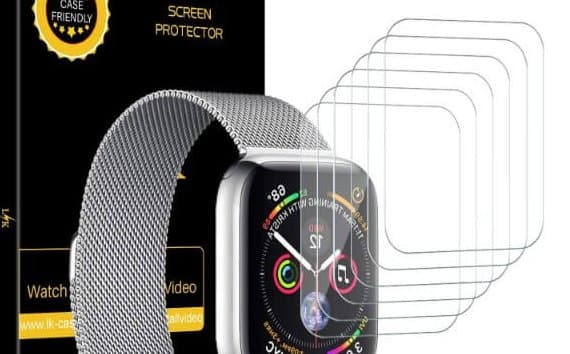 These provide protection from deep scratches and typical dust issues. Also, the Apple Watch screen protector prevents fingerprints and smudges with its hydrophobic layer coating. The screen protector developed with military trade thermoplastic urethane, to absorb the impacts.
Features: Flexible, durable | Scratch/fingerprint resistant | Case-friendly | Buy from Amazon at $9.99.
Apple Watch all-around TPU Screen Protector Case
Unlike the typical screen protector, this screen protector is made with premium crystal clear TPU. This ensures a thin design, but strong enough to protect the Apple watch screen from impacts, fingerprints, and dust. This is coming with two packs, one full protection with screen protector for Apple watch and the second one without a screen protector.
The full watch protector case covers the watch from the front face and sticks to the body. Even though it covers the screen, you can easily interact with the display. The case has cutouts for buttons and ports.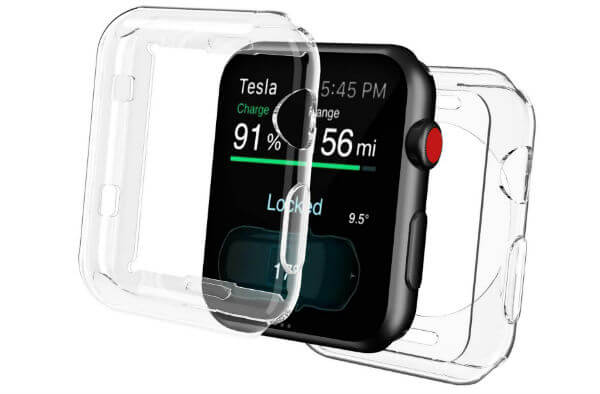 The case with a screen protector is providing a fully enclosed protection, but may generate some moisture inside and affect touch sensitivity. In those scenarios, you can use the second protector that is coming without a screen protector. The Apple watch case + Apple Watch screen protector is shockproof and ensures 360-degree protection for your Apple Watch.
Features: Complete protection for the watch | Very slim | Easy installation and removal | Buy from Amazon
The Apple Watch Charger products mentioned in the article do not come with the magnetic charging module. Always protect your investment. We recommend you to buy an Apple watch Screen Protector to avoid screen cracks and scratches. You can buy them for your Apple Watch, no matter which generation you do use. Finally, the style you wanted can be accomplished with the Apple Watch straps that are cheaper than Apple's original ones. You can have more than one or two Apple watch straps for under 25 bucks.