There are headphones with lightning connector dedicated to Apple devices. These headphones come with rich audio clarity combined with noise canceling features. Within a reasonable price tag, these EarPods with lightning connectors can be your best companion when you are on the go. There is no separate connector required for these headphones. While using with iPhone, you can connect headphone's lightning connector to your iPhone's charging port.
Here, we have compiled a list of the best EarPods with a lightning connector that is "made for only iPhone" headphones.
Editor's Note: Do you have a New MacBook with USB C Port? Then you must have USB C headphones (listed here) instead of lightning connector headphones or go for BlueTooth headphone (listed here).
Apple EarPods for iPhone
Apple's own EarPod with lightning connector tops our list without any doubts. These lightning connector headphones are designed by the geometry of the ear. Being the most anticipated headphones from Apple, this one here is capable of producing the best audio output.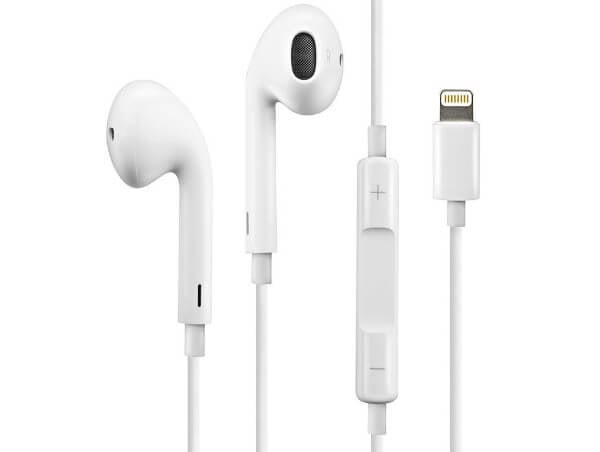 The speakers inside these ear pods can maximize the sound output. This unique design is ideal for minimizing sound loss and gives you good quality audio.
Buy from: Amazon
Razer Hammerhead Earbuds for iPhone
The Razer headphones for hardcore gamers. This Earbuds for iPhone is coming with a lightning connector. The 10mm drivers and acoustic chambers offer superior quality combined extra bass. The custom-tuned DAC converter can give the best sound without any quality loss. The iOS app offers you to control the sound effects for crisp sound quality. You can select a number of custom equalizers and extra bass.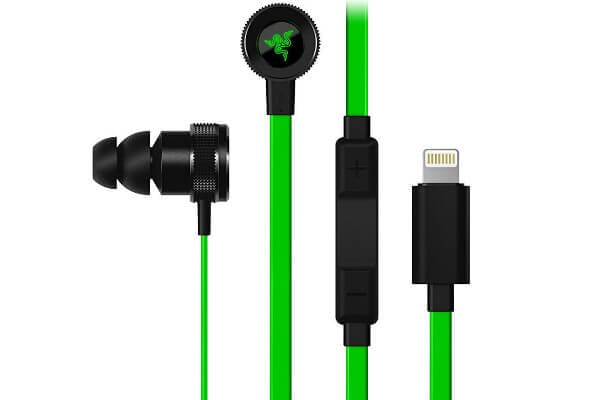 The hammerhead earbud offers the best sound isolation you can ever get. The remote control is compatible with iOS and you can control music, calls and video playing. This Razon lightning earbud comes with magnetic clips to keep them together around the neck. The cables are flat to make them accessible.
Buy from: Amazon
Related: 8 Best Lightning Port Adapters & Converters for iPhones & iPads
Libratone Q ADAPT Lightning In-Ear Headphones
The Libratone Adapt is one of the best noise-canceling headphones. They are one of those brands that coped up with Apple's decision to ditch the headphone jack. These noise-canceling headphones have the lightning connector. The headphone comes with 4 level noise control. This feature lets you adjust according to the outer environment. The adjustable noise-canceling feature lets you choose how much of the outside world you want to let in.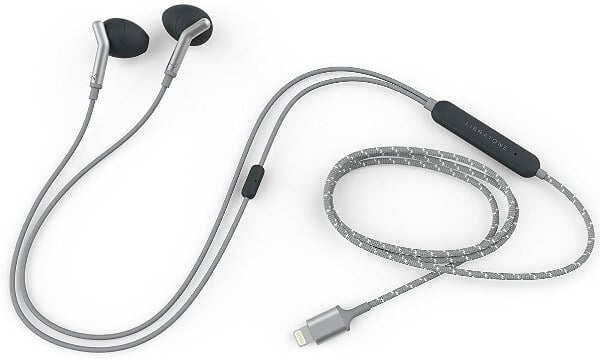 The sound quality is one of the aspects that makes you a fan of this lightning connector headphones. This lightning earbuds provide a balance of enhanced bass. The lightning headphone coupled up with crystal clear virtualization effects. The Libratone Adapt comes with the iOS lightning connector. Your iPhone powers it up and in fact, drain only a small fraction of charge. These buttons can adjust volumes, answer calls, activate noise cancellation features and more.
Buy from: Amazon
Beats urBeats 3 Earphones with Lightning Connector
The Beats Earphones is coming with a lightning port. It works with new iPhone and iPad devices that don't have a standard 3.5mm audio jack. The sound is pretty and there is the extra heavy bass. The earphone has an optical ergonomic design and is exceptional for great music.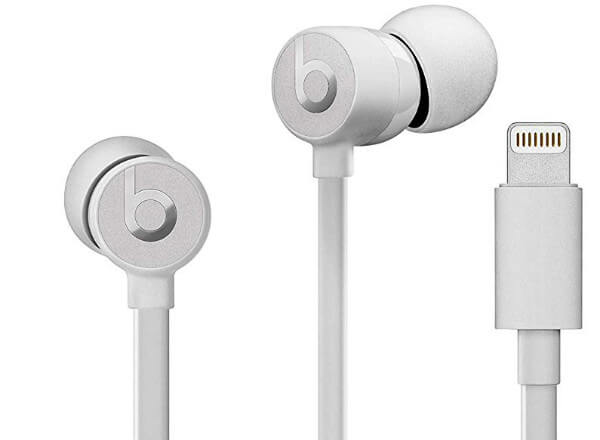 The ear tips available with the headphone is for perfect noise isolated experience. The buttons are useful for answering and rejecting calls, music playback, etc. You can also activate Siri with the headphone controller. The chords are flat wires and the attached magnets can keep the earphones stick together when not in use.
Buy from: Amazon
Also Read: 10 Best USB C Headphones for Google Pixel, iPad& Huawei Phones
dB MAGIX PLX1 Lightning In-Ear Headphone
The dB Magix PLX1 is yet another headphone that comes with the lightning charger. This premium ear pod is capable of providing immersive digital sound and bass boosts. The Hi-Fi mode can be turned on by accessing the "soundwise app." This app also gives you details about the firmware updates and other related stuff. Coming to the design part, this iPhone noise-canceling headphone is small and compact. The adaptive design helps to cut the outside noise and produces good audio outputs. Moreover, the lightning connector headphone is a good audio companion when you are on the go.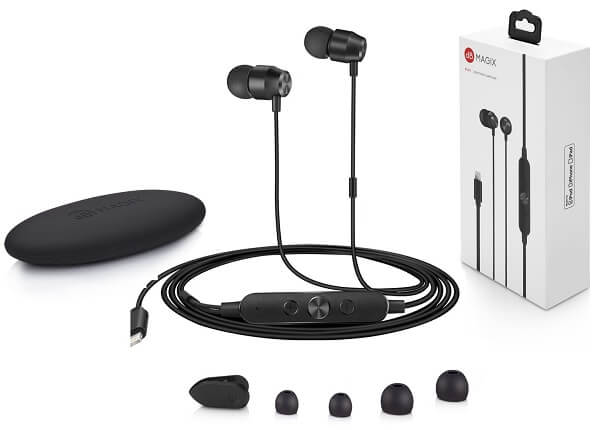 It is also efficient for walks or a morning drill, thanks to its water-resistant design. This Mfi device comes with the lightning port and performs well with all iPhone versions. The headphone is compatible with iPhone X, iPhone 8, iPhone 7, etc. On the brighter side, this iPhone lighting connector headphone is much below your budget. In fact, lightning headphone produces great audio qualities. If you look for a decent performer within a reasonable budget, the dB Magix PLX1 is your best choice.
Buy from: Amazon
Pioneer Rayz Plus headphone
The pioneer Rayz plus is an iconic noise-canceling headset with a lightning port. Rays headphone offers excellent compatibility and convenience. These stylish ear pods come with a lightning port. It can recognize "Hey Siri" command to place calls, send messages, etc. This iPhone noise-canceling headphones support iOS 10.3 or higher versions. The Pioneer Rayz app can enhance audio capabilities and access software updates. This cool ear pod allows you to talk and charge the device while you plug it into the lightning port.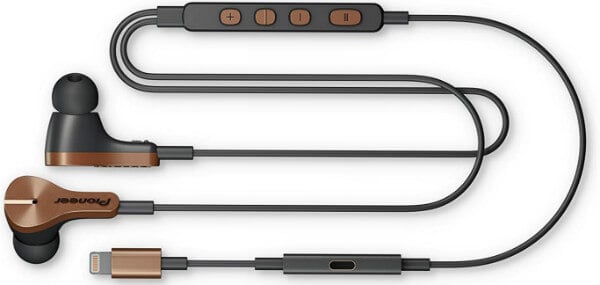 Moreover, the smart noise-canceling technology adjusts the headphone's volume according to environmental noise. Hence, you could always be sure you don't miss anything that happens around you. The buttons on the headphone deal with volume adjustments and playback. This lightning connector headphone comes with a Smart-mute feature. This mutes the microphone when you are not speaking and unmutes when you start talking.
Buy from: Amazon
Thore V100 iPhone Earbuds with Lightning Connector
The Thore V100 is a decent headphone with a lightning connector. The headphone cost under 30bucks. This earpods with lightning connector's tuned for best quality output. The inbuilt remote offers all the control that offer with Apple's headphone. The controls are good for volume changes, managing calls, and Siri activation.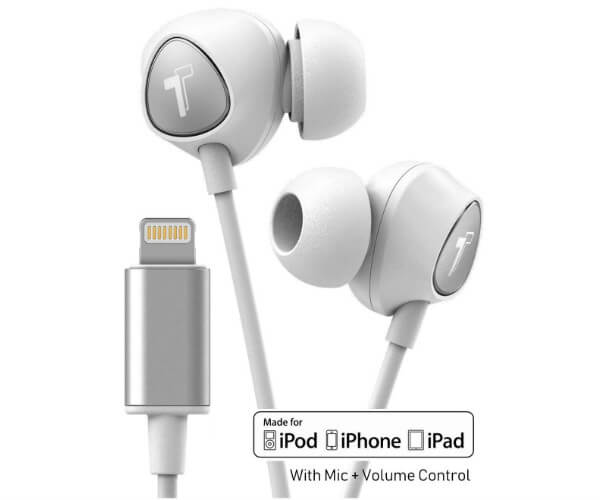 The sleek design makes this lightning connector headphone useful for road trips. The built quality is durable and the headphone shape offers good comfort. The headphone tips leading angle is to make sure to align in the ear canal.
Buy from: Amazon
iDARS E305 Headphones
The iDARS E305 is yet another "made for iPhone" headphones. These lightning connector headphones guarantee to offer a clear voice. These lightning port headphones are built for Apple devices. It is compatible with iPhone X, iPhone 8, etc. With the help of the lightning port connector, the E305 presents a high fidelity digital audio.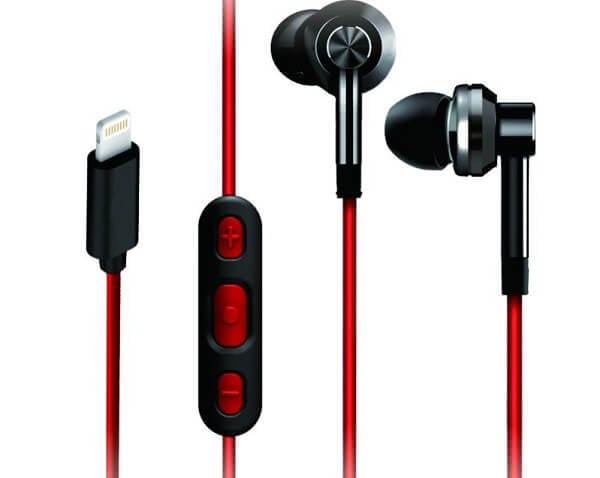 These earpods with lightning connectors also feature inbuilt control buttons. The microphones are allowing easy access to calls and music playbacks. You also receive extra earbuds of three different sizes. These headphones are also of standard length, 4ft. Within a reasonable budget, the iDARS headset offers you the best audio quality.
Buy from: Amazon
1MORE Triple Driver
1MORE Triple Driver in-ear headphones is for Apple devices with lightning connector. The earbud comes with a microphone and remote. To ensure the sound quality and audio, the earphone has two balanced armatures. It functions as a mini tweeter. The titanium dynamic driver and high definition DAC delivers  enhanced voice clarity.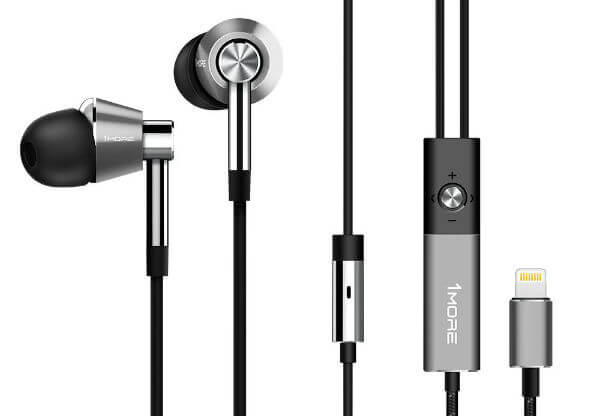 This iPhone noise-canceling headphone has a premium design. It features good sound qualities and is perfect for Apple iOS users. The oblique angles of the lightning headphone are to match your ear canals. It offers a comfortable and secure fit. The 9 extra included ear tips sizes, make sure a proper seal in your eyes for better clarity and isolation.
Buy from: Amazon
JBL Reflect Aware In-Ear headphones
The JBL Reflect is a stylish ear pod lightning connector. It is one among the best when it comes to enhanced audio quality. These adaptive headphones can produce ambient sounds with the new noise-cancellation feature. In fact, the presence of the lightning port makes it one of the best ear pods to couple up with your iPhone. Moreover, the compatible devices include the iPhone 7, iPhone 8, iPhone X, iPad Air, Air 2, & iPad Pro.
The in-ear design also features earpiece support. This helps the headphones stay intact with your ears. Also, the wired connection and the ear pod frame is made of sturdy metal. The wide 14.8mm driver gives you massive sound and bass boosts. You also receive a pair of extra earbuds of three different sizes, small, standard, and large. If you are in the hunt for a sturdy and reliable pair of headphones, then we got them for you.
Buy from: Amazon
XBRN Earbuds & Headphones
The XBRN Earphone offers good sound quality with an inbuilt microphone and volume controls. The design is ideal for Apple's lighting headphones. It costs price around $12bucks form Amazon. This lightning headphone is compatible with iPhone X,7,7 Plus,iPhone 8,8 Plus Earbuds. The interesting thing about this headphone is it connects with Bluetooth 4.1. The lightning connector is only for recharging the built-in headphone battery.
This headphone with Bluetooth connectivity delivers Premium sound. The fine-tuned acoustics can balance strong bass and clear mids. The inbuilt remote works with the mic. The buttons to perform calling functions and music controls. The high-performance speakers designed to extended frequency range and lower distortion. The noise-isolating ear tips ideal for eliminating the ambient noise.
Buy from: Amazon
Apple's decision to ditch the 3.5mm jack made a hell lot of controversies worldwide. It proved to be one of the strangest controversies Apple ever faced. But Apple tackled this issue by incorporating the Bluetooth Wireless headsets.
The headphones are a real necessity and being an iPhone user, you could face issues selecting a compatible. Our list of the best headphones with lightning port includes some of the best In-Ear headphones. All these headphones are for Apple devices. With innovative features, these headphones are a great option to upgrade your old ones.