When you forget your car parked location, ask your iPhone Parking App that can help you to find your parked car location. These iPhone parking apps are ready to find out a parking space when you are on a busy street and looking for free or paid public parking space. We presented a bunch of iOS-based parking lot finder and parked car finder apps to help you on your next vacation or business trip.
These iPhone Parking apps help you find your car with iPhone GPS, in case you cannot find a car yourself in a large parking lot. With these powerful iPhone car parking App you will never have to wonder again, 'Where is my car?'. These apps are time and money savers, that will guide you to the public or paid parking garage and even find out good parking deals by comparing the parking rates.
We listed a couple of best parking app for iPhone that can find out parking space while you drive on a busy street or a new city.
Google Map
There is no further introduction required for Google Map App. With Google Maps powerful navigation capability makes this iPhone app as one of the essential apps. There are tons of features coming with this Google iPhone Map App including the Google Map Offline Feature.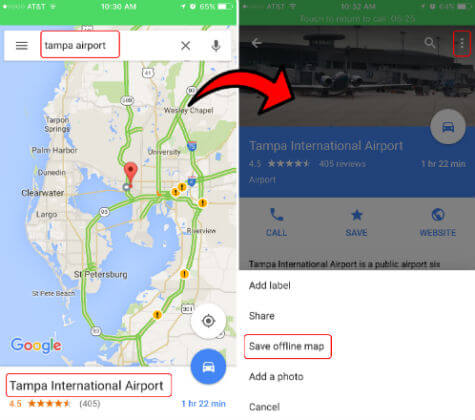 Google Map Can Offer you to remember the parked car spot on Location Card. The details are described on Google page See where you parked using the Google app.
Feature: Locate Parked Car | GPS Based location reminder | Navigation | Offline Map Saving | iTunes Link
7 Free Android Apps Help You to Locate Your Parked Car & Parking Garages Near You
Waze – GPS, Maps & Traffic
Waze is a real-time traffic navigation app recently teamed up INRIX to find out the best parking spot for the drivers.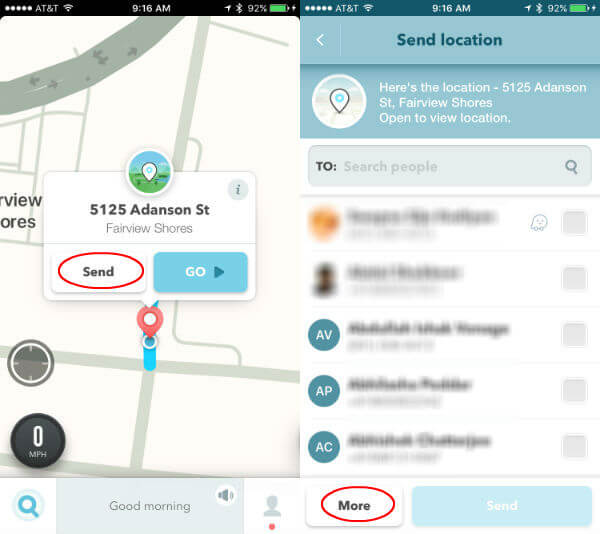 There are no additional apps required other than Waze navigation app, and that can find out the parking spot near to you while you reach the destination.
Feature: Parking Lot Finder | Community Navigation App | iTunes Link
BestParking
This Parking Finder App's primary feature is to help you find the cheapest available airport throughout 115 cities, and airports throughout North America.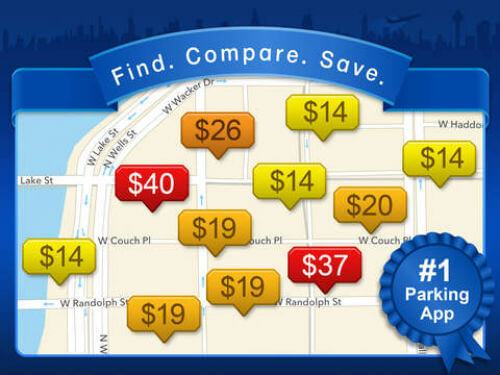 This car parking finder application not only suggests you with the best and cheapest available parking spots for your car but also allows you to make reservations and also awards you with several discount coupons from time to time.
Features: Parking Lot Finder | Best Daily and Monthly Parking Deals | Garages & Lots databases in 115 North American Cities & Airport | Reserve the parking Spot | iTunes Link
8 Best Indoor Navigation Apps for Android to use in Airports & Museum.
ParkMe Parking
With over 500 cities in its database, this car parking garage finder app provides a wide range solution for parking problems all over the world. Not only does it do the conventional job of finding your car, from where you last parked but also it helps you with several other features.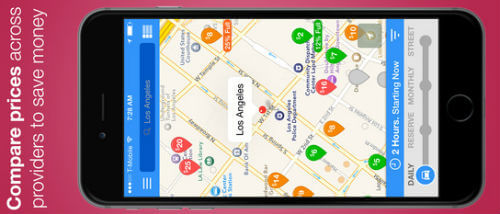 Few of the features inbuilt features of this parking finder app are, a parking timer to avoid getting a ticket, the ability to reserve parking spots, a direct to driveway pointing out the nearest parking spot, and much more.
Features: Parking Lot Finder | 500 Cities Parking Spot database | Parking Timer | iTunes Link
Find Your Car with AR: Augmented Car Finder
This iPhone parking app specially designed for locating a parked car, this is one of the easiest to use applications with the sole focus of locating your car and help you get back to it. With two different access modes, that is, high and normal, you can find your car easily using this parked car locator app.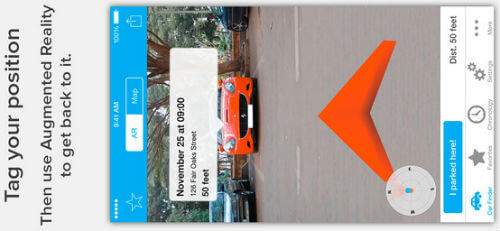 Not only for your car this is basically a simple car locator application that can be used to track and find any outdoor object by remembering the location via GPS, on a single click.
Feature: Parked Car Finder | GPS Location | Object Finder based on Location | iTunes Link
Honk – Find Car
This iPhone Find Car app is designed especially for the people who do not have the time to constantly check on the parking meter time to avoid a ticket.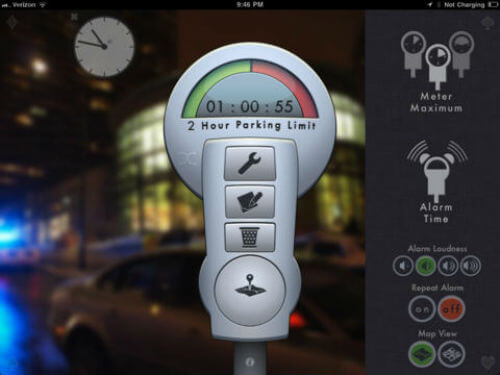 With a very simple interface, requiring just a swipe from the user to set the alarm to recharge the parking meter, this car finder app is highly user-friendly. Also, with the inbuilt compass, you can always trace your way back to your car in an instant.
Features: Parked Car Finder | Parking Meter Alarm | Nearby Places | iTunes Link
Parkopedia Parking
With an ability to search for a parking spot from over 38 million parking spaces in over 52 different countries, this is one of the best parking lot finder apps with the widest approach to parking solutions. Also, this iPhone Parking Lot Finder app helps you pay for your parking meter using several modes, such as credit cards or net banking.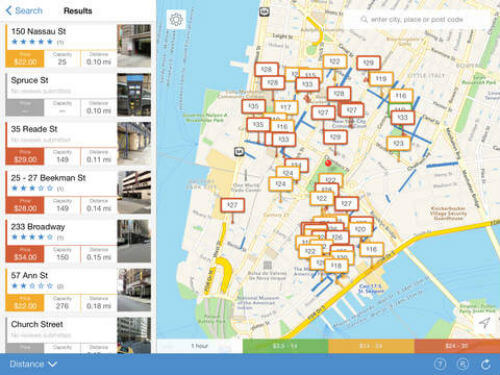 The unique thing about this parking spot application is the ability to filter from thousands of parking spots by, credit card payment, covered, etc.
Features: Parking Spot Finder | 38 Million Parking Spot over 52 Countries | Pay Parking Spot | Filtered Search Support | iTunes Link
Find My Car Smarter
By using the Bluetooth smart technology, this car finder app connects to the Bluetooth facility of the multimedia console on your car. Whenever you turn off your car, this application automatically detects, the turned off the engine and in a matter of seconds saves the location where you parked your car. Thus, helping you navigate your way back to it, in case you forget. With this automatic location saving feature installed, this is the most hassle-free car finder application.
Features: Parked Car Finder | Parked Location AutoSave with Bluetooth Connectivity | iTunes Link
Parking Panda – On-Demand Parking Deals
We all know that parking meters at crowded places can cost a lot and can get you digging deep into your pockets. To prevent waiting in the long lines to park your car, and to save up to 70% on your parking cost, you should have this free car parking app on your iPhone.
This application does not only allow you to pre-book a parking spot but also gives you real-time updates while you are searching for a parking spot around a block. With this application on your device, you can always ensure that you don't miss an important game or event while finding the parking spot for your car.
Features: Public Parking Finder | Parking Spot Locate | Parking Rate Deals | Cheap Parking Finder | iTunes Link
Parking Pin
This iPhone parking app can remember the location where you park your car automatically. This application does the conventional job of remembering the location of your car flawlessly. The long feature list on this application also notifies you when your parking meter is going to expire and when does it need a recharge. With a compass pointing towards the direction of your car, this app can give you walking directions on your inbuilt map application.
Features: Parked Car Finder | Automatic GPS Parking Spot Tracker with Map & Meter | iTunes Link
iPhone Parking Lot Finder & Parked Car Locator
When you want to get around town or go to a very important concert or a match, you do not want to spend a single minute of your precious time-wasting to find a parking spot.
These devices Wirelessly Connect your Phone or Music Player to Car Audio System.
This list of best parking app for iPhone always ensures that you get the best, cheapest and reserved parking spots for your car. Not only this, but these car parking apps will help you find your way back to your car in a matter of seconds in case you forget where you parked the car.