Your iPhone serial number provides interesting information about the device. Serial number tells you about the device manufacturing date, warranty and even some time easy to recognize a fake iPhone from the serial number.
Here is the step to describe how to locate your iPhone serial number. It is good to note down serial number to refer in future.
iPhone serial numbers come in the form WW011UUUYYZ which can be read as follows.
WW = Factory and machine ID
0 = Year manufactured (simplified to final digit, 2011 is 1)
11 = Week of production
UUU = Unique identifier
YYZ = Color, model and size
While the last 3 digits of iPhone serial number can be read as following:
VR0 (iPhone 2G Silver 4GB)
WH8 (iPhone 2G Silver 8GB)
0KH (iPhone 2G Silver 16GB)
Y7H (iPhone 3G Black 8GB)
Y7K (iPhone 3G Black 16GB)
3NP (iPhone 3GS Black 16GB)
3NR (iPhone 3GS Black 32GB)
3NQ (iPhone 3Gs White 16GB)
3NS (iPhone 3Gs White 32GB)
A4S (iPhone 4 Black 16GB)
A4T (iPhone 4 Black 32GB)
For example, the serial 79151UUU3NS is from factory 79 (presumably Foxconn), was manufactured in the 51st week of 2011, and is a white 32GB iPhone 3G."
And finally you can check the warranty on apple site here.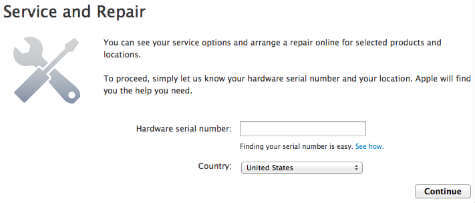 Note:
*This format is not applicable for CDMA iPhone 4 and iPhone 4S.
*If the first two digit iPhone serial number that stands out is 5K, which has been widely believed to be indicating a refurbished iPhone (reconditioned iPhone). You won't get a new iPhone with serial number which starts with 5K.