Apple has replaced Google Maps with iOS 6 Map. There are a bunch of free GPS apps for iPhone are available which offer a lot of nice features compare to iOS 6 map app. This article listed a couple of free iOS Map Apps for iPhone /iPad that will save your time and gas while you driving.
Even though these iOS Map Apps are coming as free, these offer you awesome features including traffic alert, police alert, accident information and more. If you are looking for Android free map apps, please refer this article.
Waze is a free, community-based traffic & navigation app. Waze plug into the driving community in your area, joining forces with other drivers nearby to outsmart traffic, save time & gas, and improve everyone's daily commute. The features include community generated real-time traffic and road alerts including accidents, hazards, police traps, and more.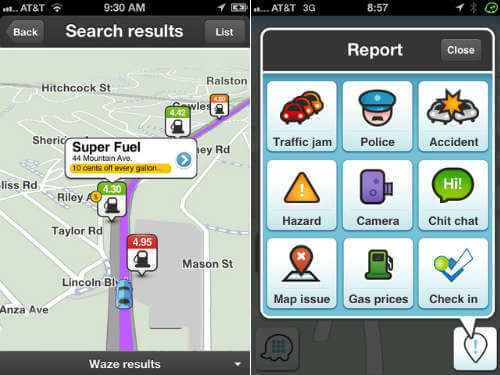 Waze is a complete voice-guided navigation with automatic re-routing as conditions on the road change. It can memorize frequent destinations, commuting hours and preferred routes and find the cheapest gas station on your route. You can share your location/destination and ETA to easily meet up with friends. Waze always keeps live maps, constantly updated by Waze community map editors and hands-free and voice-operated.
GPS by TeleNav
Telenav is a road-tested, top-ranked, highly-rated, and award-winning turn-by-turn navigation app. Free app featured with turn-by-turn directions for where you want to go, can search millions of new places, including cheapest gas prices nearby, with integrated search, maps are always update and updates daily traffic on a map to save time.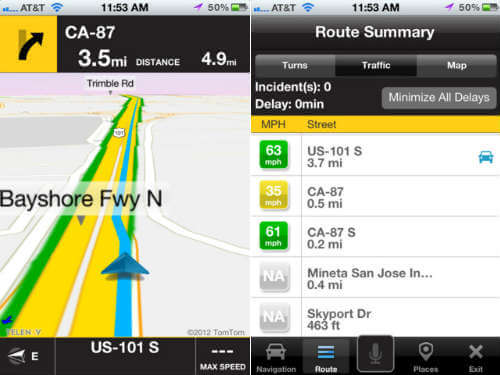 The full featured version of Telenav provides spoken turn-by-turn directions that sound like a real human voice instead of a computer. The integrated traffic guided navigation will help you avoid highway snarls and get you to your destination the quickest way possible. In-app purchase provides you Voice Navigation, Voice Commands, Premium Traffic feature to avoid traffic jams with automatic rerouting and traffic flow views, alerts about speed Traps & Red Light Cameras, provides Lane Assist never allow you to miss an exit.
Apple iOS 6 Map
Designed by Apple from the ground up, Maps gives you turn-by-turn spoken directions, interactive 3D views, and the stunning Flyover feature.1 All in a beautiful vector-based interface that scales and zooms with ease. You can find your way to your destination using turn-by-turn spoken directions, a 3D view, and real-time traffic information. As you approach a turn, Maps speaks directions, so you can keep your eyes on the road.
In addition, the screen turns into a 3D perspective view of the road ahead. Large signs and arrows superimposed over the image show you which way to go and how long it's going to take to get there – even if your screen is locked. When you enter into turn, the camera angle changes dynamically to show you where to go. If you miss a turn, don't worry. Maps automatically reroutes you and updates your ETA.
You can get your lovely Google map through iOS browser. If you want to use your Google Map to guide you again, please refer this post.
All these above free iOS Map Apps will work with iOS 6 with your iPad and iPhone. All of theses iOS Map Apps varies with its own features, stability and accuracy. But still, those are capable to guide you when ever you need direction assistance.