Google MAP apps is now back to iTunes from Dec 13, 2012, (UPDATE:). Apple removed Google Map from iOS 6 launch and replaced with Apple map which received lot of bad reviews from users. There are a couple of alternate maps or methods to get the Google Map for iOS 6. But if you want to use your old Google Map for iOS 6 device, this post is for you.

The good news is that those who love Google map can use the Google Map for iOS 6 devices like your iPhone or iPad with the same functionality that you used before with iOS 5 or lower versions. If you are not satisfied with the browser version of the Google Map and If you are looking for more map apps for iPhone, please refer this post. If you are an Android user, please refer this post for alternative Android map apps.
Open up any browser on your iPhone, iPad and type maps.google.com in the browser address field. At the top of the window, you can see search box and other options next to search box. The web-based map looks quite a bit different than the Google Map iOS application that was in your iOS 5 device before.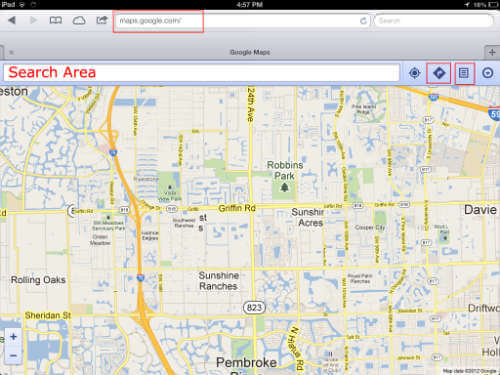 You can tap the + or – sign to zoom in and out and can zoom in to see nearby gas stations or movie theaters. You can go to get directions if you click on arrow inside diamond while you tap on Google Map location circle.
You can add this Google map as a home icon if you prefer these map for everyday use. But there are some other free and paid Map apps with more features available for your iPhone. If you are not particular about google map and if you want to try other free map apps other than Google Map for iOS, please refer this post which describing 4 Free iOS 6 Map Apps for your iPad iPhone.