Netflix is Netflix and no matter how many content streaming services hit the web, no one has been able to beat or even come close to its sheer popularity. This is because Netflix not only offers the most number of movies, documentaries, and originals, but also the most popular and quality ones.
Quality has a price and Netflix is no different. In order to continue providing awesome content, Netflix needs to generate revenue which is why it is also the most expensive streaming service provider. The plans begin from $8 and can go all the way up to $14 per month. That is not cheap and leaves a lot of people out of the loop who cannot afford it.
But, there are ways to access premium content on Netflix without having to pay anything. No, I am not talking about downloading torrents illegally. We don't recommend that to anyone.
There are legal ways to get access to Netflix too. Let's see how you can get Netflix for free and legally.
1. Sharing is Caring
This one is the most simple method to get access to free Netflix. The basic plan that begins at $8/month will allow only one person to stream Netflix at a time. You cannot stream on two devices simultaneously.
The Standard plan will allow you to stream on two devices and the Premium plan supports 4 devices at once. This is really cool. If you have a friend or a relative with either of the two plans, you can ask him/her to lend the credentials to you. After all, it is not going to cost anymore. Why not help a brother/sister out?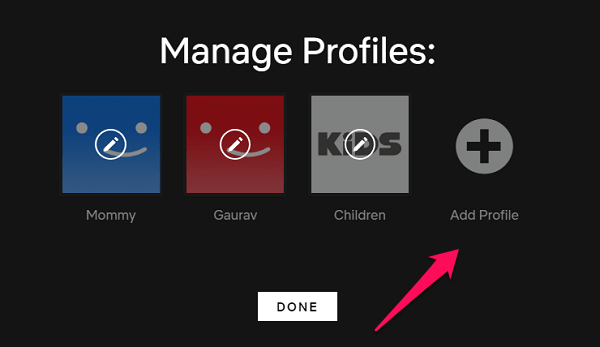 What about recommendations, favorites, and lists? Netflix allows you to create multiple profiles with each one having its own settings, recommendations, and favorites. No one has to know what you are watching this way.
Click on the menu and select Manage Profiles or follow this link. Click on Add Profile to create a new profile and name it appropriately. Done. You don't want to show your viewing history to your friends, don't worry, you can clean your profile anytime to clean the view log.
While you can create different profiles, the password will remain the same allowing any user to switch profiles. This is the best way to get Netflix for free and legally.
Also Read: How to Opt Out of Annoying Netflix Ads for Good
2. Free Netflix Trials
Netflix allows new users to try their platform for free. This is known as the trial period and it usually lasts for a month. You get unlimited and unrestricted access to all the content for one month. This is a pretty good chance to watch Netflix for free. After the trail period, Netflix will charge your credit card or PayPal ID depending on the payment method you have entered.
To get the free trial, create an account and leave it at that. Don't subscribe to any plans. Netflix will then notice that you haven't taken the plunge and send you an introductory offer mail with a link to the trial period plan.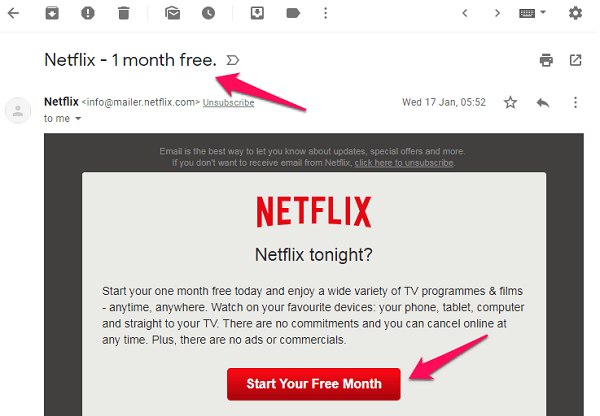 Just follow the link and complete your profile. What happens after the trial period ends? After your trial period ends, if you don't become a paying customer, Netflix may send another trial period invitation. This happened to me. Note that it may take several months before you get invited again. What if you can't wait to be invited again? Enjoy the Netflix for free, then start to pay. Else, you can go on another trail, see below for multiple trials.
Also Read: How to get Netflix Viewing Activity IP and Devices?
3. Multiple Free Trials
This method to watch Netflix for free is legal but involves some work. You will need multiple email IDs and credit cards to get Netflix for free and legally. This is how it works.
You create an account and get a trial period offer for it. After the trial period ends, you create another account, this time using a different name, email ID, and payment details. This will get you another free trial period.
You see how it works? Each time you create a new account, Netflix thinks you are a new customer interested in their product. Netflix wants to increase its user base and to do that, it will send another trial period offer to you thinking this is the first time.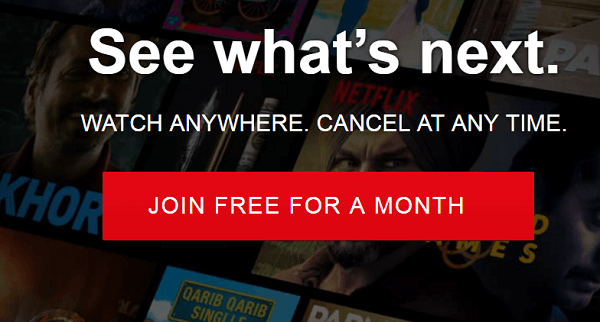 All you have to do is to use different billing methods and names each time. This may work without several credit cards, however, the more cards and billing methods you have, the better your chances are. You can get that many free trial periods.
Editor's Note: You may need to log out from current account, clear your browser's cache and internet history files before you try for next trail. 
Related: 3 Best Tricks to Limit Data Usage on Netflix.
Netflix accepts four modes of payment. You can use credit cards, debit cards, gift codes, and PayPal. This gives you plenty of room to play around.
The free 1-month trial period offer is available on Netflix's homepage too. Just visit the site, create an account and use different billing methods and account details each time. As I discussed earlier, you may also get another free month of trial in a couple of months. So by the time you have exhausted your credit cards and other billing methods, you may get another invite on one of your old accounts!
Here is a neat PayPal trick. When you have exhausted your credit cards, use the PayPal account. Create an account on PayPal using the same credit cards you used on Netflix. When you select PayPal as your billing method in Netflix, they have no way to access your credit card details. So they don't know if you have used the same credit card before.
You can repeat the same process for your debit cards by linking them to new PayPal accounts. Do you have family members who are also interested in watching Netflix? If so, you can use their billing details as well giving you even more room to add different billing details.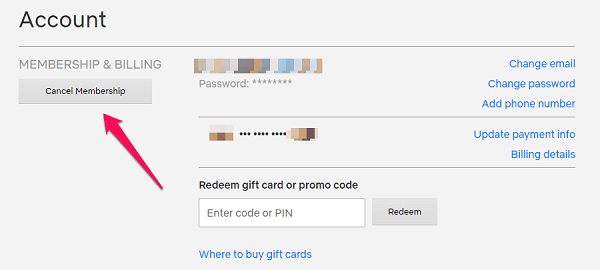 It is important that at the end of the trial period, you cancel your membership because if you don't, your credit card will be charged automatically. To cancel your Netflix subscription before your card is charged, click on the Menu and select My Account.
Just under the Account heading, you will see the Cancel Membership option. Click on it and confirm. Note that when you cancel your membership before the trial period ends, you may be allowed to continue the trial period but there is no certainty. So, it is better to cancel the membership on the last day or 1-2 days in advance to be safe.
I know its a headache!. But you can start to pay to Netflix and enjoy the content any time.
Also Read: 3 Best Solutions to Limit Data Usage on Netflix
4. Carrier-Free Plans in the US
Some carriers like T-Mobile offer free Netflix subscription to their customers with certain high-end plans. In case of T-Mobile, you need to subscribe to a plan that doesn't involve a credit check or a prepaid account. Also, you will need to add an additional line to your plan, otherwise the Netflix offer is off the table.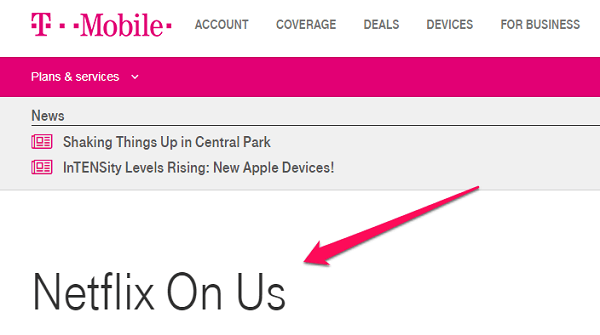 During the signup process, don't forget to select the Netflix on Us checkbox. When you are done with the subscription, you should receive more details on your registered email ID or mobile number. Click here for more details as the offer can change or taken offline at any time.
Verizon has a similar plan going for free Netflix account for its FIOS TV network. At the time of writing this article, the Netflix offer is not available for any Verizon carrier plans.
4. Carrier-Free Plans in India
If you are an Indian who is looking to get free access to Netflix legally, then you need to look at Vodafone and Airtel. Vodafone offers 2 months of free Netflix with its Red postpaid plans. The ₹999 plan will get you 2 months of free Netflix access while the ₹2999 plan offers an entire year. Vodafone's Netflix offer is not available in all circles so check with your nearest store to know if it is available in your city.
Airtel goes a step further. Apart from the postpaid plans, the free Netflix subscription is also available with its V-Fiber broadband plans. Airtel broadband plans begin at ₹649 and offer 3-months of free Netflix subscription. Download the MyAirtel app to activate the offer if you are already an Airtel postpaid customer.
Note that after the trial period ends, the subscription amount will be added to your monthly bill. Don't forget to cancel it before the billing period ends, or continue paying if you can't live without Netflix.