Is your downloaded video not playing on your iPhone, and you found that it is an MKV file? You don't need to waste time finding any video converter for converting MKV files to a format supported by iPhone. You can instead play MKV files directly on your iPhone with some workarounds.
Let's see in detail how you can open and play MKV files on iPhone without converting them into MP4 or MOV.
What is an MKV File?
MKV files are multimedia container formats that can hold video, audio, and subtitles in a single file. Matroska project is developed as an open-source so that anyone can use that for free. Plus, it is highly adaptive, and the MKV container supports any audio and video format.
Like MP4 or MOV format videos, the MKV files will be normal videos while watching, but they can hold additional data, including subtitles. Since MKV is not an industry standard, you cannot play an MKV file in any media player. Either you need to convert the file to other supported formats or find a compatible media player to play MKV files.
How to Play Downloaded MKV Files on iPhone
iPhones don't support MKV files, and you cannot play them using the built-in apps or video player. Of course, you can convert the file to MP4 or MOV files to play them on your device. If you don't want to do that, then you can use the popular VLC media player. Let's see.
On your iPhone, go to App Store and install VLC Media Player before trying to open the MKV format file. VLC is completely free to use, and as an open-source app, it is completely safe to install the player on your iPhone.
Download: VLC Media Player (Free)
Let's say you have downloaded an MKV file on your iPhone. By default, all the downloaded files will be stored in the Downloads folder on the iPhone Files app.
Launch the Files app on your iPhone first. You will be able to see the file under Recents. If not, you can tap the Browse located on the bottom and navigate to the Downloads folder to locate the downloaded MKV file.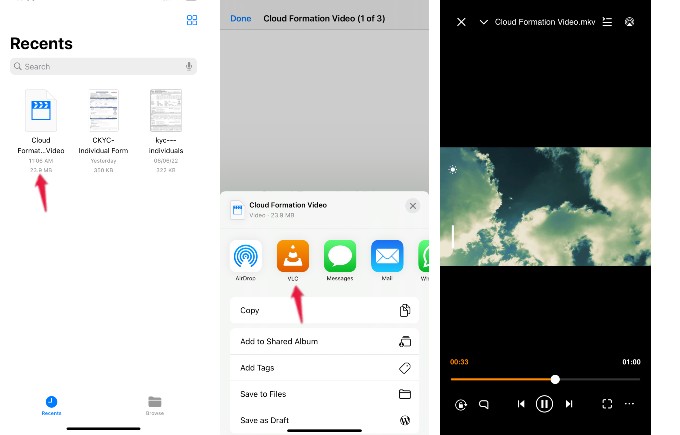 Once you locate the file, tap the file icon. The video won't play, and you will see a share icon at the bottom. Tap the Share icon. From the list of options displayed in the pop-up menu, select VLC.
That's it. Now, the MKV file will start playing on your iPhone within the VLC Player.
Play MKV Files Downloaded on Your Computer
Have you downloaded an MKV file on your computer, but you want to play that on your iPhone? You need not worry about connecting your iPhone to a computer and transferring the file using iTunes or wirelessly using AirDrop. There is an easy solution within the VLC player itself.
Before getting started, make sure your computer/Mac and your iPhone are connected to the same WiFi network. Once that's done, follow the below steps to play MKV files from your computer on your iPhone;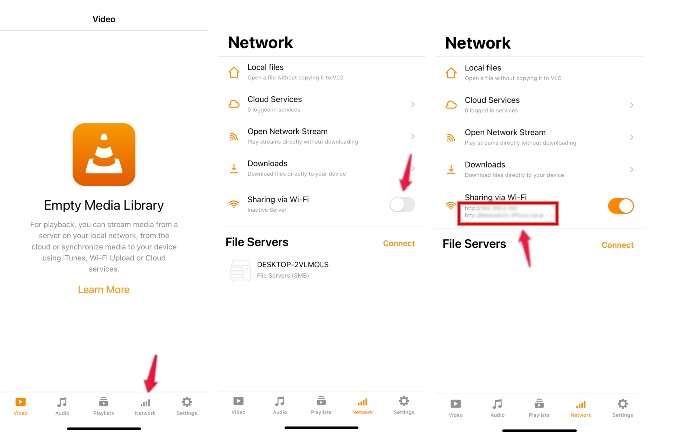 Open the VLC player on your iPhone and tap the Network shown at the bottom. In the screen titled Network, toggle the field Sharing via Wi-Fi to ON or green.
Now, launch Chrome or any browser on your computer, type the URL http://iphone.local/ , and press Enter on your keyboard. Then, you will be redirected to a new screen Sharing via Wi-Fi. Go ahead and tap + icon on the right.

Next, select the file you want to play on your iPhone from your computer. Then, the file will transfer to your iPhone through the VLC.

Once the file transfer gets completed, go to the VLC player on your iPhone and tap Videos on the bottom. Can you see the MKV file that was on your computer? That's it. Just tap the video to start playing the MKV file on your iPhone.
More Apps to Play MKV Files on iPhone
VLC is one of the most secure and free-to-use MKV video players for iPhones, Android, and Computers. Likewise, there are many other MKV player apps available for iPhone users which are free and easy to use. Below are some alternatives to VLC Media Player on iPhone to play MKV files;
FAQ: Play MKV Files on iPhone
How can I play MKV files on my iPhone?
Although iPhones do not support MKV files, you can still play the MKV movie files using third-party apps like the VLC media player. You can also play MKV videos on your iPhone by converting them into MP4 or MOV formats.
How do I convert MKV files to iPhone?
There are tons of video converter apps available for iPhone and Mac users. You can use such video converters to convert MKV to iPhone-supported video files. Thus by converting them, you can play MKV files on your iPhone.