Android video player apps are offering the best features comparing to other Mobile OS platform. Most of these video player apps for Android are plug and play and doesn't need an additional codec. These Android Movie player apps support most of the video formats out of the box.
Very few of these Android video player apps end up with unsupported video formats while playing some special video formats. However, there are additional free video codecs that you can download to Android Video player apps to support that videos format. There are few good Android apps in Google Play Store that let you download and listen to MP3 Songs Offline without consuming your data plan.
When you browse the Internet, you can shrink your data usage by selecting the proper browser; there are lightweight browsers to save memory and data you can try with your Android device. Most of these Android Movie Player apps are capable of auto detect the subtitle format and play with the video. No matter whether the subtitle is a separate file or integrated with movie format, these movies apps are powerful to read and display it.
Also rather than searching and finding the video from your device or SD card, these Android Video Play apps can index the all movie list from your device and display with a thumbnail.
Based on these all nice features, we listed the best Android Video Player Apps for All Video Formats.
1. MX Player
Support Vidoe Formats: DVD, DVB, SSA/ASS, etc and Subtitle format support include SubStation Alpha(.ssa/.ass) with full styling.
- SAMI(.smi) with ruby tag support.
- SubRip(.srt)
- MicroDVD(.sub/.txt)
- SubViewer2.0(.sub)
- MPL2(.mpl/.txt)
- PowerDivX(.psb/.txt)
- TMPlayer(.txt) | Download from: 

Play Store
MX Player is the best Android movie player app to enjoy movies on an Android device. This video player gives the option for hardware acceleration that can be applied to more videos with the help of new H/W decoder. MX Player supports multi-core decoding, which provides better performance with dual core CPU devices and subtitle.
The features include zoom in/out option while playing a movie; Kids lock that keep your kids entertained without having to worry that they can make calls or touch other apps and supports most of the formats.
2. HD Video Player
Support Vidoe Formats: Avi, m4v, mp4, WMV, Flv, MPEG, mpg, MOV, rm, VOB, asf, Mkv, f4v, ts, tp, m3u, m3u8 | Download from: Play Store
HD video player is a very simple Android Video Player app. This video player app has a powerful video decoding capabilities, which support to play video direct from a video camera.
This nice Android Movie App can play TV shows, movies, music videos, MTV and other mobile phone stored video files on the Android phone.
3. VLC for Android
Support Vidoe Formats: MKV, MP4, AVI, MOV, Ogg, FLAC, TS, M2TS, WMV, and AAC. All codecs are included with no separate downloads | Download from: Play Store
VLC media player is a free and open source cross-platform multimedia player that plays most multimedia files as well as discs, devices, and network streaming protocols. This is the port of VLC media player to the Android™ platform. VLC is one of the number one Android Video Player Apps in Google Play Store.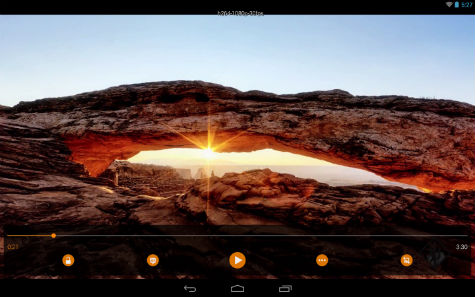 This VLC App for Android can play most video and audio files, as well as network streams and DVD ISOs, like the desktop version of VLC. VLC is intended for everyone, is totally free, has no ads, no in-app purchases, no spying and is developed by passionate volunteers. VLC for Android is also a full audio player, with a complete database, an equalizer, and filters.
4. MoboPlayer
Download from: Play Store
MoboPlayer let you watch any video formats on an Android device without any further. Just move videos to your Android device and play it. No need to convert videos to any other format to watch your movie.
Mobo Player supports almost all video formats, may need to choose "software decoding" mode in most cases). Also plays with popular subtitle formats such as SRT, ASS, and SAA
Subtitles built in MKV, MPV, MOV, and others
Multi-audio streams and multi-subtitles. 
Playlists and continuous play on same type files
Videos streamed through HTTP, RTSP protocols
.
5. BSPlayer Free
Support Vidoe Formats: Avi, Divx, Flv, Mkv, MOV, mpg, mts, mp4, m4v, rmvb, WMV, 3gp, mp3, FLAC and streaming content such as RTMP, RTSP, MMS (TCP, HTTP), HTTP Live stream, HTTP.
- Multiple audio streams and subtitles.
- Playlist support and various playback modes external and embedded subtitles ssa/ass, srt, sub. txt. | Download from: Play Store
BSPlayer is top hardware accelerated Android movie player app for Android smartphones and tablet PCs.
The features include multi-core HW decoding support, background playback in a popup window, hardware accelerated video playback.
Related: Best 7 Free Apps to Lock your WhatsApp and Facebook in Android
Some these Android Video Player Apps can read from your DropBox, is a useful feature if you are running out of memory on your Android phone. If you have a WiFi connection, it can play all your movies from your DropBox or any other cloud service, and that make easy by adding movies in DropBox and playing on your device.