When you search for Mac browsers, there are several options to choose from. Each of these browsers offers its own unique set of features and capabilities. Whether you are looking for speed, security, or customization, there is a browser that can meet your requirements. Some of the most popular browsers for Mac include Safari, Google Chrome, Mozilla Firefox, Brave, and Opera. Each of these browsers has its own set of pros and cons, and by evaluating your needs you can choose the one that is the best fit for you.
Today, we will be taking a look at the best web browsers that you can install on macOS.
Safari Web Browser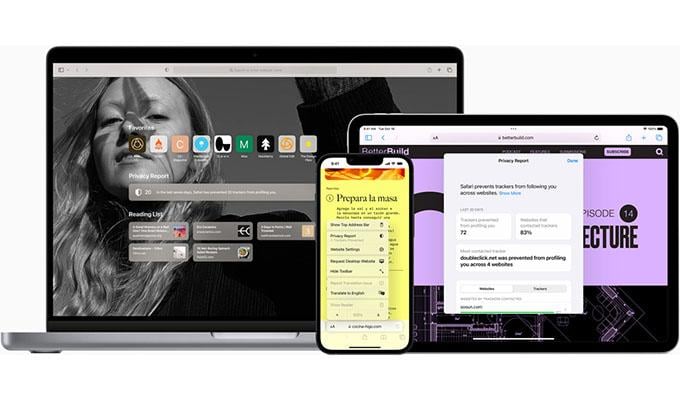 Apple's Safari web browser is the default built-in web browser that comes with all Apple devices. The reason why a lot of people prefer the Safari web browser is simply that it's free, works perfectly with the Apple ecosystem, and is quite secure when it comes to Privacy. When using Safari on macOS, the browser works well with iMessage, email, and other first-party Apple apps.  The browser's user interface is quite simple, and it can sync all data between Apple devices perfectly.
Safari is preferred over other browsers simply because of its battery optimization, which works perfectly on MacBooks and helps in extending its battery life. Safari is also the fastest web browser for macOS. You can also make use of grouped tab, which allows you to sign into different accounts of a single service.
Pros:
Quick loading Browser
Optimized To use Less battery
Cons:
Extension Collection Is Quite Less
Some Websites Don't Work Well With Safari
Not Updated Frequently
Key Features: Free | Privacy Focused | Customization Options | Works Well With Apple Services | Sync Between Apple Devices | Grouped Tabs | Reading Mode | Translates In 18 languages | Built-In Note Taker | Copy Text From Images| Paskey integration | Easy Apple Pay Integration
Download: Safari Web Browser
Google Chrome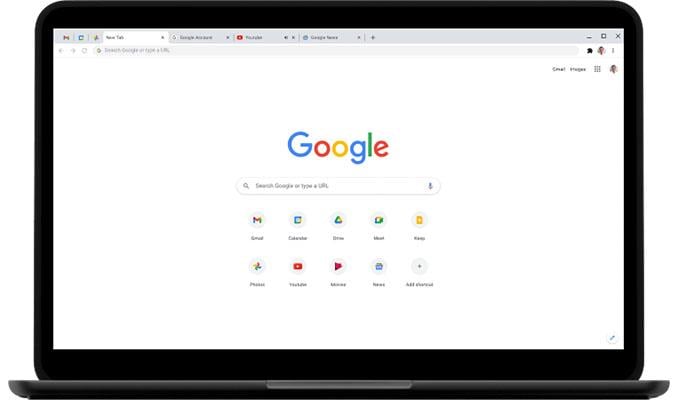 Google Chrome is a very popular web browser and also has the highest number of users over any other web browser. Google Chrome is available on numerous devices that, which makes it super easy to sync your history, passwords, and bookmarks from different devices and make it accessible instantly. Every website out there can be opened without any problem by Google Chrome. One reason why a lot of people use Google Chrome is simply because of its integration with a large number of Google apps and services. The web browser also has many extensions that can be used to improve your browsing experience.
When it comes to customization, Google Chrome has a large number of themes that allows you to change the look and feel of the web browser. Google Chrome also has its Google Translator built into the browser and helps you translate web pages to the language of your choice. However, with Google Chrome, there is an issue with privacy and what data is being collected and used.
Pros:
Loads Web Pages Quickly
Supports Multiple Platforms and Devices
Works Well With Google Account
Cons:
Questionable Data Collection
Uses Maximum Resources
Key Features: Customizable | Large Extension Library | Easy Sync Across Devices | Handles Multiple Open Tabs | Global Zoom Settings | Grouped Tabs | Quick payments With Google Pay | Easily Translate Web Pages | Prevents Loading Malware and Phishing Websites | Offline Support for Google Docs, Sheets and Slides | Frequent Browser Updates
Download: Google Chrome
Microsoft Edge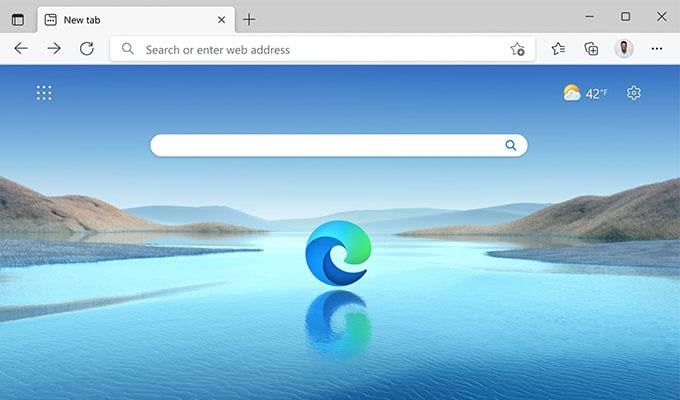 Microsoft Edge can be called the faraway sibling of Google Chrome. That is because it runs on Chromium but has better performance in many ways as compared to Google Chrome. Sure, you will have to change the search engine from Bing to whatever else, but the browser has a lot of features that make it a preferred choice over Google Chrome. Microsoft Edge has a more modern UI as compared to most web browsers out there.
Microsoft Edge has more features as compared to Google Chrome Tabs that are not being used to go into sleep mode, which helps to reduce the number of resources being used by the browser. You can easily color code tabbed groups which helps you to identify which tabs are for what account or service.  You can also monitor the passwords you save with Microsoft Edge, thanks to the Password Health and Password Monitor features.
Pros:
Uses Chrome as well as Edge Extensions
Blocks Trackers
Easy Access and Integration with Microsoft Services
Uses Fewer Resources
Cons:
Home page needs To Be Decluttered
Microsoft Account Needed For Password, History, and Bookmark Sync
Key Features: Reader Mode | Built-In PDF Reader | Grouped tabs | Tabs Hibernation | Opens All Web Pages | Tracker blocker | Ad Blocking Tools | Use Extensions From Chrome and Edge | Read Text Aloud | Password Health Monitor | Built-in Spell Checker | Earn Microsoft Rewards | Supports Multiple Platforms
Download: Microsoft Edge
Opera Browser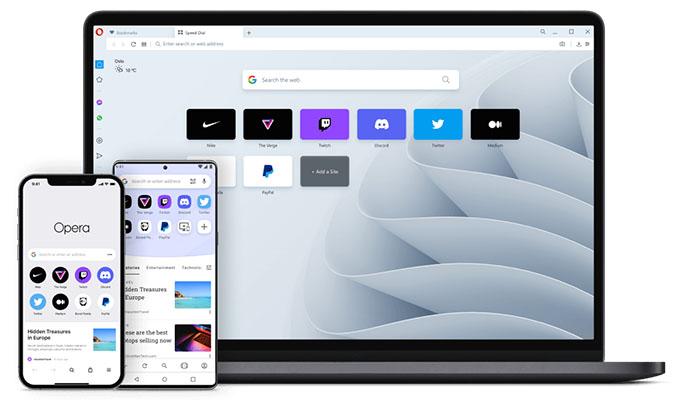 Opera browser is another cool web browser you can install on your macOS device. It is feature rich and fast, like Google Chrome, thanks to the Chromium engine that it uses. Opera offers you everything you can expect from a browser, such as private browsing and even the ability to use a free built-in VPN service. Of course, you choose to skip the built-in VPN and choose any other free one from the extensive library that it borrows from Google Chrome.
When it comes to customization, you can choose the themes, wallpaper, as well as apps and programs you want to access from the browser's quick access sidebar. However, because of several issues, a lot of people have been avoiding Opera due to its questionable privacy and data collection techniques. The browser is fast, nonetheless, and can be used for less important things.
Pros:
Feature Rich
Responsive and Fast Loading Of Web Pages
Cons:
Questionable Privacy and VPN Service
Key Features: Integrated Messengers | Pop-Out Video Player | Easy To Use Snapchat Tool | Search Through Multiple Tabs | Personalized News Feed | Crypto Wallet | Battery Saver Mode | Sidebar Media Player } Easy Images and Video Enhancer | Pin Images and Links To Opera Pinboard | Offline Unit, Time and Currency Converter
Download: Opera Browser
Brave Browser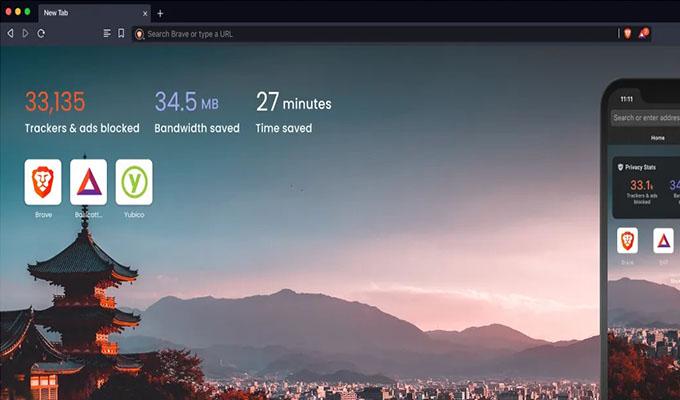 Brave is another popular web browser that can be used in place of Google Chrome. This is the preferred browser for those who want o get rid of trackers, ads, and everything that makes web browsing less intuitive. While Brave runs on Chromium, the browser is stripped of all the Google stuff you would normally find in Chrome. While the ad blocking is enabled, you can also whitelist your favorite websites from the ad blocker. You can, however, view privacy-respecting ads and get paid in the form of a token that is later added to your crypto wallet built into Brave.
In terms of performance and loading times, brave is quite fast. You can also use the VPN service within brave, which requires you to pay for it. It also has a tracker-free search function.  You can only customize Brave by changing and using custom backgrounds.
Pros:
Privacy Focused
Loads Web Pages 6x faster
Cons:
Too Much Crypto Stuff
Customization Options Are Next To Nothing
Key Features: Ad-blocker | Quicklinks Sidebar | Built-in Firewall and VPN | Night Mode | password Sync | Chrome Extensions | Speedreader | Brave Rewards | Custom Brave Search Bar | Pinned tabs | Auto Reload Tabs | Tracker Blocker | Password Manager
Download Brave
Arc Browser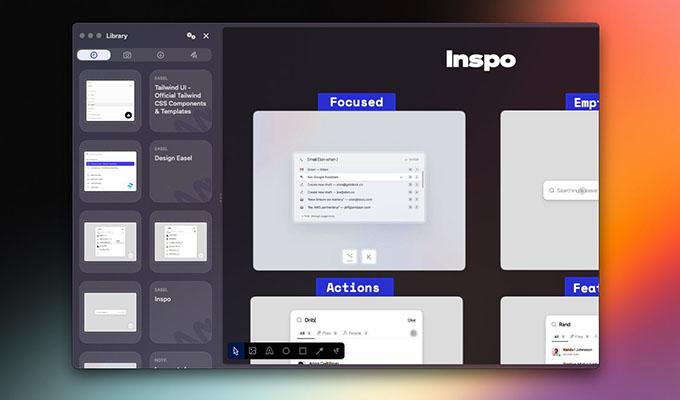 Arc is a relatively new player in the web browser wars. For someone who uses a macOS device, you need to try out the Arc browser. This is a web browser that is all about changing and improving the way you browse the internet. Taking a look at its user interface, it stands out from all other web browsers only because of its looks. There is a sidebar to the left of the browser. It's got all the tabs, music controls, and media controls for any app or streaming service that you might be using.
The browser is currently in its beta stages, so if you do install and use the browser as a daily driver, you need to note that there will be random bugs, crashes, and even websites not loading properly. Do not that the browser can be installed only on an invitation basis. So, it's not available to the general public as easily as the other browsers.
Pros:
New user Interface
Support Chrome Extensions
Cons:
Resource management Is Currently Poor
Key Features: Sidebar Tabs | Split View |Comes WIth uBlock origin as Default Ad Blocker | Supports Chrome Plugins
Download: Arc Browser
Mozilla Firefox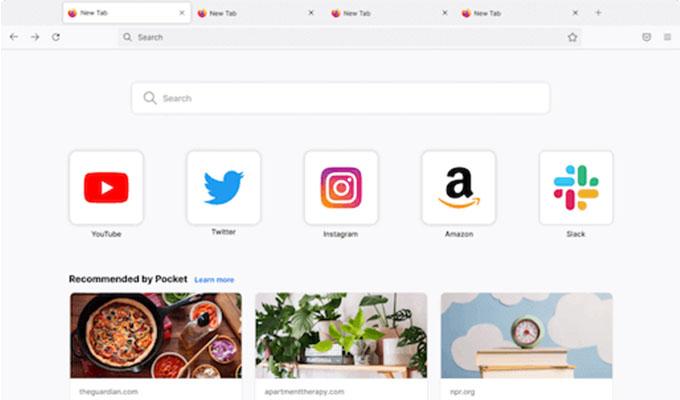 Firefox is simply one of the best web browsers out there that don't run on Chromium. In fact, it uses its in-house Gecko engine. The browser is more privacy-focused and is also feature-rich. Firefox has a lot of tools that you can use to block ads, trackers, and everything that will try to track you. Firefox also automatically blocks web pages that contain malware or anything that can contain a security risk. The browser also loads pages quickly.
Now, coming to the customization option, you can change the themes, as well as arrange the address bar and toolbar according to how you like it, One other reason why Firefox is preferred is simply because of the enormous extensions that you can use to further improve an protect your privacy on the internet. Firefox is also open-source and uses fewer resources.
Pros:
No Google Stuff
Lots of Privacy Settings
Cons:
Some Web pages Don't Load Correctly
Syncing Issues At Times
Key Features: Quick Loading | Kess Resource usage | Loads Of Themes | Numerous Extensions and Plugins | Frequent Updates | Tabbed Groups | Password Manager | Suggests Strong Passwords | Simple and Quick Auto Fill | Multi Containers Support
Download: Mozilla Firefox
How to Choose the Best Browser for Mac
When choosing a browser for a Mac, there are certain things you have to consider to get the right one for your need:
Speed and performance: Look for a browser that loads pages quickly and efficiently, with minimal lag or freezing.
Security and privacy: Choose a browser with strong security and privacy features, such as built-in ad and tracker blockers and options for controlling cookies and browsing data.
Compatibility: Make sure your browser is compatible with the websites and web apps you use most frequently.
Customization and extensions: Look for a browser that allows you to customize your browsing experience and add extensions or plugins to enhance functionality.
User interface: Choose a browser with a user interface that is easy to navigate and customize to your needs.
Price: Some browsers like Brave and Safari is free, whereas other like chrome, firefox is free.
Reviews and ratings: Look at the reviews and ratings of the browsers on the app store, as well as online, to see what other users think of them.
Web browsers are an important component of any device that can connect to the internet. Each operating system has its built-in web browser. While the default stock web browser usually does the work for most users, some users prefer other web browsers over the default stock one. 
These are the best web browser options that you can install and use on a regular basis on your macOS device. Now, each browser is good in its own manner, and there is no such thing as the one best browser for macOS. Different people have different uses, and each browser performs differently based on what you plan to be doing. However, if you want o look for a good stable browser, Safari and Mozilla Firefox are good browsers that you need to have on your macOS device.