You may have some photos with wrong date and time data. For instance, if you save photos from Google Photos backup, some of them will save with today's date. In case you want to change timestamp on iPhone photos like that, there is an easy way.
Let's see how to change timestamp on iPhone photo without using any apps.
Change Time and Date on Photos Using iPhone
Photos app on iPhone was not really helping with seeing or editing any EXIF data on photos. With the iOS 15 or newer versions, you can now see all EXIF data from Photos app on iPhone. Likewise, you can edit the timestamp on iPhone photos as well.
First, make sure your iPhone has iOS 15 or newer updates to do this. Now, let's go straight to the iPhone Photos app.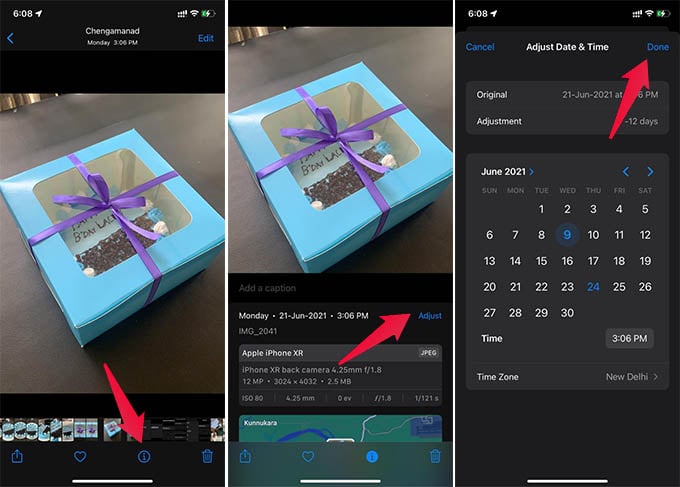 Open any photo you want to change timestamp (or date and time information). Once you open the photo, swipe up the image to see the metadata or EXIF data. Or, tap the "i" icon at the bottom.
Tap the "Adjust" option against the time and date information.
From the next screen, choose any date and time from the date picker. You can choose any date from the past and even in the future. Tap Done when you finish changing timestamp on the iPhone photo.
Now that's all. The photo is now saved with the new timestamp. When you share the photo with others, the iPhone photo will have the new date and time. With this, you no longer need a third-party app to change timestamp on iPhone photo.