Google's app development team has been working hard to bring more security and high-quality Apps for Android OS users. We have seen a bunch of top-notch Android App releases directly from Google to accomplish this mission. Google LLC released the apps Files Go and Datally, focussing on better file management and data control on Android OS. This includes the renowned Google Assistant app that is going to be a must-have for Android users with excellent features and AI integration tools like Google Lens. Google's acclaimed Apps like Gmail, YouTube, etc. are outside the scope of this Android Phone Management App article.
Whether you have Samsung, LG or Google Pixel, these Android Phone Management Apps from Google are a must have. These are the best apps from Google for every Android users for Security, File Management, Data Control and Voice Control.
Google Assistant
Google has been trying its best to push Digital Assistant into the limelight. The Google Assistant first came into the stage with the Google's messaging app Allo. Google is trying the best to integrate Android apps (Google Lens) and Hardware devices (Google Home) with Google Assistant.
Google Assistant has integrated multiple languages than Google Now. Furthermore, this is set to extend to more third-party integrations to more apps and services. The Google Assistant is a standalone app which is available for download from the play store and also for iOS as well. But, Google has confirmed that the feature will not come to Android tablets.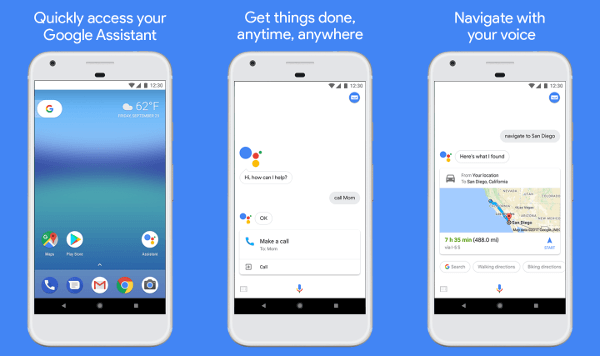 This Voice Assistant from Google has now gained a lot of attention due to its performance and improvements. Most noteworthy is the addition of the voice command "Hey Google" instead of the previous default- "Ok Google." This feature is not available to all devices but soon will likely come to your smartphones in the future. Also, in the new Pixel XL 2, Google Assistant app can troubleshoot your phone. Even though it's not perfect, it will only be a subject of improvement in the future.
Related: Ok Google is not Working on Android, How to Fix?
Google has now been seriously working to make the digital assistant more interactive by implementing a childhood feature. The development team works to build character to the app and giving it a backstory.
Download from: Play Store | iTunes
Trusted Contacts
Google Trusted Contacts app was released earlier this year as a cross-platform solution for location-based sharing with your contacts. The location sharing app was an alternative to the highly popular iOS feature Find My Friends. This brings much more to the table than the iOS counterpart. Most relevant is that Find My Friends only works with iOS devices whereas Trusted Contacts is cross-platform and just needs the app to track your family members.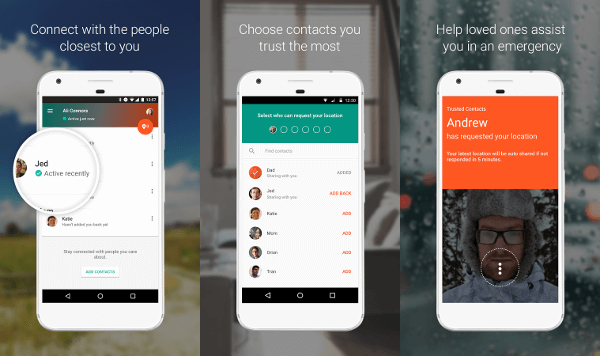 Related: How to Track Friends using iPhone or Android?
Trusted Contacts has more functionality as it provides a timeout feature to decline the request to share the location. This location tracking app from Google allows two choices. Either permit to share location by default, or ask for manual permission to pop up for approval. These time limits can be changed. The feature of actively sharing your location on the go makes this a must-have app for adventurers. Your trusted contacts can see your phone's activity status to know you're OK quickly.
Download from: Play Store | iTunes
Datally
Datally is a data saving app launched by Google to help curb out of control data usages. Whether an app is sitting in the foreground or background, it is still likely to eat up a precious amount of bandwidth data. With Datally, you can track and control the data usage of every app on your android smartphone.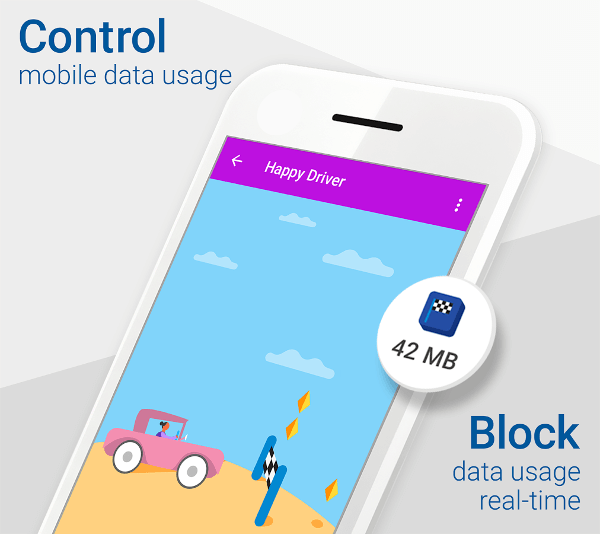 In addition to the feature of mobile data analyzing, you can also disable or kill data usage of the app with a single tap. For this, there is a button which lets you cut down the data usage of any app that is running in the background and only concede data usage by the foreground running app. This app comes as a part of the Google's campaign in creating standalone apps for countries with limited mobile data connections and hardware.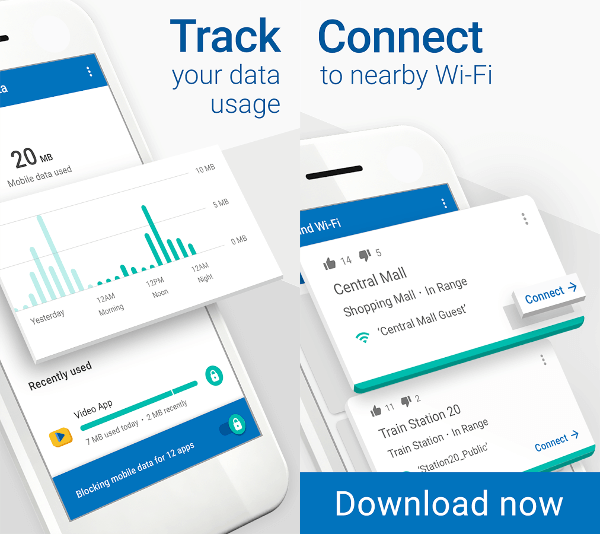 This data management app has the function to show the data usage statistics for the day, week or month per app. The app shows the real-time data usage of the app in use from the notifications. You can individually select the apps that you want to keep an eye on and restrict. This applies to both mobile data and Wi-Fi. Furthermore, there's also the built-in WiFi Search feature which lets you see the nearby hotspots.
Related: Best Android Apps to Monitor Data and Limit Data Usage
Datally app by Google aims to aid the users who are on a tight data cap. If you are not one of those people, it may be ineffective. Blocking apps in the background will stop push messages and notifications. The features are already built-in to the Android OS itself, but this brings a refreshing and accessible standalone app experience tailored made for that specific purpose. Most of all, the good news is, Google claims that only the data amount is being monitored and not what the data itself is.
Download from: Play Store
Google Family Link
Google Family Link is a parental app by google with the intention of parents having more control of their child's activities with Android device usage. Family Link app is now available for everyone to download but was an invitation-only access when it was first released.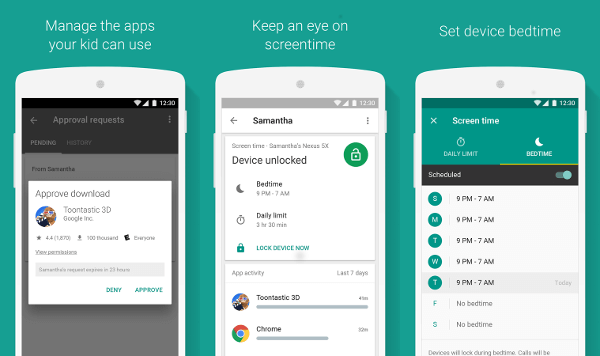 Google Family Link can manage the apps that your child can use. You can approve and block the apps which the child can download from the Google Play Store. The added functionality of analyzing the screen time and setting time limit can help to control the amount of time the child spends on their favorite apps. Also, The activity reports can be seen weekly or monthly. Moreover, the ability to set bedtimes so that the device is locked down after that period makes the Android Parental control app very handy.
Related: Best Parental Control Apps for iPhone & Android to Monitor Teens
The service can run on all devices running Android 7.0 or above and the app can be used for iOS or Android. The first thing to do is to create a specific user account for the child and then link it to the parent's family link account. The child needs to be under the age of 13, and the charge will be a fee of 30 cents per child. This is to make sure that they have given consent.
Download from: Play Store | iTunes
Files Go: Free up space on your phone
Files Go is a smart file manager designed by Google that's going to deal with tons of junk files on your Android phone. The storage cleaning app has several features where you can organize and clean up your stored data. The functionality has been present in a plethora of apps in the play store, which includes cleaning up unused apps, clearing app cache, removing unused files and duplicate files.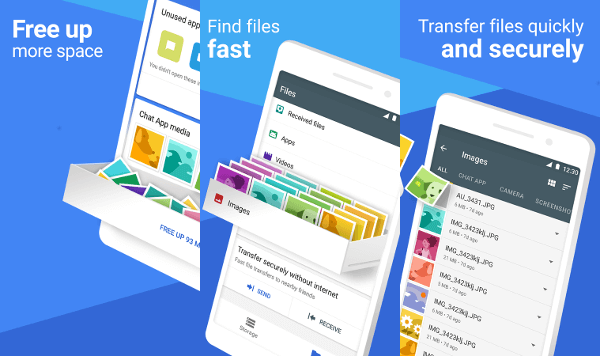 In addition to the file managing functionality, Files Go can help you to share files offline using WiFi Hotspot. Besides, Google claims that Files Go can send files between devices of more than 500 times the speed of Bluetooth.
Related: Best Android OTG (On The Go) Devices to Backup Phone
This File management app for Android is new in the app store, gaining a lot of attention. Google has now officially launched this Android File Manager app and promises to revive the storage and speed of your Android smartphone.
Download from: Play Store
Google Play Protect and Find My Device
The Google Play Protect was a highly acclaimed feature shown during the Google I/O 2017. It is the latest effort by Google regarding security to counter the growth of malicious apps. Play Protect combines the techniques and features of browser protection, verify apps and anti-theft. Even though as the tech giant has always come up with app scanning and verification, Google Play Protect comes not as an app, but a useful integration to the device security running Google Play Services 11 or higher. Go to Settings> Google> Security> Play Protect to access the settings.
Find My device is the replaced version of the Android Device Manager. The Anti-Theft mechanism integrates into the Google Security Suite. Similar to the Device Manager, Play Protect can also locate lost or stolen device and remotely control. Also, Find My Device is available as an independent app from Google Play Store. The range of features includes locking or erasing the data on the device. You can check the integrated security setting on your Android phone, head over to  Settings> Google> Security> Find My Device.
Download from: Play Store
Best Android Phone Management Apps From Google
The apps like Datally and Files Go are intended primarily for the lower end devices. The latest innovations by the Google development team is a step forward in personalizing and maintaining essential Android Phone management techniques. Hence, these Google apps help to organize smartphones to your needs. Whether it is higher end Google Phone or cheap tablet, these are essential apps you must consider to install on Android devices as the first step to keep your device performance and hardware life good for long term.