There are good apps to track Android usage and limit the data on Android. If you have one Android data monitor, there is no need to be surprised when you receive next data usage bill. Now we have lightning data speed with LTE/5G connection on smartphones. This has indeed brought a sweet yet savage little problem for the end-users; higher data usage. Data monitoring app has become an integral component for smartphone users. This data tracker essentially lets you keep a watch on your overall data usage on mobile or Wi-Fi, individual app data usage, and usage patterns.
Here's a list of the best Android Apps Can Monitor Data and Limit Usage that will help you to control and save money on the data plan.
My Data Manager
Key features: Summary of overall data | Individual App data track | Set an alert on data limit | Download from PlayStore
This Android data monitor app is a very comprehensive option for users when it comes to data monitoring. The simple GUI lets you comprehend your usage in the most simplistic way. The summary page gives you an idea about your overall usage with the number of days left on the cycle.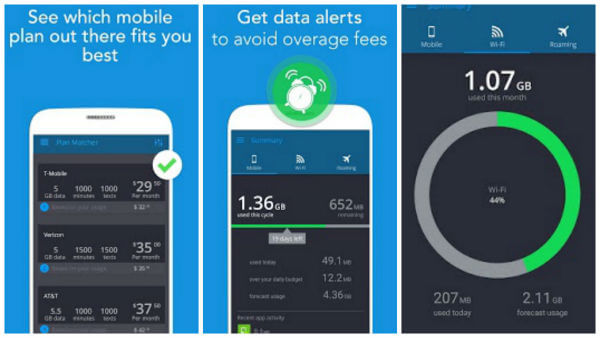 You can easily navigate to find the individual app consumption and consumption day-wise. Other interesting features of the app include the ability to forecast consumption as per current usage, set alarms to warn you before plan exhaustion, view net usage in shared plans, as well call & SMS tracking. The presence of a beta version of the app is an indicator that you are going to timely updates.
Related: How to Get Full Control on Android Data Usage & Dramatically Reduce Mobile Bill
Internet Speed Meter
Key feature: Internet Speed Meter | Detailed data use view | Display upload/download data use | Download from PlayStore
As the name suggests, the primary attraction for this Android data track app is to display internet speed and voila you don't have to worry about the hassles of rooting or Xposed modules for this one. You can position the meter on the status bar to your convenience, set what you want to see, set refresh rates etc. In addition, you can have a more detailed view in the notification.
The Internet speed and data monitor app is pretty basic graphically but serves you with all you need. It is powered to display day-wise mobile and Wi-Fi usage, app data usage breakdown as uploaded and downloaded, display customizations for color and to choose whether you want to see download/upload or combined, choose to auto start the app or disable persistent notification.
Data Usage Monitor
Key features: Cellular Data/WiFi Summary | Daily Threshold set | Floating widget | Download from PlayStore
A simple Android data monitoring apps with not a flurry of options. It brings you all that you need in a clean GUI. Main highlights are the summary of data/WiFi usage with a daily usage threshold graph.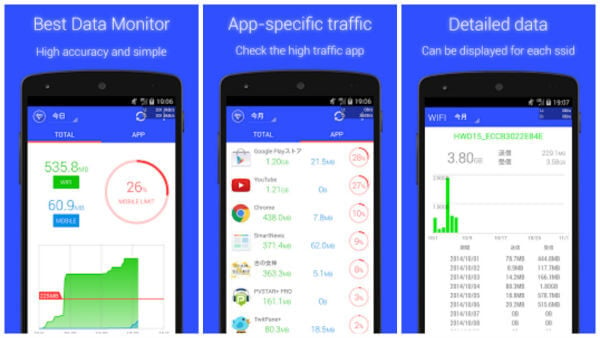 It also has app usage breakdown and the percentage contribution of each app to overall usage, day-wise usage breakdown, floating widget for real-time speed display. It is indeed a pretty basic app, but the floating speed widget can be handy.
Traffic Monitor& 3G/4G Speed
Key features: Speed Test | Speed comparison | Coverage map | task manager | Download from PlayStore
This Android data traffic monitor is a feature-rich app option in this segment. While giving all the expected details Traffic Monitor adds a few more interesting options to the user, that too in an ad-free package. The highlights are Inclusion of speed test, which archives results. The test results let you compare your speed with other users in your region, coverage map is a feature which displays network availability based on your location, integrated task manager to view and if required kill data hogging apps.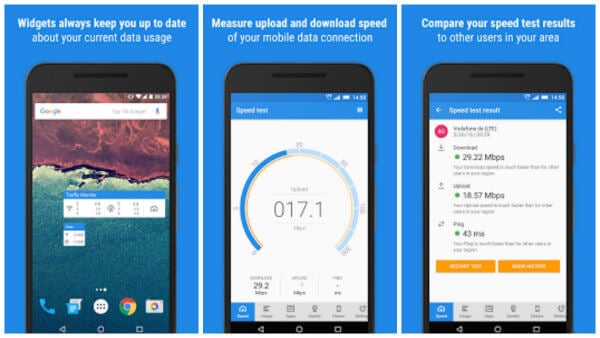 Traffic Monitor is a multi-dimensional app which fulfills your primary objective of tracking data usage along with cutting down the need to install a few other apps to ensure data quality. This app too has a beta version.
Data Usage
Key features: Data usage summary | Day/Month usage | ideal use level | Download from PlayStore
This app summarizes your data usage in a pretty simple interface.  The summary page has usage details for the day, ideal usage, and usage projections. The features include custom billing cycles, progress bar with quota exhaustion indicative colors and alerts for data quota consumption. This app does all that is required to monitor data but has a slightly outdated interface and was updated a while ago last.
Internet Speed Meter
Key features: Display network speed on status bar | lightweight | real-time speed display | monthly data record | Download from PlayStore
Another simple app to display network speed on the status bar and notification panel. A very-light app with limited features – Real-time speed display, daily and monthly Data Usage Record, separate Data and WiFi statistics. This app lacks the ability to go deeper in usage patterns as it lacks app usage details. However, this Android Internet Speed Meter app is pretty light and battery efficient.
Protect Free VPN+Data Manager
Key features: Intuitive reporting | Set monthly cap | report on billing cycle | data use comparison based on app | Download from PlayStore
Onavo Free VPN+ Data Manager is a VPN and Data usage track app with intuitive reporting to help you understand how you use mobile data. This app lets you set monthly cap and billing cycle and use measures up to other people for each app. When you're approaching your data limit and get an indication of where you stand in your current data cycle with notifications on your phone. Onavo Count monitors and analyzes all types of mobile data and phone use. This includes background, foreground, and Wi-Fi use.
Related: 7 Best Lightweight Browsers for Android to Save Memory and Data
The above apps are your best bets on data tracking on the Android phone. My Data Manager is the most comprehensive and Traffic Monitor being the most versatile with its feature-rich content. If you are looking for basic information, and don't want to go the details, other listed data monitoring apps are pretty much capable of fulfilling your requirements.