As smartphones come with more and more covetable features or applications these days, it becomes difficult to choose what suits the best for your phone. Another important choice remains to pick the best from among the lightweight Android browsers available. The priority remains to retain much of your phone memory along with it being the fastest. Though there are various browsers which are quite adept with the Android technology, each differs on various levels of speed, data saving, making a must to be aware of the features of every browser. Thus, choosing a smart and lightweight browser for your phone remains crucial.
Here is a list of Lightweight Android Browsers to Save Data and Memory while you browse, and you can have a fast browsing speed.
Puffin Web Browser
Puffin Browser, which is an interesting choice of browser, is not only quick but also highly customizable. The browser comes with many backgrounds and other add-on functions. The browser works by transferring relevant material to its cloud servers before them having been delivered to their respective handsets. This aids in a quicker loading of bigger website files on devices which are equipped with a smaller bandwidth (i.e. smartphones).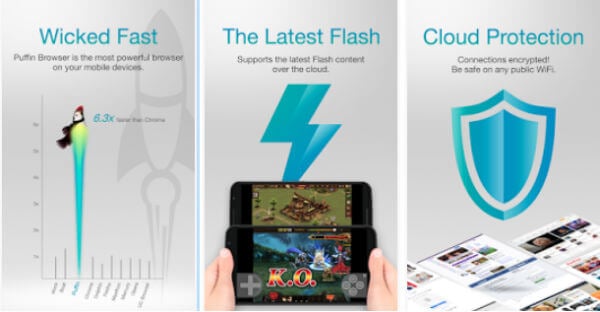 Puffin is relatively light on permissions and this is the reason why Puffin Browser remains the fastest Android browser on the smartphone. On the downside, the free version remains for trial only whereas its paid version remains worth a choice.
If you are looking for a browser that supports flash player, puffin is your best bet. But there are few more browsers available in the Google play store that supports Flash content on your Android device.
Download from: Play Store (size: 24MB)
Related: Having sufficiently fast-paced Android browsers becomes a must for those who use smartphones. If you are the one worried about your data plan, these are the must-have browsers you consider in addition to other techniques that we mentioned to save data while you browse on your Android phone.
Dolphin – Best Web Browser
Dolphin Browser remains a favorite among Android enthusiasts. The reason why any Android users prefer a Dolphin browser over others is that of its seamless functionality.  Apart from that, the browser simply looks great and has excellent gesture controls. It is also very handy when it comes to transferring preferences between sharing content and devices.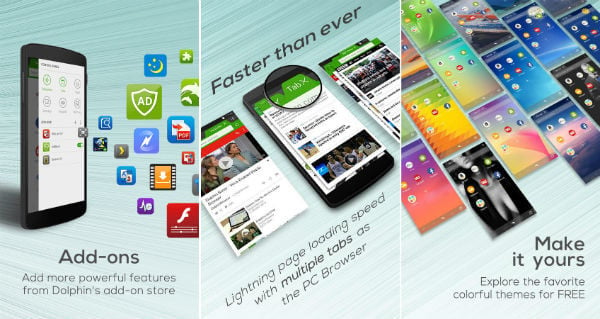 Another reason why people prefer dolphin also remains that it has the capacity to support some good-old Flash player, meaning it has the capacity to keep up with current technology. Download Dolphin if one wants to surf the Internet with the best unique and the most useful features like sidebar, Ad Block, incognito browsing, tab bar and also Adobe Flash player for Android.
Related: Best 5 Free Android Video / Movie Player Apps that Support All Formats
Download from: Play Store (size: varies)
UC Browser
Those who are browsing a lot from the phone or Android tablet, US browser is your best bet. With the use of UC browser, you can speed up the downloading files as well as stabilize them. You can also watch movie and TV shows on the app as it comes with separate categories for it. Coming with features like gesture control, night mode and data compression it is a great app to choose from. Among all the lite apps in the browser genre, this lightweight browser app is much more loaded with functionality. The Facebook mode of the app makes the user experience completely smooth and easy
Download from: Play Store (size: <6MB)
Firefox Browser for Android
Though other new competitors to this browser claim of added new features, Firefox continues to march ahead. There are some privacy features with this browser in this phone that keep you from being tracked. The home panel for the app is customizable with other sites and services, you can use.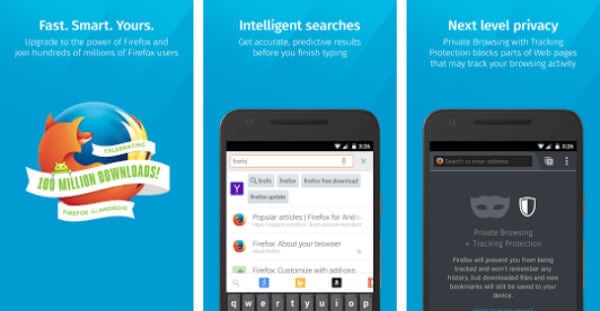 Firefox, despite being lightweight, focuses on many swiping features and added simple interfaces which can work well with your smartphone and tablets. Where Firefox stands out is that it continues to deliver offering products that can represent the purest possible form of the Open Web.
Download from: Play Store (size: varies)
Opera Mini Browser
Considered as one of the best browsers for Android, it has a record of receiving installations from more than 50 million people from the Play Store.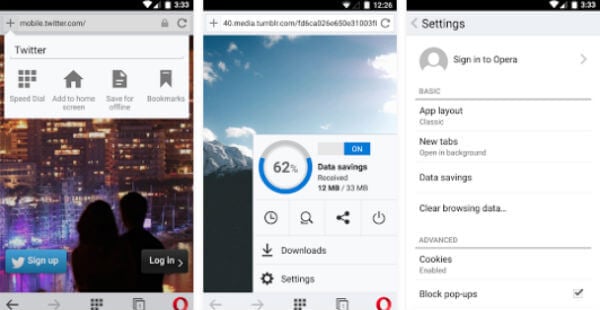 The smartest feature of the Opera browser remains its data-saving feature.  The browser can compress videos when one views it on their smartphone devices, but on the other hand, does not compromise on providing a great viewing experience. It also aids in saving a few bytes of your phone's memory when you view regular pages. With Opera, the page loading is also pretty decent and one does not have to keep waiting for the other images to download.
Download from: Play Store (size: varies)
Chrome Browser
Google Chrome is one of the most used and trusted browsers in Android. It is considered to be the fastest and the well-integrated with any smartphone that uses Android. When you use this browser on your Android phone, you can use built-in data saver function from Chrome to reduce the amount of data your browser use.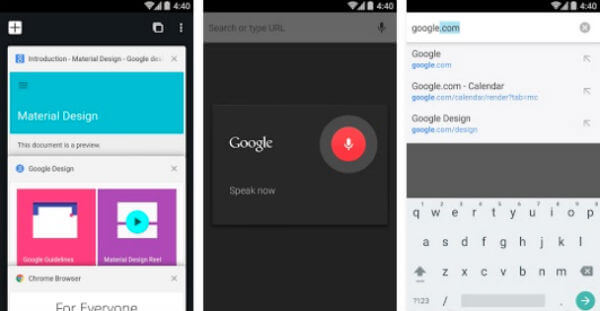 Google's Chrome's other features include a seamless Google Voice Search and the helpful friend named Google Translate- all this at a super-fast speed and enough memory-saving capacity. Compare to other browsers, Chrome may not offer much lightweight experience. However, there are Android Light versions of the apps offer more lightweight experience.
Download from: Play Store (size: varies)
Maxthon Web Browser
Maxton is the new initiative of a browser that uses a cloud engine. The browser tends to offer some offloads a great deal of activity to its own specific servers. MxNitro, the recently launched web browser and the newest addition to the company's history of giving some high-performance web browsers, has the capacity to load web pages comparatively faster than other existing web browsers.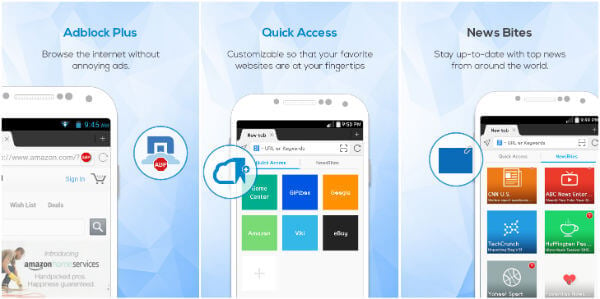 Maxthon is targeted at those Android users who want a perfectly seamed high-performance browser which is stripped-down and equipped with a minimalist design. It also appeases those who desire a light memory browser with a good CPU footprint.   In comparison to other browsers, it has the capacity to download web pages 30% faster than Google Chrome and is added with a design which is clutter free and makes new users feel comfortable. 
Download from: Play Store (size: 9.4 MB)                                        
Naked Browser Pro
Though new in the league, Naked Pro is an accentuated web browser with good surfing speed for Android users.  Despite its stalwart security, it provides a swift browsing speed and has an added rich interface. The browser tends to offer a sterling array of amazing features necessary for any Android user like tabbed browsing, tightened amounts of security, minimum app permissions with a tiny installed size. Though it has a handful of shortcomings, such as it does lack GPS functionality, Naked Pro remains a wise choice among lightweight Android browsers. These are some of the features which qualify Naked to excel on other older handsets which have a limited RAM, limited drive space or processing power.
Download from: Play Store (size: 244 KB)
Thus, these remain the 7 best lightweight android browsers which you can make use of. Each browser differs in memory capacity, speed but a choice from among them will not go wrong. A word of advice would be to download one of your choices and put it to use as they need to suit your interested and needs more than anyone else's.