If you have ever lost a vital document or picture and tried to get it back, you'd realize how tough it is. Many users believe that data lost or deleted are unrecoverable, however, this is not the truth. When you delete a file, the computer doesn't erase the data but only removes the reference to it. Your lost files are still located in your system drive somewhere, and you'll need a professional data recovery tool to get them back. iMyFone AnyRecover data recovery software is one such tool that handles all the aspects of data recovery, and it has some pretty intuitive features.
Here, we'll explore everything you need to know about AnyRecover – its functionality, recovery quality, and how it works.
Why AnyRecover Data Recovery Tool
AnyRecover Data Recovery is an advanced desktop application with the aim of recovering lost or deleted files and folders. As highlighted earlier, your computer doesn't erase the data of deleted files, but those data remain invisible to you. AnyRecover will perform a thorough scan of the hard disk and give those files back to you.
AnyRecover software is able to recover data in various file formats and the process is straightforward and easy.
If you accidentally deleted important files or lost them in any situation, AnyRecover PC data recovery tool is a decent tool you can try. Whether you have a Windows PC or a Mac, you can use AnyRecover to recover deleted data on the computer. As per the developer, It supports Windows 10/8/8.1/7/XP and macOS 11.0 to 10.10.
Key Features of AnyRecover Data Recovery Tool
AnyRecover comes with several features that will help you ease up the process of recovering lost data. Let us take a look at some of the key features of the AnyRecover data recovery tool.
Support 1000+ File Formats
Computers handle various types of data, such as audios, videos, text files, etc. Also, each of these file types comes in different formats. AnyRecover supports the recovery of data in more than 1000 different file formats, this means that you can use AnyRecover to recover most of the file formats. The application also allows you to recover unlimited data, leaving no worries.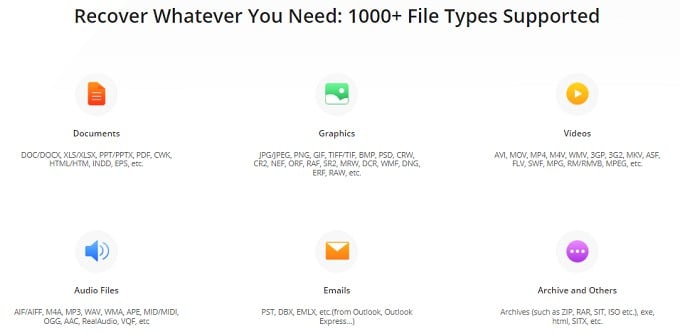 Recover from All Storage Devices
From where did you lose the file or folder that you want to recover? The fact that AnyRecover is a desktop tool doesn't limit it to only hard drives and SSDs. This application will restore files lost from internal/external hard drives, USB flash drives, memory cards, digital cameras, and every type of storage device you connect to your PC or Mac.
Recovers Files Lost in Any Scenario
Data loss happens not only because of accidental deletion. Sometimes your hardware may fail to load, or some virus attacks will cause data loss. AnyRecover can recover data you lost in many such cases. You can use it to recover files and folders lost to virus attacks, accidental deletion, device formatting, emptied recycle bin, etc.
File Preview Function
AnyRecover not only scans and recovers your lost data, but it makes the process as convenient as possible by letting you recover what you want. This is thanks to the preview feature, enabling you to have a peek of the discovered file before the final recovery operation.
AnyRecover Performance
AnyRecover is a lightweight application, so it doesn't take a toll on your CPU. It needs only 1GHz and works on computers with 32-bit or 64-bit architectures. The application needs only a minimum disk space of 200MB on the hard disk.
A standout feature of the user interface is its straightforwardness. After installing the application, run it, and it immediately greets you with a screen that asks for the drive from which you want to recover the files. Once you select that, the next option of the scan type follows. The options on the interface are easy to find, and this makes AnyRecover data recovery extremely simple to use.
AnyRecover can discover the lost data from your hard disk or SSD quite fastly. It mostly depends on your hard disk performance, the size of data lost, and the time you lost the data.
Following the scan, instead of hitting a Recover button and getting back everything the program finds, AnyRecover will allow you to preview the files first. This way, you can ignore the files you don't need. Without this feature, you'd recover everything, and it'd be up to you to manually delete the recovered files that you can do without.
AnyRecover: How to Recover Data
AnyRecover has an easy-to-use interface to let you scan and discover lost data. You can directly choose the drive or device and start scanning from the tool. After installing AnyRecover, you can follow the steps below:
Launch AnyRecover on a Windows or Mac computer, and you'll see all the locations you have present on your computer.
Next, select the directory from which you lost the file or folder you want to recover and click on the Start button.
Wait for the scanning to complete before proceeding to the next step.
Following a successful scan, you will find the discovered files from the drive. Now, you can click on any item from the scan result to preview the file.
You can recover the file right from the preview screen by clicking the Recover button below the item.
Is AnyRecover Safe to Use
When you let applications access your personal data, you might be worried about data security and privacy. Well, AnyRecover developers claim that the application does not collect any kind of personal information or data from your computer or upload them, even though it handles so much data at the root level.
AnyRecover does not affect your existing files while attempting to recover lost data. If you're worried about the application overwriting your existing files, AnyRecover doesn't touch your existing files. However, you can reduce the risk of overwriting your data even more by saving the recovered files to a different location.
Verdict
AnyRecover is a decent data recovery tool for anyone who lost their important documents or files and wants to get them back. The tool works pretty well for personal and professional use. There is no limit to the amount of data that you can recover using AnyRecover.
Even though it is the same tool, you need to buy separate licenses for Windows and Mac if you are planning to use both. Other than this, AnyRecover is a pretty decent shot for recovering lost data and files on Windows or Mac.