With the increased popularity of action cameras like the GoPro Hero, there are a lot of budget options available on the market. But most of these cheaper action cameras offer poor image quality which results in an overall poor experience. But today, we are here with a great budget action camera called the AKASO V50 Pro that offers a lot for its price. If you are planning on purchasing a great budget action camera, then make sure to go through this article until the end.
You can find the detailed Akaso V50 pro review which covers all the great features of this budget-friendly 4K action camera.

Design and Build
AKASO's V50 Pro has a design scheme quite similar to some of the much more expensive action cameras. It is quite compact and small with a simple yet modern looking design. And it has a coating of a grey rubberized material which makes the camera feel quite premium. This rubberized material can be useful for protecting your camera from small scratches and dents. On the other hand, most other cameras at this price range have poorly built plastic bodies. Since it is an action camera, it is built very well, and it can easily survive drops.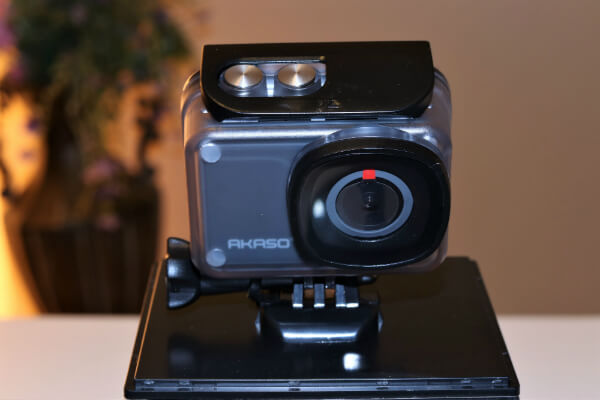 You can further make this camera sturdier using the included waterproof case. Unfortunately, this also means that this camera body itself is not waterproof. Instead, you need to use this included waterproof case for using the V50 Pro camera underwater. Thankfully, the included case offers up to 30 meters of water-resistance which should be more than enough for most users.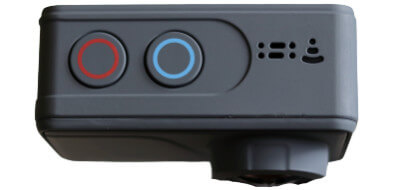 As for the controls, the Akaso V50 Pro has a total of two control buttons. These are placed on top of this camera which are easily accessible even if you are using the included waterproof case. It also has the battery door on the bottom and it is easily accessible. As this camera comes with multiple included batteries, this battery door allows you to switch your batteries quickly.
Also see: Best Privacy Screen Protectors and Camera Covers for iPhone & Android Phones
Box Contents and Accessories
Most of the action cameras available on Amazon come with various accessories that can be quite useful for the user. Similarly, the AKASO V50 Pro also provides various things to the user in its box. Apart from the camera itself, you can find things like the user manual and a warranty card which are important to have.
Apart from that, you can also find a waterproof case in the V50 Pro box which can be submerged in 30 meters of water. One of the best things about the AKASO V50 Pro is that it comes with a total of 2 batteries. This can be quite useful if you plan on recording long videos using your V50 Pro.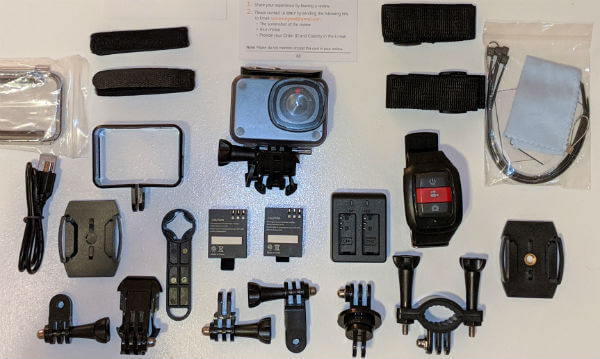 And just like any other action camera available on the market, you get various mounting accessories in the box. You can use these to mount your V50 Pro action camera in any place that you like quite easily. Another great thing about the AKASO V50 Pro camera is that it comes with a remote controller. As you would expect, it can be used to start and stop the video recording on your action camera without touching the buttons on the top.
Features
Different action cameras have different features that can be quite useful while recording videos. And the AKASA V50 Pro offers a lot of features for its relatively affordable price. These can be helpful in various ways while making videos using the V50 Pro. Not only that but knowing about the features of this camera, you can use it to its full extent. It includes the following features and options: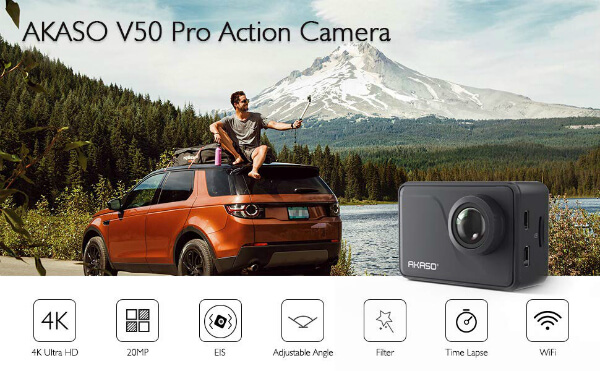 Resolution: 4K 30FPS, 2.7K 30FPS, 1080p 60FPS, 1080p 30FPS, 720p 120FPS
Video Modes: Burst Photo, Time Lapse Photo, Time Lapse Video, Slow Motion Movie, Fast Motion Movie, etc.
Audio: Built-in microphone with external microphone support
Photo Resolution: Up to 20M JPEG
Storage: via MicroSD Card
Display: 2 inch IPS Touch Screen
Connectivity: HDMI Port, Wi-Fi for Mobile App
Battery: Includes 2 x 1100 mAh batteries
Dimensions: 60.2 x 41 x 31.5 mm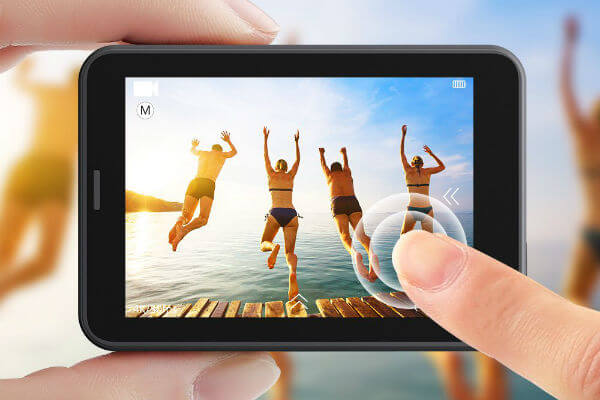 A great thing about the AKASO V50 Pro action camera is that it offers 4K video resolution support. You can also switch to other resolutions and framerates using its touch screen. Most of the other cameras at these price range do not offer this many resolution options. As a result, the video quality is quite crisp and comparable with some of the more expensive options out there.
You can see more details and the camera in action here:
Apart from this, you also get slow-motion video support in this camera at 120 fps. This can come in quite handy for making adventure sports videos. The AKASO V50 Pro is also quite easy to use due to its companion smartphone app. It allows you to control the camera directly from your smartphone over Wi-Fi. If you are new to action cameras, then this app can be quite useful for easily controlling the action camera.
Also see: How to Get Google Camera Night Sight Mode on Any Android
Camera Performance
The AKASO V50 Pro offers a lot of useful features to its users that can be used for various things. But none of it matters if the camera quality is not good. Thankfully, unlike its competition, AKASO V50 Pro offers a great crisp image if you give enough light to the sensor. And since this camera can record videos in 4K, everything looks crisp without any significant noise during the day. But if you do not wish to record in 4K, then you can quickly change the resolution from its settings as it supports various resolutions.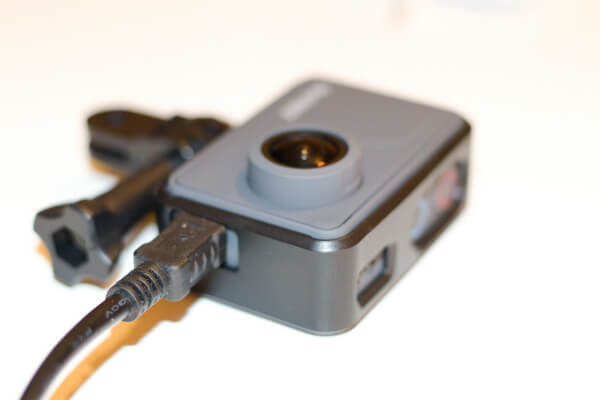 And these resolutions also include slow-motion which works quite good for the given price. Unfortunately, low light videos recorded by the V50 Pro action camera can be a little grainy which might disappoint some users. But as most action cameras have a small-sized sensor, some noise and a grainy image in low light conditions are expected.
Apart from having a great camera setup, the AKASO V50 Pro also has a smooth software experience for the user. You can quickly switch various settings of this camera without any issues due to its processing power. Overall, the performance of the AKASO V50 Pro is quite great to have for less than $120 from Amazon.
Pros:
Video Resolution (4K)
Image Stabilization
Low price
Cons:
Touch screen not sensitive
Waterproof need outer cover
Even though this camera is not perfect, it does not have any major issues either. As a result, if you are willing to get an action camera for around $100, the V50 Pro is a great choice. Apart from having a great sensor, you can also find various useful and important features in the AKASO V50 Pro.