Eufy Robovac 15c Max is a new, advanced entry into the arena of Robotic Vacuum cleaners like Roomba. This could be your new addition to the smart home concept with all devices connected together over your home network. We had a chance to substitute our existing Roomba with this smart vacuum cleaner for a while.
Here is our usage review on Eufy RoboVac 15c Max robotic vacuum cleaner.
Eufy RoboVac 15c Max
Eufy has been working with the robotic vacuum cleaners for a while, and there are already more than a couple of popular models in their RoboVac series. The RoboVac 15c Max is the successor to RoboVac 15c, with more suction power and slimmer design.
The newly redesigned model – Eufy RoboVac 15c Max is quite a smart device, which can be connected over to your home wifi network. You can have much advanced, IoT features, while it lacks many other features that most other robotic vacuum cleaners come with. Take a look at how the Eufy RoboVac 15c Max performs in real-world experience below if you are looking for a value-for-money "Roomba."
Design
Eufy claims it to be one of the slimmest RoboVac vacuum cleaners they have ever made. Compared to most other vacuum cleaners in the market, the Eufy RoboVac 15c Max has only 2.8-inches of height, which could help it to move through any flat surfaces and under most of the shelves.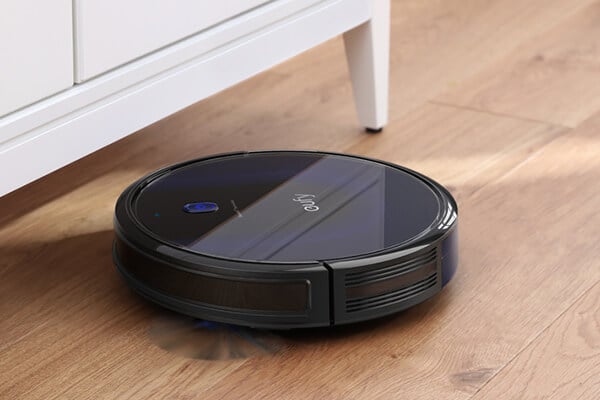 The Robotic Vacuum Cleaner features a modern stylish design from every aspect. The top surface design shares some resemblance with its predecessors including eufy RoboVac 11c. Even though the power button position and the typical circular design make it reminds us of other robotic vacuum cleaners, the unique color and the etched pattern makes it special.
As usual, the Eufy RoboVac 15c Max revolves around using two fixed wheels alongside a roller wheel that can turn to any direction. There are two rotating side filter brushes on the front, which do an amazing job with corners and carpets.
The device has a total capacity of 0.6 Litres in the dustbin, which is quite a good amount of dust you can collect using a robotic vacuum cleaner. We faced zero hassle in pulling out the dustbin and putting it back. You only need to push one single button at the rear side to remove the bin and then push it back to the original position. It is also very easy to clean the roller filters, suction filters and side brushes.
Features and Controls
If you are looking for a modern, technically-advanced robotic vacuum cleaner at an affordable price, this is for you. The Eufy RoboVac 15c Max does highlight a ton of features, especially on the connectivity and remote controlling. With the Wi-Fi connectivity option, Eufy is providing an advanced smartphone connection using a dedicated app named EufyHome.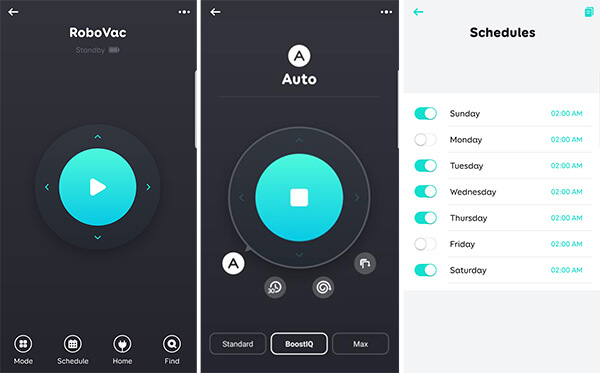 The vacuum cleaner comes with physical remote control. You can use it to turn on the device and put it into different working modes. However, we most enjoyed the smartphone app remote control rather than the dedicated remote. Using the dedicated ap provided, you can do various regular tasks, as well as several other advanced ones including the scheduling the cleaning. You can switch between different working modes and cleaning modes. You can customize a cleaning schedule using the EufyHome app to get the cleaning works done at a specific time every day.
The company claims it to have a 3-point cleaning system, which loosens the dirt from the surface and sucks into the dustbin forcefully. It also uses an advanced series of sensors to identify the falls and stairs, so is safe upstairs as well. The bigger wheels can help it to move through mats, carpet or door ledgers easily.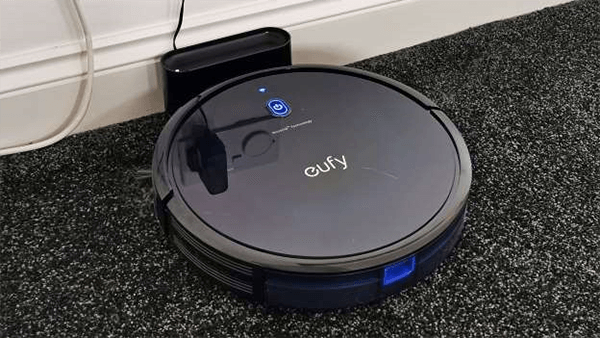 Unfortunately, there is no room mapping technology with the Eufy RoboVac 15c Max vacuum cleaner. Considering its rivals it is a major feature that it lacks. However, Eufy equipped it with 10 infrared sensors all around the device to identify the walls and obstacles. Plus, it can move along the wall horizontally, instead of moving away from the place.
The newly released series of robotic vacuum cleaner is compatible with Amazon Alexa and Google Assistant. So, if you are having an Amazon Echo or Google Home, Eufy RoboVac 15c Max can pair with it and can be controlled accordingly.
Also Read: 21 Best Smart Home Devices for Alexa, Compatible with Amazon Echo
Performance, Cleaning
Before getting into the technical advancements and usability of the device, it is better to know about the cleaning modes RoboVac 15c Max comes with. There are three working modes in total you can play with – Standard, BoostIQ, and Maximum. The names just suggest the power usage and the suction rate. The Standard mode can be used when you think there is nothing much to clean, but just need a sweep around the room. The BoostIQ is the optimal method, which can go around the room to pick up almost every dust and hair. You won't need to switch to the maximum unless you are sure there is a much for the robotic vacuum cleaner to work with.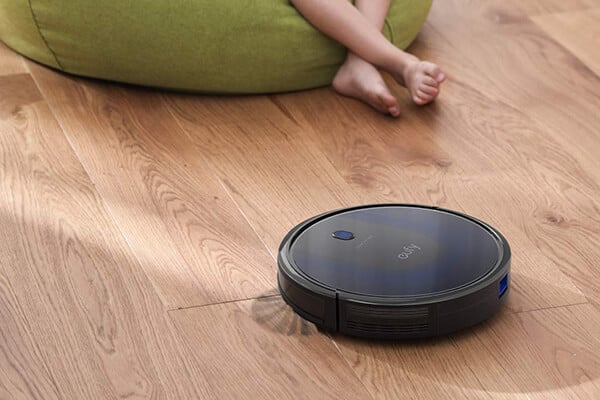 When you start using the Eufy RoboVac 15c Max robotic vacuum cleaner, you will find there are four different control modes available. You choose it easily from the provided smartphone app itself. The Auto Clean method makes it goes around the room and tries to pass through every floor tile. In this method, it can last more than an hour in a single charge. The quick mode also does a similar task but will finish the cleaning job in just 30 minutes. With any mode on, you cannot run the device over a high pile carpet due to the wheel size and brush movement.
The third mode is spot cleaning, which covers only a small portion of the area. When you place the device to a spot and choose Spot Cleaning, it will move to all direction starting from the point. There is a dedicated edge cleaning method, which will sweep the wall edges for you. However, it is still difficult for the device to take out the dust from corners.
Wheels are designed to overcome the hair or other fibers. Yet, if any of the wheels happen to stuck in the middle of your hallway, you will get a notification through the mobile app. There is a charging dock which you can mount to the wall. The robotic vacuum cleaner can return back and dock itself to the charger when the battery juice goes down a threshold level.
Pros and Cons
Pros:
Value-for-money
Wall edge cleaning
Decent battery backup
Wi-Fi connectivity
Automated Cleaning
Alexa and Google Assistant Integration
Cons:
No room mapping
Cannot well-clean corners
Comparatively smaller dustbin
No full length rolling brush
Pricing and Availability
You can't compare this budget vacuum cleaner with Roomba or Neato Models for the price and features. Eufy brings this as a budget friendly robotic vacuum cleaner for a medium size home. The Eufy RoboVac 15c Max robotic vacuum cleaner is available starting from US$279.99 on Amazon.