Google play store is not supporting flash player for android devices and you won't be able to get any updates or bug fixes if you install the flash player for android from 3rd party applications and locations.
If you have a phone with Android 4.1 Jelly Bean and above, there is no way to get support for Flash Player from Adobe for your tablet and also Nexus 7 tablet is not coming with flash pre-installed.
Related: 11 Best Apps to Download Movies on Android for Free
There are a couple of browsers that supports flash player for android if you want to watch flash based videos or to play flash video games. In case, if you don't to install these flash supporting browsers, you can choose to manually install Adobe Flash Player on your Android device.
You ever worried about your Android phone memory space or monthly data consumption, you can select see the Best Lightweight Browsers for Android to Save Memory and there are Dedicated Android Browsers that can Save Data While you Browse.
Let us see Best Browsers that Support Flash Player for Android that you can install for free and paid. These browsers can enjoy the Flash content on your Android Web Browser.
Boat Browser
Boat Browser is a fast and cool browser for your Android device. It is fully customizable with the button's locations as you choose and you can install your add-ons to make your browser even more powerful.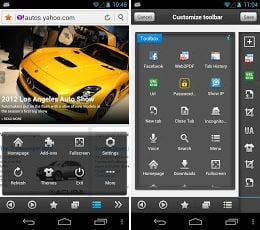 This browser also supports to personalize the background color and the action of the Volume Keys. You can set the Volume Key's action to switch tabs, scroll up/down the page or zoom into the page.The Powerful Bookmarks Management supports new folder, drag and drop, batch delete, import, export, and Sync with stock browser bookmarks. The additional browsing features include Video, Flash Video and YouTube Video Support, Voice Command and Voice Search, Easy File Downloading, etc.
Download from: Play Store
Puffin Browser
Puffin Web Browser is giving you a fast browsing experience and provides Adobe Flash Support. The Puffin Browser encapsulates remote Flash technology to enlighten the mobile users to watch Flash videos and play Flash games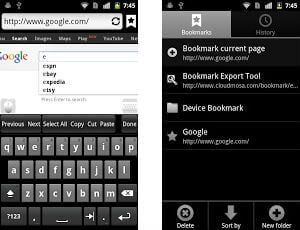 Puffin Browser includes an ingenious virtual mouse technology to bridge the divergence of mobile and desktop experiences. Users can activate the trackpad through the virtual mouse at any time and use it just like a trackpad on laptops. Update: 12/12/2014: The flash options are only available if you pay $1.99 for the premium subscription.
Download from: Play Store
Dolphin Browser
Dolphin browser claims that it is the best browser for more powerful Android device. This browser offering the best performance in latest devices like Pixel 2, Galaxy S 8, One X, and Galaxy Nexus series. Gesture technology allows to easily navigate back and forth by custom based gestures for swiping left and right from screen edges, just like flipping book pages.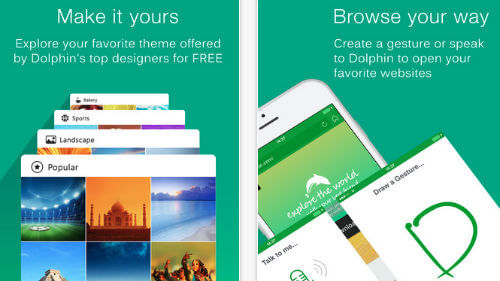 You can use the multiple tab function to open many tabs as you like. Sonar feature allows you to talk with the browser and get things done in the browser. This also provides SWITCH TABS which allow switching tabs easily. Themes offers personalized touch and feel for your browser always.
You can save extend the battery life of your AMOLED phones and eye sights by darkening the browser. This browser coming with the great feature; Block the ads; which helps you to save bandwidth and removes annoying ads. Dolphin supports to download most videos (mp4), audios (mp3), and documents (pdf, doc…) and flash content (ICS).
Download from: Play Store
Photon Browser
Photon Flash Player for Android app is a fast browser for Flash player plugin support and video streaming that liberate your browsing experience on Android. Users can play Flash without installing or downloading any Flash plugin.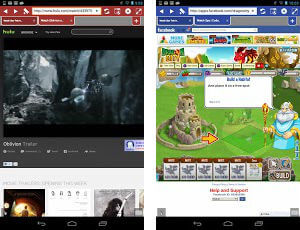 Photon Flash Player and Web Browser Free supports Flash games, Flash videos and Flash websites. You can browse natively on the browser and when you need Flash support, you just need to click the lightning bolt button to activate Flash support for your Android tablets or phones. You can use Photon Flash Player for free with ads or purchase a premium pass to remove ads.
Photon browser also supports Incognito and private browsing support allows you to erase browsing history with every session and allows you to customize your browser colors and make it personal.
Download from: Play Store
Lightning Browser
The Lightning Browser is the small footprint browser that supports Froyo to JellyBean, Tabbed Internet Browsing, and Adobe Flash Player. This browser navigation featured with Long-press a tab to delete the page, Long-press the back button to exit the browser.
Download from: Play Store
Please refer this article if you want to manually install flash browser on Android tablet or iPhone for free.
If you are looking for a flash player browser for your iOS device, the right article for you is Top 4 browsers support flash player on iPad and iPhone 5. Please let us know if you found more browsers that you like to play flash player for your Android device.