Those who want a flash player on Android device have two choices. The first option, rely on a browser that supports Flash Player on Android device. The second choice is to manually install Flash Player on Android device.
Google and Apple removed adobe flash player from their devices. Still, there are a lot of websites built with flash based videos and addictive games. The Android users have to depend on flash player to play videos and games hosted on these web sites.
This article we are going to demonstrate how to manually install Flash Player on Android tablet or Android Phone.
We mentioned an article for a list of iOS browsers supporting Flash Plyer for iPhone and iPad devices. Most of these flash based browsers are not free, and some of them need to pay an annual fee for using their browser on your Android device.
This article shows you how to install Android manually into your Android device instead of depending on the paid flash based browser. These steps are relatively easy, and you can complete the manual installation of Android flash player with a few comfortable way that we described in this article with screen shots.
1. Prepare Android Device to Install Android Flash Player.
First of all, you have to allow Andorid device to install APK from third party sites. This permission is required for your device to install adobe flash player APK file directly from adobe.com.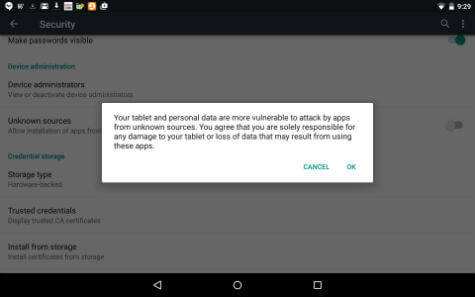 Make sure your Android connected to the Internet. Go to the Android phone or tablet Settings > Security > select Unknown Sources > Click OK to confirm and close settings.
2. Download Adobe Flash Player APK to Install.
Now open your browser on Android device, use Android built-in browser or chrome that you already have on your device. Click the link Adobe Flash Player Archive page and scroll down to reach Flash Player for Android 4.0 archives. Select the one below the new release (usually stable version) of Adobe Flash Player from that list. If you find any flash player version is not compatible with your device go back and select old versions to match your Android device.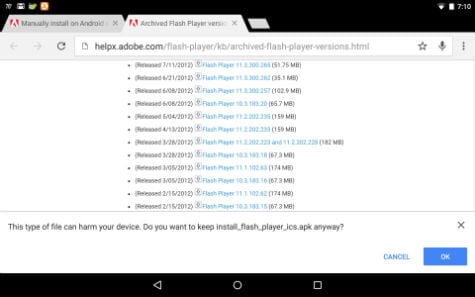 Tap on the link to start downloading Adobe Flash Player.apk file on your Android device and the download will start automatically.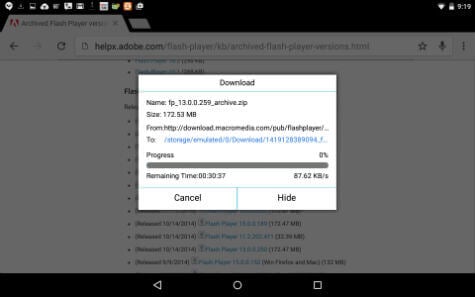 Once the download complete, you may get a popup showing on your Android device showing the the window.
3. Install Adobe Flash Player APK on Android
If you didn't see this popup, open your notifications from the top bar and tap on the downloaded flash file to start the installation.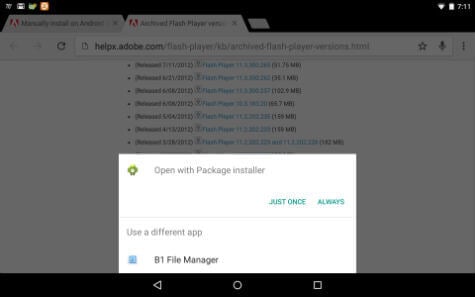 It may ask you to open the download file with package installer or other compatible apps. Let it run on your device to install the APK file on your device.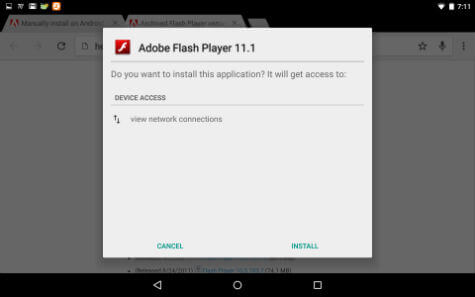 Once you see the installation completed window on your device screen, close the window and follow the third step here.
4. Prepare Android Browser to Play Flash Content.
Now we need a good browser to support flash player that already installed on the device. Mozilla Firefox is a good choice, but recently our readers notice some stability issues in Firefox and Flash player. We recommend dolphin browser that you can install from Google Play Store for free of cost.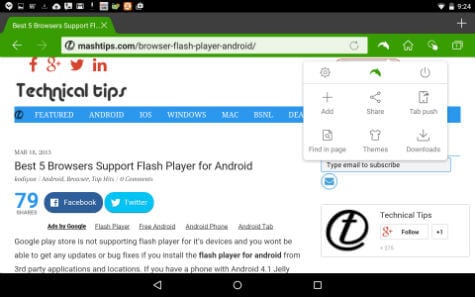 Once you install the Dolphin browser, open the Dolphin browser setting by tapping on dolphin icon on right top. Go to Setting > Web content > Flash Player and set to "Always on" or "On Demand."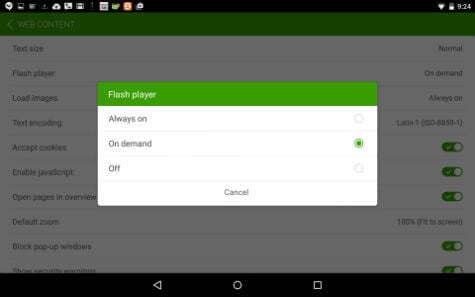 Close the dolphin browser and reopen with your flash based website and enjoy the moves and games on your tablet.
5. Now Play Flash Content on Android Browser
Now your flash player installation is completed. Please go back to security settings on your device and revert the security setting to avoid any installation of files from a third party or unknown sources.
Installing Flash Player on your device is not recommending by Google. Please be aware that it may affect your device performance and battery life. The better alternative for installing flash player is flash supporting browsers that you can download from Google Play store.