OCR (Optical Character Reader) Technology introduced into the digital world to convert your images into text documents. iOS OCR App can replace the traditional scanner app and programs that used a desktop computer and an additional scanner device. iTunes offers the best iOS OCR apps for free that you can use with your iPhone/iPad/iPod device.
Instead, just install one of the best OCR apps on iPhone and scan the document with your iPhone camera.
Best OCR Apps for iPhone
Once you install one of these apps, you can pick any document, scan with iPhone and convert that scanned image to the text within a few seconds. You can convert any documents into a text file (check online OCR Tools) and edit or add texts where ever you need. There is no reason to spend time typing documents into text format.
CamScanner + PDF Document Scanner and OCR
CamScanner is a powerful iPhone scanner app that can use your phone camera to scan receipts, notes, invoices, whiteboard discussions, business cards, certificates, etc. This app lets you scan docs into a clear and sharp image or PDF and email, fax, print or save to cloud.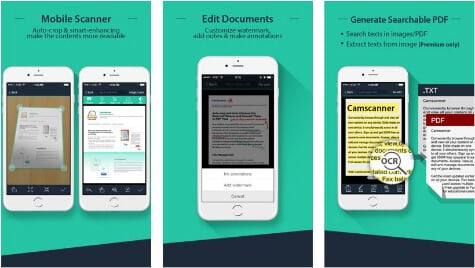 CamScanner offers the OCR (Optical Character Recognition) feature that extracts texts from a single page for further editing or sharing. You can use this app to perform Smart cropping and auto enhancing the texts and graphics to make the result clear and sharp.
Download CamScanner from iTunes
Office Lens
Office Lens app from Microsoft that can scan, trim, enhance, and make pictures of whiteboards and readable documents. This OCR app can convert images to editable Word and PowerPoint files and also digitalize notes on whiteboards or blackboards.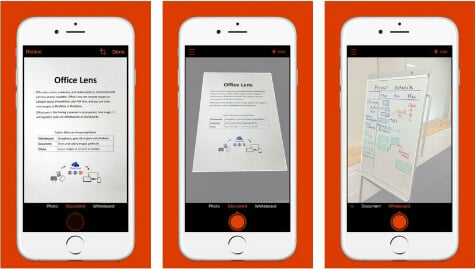 Office Lens app can automatically recognize (using OCR) printed text so you can search for words in images and copy and edit them. This app's Whiteboard mode trims and cleans up glare and shadows. The Document mode trims and colors images correctly and can save pictures to OneNote, OneDrive, or other cloud storage.
Download Office Lens from iTunes
FineScanner
FineScanner turns your mobile device into a powerful all-purpose mobile scanner to quickly capture docs and books, creating electronic copies in PDF and JPG. This iPhone Scanner app can apply online OCR technology to recognize texts from scans for further editing and sharing. FineScanner can use to scan books with your iPhone and iPad, using the breakthrough online BookScan technology.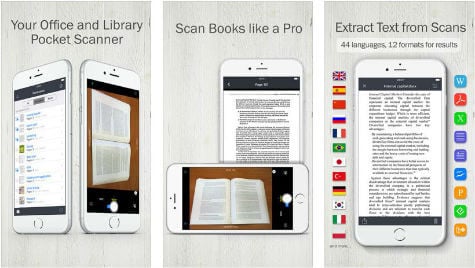 The built-in OCR feature with this app scans in 44 languages (including Latin, Cyrillic, and CJK alphabets) and choose from 12 output formats (doc, pdf, txt, and more), preserving the original document formatting such as lists, tables, and headers (Premium account and Internet required)
Download FineScanner from iTunes
PDFpen Scan+ with OCR, PDF Text Export
PDFpen Scan app can use your iPhone or iPad to scan and OCR multi-page documents to create searchable PDFs. You can scan these documents directly with your iPhone or iPad camera. This app detects and crops each page automatically.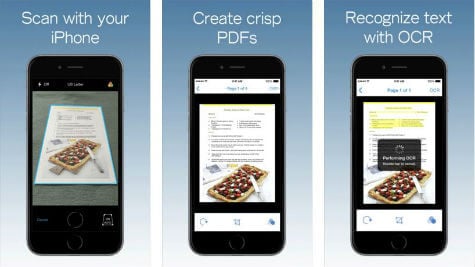 PDFPen app performs OCR in 18 different languages, copy OCR text and auto-export to iCloud and Dropbox, email, export, and share as PDF documents.
Download PDFpen Scan from iTunes
Related: Best Receipt Scanner and Organizer App for Android& iPhone
Scanner for Me + OCR
Scan, print as well as manage the documents on your iOS device. Just point the camera of your iPhone and iPad to the written, printed or graphic material to scan as well as print it instantly. You can scan as many pages you want or select the photos from the camera roll.
Convert the scan into editable text documents with the OCR process and it is available for a wide number of languages. You can edit the scan perspective and its borders easily as well as apply filters over the file.
Change the contrast and orientation of the file to the way you want. Share the scans separately or merge them into a PDF file to send it. Move the scan to diverse cloud-based storage and sign them on your device's screen.
Download Scanner for Me from iTunes Store
Scanner Pro
Quickly scan and save the digital version of the available paper document with Scanner Pro. Scan almost any paper from receipts to multi-page documents without any trouble through the app.
You can use the OCR feature of the app to convert almost any scan to the text into 21 recognition languages. The app detects borders, correcting the distortion and orientation. With the advanced color processing of the tool, remove the shadows and correct perspectives of the file.
Perform multiple sharing actions easily with Workflows, upload the file to the cloud, and save it to other folders with a single tap. Every change is kept track of as you do it if you want to revert then easily reverse an edit.
Download Scanner Pro from iTunes Store
OCR Scanner – Images & documents to text
OCR scanner allows you to turn your smartphone into a document scanner without any trouble. Convert your scanned documents from your camera or camera roll into the regular text document with character recognition.
The app is simple & reliable offering 100% satisfaction to the user. The OCR scanner app is compatible with more than 20 languages. You can change the text content into diverse languages without any trouble. It supports Bulgarian, Catalan, Czech, Chinese (Simplified), Chinese (Traditional), Danish, German, Greek, English, Hindi, Croatian, etc.
Download OCR scanner from iTunes Store
Text Scanner (OCR)
Use the app to recognize almost any form of text from an image as well as the document with an accuracy rate of 98% to 100%. Coming with the support of over 50 languages, you can easily scan any document without the worry of the language it inherits. With the OCR technology, you can use the tool for your benefits. The recent scan history allows you to know what document you did a scan last week.
Search for the particular words in the saved scans. Copy the words or text on the screen and screenshot the image easily with the scanner tool.
Download Text Scanner (OCR) from iTunes Store
OCR Scanner with LEADTOOLS SDK
Scan images with superior speed and accuracy with OCR Scanner with LEADTOOLS SDK. You can select the image portions to ensure the app only recognizes the text on the particular portion. There are numerous options to customize the recognition results giving you more control over the process in a lucid manner.
You can convert the document to a variety of formats from PDF, DOCX, Text, SVG, and many more. With the 'Speak' option, use the phone to playback the text present on the file without any trouble. Use the Intelligent select area the particular area of the image or document to process the selected portion having both text and graphics to extract the text.
Download OCR Scanner from iTunes Store
Scanner with OCR
This OCR Scanner App is designed for both iPhone and iPad. OCR Scanner is a very useful application for high school students, college students, and when traveling abroad in everyday life. Scanner with OCR app is a powerful tool that turns your iPhone into a multifunctional mobile scanner with text extraction and translation capability.
This iPhone OCR Scanner uses advanced image-processing algorithms to eliminate uneven lighting and shadows and improve contrast. The result is the clearest and most readable scans possible from the iPhone's camera.
OCR Scanner turns your physical documents into digital notes that you can edit, translate, or share too many apps. OCR Scanner supports and recognizes up to 32 languages and shares your text with almost all your favorite apps.
Download Scanner with OCR from iTunes
Once you convert the document, you can save as a text file for future use, search by text, or modify the texts on iPhone itself without any effort. If you are a professional or a student, these apps are going to save your time when you want to scan a book or a document to convert those scanned images to text. The World is moving towards a paperless world with digital gadgets. Be part of these paperless world move to protect the tree and save the environment.