Conference Speakers can turn any voice or video call into an actual conference by letting everyone listen and speak without moving from where they sit. The eMeet OfficeCore M2 is one of the best such speakerphone we ever tried. Why such an early verdict? Let's see.
Here is a quick review of the eMeet OfficeCore M2 speakerphone. Check out what makes this smart device the best pick for business conferences.
eMeet OfficeCore M2 Speakerphone: Overview
Managing conference calls at the office can be very challenging these days. Traditional telephone systems are incapable of capturing voices clearly. They cannot deliver loud output either. This is where eMeet OfficeCore M2 comes as the perfect solution.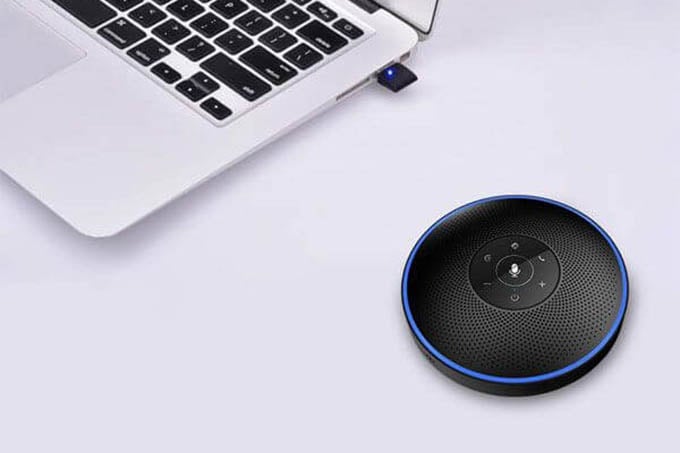 OfficeCore M2 is a small battery-powered unit that supports Bluetooth v4.2 connectivity. You can also connect the speakerphone to your PC or laptop via USB or AUX jack. There is no need to install any driver or additional software to use eMeet OfficeCore M2. Just plug it in and turn your office conference room more interactive.
Related: Best Free Remote Access Software for Small Business Owners
eMeet OfficeCore M2 Specifications
The eMeet OfficeCore M2 is packed with a lot of features. The below table will give you a glimpse of its specifications.
| Specifications | eMeet OfficeCore M2 Speakerphone |
| --- | --- |
| Dimensions | 125 x 125 x 35 mm |
| Weight | 290 grams |
| Colors | White, Gray, Black |
| Connectivity | Bluetooth v4.2, USB, AUX |
| Bluetooth range | Up to 20 meters |
| Voice Localization | AI positioning |
| AI technology | VoiceIA Algorithm, Acoustic Echo Canceller, Noise Reduction |
| Microphones | 4 AI smart microphone array |
| Meeting room coverage | Up to 8 people |
| Sound pickup angle | 360-degree omnidirectional |
| Pickup radius | 8 – 10 meters |
| Speaker output | 3W/85dB |
| Battery | 2500mAh |
| Charging time | 3 – 4 hours |
| Battery life | Up to 12 hours talk-time, up to 10 hours music playback |
Stylish and Portable Design
The eMeet OfficeCore M2 sports a small and compact design, which makes it very easy to carry around. It can fit into your backpack effortlessly. The wireless conference speakerphone is made with aircraft-grade aluminum material. This makes it very durable and handy, especially while traveling.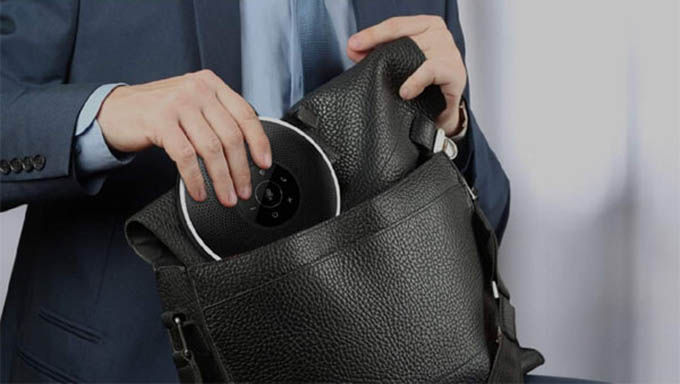 The cool interactive lights make eMeet OfficeCore M2 an exquisite piece of tech for your conference rooms. When you turn on the device, the LED lights around the edge light up with a gentle sound. There is no loud sound prompt on startup. This is another notable feature of the stylish Bluetooth speakerphone.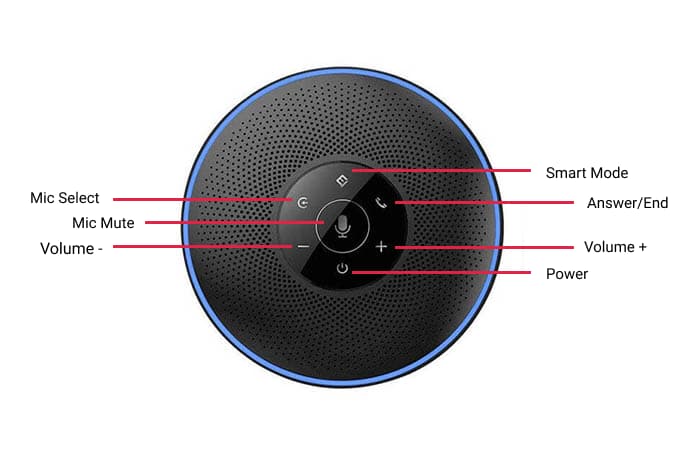 The touch panel at the middle looks quite upscale, giving an overall feel of a high-tech product. You get all the basic controls and buttons in the single touch panel on the top. The eMeet OfficeCore M2 conference speakerphone has touch options for Input source selection, volume changing, Call answer/end, Mic mute, smart button, and the power button. You can get eMeet OfficeCore M2 in three colors – black, gray, and silver.
Smart Functionalities
The top-placed touch controls make the wireless conference speakerphone much easier to operate. You can even switch between multiple audio inputs during a call using the centralized input switch key.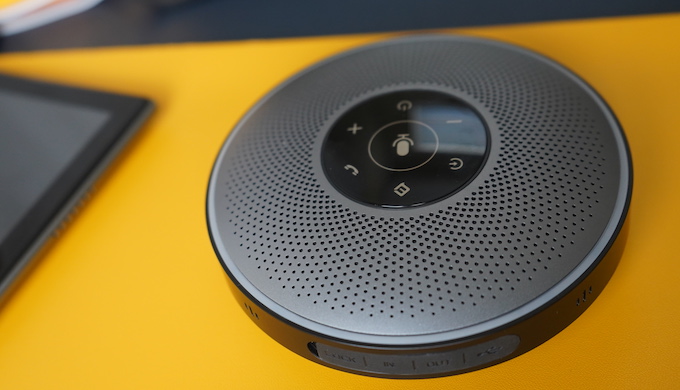 The interactive lights encircling the edge change color as per the status of the device. They turn blue on startup, green when functioning, and red when you tap the mute button. The LED lights also serve as notifications for different functions. Red means low battery level and blue means Bluetooth connection established. Likewise, white means auxiliary input, while green denotes USB connection.
Battery Life
eMeet OfficeCore M2 is powered by a rechargeable 2500mAh battery. It gives you up to 12 hours of continuous talk-time battery backup on a single charge. You can check the battery status by gently pressing the power button.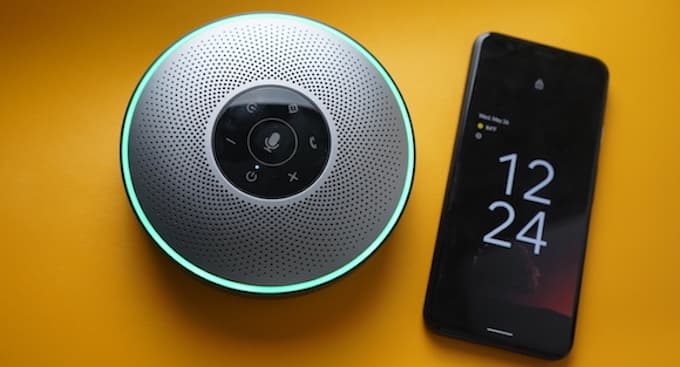 There is an intelligent assistant key on the panel as well. This allows you to make a call through the digital assistant app on your smartphone. You can find the micro USB port, 3.5mm audio jacks for AUX input and output, and a lock hole on the side of the speakerphone.
Also Read: Best Cordless Landline Phone with Answering Machine
Microphone and Speaker
The eMeet OfficeCore M2 has four microphone arrays to cover long surround distance. It has a 360-degree far-field voice pick-up capability too. This ensures that the smart wireless speakerphone catches the voices in the meeting room perfectly. The voice will be transmitted to the other end with superior clarity too.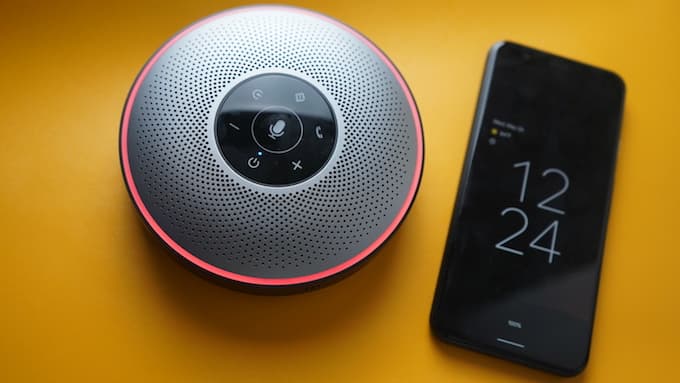 The eMeet conference speakerphone is clubbed with the VoiceAI Algorithm for the best usage of its microphone arrays. This delivers excellent HD audio at your end. eMeet OfficeCore M2 also has an Acoustic Echo Canceller feature. It effectively eliminates the noise and echoes in the room. This isolates the voice captured by the microphone as well. This assures you of a superior conference experience.
Connectivity and Compatibility
OfficeCore M2 is compatible with Windows 7 or above and macOS 10 or later versions. The device comes with a wireless dongle, which goes directly into the USB port of your laptop or computer. The USB 2.0 connecter is a big turnoff for Mac users, but luckily the Bluetooth connectivity lets you plug in any device including your phones. Also, there is a USB port to connect the speaker over to your computer using a USB cable.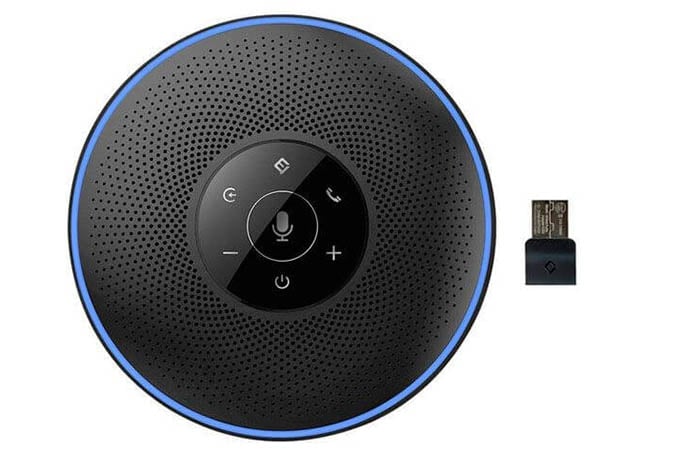 The speakerphone from eMeet is well optimized for multiple mainstream conference applications. This includes Google Hangouts, WebEx, Goto Meeting, Zoom, Skype, Facetime, and more.
What's more, you can connect OfficeCore M2 to your computers and use assistant tools like Siri, Cortana, Tencent Dingdang, and Google Now. No matter where you are, you can enjoy high-quality communication with OfficeCore M2.
Related: Best Online Business Tools for Small Business Owners
eMeet OfficeCore M2 Pros and Cons
The eMeet OfficeCore M2 is one of the excellent speakerphones for your PCs or phones, but it has its own downsides as well. Let us see the reasons to buy or not buy this speakerphone.
Pros:
Highly portable design
Stylish and sturdy build
Excellent audio clarity
360-degree voice pick-up
Impressive noise cancellation
Good wireless range
Compatible with a wide range of devices
Suited for small to medium conference rooms
Cons:
No native digital assistant
Configuring audio settings can be confusing
Battery life could be better
Pricier than Google Home and Amazon Echo
Pricing and Availability
The eMeet OfficeCore M2 is priced under 200 USD. As of now, you can purchase the speakerphone from Amazon only. While the price may seem a bit higher, it does come with amazing features to justify that. The eMeet OfficeCore M2 is highly versatile and probably the best solution for business conferences to date.
Today's Deal: $10.00 Off
Final Verdict
The eMeet OfficeCore M2 delivers a decent performance in terms of audio and mic quality, as a dedicated speakerphone for meetings. It is stylishly built and will sit elegantly on the conference room table. At the same time, the build is sturdy enough to stand the test of time. The built-in omnidirectional microphone array makes OfficeCore M2 suitable for a meeting room with 8 to 10 people.
The mic sensitivity is great and transmits the voice without any latency issues. The noise reduction features are also quite impressive. Besides, the speakerphone can also be used for music playback and as a smart replacement for Bluetooth speakers. Overall, eMeet OfficeCore M2 is a handy AI-powered conference speakerphone. It can surely be used for a wide range of purposes.