Are you looking for the cordless phone with answering machine for your landline? Your investment in a cordless landline phone should be worth it. We have spent a lot of time to give you the best options available in the market. Below is a list of the best Bluetooth Cordless Phones with answering machines.
These cordless phone system has a built-in answering machine and even expandable to more handsets in the future, here are the best out of it.
Panasonic Bluetooth Cordless Phone
Panasonic Link2Cell cordless phone comes with Digital Answering Machine and Enhanced Noise Reduction. With this Bluetooth phone, you can convert your mobile phone into a land phone using Link2Cell technology. This Bluetooth cordless phone can Link up to 2 smartphones using Bluetooth to make and answer calls from anywhere within the house.
You can answer all the calls to the mobile phone through this Panasonic cordless phones. You don't need an additional landline to receive phone calls. In addition to this, the cordless land phone can alert you for the incoming text messages on the mobile phone. The base unit has a built-in USB that can charge your mobile phone.

The Panasonic home phone has built-in caller ID. The additional feature is the Talking Caller ID, that can announce the caller name while your phone ring. Also, this cordless phone with answering machine has a vivid 1.8-inch white backlit handset display. The Enhanced Noise Reduction suppresses background noise to make the voice clear.
The answering machine can save voice messages up to 18 minutes long. This cordless home phone can block the numbers. You can block up to 250 phone numbers with its Call Block feature. Also, the home phone base unit can transfer up to 3000 numbers with phonebook transfer. The phone operating on 1.9 GHz frequency and does need 7 hours to charge.
Key Features:
Digital Answering Machine
Enhanced Noise Reduction
Bluetooth "Link2Cell" to connect mobile phone
Talking Caller ID
250 Numbers Call Blocker
Buy from Amazon: Panasonic KX-TG7875S Bluetooth Cordless Phone
Also Read: 7 Best Landline Call Blocker Devices to Block Robocalls
VTech Phone Answering System
VTech is one of the best cordless phones with answering machine. The cordless handset can display the contact details, date, and time of incoming calls. The silver/black CS6529-4 comes with four cordless handsets. The base unit can expand up to 5 handsets. In addition to these intercome features, you can transfer the calls between the handsets.
The VTech cordless landline phone has "50-number Caller ID" and "Call Waiting" feature. And, the power-conserving technology ensures optimal battery performance. Also, silence the handset or base unit ringer immediately or for a long duration. You can listen to missed calls even from the cordless handset. Get up to 14 minutes of answering system recording time.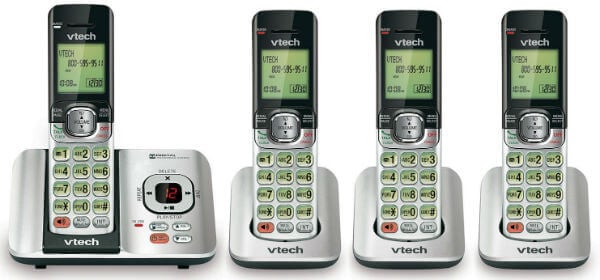 Also, use the last-ten number redial feature to answer missed calls. Communicate between rooms easily with its intercom feature for two handsets. Keypad illuminates along with its LCD screen for easy viewing in dim light. To use Caller ID, you need to subscribe from your service provider. Never struggle to hear your loved ones with the device's hearing aid compatibility. Above all, you can avoid desk clutter with its convenient wall mount.
Key Features:
Digital Answering Machine
50 Number Caller ID
Call Waiting
250 Numbers Call Blocker
Buy from Amazon: VTech CS6529 Phone Answering System
Related: 10 Best Ink Tank Printers with Refillable Ink
AT&T Expandable Cordless Phone
This cordless phone has a Digital Answering System has three handsets. The base unit can be expanded up to 12 handsets. Digital Answering System has voice guide records for up to 22 minutes. HD audio feature with Equalizer provides customized audio while you make calls. You can get Caller ID records for about fifty numbers and names. The phone can announce the caller's name with the Caller ID Announce feature.
With AT&T land phones, you can get rid of unwanted calls easily. The landline answering machine allows you to block up to 1000 numbers with its Smart call Blocker. Robocalls get automatically blocked from ringing, the first time itself. Also, you can permanently blacklist numbers with just one touch on this AT&T cordless phone. This cordless landline phone also brings you long-range and Push-to-Talk features. With Push-to-Talk, make calls effortlessly from any room.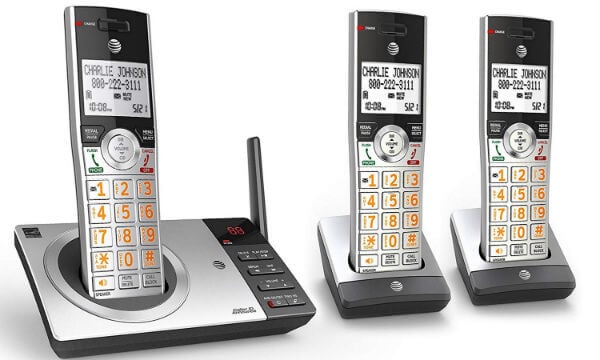 The AT&T Answering Machine's extra-large screen and large buttons facilitate easy viewing. Also, there is a high-contrast LCD and backlit keypad. Moreover, stay organized with memos and outgoing announcements.
Key Features:
Digital Answering Machine
Caller ID Announce
Expandable up to 12 handsets
50 Number Caller ID
Robocaller Auto blocking
Buy from Amazon: AT&T DECT 6.0 Expandable Cordless Phone
Panasonic Bluetooth Cordless Phone System
Panasonic DECT 6.0 is yet another best cordless home phone. The cordless phone has Link2Cell Bluetooth Enabled feature, that can link up to 2 smartphones using Bluetooth. Furthermore, you can get caller information using the phone's text-to-speech function. The Bluetooth cordless phone can announce the caller's name in English/Spanish from the base unit and portable handsets.
The Noise Reduction feature on this Panasonic cordless system can suppress background interference and enhances the voice. This functional system has special features like voice Paging, speakerphone, and easy call block.

This Panasonic Answering Machine has the advanced TAD (telephone Answering device) feature. Make and answer smartphone/cell calls from anywhere in your house using link2cell cordless handsets.
The cordless landline phone comes with five handsets, including the base unit and four cordless handsets. These are expandable to six handsets (additional handsets as separate purchases). The cordless phone has impressive battery backup gives you 12 hours of talk time even in power failure. You can enjoy up to ten hours of talk time and up to eight days of standby time.
Key Features:
Digital Answering Machine
Caller ID Announce
Bluetooth "Link2Cell" to connect mobile phone
250 Number call block
3000 Name phone book
Buy from Amazon: Panasonic KX-TGE475S Cordless Phone System
Motorola Smart Wireless Home Phone with Alexa
Motorola AXH04 is the only wireless home phone system we see with built-in Alexa and mobile app. The mobile app will help you to go through the details of what you have been made, received, or missed through your landline telephone.
The built-in Alexa helps you to make calls with Alexa voice assistant. With Alexa built-in with this smart land phone, you can check the weather, hear the news, play music, set timers, reminders, and alarms. In addition to the Alexa to Alexa calls, you can make Skype calls through the hands-free speakerphone.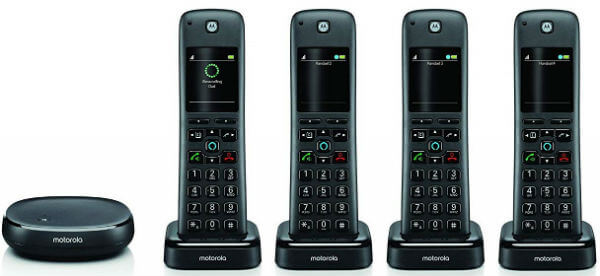 The hands-free speakerphone helps you enjoy HD calls and take calls wirelessly and privately. You can enjoy Alexa in every room of your house using wireless communication. The wireless home phone system lets you easily set up the phone to your internet service and landline. The large 2.0" full-color display helps you to see all the details. The device has no built-in voice mail service.
Key Features:
Built-in Alexa
Alexa and Skype Call
Android/iPhone app
Buy from Amazon: Motorola AXH04 Smart Home Phone System
AT&T Phone Answering System
This phone has built-in Call Waiting and Caller ID system. The AT&T Phone answering system is combining with three cordless handsets. The extra-large LCD can display text in large sizes.
You can save about fifty numbers in the phone book directory. Retrieving messages, storing information, and answering calls is easier on this AT&T phone system. Furthermore, easily retrieve up to 10 latest calls with the quick redial feature.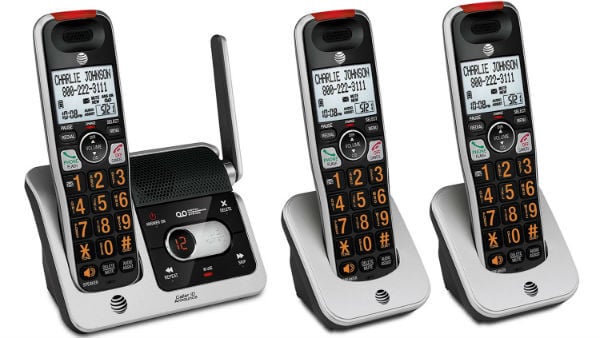 This cordless landline phone can support up to 4 cordless handsets. Additionally, this phone answering system also has a conference call option. The phone system visual ringing indicator which is expandable up to 12 handsets.
Key Features:
Digital Answering Machine
One button volume booster
HD Audio Equalizer
Caller iD Announcement
Expandable up to 12 handsets
Buy from Amazon: AT&T CRL82212 Phone Answering System
You can pick the Bluetooth cordless phone with an answering machine that you like best. When it comes to the best cordless landline phone available, all of them are equipped with splendid features. Some of the most useful features are Caller ID, Alexa support, and Call Waiting. Also, the top most cordless home phones are in varying price ranges. Pick one that suits your budget and get going. Enjoy the various benefits that the best cordless home phone offers.