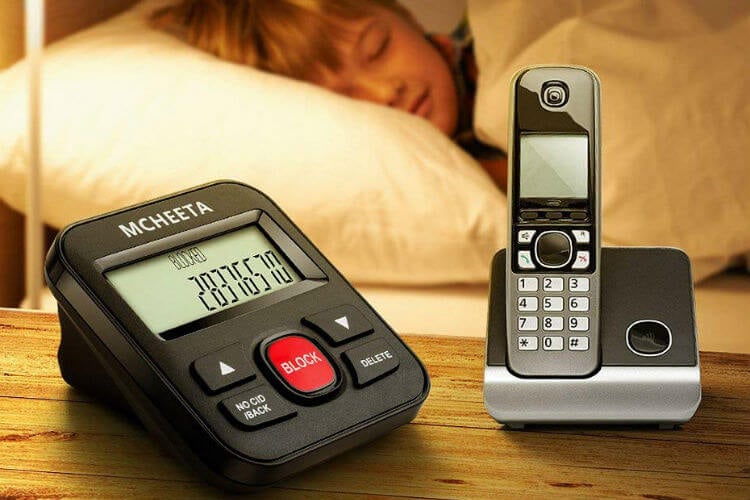 Disclosure: This post may contain affiliate links. We receive a small commission at no extra cost to you when you make a purchase using some of our links.
Land phones are much threatened by spam calls, as they are vulnerable and are not able to block that easily. Even the residential phone providers like AT&T and Verizon are offering landline call blockers. Some of the land phones come with call blocking features. However, you can do more sophisticated spam call blocking with dedicated "land phone caller ID" devices, with preciseness to block RoboCalls and Spam Calls.
Here is the list of the best landline caller ID and call blocker devices. You can use with residential phones to block spam calls and no caller ID calls.
CPR V5000 Call Blocker
CPR V5000 Landline Call Blocker is one of the best call blocking devices. This blocking device is useful to block spam and robocalls. The CPR V5000 includes a spam registry with 5000 known Robocall spam numbers. And you can block further 1500 numbers that you wish to block. You can add the numbers to the block list with just a tap.
The Block Now button of CPR V5000 allows you to block 1500 unwanted calls in a tap. The button located on the top and so convenient to operate. When pressed, the number will be logged to block entry, and the call will hang up. The "#2 blocking" feature is another easy to use functionality of the CPR5000 device. Users can block calls by pressing the #2 on their cordless telephone device.
Moreover, you can block numbers by entering them into the call blocker manually. This call blocker can stop numbers from specific area codes. Besides, CPR V5000 supports a set of other blocking functions. To work the CPR V5000 Call blocker with your phone, this needs Caller ID services from your network provider.
Related: 6 Best Cordless Landline Phone with Answering Machine
With this device, when you press the call list button, that shows the log of the last 20 calls. You can choose and block those numbers from the call history using the Block button. Also, there is a Block List button, which allows you to view the blocked contacts list. The additional "Delete" button allows you to remove a blocked contact.
Since the device is preloaded with a database of nuisance robocall numbers already, the device will automatically detect and block most of the spam calls. No more worries about scam calls, political calls, robocalls, election calls, etc. You can connect the device with landline phones within seconds. The V5000 call blocker is compatible with most of the service providers in the USA like Verizon, AT&T, Comcast, Comcast, Century Link, Bell, etc.
Buy from Amazon: CPR V5000 Call Blocker
AT&T CL2940 Corded Phone
AT&T CL2940 Corded phone is not just a dedicated blocking device. CL2940 is a cordless telephone with a Call Waiting feature. This device can display the caller id of the caller through the extra-large tilt LCD. It consists of an audio assist and a loud ringing speaker. The telephone unit stores call history, and caller ID logs up to 65 numbers.
AT&T CL2940 also consists of ringer-receiver volume controls. The device includes a trilingual setup menu with languages English, Spanish, and French. The telephone can work without AC power, with four AA batteries. The telephone display shows the caller ID of the current caller. In addition to this, the AT& Corded phone can show you the ID of those, who are waiting or ringing. The large buttons and visual ring indicator is useful for visually impairing people.
Buy from Amazon: AT&T CL2940 Corded Phone
CPR Shield Land phone Call Blocker
CPR Shield is another handheld land phone caller ID and Call Blocker device from CPR. CPS Shield has a very ergonomic design and buttons placed for easy access. The circular shape will simply settle in your hands. CPR Call Blocker is pre-loaded with a list of 2000 numbers, includes robocalls, spams, and political Ad numbers.
Also Read: How to Block Calls and Messages on Android?
The device lets you add and block additional 1500 numbers. You can tap the "Block Now button" on top of the device to add a number to the block list. In addition to this, the user can manually program the device so that he can add numbers as well as area codes. The CPR Shield call blocker features masked blocking functions such as Private, International, or Out of Area to recognize them easily.
This landline call blocker device can easily pairs with your landline phone within no time. Also, this "land phone caller ID blocker" blocks '0' type calls, and has the last call blocking function.
Buy from Amazon: CPR Shield Land phone Call Blocker
Digitone ProSeries Call Blocker
Digitone land phone call blocker device is a very useful blocker even in dark light conditions. The ProSeries has an illuminating backlit display built with the device. The display shows you the name and number of caller, time, date, and number of total calls. The ProSeries call blocker will block known spam callers without annoying you.
Digitone never rings the land phone if the caller is a spam caller. The call blocking will happen immediately in the background, and you never knew. The caller blocker will work for all devices connected in the same line. There is no need to add line splitter or worry about the static online.
The device consists of a "1000 number storage" virtual memory. Manufacturer words that it also has an unlimited virtual block memory. Digitone Pro Series Call Blocker has a built-in block button to block calls immediately. Moreover, you can sue the remote blocking feature by using the last call remote entry on your phone. This landline call blocker works on all analog phone lines with DSL, FIOS, Cable Modems, or Digital Phone Services.
You can block numbers by sort of Area Codes, Exchanges, or Specific Names or Numbers. The device needs the Caller ID and Number service from the landline service provider to operate.
Buy from Amazon: Digitone ProSeries Call Blocker
MCHEETA Landline Call Blocker
MCHEETA Landline Call Blocker is the last feasible device of this segment. It features a comparatively high capacity of memory to store large sets of spam number details. Mcheeta is a feasible land phone call blocker. The device has a list of whitelist and blacklist numbers, that can use to allow or block a list of numbers on your choice.
MCHEETA also blocks robocalls, political calls, spams, and other nuisance calls. But the way is somewhat distinct from them. It is extremely easy to set up the device to block a call through a single tap on the block button positioned in the center. Mcheeta blocker can store up to 4000 sets of numbers in both white and blacklist categories. The display of this call blocker is very descriptive of the call and enabled features.
Related: 6 Best Headphones to Record Calls on iPhone and Android
MCHEETA landline Call Blocker filter calls by means of No Caller ID, out of the area, unknown, and private calls automatically. Also, you can toggle between blocking numbers with or without land phone caller ID. You can do all these switchings with built-in control buttons. The device is compatible with almost all landline service providers across the USA.
Buy from Amazon: MCHEETA Landline Call Blocker
SENTRY 3.1 Call Blocker & Screener
Sentry 3.1 is somewhat unique in action from those we discussed above. It has some unique screening techniques used to block unwanted calls. Sentry 3.1 works fully automatically once you set up the device. You can type and add whitelist numbers to the device with names. The device has a built-in number keypad to use for this feature. Sentry 3.1 Call Screener needs Caller ID service to enable this feature on your device.
One exciting feature of Sentry is that you can type in reply messages to those callers in the whitelist if you couldn't pick the call up. The whole operations on this land phone call blocker are accessible through button interface.
This landline call blocker doesn't want you to make a call to block it. Fully automation screening will block the call from the first ring by checking the number with a saved blacklist. The device is effective on robocalls, telemarketers and spams, solicitor calls.
Buy from Amazon: SENTRY 3.1 Call Blocker and Screener
CPR V10000 Call Blocker with Dual Mode Protection
CPR V10000 is the updated call blocker with preloaded 10,000 known scam numbers. In addition to these preloaded numbers, you can block up to 2000 numbers with the help of a touch button. The call blocker device can block all Unknown, Private, and International numbers. This call blocker lets you set to block all calls starting with certain area codes to block the spam callers.
The touch button loads the number to devise memory, and the call will be disconnected immediately. This new model can set to block all numbers into the landline except the numbers from the allowed (white) list. You can see the call list, blocked list, and allowed list on the LCD by clicking the buttons on the device. The device is compatible with all major US carriers including AT&T, Verizon, Comcast, Century Link, Bell, Ooma, etc.
Buy from Amazon: CPR V10000 Call Blocker
These are the best Landline Call Blocking devices available in the market. If you are in need to avoid nuisance calls or blacklist someone, you can depend on one of these devices. The residential phone blocker devices are smart enough to recognize the callers from the blacklist and block them even before they ring your phone. You can add your custom list to this device and block all calls from those annoying spammers.