The new Smart Universal Remote Control can replace a pile of remote controls from your home. Remote control for TV is not limited to control on only your TV, instead these remotes start to support more than one device. These All In one remote controls like harmony remote can work with remote control app on your smartphone and one-touch programmable by connecting online to add more devices form the device database. These Smart TV remotes are self-learning devices can connect WiFi and controlled by multiple users from their smartphone remote apps. Let's find the bets Universal All In One Remote Control devices to manage all your IR devices at home.
Logitech Harmony 650
Logitech 650 Universal remote control is coming in attractive color and brilliant LCD smart display. Logitech claims that this all in one remote control help you to replace almost 8 remotes.  For easy navigation, the remote buttons are grouped by functions and backlit display to navigate on remote even in dark room. The easy navigation one-touch buttons help you to watch DVD player, just with one command "Watch a DVD." With this smart functions, you don't need to change any settings or input to start watching your DVD.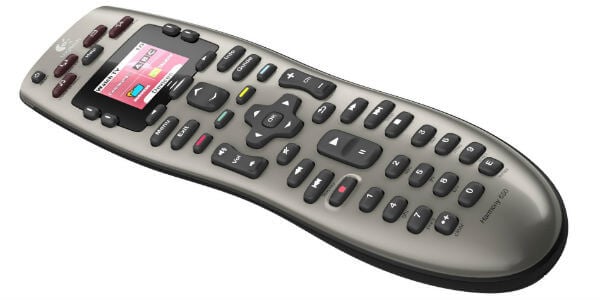 Universal remotes should be compatible with a maximum number of devices and brands. Logitech Harmony 650 is compatible with
225,000+ devices
from
5000+ brands
. With this programmable remote, you can setup all devices online with Mac or Windows PC. Logitech adds new devices to their catalog, and your remote control will always be compatible with new devices once you update by connecting online.
Buy from Amazon
Harmony Ultimate One
Harmony Ultimate One is the smart TV Remote control from Logitech. Whether it is a Roku device or Smart TV, harmony can control it. We tested this remote with Samsung TV and Roku stream stick and both function well with this Logitech Harmony. The color touchscreen on the remote control lets you navigate TV, Music or your favorite Games with swipe and tap functions. Harmony Universal remote control lets you save up to 50 Favorite channels with dedicated icons and offer a personalized large touchscreen. You have full control to organize and group icons based on your favorite channels and programs.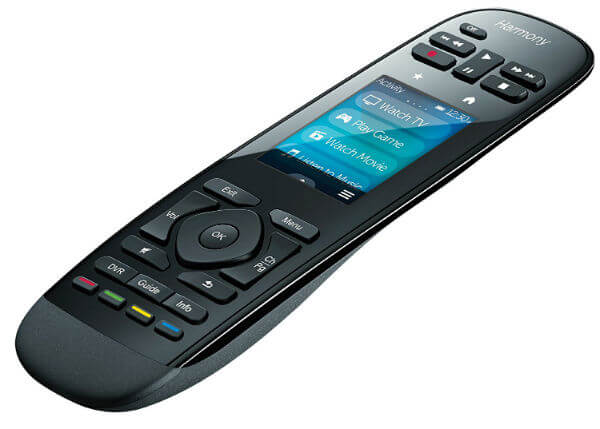 This all in one remote let you get rid of up to 15 IR devices and also works with 225,000+ devices and 5,000+ brands. The new devices are constantly updating on the Logitech database, and you can import the device by connecting remote online and updating with Harmony Hub, sold separately. The simple one-touch functions like "Watch TV" or "Watch a Movie" will launch all devices into that mode without pressing any other functions.  This Programmable remote control in coming with charger unit to recharge the battery, no need to replace the remote battery anymore.
Buy from Amazon
Inteset INT-422 4-in-1 Remote
This Universal Backlit IRemote control is coming with backlit functionality and preprogrammed to work with Apple TV, Xbox One, Roku & Media Center and other most popular streaming devices. The Lock feature allows the user to Channel Lock and Volume Lock in all modes.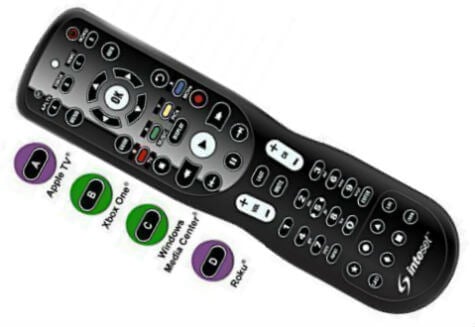 This universal remote has a complete worldwide database of device codes, and you can search for any missing codes in the database. The button labels are coming as self-adhesive, can give you the full control to organize the buttons by placing the labels. You have 4 device buttons those are pre-programmed for Apple TV (A), Xbox One (B), Media Center (C) and Roku (D). In addition to this, you can assign any A/V device like TV or cable box on your choice. With additional Flirc IR receiver, you can use this remote to control FireTV (excluding Stick and Dongle) and the PS4.
Buy from Amazon
Also read: Best Live TV Streaming Sites for Unlimited Entertainment
Broadlink RM Pro
Braodlik RM Pro is a Wi-Fi Smart Home Automation Learning Universal Remote Control, that can integrate with your smartphones like iPhone or Android. Basically, with this device, you can control your Media Center, Smart TV or Streaming device from your Smart Phone. This Smartphone based universal control integrates with all your IR(38KHz) and RF (432.5MHz-436.3MHz) controlled devices. This smart universal remote support more than 1,000,000 devices.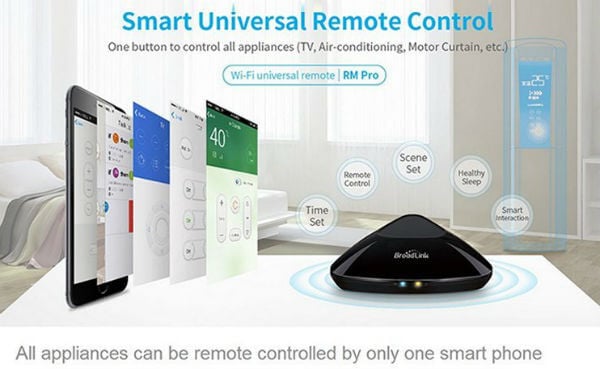 The beauty of this device is, this smart remote is coming with a lot of functions that can't find in a normal universal remote control. With RM Pro remote control app, you can create customized activities to control home entertainment. You can set home/away mode, sleep/wake-up mode and smart triggers with multiple devices. The remote control app ihc(intelligent home center) App is compatible with iOS and Android smartphones. This smart remote connect your WiFi network and even support IFTTT functions. You can set automatic functions like "If" temperature is high, "Then" Air Conditioner be ON" with this All in one remote. The device working on 38K IR frequency, 433 MHz Radio Frequency: 433 MHz and work with only WiFi 2.4GHz b/g/n
Note: The password of your WLAN should be no longer than 32 characters and cannot include special characters like space, dash, etc. RM Pro Only support 2.4G networks, 5G does not support.
Buy from Amazon
Logitech Harmony Hub, Remote& App
This Logitech Harmony pack is the most expensive, but smartest remote control package in this list. This powerful remote can work with Amazon Alexa and Google Home smart devices. You can ask Alexa, Turn On TV or Ok Google, Turn On Netflix, This All in one remote control is capable of controlling up to 15 home entertainment and connected home devices. The full touch screen, swipe and tap control make you feel like a smartphone remote. This remote can control your entire house devices and work as Smart TV control, remote for Philips Hue lights, Streaming Sticks or Media Center. The Harmony apps can install on iOS or Android devices, that provide you additional control on this device.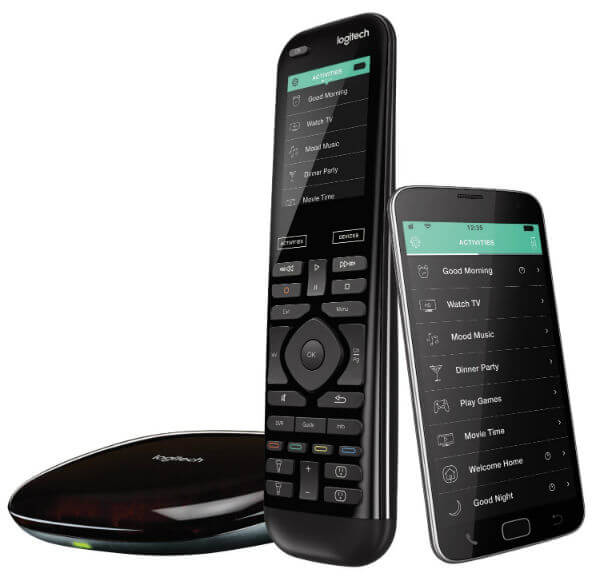 The Harmony remote support up to 50 favorite channels and work over 270,000 devices. Everyone can control the remote in the house either with their remote apps on the smartphone (with Bluetooth) or the Harmony remote control.
Related: Best Google Home Compatible Devices to Work with Google Assistant
Note: Logitech harmony Supports 802.11g/n, WPA Personal, WPA2-AES, and 64/128-bit WEP encryption.
Buy from Amazon
JFA Broadlink Smart Home Wifi Remote
This Black Bean Smart Home Wifi Remote IR Controller can replace your pile of remote control devices with Smartphone remote app and base unit. This universal all in one remote work on 38Khz and supports 80,000+ IR (no RF) controlled devices. This Mini Wi-Fi Universal Remote integrate and control almost all IR devices like Smart TV, DVD, Audio Player, Air Conditioner, Satellite, PVR, etc.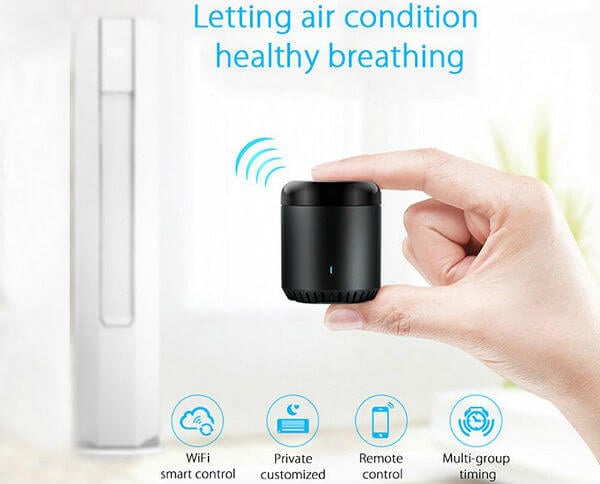 The device code will update to this Smart TV remote form cloud, and the device will match automatically to function with your entertainment devices. You can train this WiFi remote control with one button, to transfer new devices functions into the remote.
Note: Device supports 2.4GHz 802.11b/g/n, Infrared Frequency: 38K, RF Frequency: 315/433Mhz and RF Control Range: 26.2ft.
Buy from Amazon
Remote Controls are smart now and start to control almost everything in your Home. This above list of remote controls are capable of controlling Smart TV, Streaming Stick like Roku, Apple TV, Media Center and even your Air Conditioner Unit. Logic Harmony Remote is expensive in the market, but offer an excellent integration for Amazon and Google Home.