RoboCalls are the most annoying spam call that waste of time and money. From my personal experience, I'm getting at least 3-7 robocalls per day on my cell phone. There are a bunch of solutions to stop these annoying spam calls, like RoboCall Block Apps, Spam Calls Reporting, Do Not Call Registry, etc. However, none of them are 100% effective to stop Spam Calls.
Here we compiled a list of solutions to block RoboCalls and Spam Calls effectively for iPhones, Android Phones, and Land Phones.
Contents
What are these Spam Calls?
There are three different types of Spam Calls that we deal with any day. In reality, all these calls are wasting our time and money, since they will call your cell phone or land phone.
Telemarketing/Sale Calls: Telemarketing calls start with a real person from another end, and they want to sell you something or register for a service. They may offer you a discount or additional offers to use their service or product. Telemarketing calls are not much harmful compared to Spam Calls and RoboCalls.
Spam Calls: These are the second category of callers, where the caller will pretend as a representative from IRS (demanding to pay an amount to your Tax return) or try to fix your computer for free (to take control of your system and hack the financial information or inject the spam into your system). They are trying different tactics every day to cheat the consumer and get money. The third one in the category is RoboCalls.
What is a Robo Phone Call?
When we receive a robocall, we will get a pre-recorded message instead of a live person. RoboCalls are computer-controlled VOIP calls, responding and diverting calls based on the receiver response. RoboCalls are the most annoying ones that can waste your time, and there is no way to stop them when you receive the calls. You can't talk them until it connects to a real human or you get an option to press the key for the menu. There is a detailed FAQ about RoboCalls from FTC.
How did RoboCallers get my number?
This is the decade of the internet and supercomputers. When you register your account in an online store for reward cards, you are giving your personal information there. Unfortunately, sometimes, hackers are stealing this personal information from these co-operate services and selling it in the market. There is no privacy guaranteed, and your information and phone number are already available in thousands of servers and websites. There is no way to wipe out your information completely from these services. However, you can do a couple of things to stop Robocalls and Spam Calls.
How to Stop Telemarketers from Calling?
You can stop telemarketing calls by registering on Do Not Call List. The calls will stop after 31 days one you register. You can call this number 1-888-382-1222 (TTY: 1-866-290-4236) or use the same website donotcall.gov to add your number in to Do Not Call List. However, this is not an effective solution to stop RoboCalls.
Also read: Cheap Cell Phone Plans (Post Paid) in US that Cost Under $20.00
How to Register in Do Not Call List?
Do Not Call Registry is managed by the Federal Trade Commission (FTC) that prohibits telemarketers from using automated dial service to cell phone or land phone numbers. Please be aware that there is only one Do Not Call Registry website available for consumers to register their number into the Do Not Call List.
To add your Land phone or Mobile number to Do Not Call list by registering by telephone. Call 1-888-382-1222 (TTY: 1-866-290-4236), or you can use the website donotcall.gov.
This service is free, and you can reduce the number of unwanted calls by registering your number into Do Not Call List.
Your phone number should show up on the Registry the next day. Most sales calls will stop once your number has been on the Registry for 31 days. You can verify that your number is on the Registry by visiting donotcall.gov or calling 1-888-382-1222.
Once you register your number on Do Not Call List, the number will be on the FTC database until you remove it.
Telephone numbers on the Registry don't expire. We only remove your number when it's disconnected and reassigned, unless you ask us to remove it.
If you want to confirm your number on the Do Not Call List, please call the number 1-888-382-1222 (TTY: 1-866-290-4236) or use the same website donotcall.gov. If you are still getting illegal sales calls, you can use the same number or website to report those numbers back to FTC. You can see more details about Do Not Call Registry at the FTC Consumer Information page.
The Do Not Call registry is good to stop sales calls and telemarketing calls. Still, you will get all other spam calls and RoboCalls to your cell phone and land phone. Let us see more solutions to fight against these RoboCalls and Spam Calls.
How to Detect RoboCalls on Mobile?
Whether it is a spoof caller or Robocaller, the free caller ID apps like Truecaller will identify the caller in real-time. With the help of these caller ID apps, cellphone users will get immediate notification about the caller, and you can decide whether you want to attend, reject or block the call and report spam.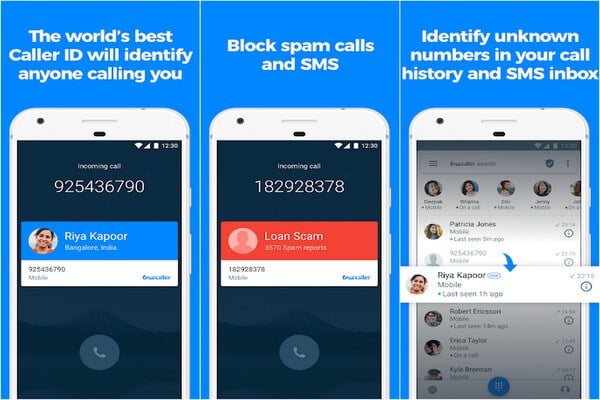 Caller ID apps are going to help the user to identify the incoming calls. These apps are using the spam caller database and other resources to identify the incoming number and give you the warning. Whether it is a spoof caller or a Robocaller, these free caller ID apps like Truecaller are going to identify the caller in real-time. With the help of these caller ID apps, cellphone users will get immediate notification about the caller and you can decide whether you want to attend, reject or block the call and report spam.
Download True Caller: iPhone | PlayStore
Also Read: Best Caller ID Apps for Android to Identify Incoming Numbers.
Caller ID Devices for Land Line Users
The best option to stop RoboCall is not to attend these calls. How do you recognize the RoboCalls from the normal calls? It is not easy. I see a recent trend that these robocalls are using your same area code phone numbers to call you. In fact, these calls are not originating from the local numbers; they are routing it through these local numbers to pretend that those are genuine numbers.
For home phone users, there are caller ID devices that can detect the caller information when you receive the call. These devices can store the calls that received on the land phone number, and detect the caller while receiving the call. The wall-mountable Caller ID Display unit for land phones that you can buy from Amazon for less than 20 bucks. For more device list to block calls on Landline, you can refer best Landline Call Blocker Devices to Block Robocalls.
Caller ID/Protect Apps from Providers
There are caller ID apps like TrueCallers that can cross-check the incoming number with a spam number directory and warn when you receive the calls. If you are receiving multiple Robocalls a day, you can try one of these Caller ID apps for Android or iPhone.
The cell phone providers are offering dedicated apps to block calls. You can depend on these dedicated apps based on your provider. However, all these Spam Caller Blocker Apps are not free. Let us see a few of these apps from the providers.
AT&T Call Protect App
AT&T Call Protect App detects and blocks calls from fraudsters and also Identifies telemarketers and other suspected spam calls. You can also call the numbers manually, and it offers Reverse Number Lookup. This app is available for free for all postpaid customers.
Download AT&T Call Protect: WebPage | Android | iPhone
Verizon Caller Name ID
Verizon is offering iPhone apps that can provide you caller Details including Caller Name, Picture, City, and State. The Verizon Caller Name ID app can detect spam numbers and unwanted callers. With this app, you can set up a spam filter and block list of unsolicited callers.
Download Verizon Spam Call Block: WebPage | iPhone App
T-Mobile Built-in Scam Blocker
TMobile is offering a built-in Scam ID feature to all postpaid customers without using any apps to block spam calls. They are offering three levels of fo protection. The Scam ID feature is to detect the calls instantly. This detection will work on most of the phones since this is built into the network, not on the phone. Scam ID is free and available for all postpaid users from TMobile. TMobile Scam Block feature will detect the likely scammers and blocked before reaching into your phone. This feature is available for all postpaid plans without any additional fees.
To turn on Scam Block please dial #ONB# (or, #662#).
For those who want to identify the numbers automatically for incoming calls, TMobile is providing Name ID feature. This feature provides offer you to identify the incoming Callers  Name and Location. This feature even offers you to see Whats Kind of Organization is calling. You can block these personal numbers. This option is not free and costs you $4.00 per month.
TMobile Scam Blocker: WebPage
Sprint Premium Caller ID
Sprint Premium ID developed by Cequint displays the caller's name on incoming calls and identify the potential robot callers and spam calls. This features categorized the calls based on the risk levels to low, medium, and high. You can elect to block or ignore the calls based on this risk level. Sprint customer needs an eligible handset to work this feature and the  Premium Caller ID costs $2.99/mo for postpaid users and $3/mo. for prepaid customers.
Sprint Premium Caller ID: WebPage |  FAQ
Block Calls and Texts on Android
Smartphones are offering you to block the numbers directly from the call apps. When you receive a RoboCall, you can immediately block that number from getting future calls. In addition to the cell phone built-in call apps, WhatsApp, Viber, and other apps are also support to block numbers.
There are a lot of options available to block numbers on the Android phone itself. Most of us may be unaware of the built-in features that help us to block caller IDs and text messages.
The Call Blocking feature on Android enables you to block both messages and calls just by blocking the contact or unknown number. To start, Tap on the Phone App on Android device > Select the phone number you want to block > Block. There is no need to depend on any third-party call blocking apps to block a phone number or block text messages on Android phones.
Also Read: How to Block Calls and Messages on Android?
Block Calls and Texts on iPhone
iPhone supports to block any number with a few taps. You can block caller ID of any number on the iPhone to avoid future calls, messages, and Facetime calls. Once you receive a RoboCall, you can see the number from the iOS recent call history named as "Recents".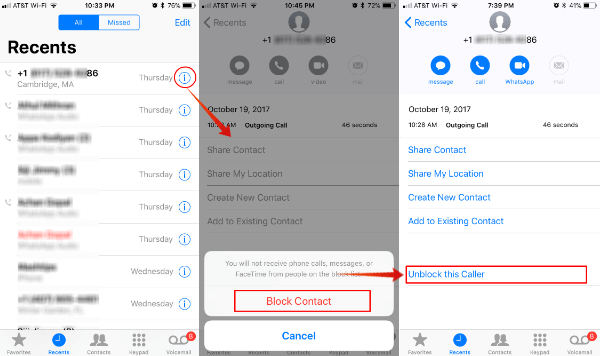 To block this number, tap on the information icon "i" next to the number from the call history to open the detail screen. Tap on Block this Caller > Confirm Block Contact.
Also Read: How to Block Calls and Texts on iPhone?
How to Block RoboCallers on Land Lines?
There is no app or smart solution for blocking RoboCalls and Spam calls on landline phones. Depends upon your Land Phone provider, the providers are giving various solutions to block calls on home phones.
For AT&T Land Phone users, you can block numbers by turning AT&T Call Screening feature on.
Turn on: Press *60. If prompted, press 3 to turn the feature on.

Turn off: Press *80. If prompted, press 3 to turn feature off.
Please see the detailed steps to use AT&T Call Screening Service. AT&T allows adding only ten numbers to call the blocker list for free. Verizon is also offering the same feature for small business owners, but limited to the location of the customer. Please see the detailed steps to block RoboCalls on Verizon land phone number.
Block RoboCallers on Land Phone: AT&T LandPhone | Verizon LandPhone
Call Blocker Devices for Land Phone
The call blocking feature depends on the service providers for the home phone, and sometimes you may have to pay for blocking more numbers. If you want to have a common solution, you may depend upon some Call Blocking Devices that can buy for land phones.
You can add the RoboCaller number to block list by using a call Blocker Device for Land Lines. These call blocking devices keep the numbers in their memory once you block any number. There are many devices in the market that offers 2000 to 5000 numbers to block. CPR V5000 Call blocker from Amazon is available under 90 bucks that can keep up to 5000 numbers in the memory to block.
RoboCall Blocker Apps for Android
The Spam Call Blocker apps are dedicated to blocking incoming calls by checking the spam call database. A bunch of powerful apps are available for cell phones to detect and block RoboCalls automatically.
You can easily block annoying calls from people you don't know or people you know but do not want to talk to. No more time is wasted by answering calls from telemarketers and debt collectors. Android users have excellent apps in the Google Play Store that can automatically do call blocking, spam call filtering and SMS blocking. The call blocking can be based on one number, an area code or the entire world. Some of these apps like Call Blocker or Mr. Number will automatically create a blacklist that found on the FTC/FCC Do Not Call list.
Also Read: Free Android Apps to Block Unwanted Calls
How to Block Spam Calls on iPhone with Apps?
There is a bunch of excellent iPhone call blocker apps that are powered by the community to identify the fraud and spam calls from the blacklist database. These robocall block apps can alert the user in real-time about incoming calls.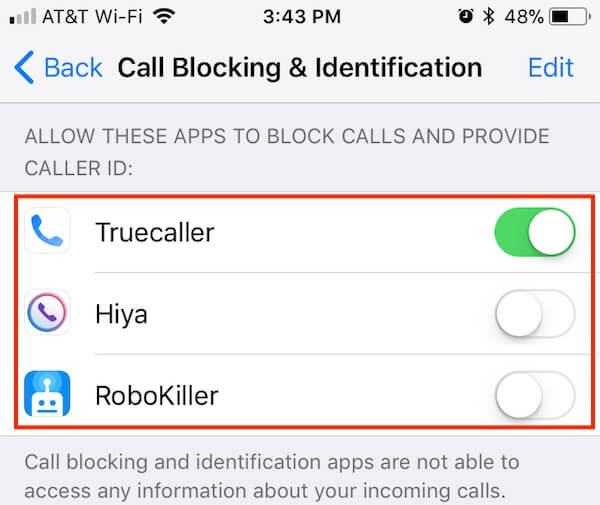 These iPhone call block apps can ignore or handle the call itself without bothering you. The reverse lookup number feature integrated with these iPhone call screening apps can display the name, address and even photo of the caller. True Caller and RoboKiller apps the best in the list to detect and block unwanted calls on iPhone. You can turn on or off any third-party apps on iPhone from iPhone Settings > Call Clocking & Identification > Allow These Apps: Turn on/Off.
Also Read: Best iOS Apps To Detect and Block Annoying Calls on iPhone
Report Spam Numbers on Google Voice App
There are options available to report a number as spam. You can report the Spam Call Numbers with Android Phone apps or Google Voice App. iPhone is not supporting to report spam calls, but they offer to block numbers. In addition to this, you can use FTC's  Do Not Call Web site to report a spam caller number. The Spam Call Blocker apps are also encouraged to report Spam Call Numbers to register on their website.
For Google Voice App users, go ahead to the App Calls tab. Tap on the recent spam call number and see the three-dot icon. Tap on the three Dot icon to get the menu and select mark as spam from the popup menu.
Report Spam Numbers on Android Phone App
Open the Android Phone app and go to the Recent Call List. Long tap on the number that you received calls. Select the option Block/report Spam from the menu. Make sure to Check On Report call as spam from the pop-up window. You can block the number along with Spam reporting on Android Phone App.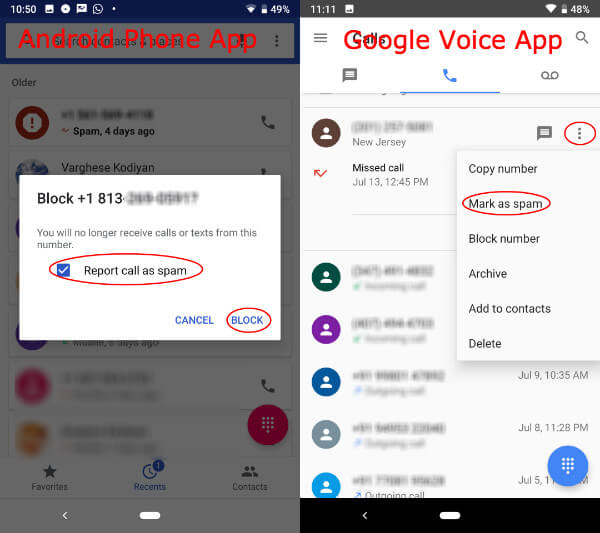 Report Spam Numbers on Do Not Call List
The Do Not Call registry from FTC also offering to report spam numbers. You can add these numbers through their website by Reporting Unwanted Calls or phone number 1-888-382-1222 (TTY: 1-866-290-4236) and the numbers will go to FTC's Spam Number Database. The Spam Blocker Apps and Services are using this database to recognize the spam callers and effectively blocking them.
Additional Tips to Block Spam Calls & RoboCallers
Do not answer any Robocall or spam calls. If you accidentally answered any Robocalls, do not say any word and better to mute your Mic and wait for a human voice from the caller end, if you want to confirm a spam call.
Hangup the calls if you didn't listen to anything from the caller a while. The RoboCall automated messages are triggering after they get a response from the receiver.
Do not press any key or speak when you receive RoboCalls. This will confirm your number as valid and that leads to more RoboCalls. Sometimes, the Robo Callers are picking up the Random Numbers to call and lead to more Robocalls once they confirm it as a valid number.
The recent trend from Robocallers is to use the local area code to call (Neighbor Spoofing) by taking advantage of third-party call spoofing technology.
Block Number immediately once you confirm a caller is a Robo Caller and Report as Spam if possible.
Please refer to the guide from FTC to stop Unwanted Texts and Calls.
There is no bulletproof solution to block Spam Calls and RoboCalls. However, the above solutions are effective to reduce the number of Robocalls that you receive per day. Please don't report the RoboCaller Numbers to the FTC database and Google Spam database. If you think we still miss any points that are effective to block RoboCalls, please let us know by commenting below.