iPhone has a built-in option to block calls. However, this integrated block calls feature is not enough for call screening, block numbers, and texts by identifying them. We often get calls from telemarketers and IRS fraud, debt collectors and robocalls on our iPhone. There are a bunch of excellent iPhone call blocker apps that are powered by the community to identify the fraud and spam calls from the blacklist database.
These robocall block apps can alert the user in real time about incoming calls. These iPhone call block apps can ignore or handle the call itself without bothering you. The reverse lookup number feature integrated with these iPhone call screen app can display the name, address and even photo of the caller.
Let us see the list of best caller block apps for iPhone that can block numbers and texts.
Editors Note: RoboCalls are not targeted only for iPhone users. You will get tons of calls to your home phones, Android phones etc. Please see the related articles.
iPhone Apps to Block Calls and Texts
When you want to use the apps to block iPhone calls instead of a built-in iPhone block call feature, you can use these apps. Several apps can let you block calls on your iPhone where you can select the number to be blocked by creating a list and avoid them.
Once you install these apps, you can add them to the iOS native call block app list. Go to iOS Settings > Phone > Call Blocking & Identification.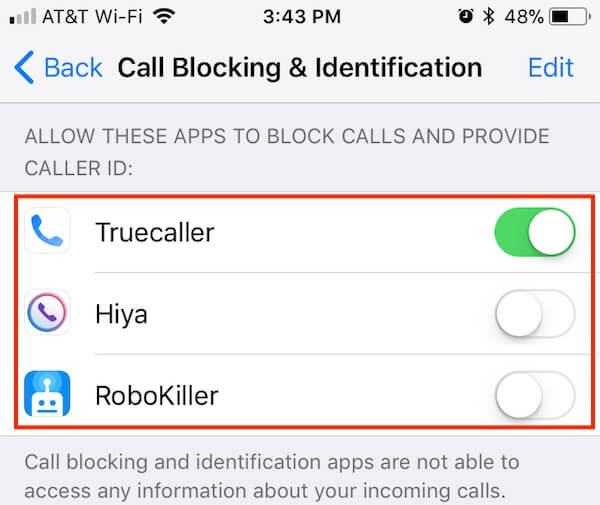 You can see and turn these call blocking apps
On or Off
right from this
Call Blocking & Identification screen.
Related: iOS Apps can Hide your Real Phone Number when you Make Calls & SMS
Truecaller
Truecaller is a blocked caller ID based app, widely known for its call identification features and allows the users to check the caller ID of the number in real time who is calling. This iPhone call blocker app can identify the spam calls automatically before you pick up the calls and block unwanted callers. There is no additional app required to block texts on iPhone.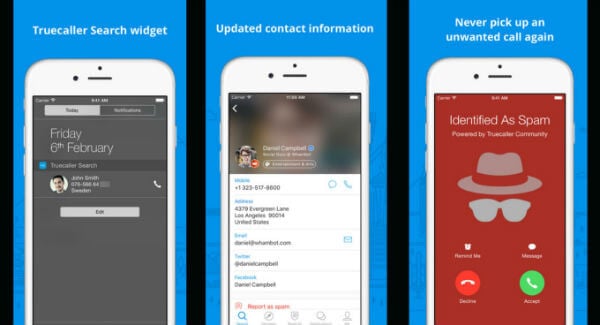 TrueCaller can identify the text source and filter junk text automatically. With TrueCaller app, you can copy a number and look at the Truecaller widget to get the information and name of that contact number.
TrueCaller let you make direct calls from the app itself and also let you know your friends are free or busy in advance before you call him. With this iPhone call screen apps, just by ascertaining the name and location of the caller, you can quickly decide whether to answer or reject the call. You need to have a 3G or Wi-Fi connection on your iPhone to make sure Truecaller is working fluently.
Key features: Automatically identify Spam& Fraud Calls | Filter Junk texts | Find names by Caller | Make calls directly from the app | Download from iTunes
Related: 7 Best Call Recorder Devices for iPhone, Android & Landphone
RoboKiller – Stop Spam Calls
RoboKiller is one of the dominant call blocker apps for iPhone. This iPhone call screen app identifies the robocalls and spam calls and able to block over 100,000 spam calls. The real-time caller ID coming with this app, let you identify the number and caller before you answer the calls. No need to guess the number and get in trouble after answering the unknown callers.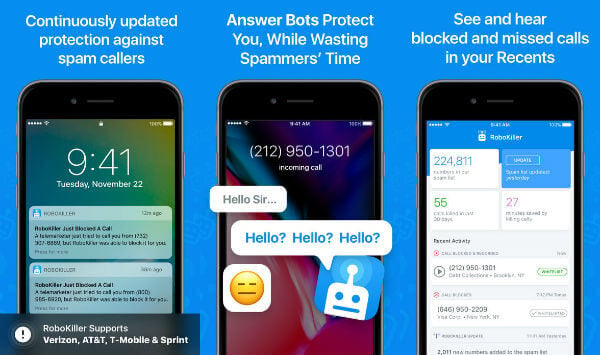 This powerful iPhone call screening app can turn the caller phone number into names, addresses and even photos of the people in real-time while the call you. The whitelist and blacklist sperate the number that you can answer and block automatically on your iPhone.
The super caller ID feature can display caller name, address, and even photos. You can check the spam box for blocked callers and also list them while they call. RoboKiller is a free download, with a free trial period after that you have to purchase a monthly plan to keep protect you from spam calls.
Also Read: iOS ScreenTime: A Complete Guide to Parental Control
Key features: Silences unwanted callers | Spam database hourly update | Protect from robocalls | Auto answer bots | See and hear blocked calls and messages | Download from iTunes
Hiya Caller ID and Block
Known as the Caller ID Screener, Hiya Caller ID, and Block app is a great number block app to identify and block robocalls. This caller ID app can identify the telemarketing calls, debt collectors and fraud calls that can block automatically and save your time.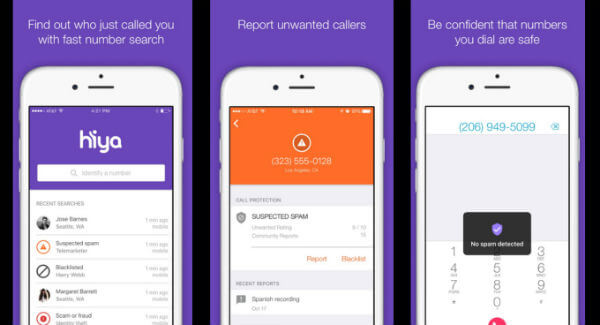 With this iPhone call block app, you can create personalized block list to add numbers to block automatically. The built-in caller ID feature can identify the caller and detect spam calls in real-time. The automatic alert can warn you about the number such as spam, scam, telemarketer, debt collector, or spyware with the help of reverse lookup feature built with this iPhone caller ID app.
Key features: Advanced phone spam protection engine | blocks robocalls | Personalized block list | Caller ID | Identify unknown spam callers | Reverse phone lookup | Download from iTunes
Mr. Number: Call Block& Reverse Lookup
Mr. Number is the number one spam protection app for iPhone that can block unknown and fraud calls. The fast reverse lookup powered by the community can identify the spam calls and block you in real-time on iPhone and also allow you to create a personalized list of numbers to block them.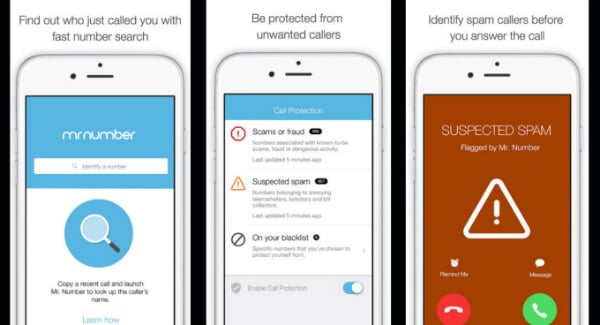 If you are looking for an iOS block call app that is simple to use and doesn't trouble during calls, then you can choose Mr. Number. A green thumbs-up shows an accepted/exception number or if you have disabled blocking during that period. A red thumbs-down classifies calls blocked and the block reason from the blacklist. With this app, you can search for any number in reverse lookup and get the details of that number owner.
Key features: Avoid unwanted calls with spam detection | Fast reverse phone lookup | Personal blocklist | Download from iTunes
Related: 15 Best Free Reverse Phone Lookup Services
Call Bliss – Silence unwanted calls and texts
With the help of Call Bliss, you can easily enhance the Do Not Disturb service and make it more powerful. This iPhone spam call app can silence unwanted calls. This iPhone Call Block app allows the user to control the callers reaching you in particular locations like walking on the road or exercising.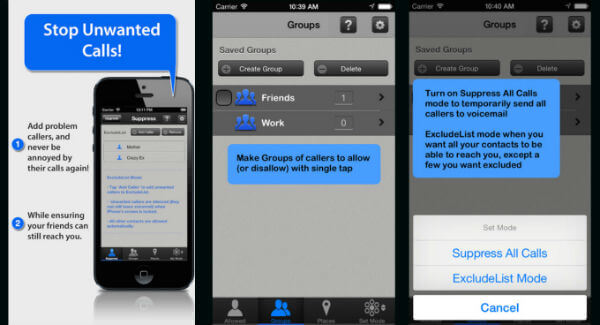 If you want to be alone, you can quickly silence all the incoming calls by the Suppress All Mode option of the app on your iPhone. The app can be used for blocking the unknown numbers as well as all incoming and outgoing calls depending on your preference. Call Bliss silently blocks the calls.
Key features: Silences unwanted callers | Do Not Disturb Mode | Control Callers by a Group based on Location, Home, Work, etc. | ExcludeList to allow calls | Download from iTunes
Whoscall – Reverse Number Lookup and Number Identification
Whoscall is there to assist the iPhone user in identifying the source of calls and messages coming from the numbers that don't exist in your contacts. Fast phone number search and offline accessibility.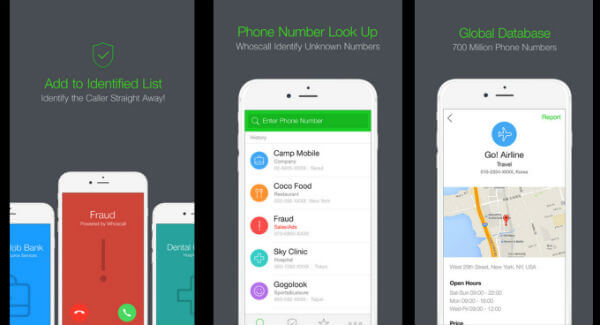 Whoscaller call blocker app has about 700 million phone numbers worldwide in their database, making the search for a particular number easy and fast.
Key features: Identify unknown calls | Built-in Caller ID | Avoid Robot call, telemarketing, scam | Offline database | Download from iTunes
Related: How to Call US Land Phone & Mobile for Free While you Abroad
Manually Block A Number and Texts on iPhone
If you don't want to use dedicated call blocker apps, there is a simple solution for iPhone to block calls and texts without any third party caller ID apps. Tap on Any number of the saved contact, go to the contact page, scroll down until you see block this caller. Alternatively, you can go to iOS Settings > Phone > Call Blocking & Identification > Blocked Contacts > Add new Contact.
Once you start to block a number, you will not receive any calls, face time calls or messages from the numbers in this blocked list. We recently published a detailed article on how to block a number, text message and WhatsApp call on iPhone. Now you blocked number on your phone. Now, how do you find out if someone has blocked your number? We are exploring six solutions to find out if Someone Blocked Your Number on iPhone?
The above iPhone call screening apps are ideal for blocking the calls and texts from telemarketing, Robocall, and IRS fraud. These apps can automatically check their database to identify the spam calls and block them without wasting your time. You can have a block list of numbers to block calls and whitelist to answer the calls on iPhone.
These call blocker apps know whom to block and what need to accept, work as a call filter for your iPhone calls. We hope these apps to block numbers and texts on iPhone and filer spam call automatically to keep away you from annoying calls.