Call Recorder is built to record land phone calls and smartphone calls. These phone recorders can record voice calls into a device's memory or a memory card. You can retrieve these recorded calls whenever you want. These call recording devices are compatible with iPhone, Android, and even your land phone (best land phones with answering machines). There are hardwired phone recorder and Bluetooth based devices to connect the device to your phone. These phone recorders have audio cables that can connect to a smartphone audio port or land phone RJ11 port and record the incoming and outgoing voice simultaneously.
Here are a few of the best call recorder devices for Land phone, iPhone, or Android phones.
Editor's Note: There are a different set of rules and regulations for recording calls. Please check your state or country law before using these call recording devices.
DeciVibe Cellphone & Landline Call Recorder
The DeciVibe Cellphone & Landline call recording works for Android and iPhones. This Landphone call recorder has a 16GB internal memory and a separate micro SD card slot. This extra memory card can insert into the device. The device supports an additional 16GB SD card for further extension. This gives a large enough space to store long-term cell phone recordings.
This phone recorder device does not merely include call recordings but expands its use during lectures and sessions. The audio is recorded in MP3 format at 1536 kbps up to 192kBPS. This phone recorder also has unique features such as noise cancellation and audio gain control. This call recorder device is drop resistant and user-friendly. The device is coming with a 360-degree microphone to get the right recording.
Support Phones: Android, iPhone, and Landline | Connection: USB, Bluetooth | Record Capacity: 198 hours + | Battery Life: 18 hours | Buy from Amazon
Related: Best Digital Voice Recorders to Record Lecture and Class Notes
RecorderGear Bluetooth Cell Phone Call Recorder
The Silvery White product comes with a one year warranty. RecorderGear P200 is a wireless call recorder device. RecorderGear supports to transfer files via Bluetooth. With 4GB internal memory, the Bluetooth recorder can help to collect various audios apart from the function of the call recorder.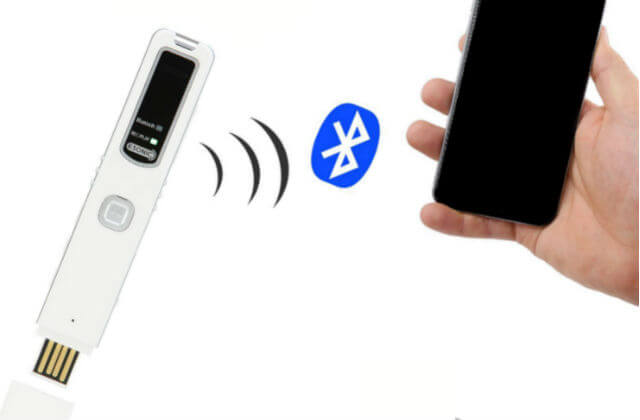 This Bluetooth Phone Recorder device does not require to transfer audio files to computers for listening to the saved audio. The call logs can directly play from the device with built-in speakers. The recorded voice can move to the computer from the device through the built-in USB. There is no additional software required to transfer the recordings to the PC. The audio will record in MP3 format. This Bluetooth recorder is compatible with Windows as well as Mac.
Support Phones: Android and iPhone | Connection: USB, Bluetooth | Record Capacity: 144 hours | Battery Life: 20 hours | Buy from Amazon
Related: Best 7 Free Screen Recorder Application for Windows
RadRecorder Digital Voice Recorders and Landline Call Recorder
This landline call recorder built with a high capacity rechargeable battery. The rechargeable battery offers 20 hours of recording hours. This metal body packed Digital call Recorder is offering 50 Years of Warranty.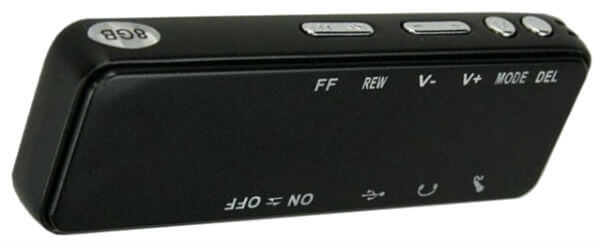 The 8GB internal memory is providing 550 hours of recording for incoming and outgoing calls. The audio quality can set on the device with three options of 384KBPS (for 46 hrs), 192KBPS (for 136 hrs), and 192KBPS (for 550 hrs).
Support Phones: Landline Phone Recorder | Connection: USB, Bluetooth | Record Capacity: 550 hours | Battery Life: 20 hours | Buy from Amazon
Related: 7 Best Call Recorder Apps for iPhone to Record Voice Calls
RecorderGear TR500 Landline Phone Call Recorder
One of the automatic call recorder for Landline. RecroderGaer can record all incoming and outgoing calls from the land phone. TR500 let you set to record calls automatically or manually. You have to activate the call recorder by pressing a button in manual mode to start recording calls. This excellent land phone recorder also keeps time and date stamp. The time& date will display on the LCD screen. This helps to search previous call log files and replay those later.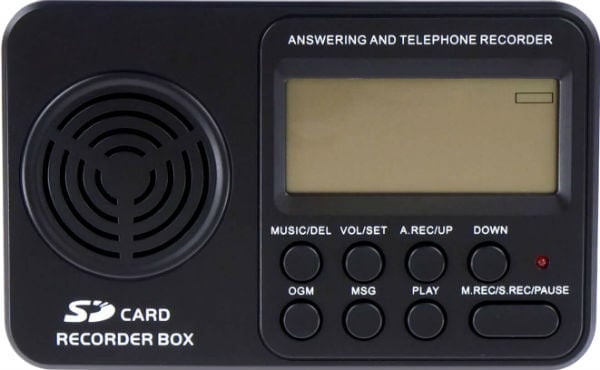 The calls that recorded on SD card also names with a date stamp to get organized all call logs. This phone recorder will start to overwrite (loop recording) on the old records once the memory gets full. This loop recording is to make sure you record all calls and not miss anyone. TR500 has an internal memory of 16GB and can expand to 32GB with an external SD card.
Support Phones: Land phone | Connection: RJ-45 | Buy from Amazon
Related: Best Landline Call Blocker Devices to Block Robocalls
Fivoice Call Recording Earphone For iPhone Recording
When you want to talk about the voice recorder device for iPhone and Android calls, there is a multipurpose device on the market. You can use this device as a regular headphone for iPhone calls and also as a call recorder headphone for iPhone and Android. In addition to record calls, you can use this call recorder headphone for regular jobs such as listen to Music, Voice Recorder Pen, In-Ear Headphone, etc. To record voice calls with this earphone does not need any software or other voice recorders.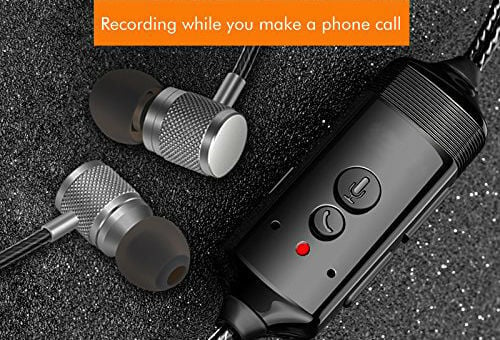 Since this is just like an ordinary headphone, it is easy to carry, use for regular calls. To record calls, you press a button, and the recording will start with a voice prompt at the beginning and end of voice record. Even this headphone is offering to save the recorded call into the built-in memory (512MB).
The 512MB internal memory is good enough to record up to 16 hours and 5 hours continues. However, you can save this recorded voice on the phone. Even you can copy the recording files out from the earphone connected to the computer via USB cable. This call recording headphone is coming with built-in 200mA lithium battery.
Support Phones: Android and iPhone | Connection: 3.5mm audio plug | Record Capacity: 16 hours | Battery Capacity: 200mAH | Buy from Amazon
Alternative Product: (Koolertron 3.5mm Plug Phone Call Recorder) from Amazon
Related: 6 Best Headphones to Record Calls on iPhone and Android
Cell Phone Call Recorder
The "Cell Phone Call Recorder" device is exclusively for the range of iPhone models. This call recorder gadget has a single key to trigger and starts call recording. The call recorder does not require any application downloaded into the smartphone. The phone recorder has a flash memory where the call logs will be recorded.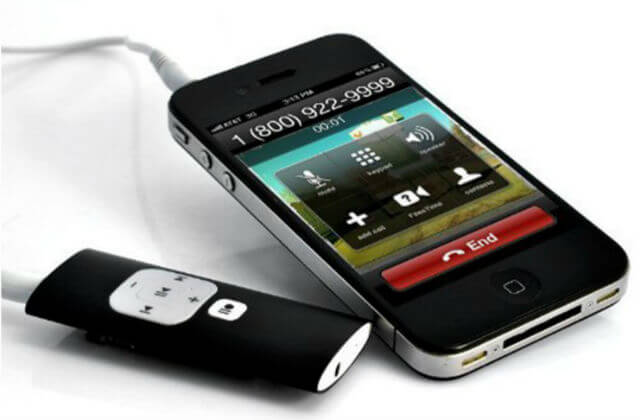 This recorder has a built-in 512MB memory, which supports call recording up to 500minutes. The call recorder can be directly connected to the user's computer using the audio cable. Through the transfer, required edits, the device also as an instant playback option, which helps the user hear the conversation immediately after the call.
Support Phones: iPhone | Connection: USB | Record Capacity: 500 minutes | Battery Life: 2 hours | Buy from Amazon
Forus Cell Phone Call Recording Device
The Forus FSV-U2 call recorder supports both iPhones and Android smartphones. With a 3.2-ounce weight, the ESONIC call recorder has a 4GB built-in memory. This cell phone recording device can record a 144-hour long call log, by default format in MP3. The FSV-U2 product is designed in all its simplicity to fit along with all sorts of the phone. This cell phone recorder can work with a voice-activation mode.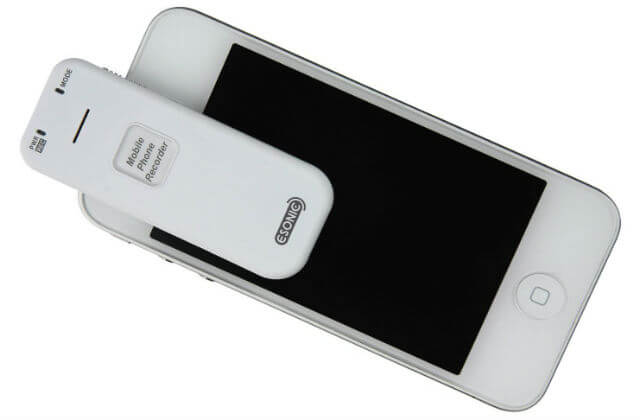 The Forus call recorder is a multi-purpose product that can record calls, sessions, and lectures. With instant play mode when plugged into a computer; you can play recorded files from the device easily. There is no software required to transfer media with this Cell Phone Call Recorder.
Support Phones: Android and iPhone | Connection: USB | Record Capacity: 144 hours | Battery Life: 20 hours | Buy from Amazon
Call Recorder Apps for iPhone and Android
Call recorder apps are an alternative solution for Call recording devices. As you know, there is no built-in call recorder for iPhone or Android phones. Compared to Android Call Recorder Apps, iPhone Call Recording apps and options are pretty tough to get. You have to depend on dedicated call recorder apps to records calls, and most of these apps are paid apps.
Most of these landline call recorder devices are providing internal memory and SD Card slots for extending the recording memory. Call Recorders devices are one-time payment solutions for recording incoming and outgoing calls for landlines, iPhones, and Android phones.