There are no native call recorder apps on iOS to record iPhone calls. You have to depend on phone recording apps to record voice calls on the iPhone. The best call recorder for iPhone is capable of recording both incoming and outgoing calls. These iPhone call recorder apps can record calls in the iPhone or web server based on the app. For those who want to use a call recorder, you have to make calls from call recording Apps to record calls. The other option is to set a 3-way call from iPhone to record voice calls on the app provider server.
Let us have the list of best call recorder apps for iPhone and these iPhone apps can record both incoming and outgoing calls.
Editor's Note: There are a different set of rules and regulations for recording calls. Please check your state or country law before using these call recording apps on the iPhone. If you are looking for a free solution to record calls, you can try the solution to Record iPhone Calls for Free. There are dedicated headphones to record without using any apps.
TapeACall Pro
TapeACall, one of the best call recorder for iPhone, record both incoming and outgoing. There is no limit to recording time or call limit while using this call recorder app and you can make many records you want for a one-time fee.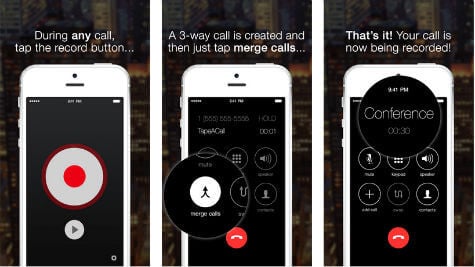 This voice recorder actually saving the phone to TapeCall server. To start recording calls, you have to make a 3-way call and the call recordings will be available as soon as you hang up. You can transfer call recordings from the TapeCall server to new devices; download to your computer, or upload these call records to Dropbox, Evernote or Google Drive.
The app records incoming and outgoing calls in the TapeCall server and charge one-time fee. | Download from iTunes
Related: There are dedicated call recording devices, that can be used to record calls without any third-party apps and there is no need to spend money on each call. These Call Recorder Devices for iPhone, Android & Landphone record the calls in the device memory and no additional expense to record calls.
Call Recorder – IntCall
This Call Recorder app for iPhone allows you to record outgoing iPhone calls on your phone itself. The good thing about this call recorder, with this automatic iPhone call recording app, recorded voice calls are private and saving to iPhone itself instead of saving on the third-party server. You have to buy additional credits to use this call recording app, and this app bills you per minute rates to record calls.
To record calls, you have to make calls directly from the app, and the calls will be recorded. Your recorded iPhone calls can be played on the phone, synced to your PC with iTunes and also set a title for each recording. These calls are made via Call Recorder VOIP server and you can record both national and international calls.
Since the calls are made via the app VOIP server and the Internet, there are no additional call charges from your carrier and the calls will not be listed on your phone bill. In fact, you don't even require a SIM installed to make the calls, but you must have a good Internet connection (WiFi/3G/4G).
Call Recorder-IntCall records only outgoing calls on the iPhone memory, and charging per minute for recording calls | Download from iTunes
Related: Best 7 iPhone Secondary Phone Number Apps to Hide Primary Number
CallTap: Phone Call Recorder
CallTap is a private and secure call recording app for iPhones that lets you record both incoming and outgoing calls. This app ensures that they will never give your data to third parties. There's no limit to the number of calls you can record, and there's no limit to how long your recordings can be.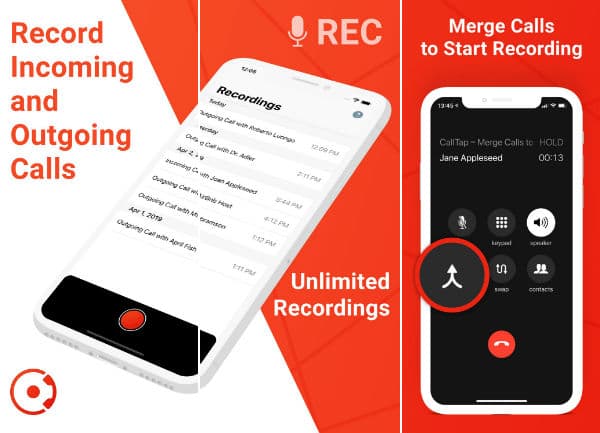 To start recording, you can either purchase a subscription for the best value for your money or you can buy minute packages if you just need to record a call or two. As an additional feature, CallTap offers transcriptions of your recorded calls directly in the iPhone app. This function is capable of transcribing calls in 30 different languages and dialects. You can read more details about CallTap app here.
CallTap records outgoing and incoming calls on your iPhone with pay-as-you-go packages or a subscription. | Download from iTunes
Call Recording by NoNotes
NoNoted call recorder apps for iPhone allows users to record any call, of any length within North America and the UK and save the recorded voice call in the cloud. You need to sign up before you start to use this app.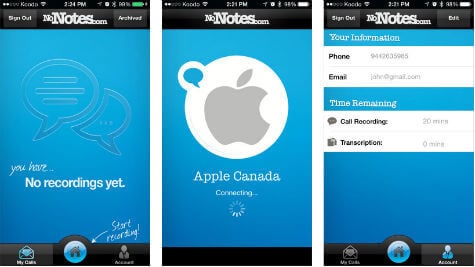 Once you're signed up you can record inbound or outbound calls and have the option to send the files for transcription. This app allows free Call Recording of 20 minutes per month and an option to purchase more if needed. You can share call records on Facebook and by email if required.
NoNotes app records Incoming and Outgoing Calls on the server with 20 minutes free limit per month and needs to pay per use above the free limit. | Download from iTunes
Related: 8 Best Voice Recorder Apps for Apple Watch to take Voice Notes
ipadio
ipadio is also an excellent way to record iPhone calls and limited to a maximum of 60 minutes. To record calls with this app, first, have to call local ipadio numbers and enter your unique PIN. You can call the required number and merge the two calls to start recording.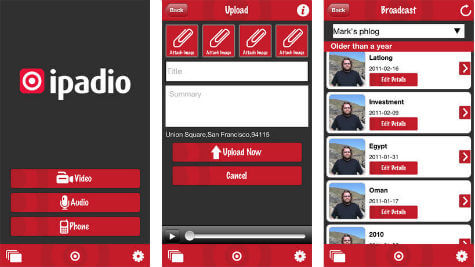 With iPadio call recording app for iPhone, both sides of the conversation will be recorded, and the audio automatically appears in your online account after the call. The voice call recorder lets you add titles, descriptions, images, and geo-locate on your call record files. The app gives the option to either record and upload, or live stream audio straight to the web from iPhone.
ipadio records both incoming and outgoing Calls and saving onto the web server with pay per use. | Download from iTunes
Call Recorder Pro
Call Recorder is the app to record calls on your iPhone for incoming and outgoing calls. You can download and share recordings via Email, iMessage, Twitter, Facebook, and Dropbox.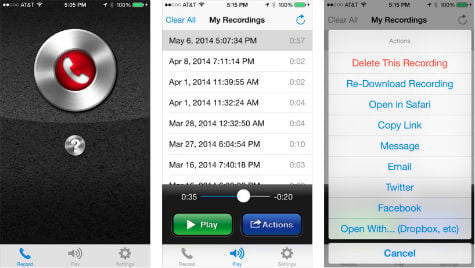 This app also using a three-way calling to record calls on their server. You have to buy credits to record your calls.
Call Recorder Pro records both Incoming and Outgoing Calls on the server with pay per use fee. | Download from iTunes
Call Log Pro
This call recorder app is designed to work with WiFi network and may not efficient with 3g networks. You have to register with an email and password to record your calls into your account before you start to use this app. Call Log Pro app needs to make a call from the app to record calls. Once you have done and ended your call, the recording is saved directly on your phone in the 'Call Log' section of the app.
Also Read: iOS ScreenTime: A Complete Guide to Parental Control
Your 'Call Log' will have your call records organized by date, time, the length of call, and will display the number or contact you called. You also have the option to rename the recording. You can select a recording and e-mail it to yourself. The call record will be sent as a .wav file. This app charges you for per minute call recording.
Call Log Pro records Incoming and Outgoing Calls on the iPhone with pay per use fee. | Download from iTunes
Google Voice (Free Voice Recorder)
This is absolutely a free service from Google, for those who want to record calls just for a short time or for fun. Since this is a free service there are pros and cons for this app. With Google Voice service, you are allowed to record only incoming calls, no outgoing calls recording is possible. You can record incoming calls to Google Voice number that is forwarded to iPhone or Android.
There is a step by step instructions with screenshots published in the article mentioned above link. The maximum recording time per call is allowed with Google Voice is 3 hours. However, this service is absolutely free and no app required for recording calls. But you have to set up the free Google Voice service with your Google account before you start to record voice calls.
Google Voice recording is free, and you must have a Google Voice number to activate this feature (get Google Voice Number). | Download from iTunes
Call Recorder Apps for iPhone
There are two types of phone call recording apps for the iPhone. The first one record phone calls on a third party server and access with your credentials. The second type app to record iPhone calls records incoming and outgoing calls on the iPhone itself.
With the first set of call recorder app, you have to call the call recorder app phone number before you call your party. After connecting two outgoing calls, you have to merge to start call recording. In this case, the calls will be recorded into a third-party server, and you can access these records online with your registered account and download recorded calls.
In the second set of phone recording apps, you have to depend on a VOIP app to make outbound calls, and this app will record iPhone calls directly into your phone memory. There is no third party server involved in this method, but the calls should make through your WiFi or 3G/4G network. In both methods, you can download the recorded voice calls to PC or even upload to cloud drives. You can select the best iPhone Call Recorder app based on your requirement and convenience.