Whether you're browsing the web, streaming videos, or using online services, sluggish internet speed can be a major frustration. Fortunately, there are several powerful apps available for Android and iPhone that can help you measure and optimize your internet speed. In this article, we'll unveil the seven best internet speed testing apps specifically designed for Android and iPhone devices. These apps will empower you to assess your current internet performance, identify any bottlenecks, and make informed decisions to enhance your mobile internet experience. Get ready to turbocharge your connectivity as we dive into the world of the best internet speed testing apps for Android and iPhone.
Here are the best apps you can use to check the speeds of your internet connection.
Speedtest by Ookla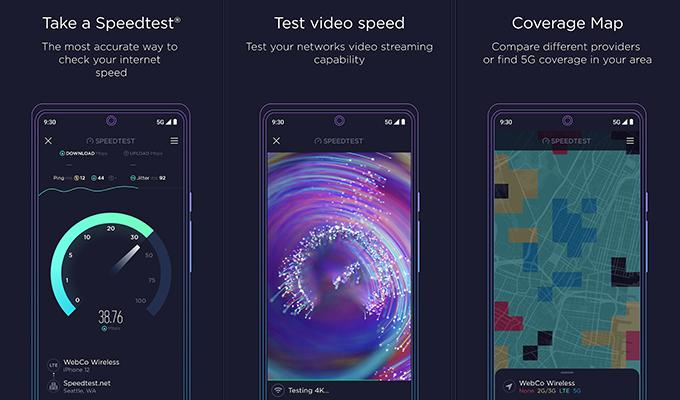 When it comes to testing your internet speed connection, one of the most trustable and reliable apps to test the internet speed is the Ookla Speedtest app. The Ookla Speed Test app is used by people from around the world. The app is simple and straightforward to use. The app will display your connection type, whether it's mobile data or wifi as well as the internet service provider, the server it is connected to as well as the IP address of your device.
All you need to do is tap on the big GO button on the screen and watch the app test your upload and download speeds. You will also be able to see the ping. The lower the ping, the better reliability your internet connection has. Apart from the speedtest, the Ookla Speedtest app also shows you whether your current internet connection is able to play different video qualities easily or not.
Key Features: Simple And Easy to use Interface | Internet Speedometer | Shows Upload, Download, and Ping | Choice To Select Best Server | VIew Cell Tower Network Maps| Free | View Previous Speedtest History
Speedtest by Ookla Android | iPhone (Free)
FAST Speed Test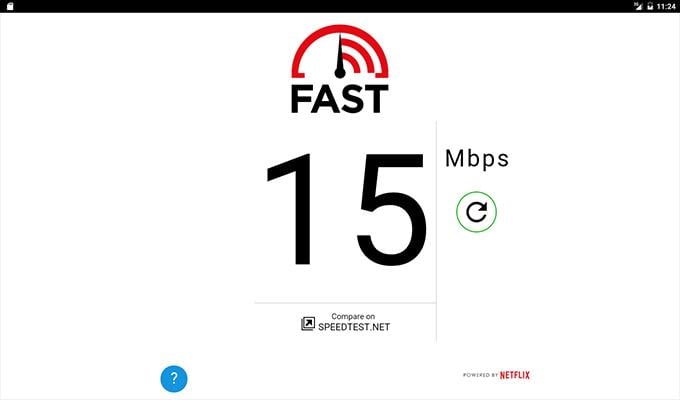 Looking for a Speed test app that you want to trust more? Try the FAST Speed Test. Sure it sounds like a very basic speed test app. But it actually is a pretty good speed-testing app. The app is designed by Netflix, and when you use the app to test your internet speeds, the app connects to the Netflix server to show you your internet speeds.
Because you don't have to choose the server for this app, you can get a good idea of your internet speed in real time. FAST Speed test has a very basic user interface. You can see the latency, uploads, as wella s download speeds for your internet connection. The app also shows you how much data was used during the upload as well as the download test.
Key Features: Lightweight App | Simple Interface | Connects To Netflix Servers | View Upload, Download, and Latency | View Data Consumed During Speed Test | Ad-Free
FAST Speed Test: Android | iPhone (Free)
Meteor Speed Test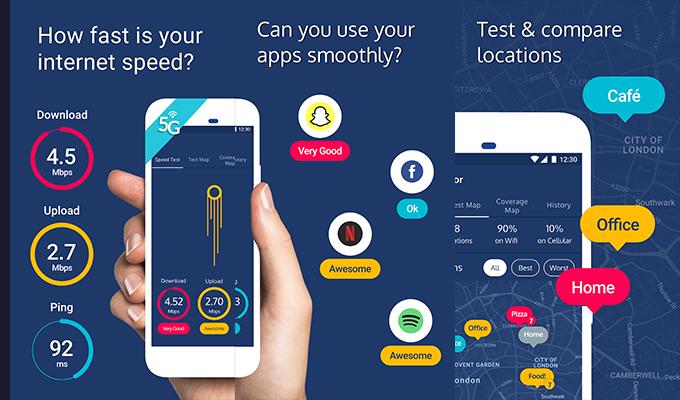 Here's another speed test app for mobile devices that is gaining a lot of popularity. The Meteor Speed Test lets you quickly and freely check your internet connection speed. The app works on 4G, 5G as well as your wifi network. You can see the ping, upload and download details for your current connection. What makes the Meteor speed test app unique is its ability to tell you how smoothly the apps installed on your mobile device will run. It has three different indicators: Awesome, Very Good, and OK.
Meteor also is able to display the coverage map of your mobile network. With this map, you can see whether your cellular network is available in particular areas or not. You also get to see whether the area has 4G or 5G coverage. You can also compare the locations and see how good or bad your internet connection is. Last of all, you can easily view the results of your speedtest and even share them easily via any social media platform that you like.
Key Features: Visually Pleasing Interface | Network Coverage Map | View App Connectivity Status | Check Out and Compare Previous Speed Test Results | Easily Share Results | Ad-Free | No In-App Purchases
Meteor Speed Test: Android | iPhone (Free)
Speed Test Master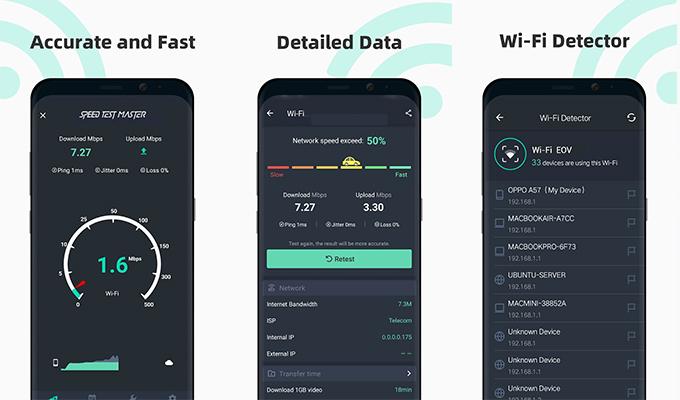 Having multiple speed testing apps for your internet connection is good. It helps you get a good idea of the average internet speed you are getting as compared to the internet speed stated by your internet service provider. You get all the usual details that you would expect from a speed test app. Apart from the usual, the Speed Test Master app also shows you whether your internet is fast or slow with a nice little indicator. The app also displays the network provider,  internal and external IP address, and how long it would take you to download a video of different sizes.
The Speed Test Master app also shows you also what devices are connected to your current wifi network. This is a good way to see whether any unauthorized person or device is taking up your internet bandwidth. Also in the app is a signal strength meter that shows you the range of your wifi network in the room. You can also test the ping of your internet connection and see the latency, as well as packets, lost and received.
Key Features: Accurate | View Upload and Download Speeds | Browse Through Devices Connected To Your Wifi | Detailed Wifi Data Sheet | View Speed Test History | Check Signal Strength Around Your Home | Test and Check Ping and Packets
Speed Test Meter: Android | iPhone (Free)
V-SPEED Speed Test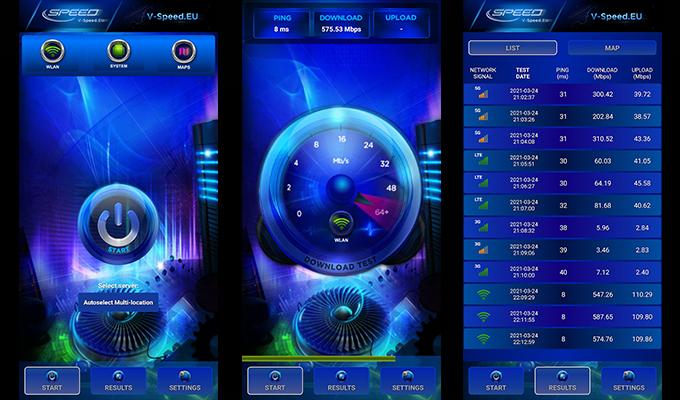 With the V- SPEED Test app, you can easily check how fast your internet connection is as well as look at how fast the uploads are. You can also choose the server of your choice to test your internet's network speed. V-SPEED  Speed Test also has the provision for showing you the difference between your internet connection's speed as well as the average speed in your city. You can choose to view your internet speed based on two different transfer units.
If you want to see your network's latency, packet loss, and ping, the V- SPEED Test app allows you to check all of those details. The app also displays other vital information such as your IP address, your internet service provider, and also the details of the mobile that you are using. This information can be useful when you are on the phone with your ISP and trying to troubleshoot any network-related issues.
Key Features: Internet Speed Details | Speed Test History | Average Speeds In The City | Choose Between Two Transfer Units | View Latency, Ping, and Packet Loss | Easily Share Speed test Results To Social Media | Special Data Saving Mode For Testing Mobile Data Speeds
V SPEED Speed Test: Android | iPhone (Free)
Speed Test SpeedSmart Internet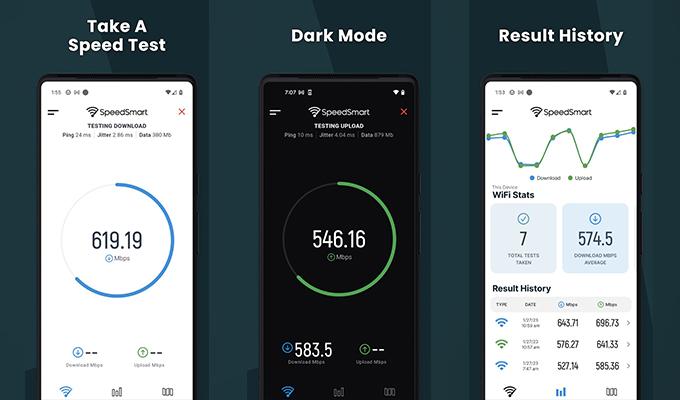 Looking for an internet speed test app that will test your network speed in under 20 seconds? The SpeedSmart app is for you. You can test the upload and download speeds and look at the ping and jitter on your mobile data or wifi network. The Speedtest app also displays charts and average speeds of your network within your city.
What makes Speed Test SmartInterent a better app than the other ones is that you can easily add any type of notes that you want to the speed test results for your internet. For better and more accurate results, SpeedSmart Internet has over 150 servers across the world. iOS users will enjoy this app thanks to support for Stage Manager and Siri
Key Features: Speed Test Results Under 20 Seconds | 150+ Servers | Detailed Charts | Average Speeds Across The City | Supports Siri Integration | Supports 5G Networks | Add Private Notes To Results | Bandwidth Calculator | Quickly Share Speed Results
Speed Test SpeedSmart Internet Android | iPhone (Freemium)
Opensignal Internet Speed Test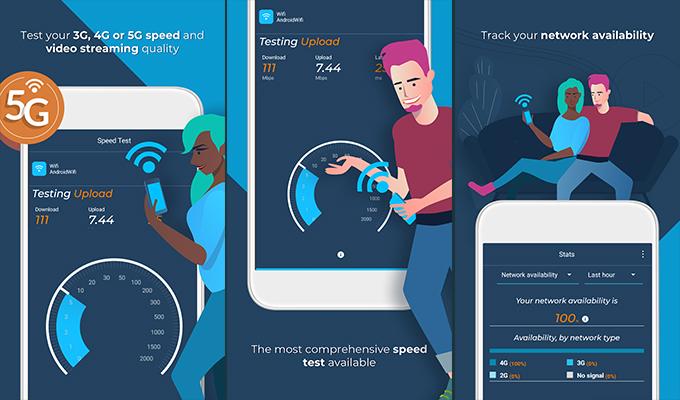 How about making use of a free app from a company that does its research about networks and connectivity around the world? No matter what carrier you are on, you can easily check out the upload and download speeds of your network with ease. Apart from just seeing the speeds, you can also view whether your network is good enough to stream on popular platforms such as Netflix, YouTube, Amazon Prime, and the rest. The aim of this app is to create a free and open-source map that shows you the connectivity speeds from around the world. The app can also save your speed tests so that you can always look at and compare them whenever you want.
The app does its tests quickly. It performs a 10-second test to test your download speeds and another 10 seconds to test the upload speeds. The app also has a 15-second video speed test. What this does is it tests how fast your network is able to load a video in SD and HD qualities. The app will also suggest what network is a better option for you based on your current location.
Key Features: Free | No Ads | Easy To Use Interface | Test Speeds and latency | View Open Source Network Maps | Suggest Network Options | Test Video Streaming | Real-Time Coverage Information | Speedtest History | 5G Network Support | Runs on CON Servers | 20 Second Test
Opensignal Internet Speed Test Android | iPhone (Free)
Having a stable and reliable internet connection is something that everyone wants to ensure that they have. Only with a stable connection and reasonable internet speed will you be able to stream your content, host video calls, or maybe even play your games. One of the most used devices out there is the mobile phone.
Given that it is simple and easy to use the internet on your mobile phone, it's also very easy to check out the speed of your internet connection on your mobile device.
These are the best internet speed testing apps that you can install and use on your Androids and iPhones. Being able to test your network speeds is important as you're paying for a particular plan, you should be getting the speeds that your network provider has mentioned. In fact, you can also use the app to see if your network provider is trying to throttle your speed during a particular time of the day or not. From these apps, the best pens will have to be the Ookla Speed Test and the Opensignal Speed Test apps.