For those looking to lose weight and improve their health, intermittent fasting is the diet of choice. Celebrities have proclaimed it the finest way to lose weight and feel better. Another factor that makes it so popular? Fasting diets come in many forms and schedules. Some of the most popular types are the 16:8, 5:2, and eat-stop-eat diets.
Have trouble remembering when it's time to eat? You don't have to worry about it anymore. Intermittent fasting apps on your iPhone or Android can handle all this.
Best Intermittent Fasting Apps
Getting started with intermittent fasting is easier with a little guidance from a companion app. The following list of the best dietitian-approved intermittent fasting apps can make it easier for you to stick to your IF (Intermittent Fasting) schedule without feeling overwhelmed.
Fastic
To get the most out of intermittent fasting, you need to eat a lot of good food, not only lose weight. Over 400 recipes are included in Fastic to help you get the most out of your dining time. A fasting schedule and step counter are also included, as well as the ability to communicate with other fasters in the app's community.
The app is free, but it also has Fastic Plus memberships that cost $11.99 for a month, $45.99 for six months, or $74.99 for a year, adding to the free app.
Pros:
Recipe Suggestions
Fasting Timer
Cons:
Paid access to advanced features
Too many ads in the free version
Key Features: Food Suggestions | Step Counter | Community Support | Scheduling for Fasting
Download Fastic: Android | iPhone (Freemium)
Related: 12 Best Calorie Calculator & Diet Tracker Apps for iPhone and Android
Zero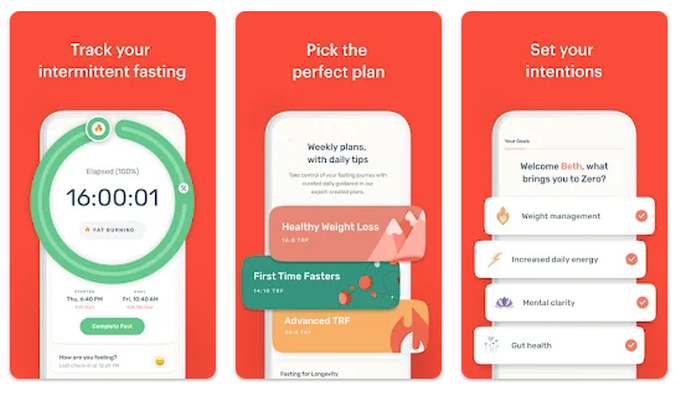 Zero can be set up to record your fasting times, so it works with any Intermittent Fasting plan. From pre-set fasting slots to creating your plan, you have the option to fast up to seven days.
The clean and straightforward design makes it a breeze to use. In addition, the app offers a dashboard where you may track your fasting patterns over time.
There is a free version of the software and a paid one called Zero Plus. You'll be able to monitor advanced statistics for $9.99 a month or $69.99 a year.
Pros:
Fitbit Compatible
Great UI
Cons:
Costly Yearly Plans
Statistics only in Pro
Key Features: Pre-set Time Slots | Track Fasting Patterns | Pro Version with Advanced features
Download Zero: Android | iPhone (Freemium)
Window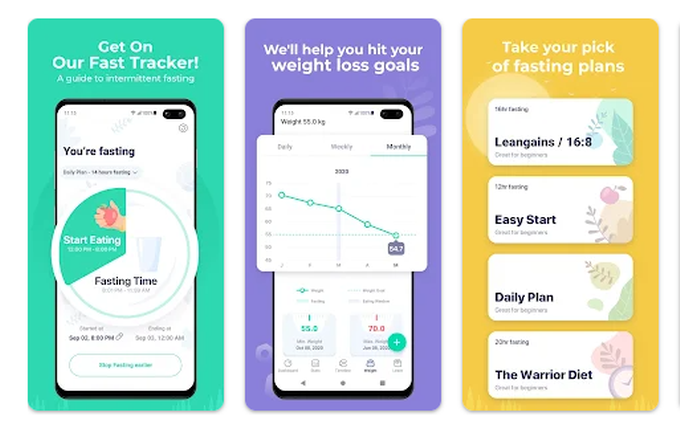 The Window app enables you to schedule your dining sessions, sends notifications to you when dining windows open and close, enables you to sync your data with the Apple Health app and Apple Watch, and gives a blog with advice on how to lead a better lifestyle.
The barebones version of the app is free, but if you want more features, you can subscribe to the paid version for $9.99 per month or $39.99 per year. With the upgrade, all IF plans, personal meal plans, habit-building challenges, and nutrition and mood tracking are now available.
Pros:
Best for Beginners
Great Pricing plans
Sync with Apple Watch
Cons:
Most advanced features are paid
Key Features: Beginner-friendly | Apple Watch Sync | Wellness Blog | Advanced Features on Pro version
Download Window: Android | iPhone (Freemium)
Related: Apple Fitness App is Now Available for iPhone Users Without Apple Watch
FastHabit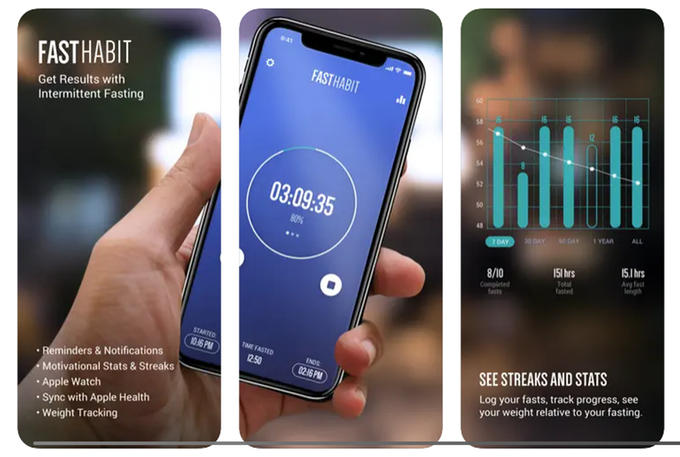 If you frequently switch up your fasting goals (for example, completing 5:2 one week and then switching to alternate day fasting the following), then using FastHabit is one of the most effective ways to stay with your evolving preferences. When you're ready to begin fasting, simply set a time window in the app.
Using the simple dashboard, you can also create reminders and notifications for yourself or check out your fasting numbers for the past ten days. However, if you want to track more than that, you will need to upgrade to a premium membership.
FastHabit Pro is available for a low one-time fee of $2.99. You'll be able to connect your Apple Watch to the app once it's upgraded.
Pros:
Good for people who change IF goals
Simple dashboard
Cons:
Pro version is not worth buying
Key Features: Flexible Goal-setting | Custom Reminders | Simple Dashboard | Apple Watch Sync in Pro version
Download FastHabit: Android | iPhone (Freemium)
Simple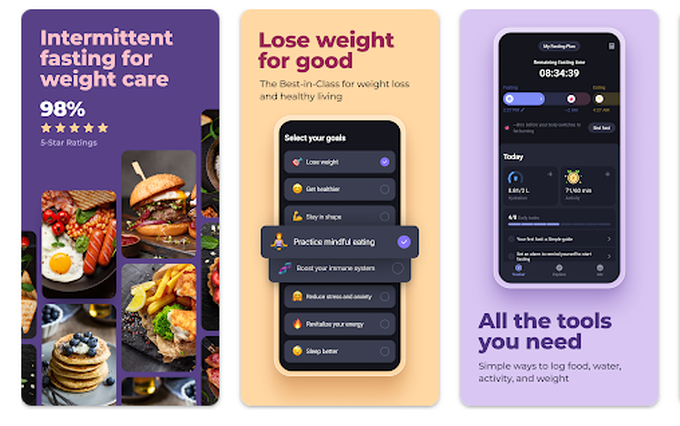 Simple will develop an individually tailored intermittent fasting strategy for you to follow. The app features expert guidance and pointers to make your IF experience as straightforward as possible. If you have an iPhone, you can sync it with the Apple Health app to track all of your vital stats in one location.
For a small fee, you can access premium features like tailored insights, in-depth articles, and far more. It costs $14.99 for a one-month subscription, $29.99 for three months, and $49.99 for a year.
Pros:
Minimalistic design
Individually tailored suggestions
Key Features: Custom Designed IF plans | Expert Guidance Feature | Apple Health Sync | Tailored Insights in Pro version
Download Simple: Android | iPhone (Freemium)
Related: 10 Best Workout & Fitness Apps for Apple Watch
LIFE Intermittent Fast Tracker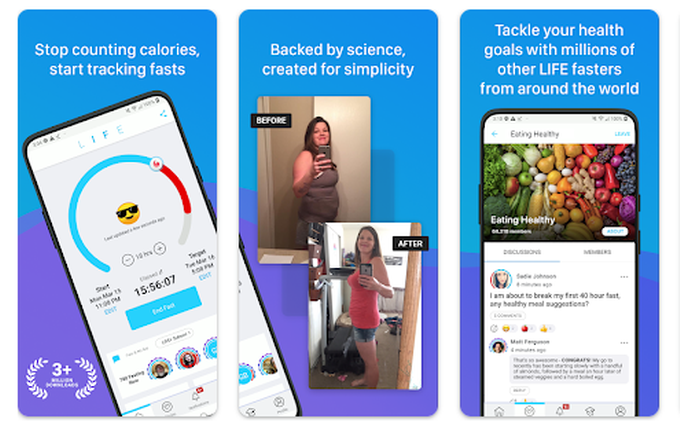 You can use LIFE's Intermittent Fast Tracker with any intermittent fasting (IF) strategy since it allows you to specify the start and end times and goals for the length of your fasts. This app might help track how long you've been in ketosis if you're also on the keto diet. You can also connect with others using the app to fast with you and help each other stay on track.
The most basic functions can be accessed for free. Subscribers will access unique fasting schedules, reminders when it's time to begin and conclude a fast, and a history of their previous fasts.
Pros:
Easy Keto Tracker
Community Features
Key Features: Keto Diet Tracking | Custom Fasting Scheduler | Community Support | Pro unlocks Fasting History
Download LIFE: Android | iPhone (Freemium)
DoFasting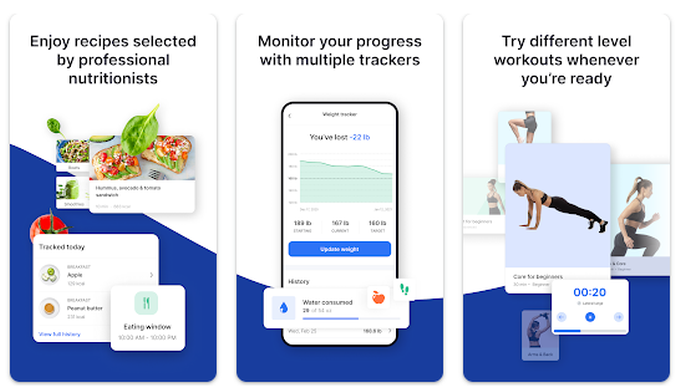 DoFasting offers seven different fasting schedules, various information in the form of articles and workouts, as well as more than 5,000 different recipes. Creating a daily, weekly, or monthly meal plan and comparing it to your daily calorie intake may be done directly from within the app. You may also monitor your weight, fluid intake, and steps with the app.
There are numerous subscription choices for the free app, including one month at $33.00, three months at $15.33, and six months at $11.00.
Pros:
A well-rounded app
User-Friendly interface
Key Features: Recipe Suggestions | Fluid intake and Weight monitoring | Workout Tracking
Download DoFasting: Android | iPhone (Freemium)
Related: How to Set Up Pill Reminder Alarm on iPhone Without Any Apps
BodyFast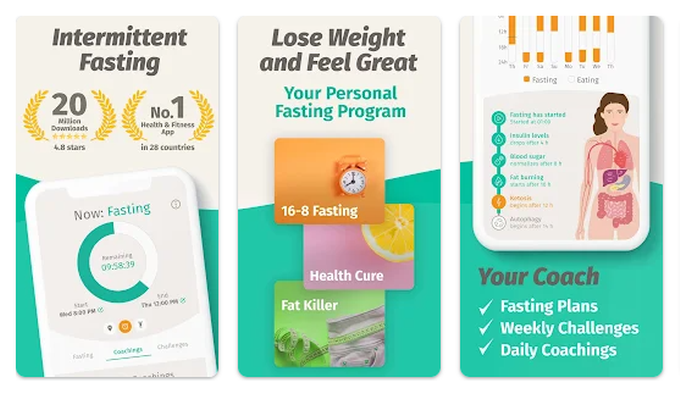 Ten different intermittent fasting options are provided by BodyFast—and the company also provides extensive coaching and meal planning advice. If you're a firm believer in IF but are suffering with the day-to-day mechanics, this software may be able to help.
There are several free options included in the app. Having the BodyFast Coach will provide you access to even more tools. When it comes to pricing, you have various plans to select from. You'll have access to over a hundred recipes, weekly objectives, and the option to create a personal plan for your weight loss journey.
Pros:
Comprehensive fasting plans
Great free options
Cons:
Personal plan available on Pro
Key Features: 10 Fasting Timetables | Exclusive Personal Coaching | Meal Planning Advisor | Affordable Pricing Plans
Download BodyFast: Android | iPhone (Freemium)
Fastient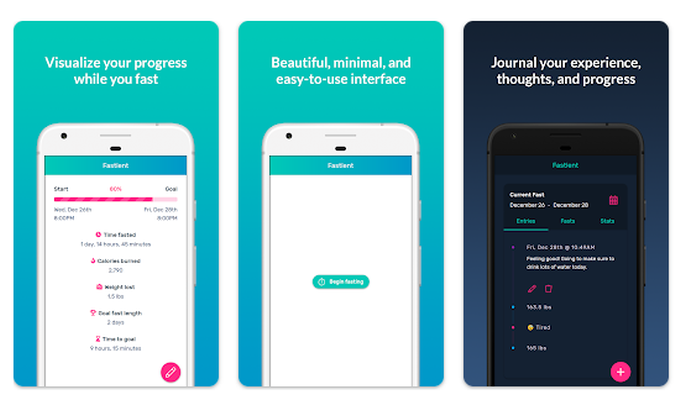 Fastient features some of the complete monitoring functions available, allowing you to keep track of your food consumption and pay attention to your overall progress while fasting. There is plenty of room to document, view your statistics in simple graphs, and access your information from the app or your PC.
With the option to purchase Fastient Premium, this one is available for free download. Annual subscriptions cost $4.99, while lifetime subscriptions cost $11.99 yearly. After making the purchase, you will have access to the dark mode and be able to post images of your progress.
Pros:
Journaling support
Can view stats on a computer
Cons:
Dark mode only in Premium
Key Features: Graph-based Dashboard | Can share the Progress with the community | Journaling support
Download Fastient: Android | iPhone (Freemium)
Related: 12 Best Meal Planning Apps for iPhone and Android
Vora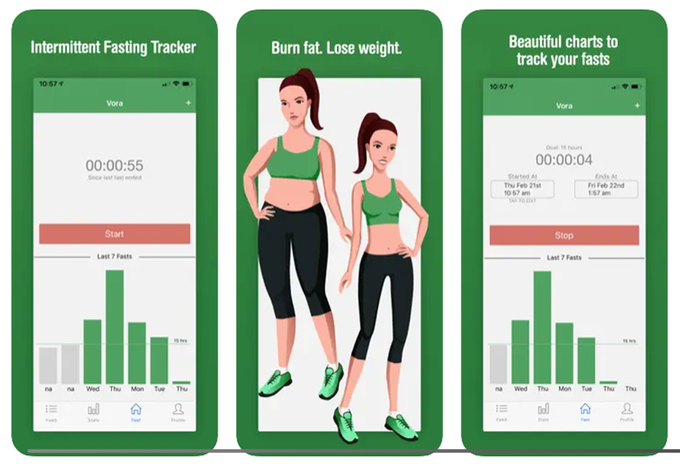 Intermittent fasting tracking apps like this are mainstream (give daily goal timing and weight loss progress). On the other hand, community support is a distinct and essential part of this platform.
Vora is probably the best option for you if you are the only one in your group of friends participating in IF, and you could benefit from peer encouragement.
In addition to the free version, you can purchase the Vora Pro version for only $4.99. By upgrading, you'll gain access to the community forum and the option to track your stats directly in the app.
Pros:
Community Support
Pretty good UI
Cons:
Stats tracking only in Pro
Key Features: Community Support | Different variety of IF plans | Affordable Pro Pricing
Download Vora: iPhone (Freemium)
Fasting's ability to alter your metabolism further enhances its weight-loss potential. We all know that the key to losing weight is consuming fewer calories than your body requires to maintain its current weight.
The most convenient approach to get started with intermittent fasting is downloading apps for it on your smartphone, allowing you to continue the practice regardless of where you are.